Press room
Barbican Family Film Week 2021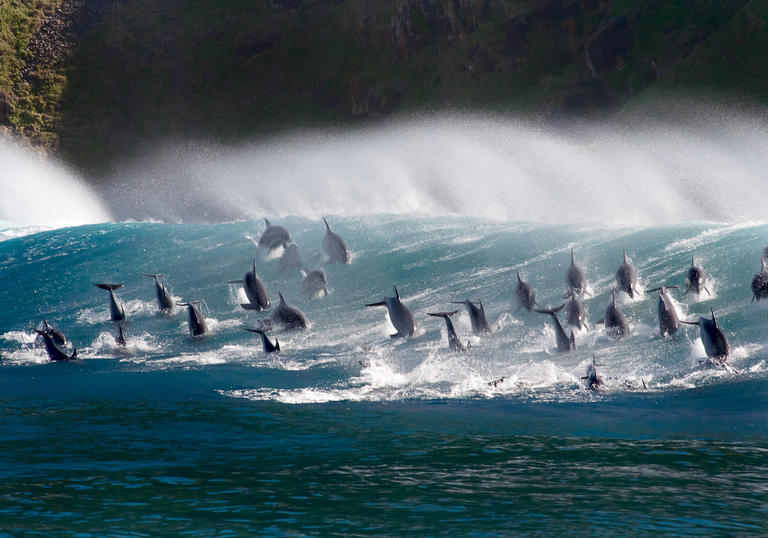 Barbican Cinema's half-term week of films for younger audiences celebrates the wonders of the natural world, with films about animals, oceans and landscapes. There will be lots for families to enjoy over the weekend, with live action, animation and documentaries; as well as free workshops, short films and special guest introductions.
Family Film Week opens on Sat 23 Oct with the enchanting The Secret Garden (UK 2020, Dir. Marc Munden). This latest adaptation of the classic novel, from the producers of Harry Potter and Paddington, is a magical re-telling packed with mystery and wonder. There will also be a special introduction by the celebrated horticulturalist Flo Headlam of Garden Rescue, who will talk about the magic of gardening and how young people can get creative with plants.
It continues with Oceans: Our Blue Planet (UK 2016, Dir Mark Brownlow), which explores the wonders of the deep, in this family friendly documentary from BBC Earth narrated by Kate Winslet. This takes viewers on a journey around the world's oceans to meet marine animals in their natural habitat, including acrobatic spinner dolphins and mobula rays with 10ft wingspans. This will be introduced by Greenpeace's Will McCallum (and author of How to Give Up Plastic) who will chat about marine life, fun sealife facts and his work around the world's oceans.
Further programme highlights include: Spectacular Shorts: Our Natural World (Dirs various), a curated collection of intelligent short films, featuring characters from around the globe, navigating their way through the natural world; and Calamity (France 2020, Dir Rémi Chayé), based on the life of Martha Jane Cannary (aka Calamity Jane) – introduces younger audiences to a fearless heroine and her fight to be accepted for who she wants to be. Dressing in trousers and cutting her hair short, Jane draws even more attention to herself, and when she's accused of theft, she must escape punishment and clear her name. From the makers of Long Way North, this wonderful film for young audiences explores prejudice, identity and bravery in a beautiful American West setting. Wolfwalkers (Ireland/ Luxembourg/ France/ US 2020, Dir Tomm Moore), is a striking hand-drawn animation, about a family of wolf hunters in 17th century Ireland.
Using the week's family films for inspiration, young people will be able to let their imaginations run wild and create a colourful piece of art in Design Your Own Film Poster, a free drop-in workshop (led by the DIY Print Collective) in the Cinema 2&3 foyer (Sat 23 & Sun 24 Oct, 10 am – 4 pm), encouraging people to design their own film posters, with the chance to have their work professionally printed on site using a professional Riso printer.
Family Film Week closes on Sun 30 Oct with Earthflight (UK 2016, Dir John Downer), a totally immersive experience about birds and their migration patterns; this takes the viewer on an incredible flight across the world on the back of wings of birds and is a must see on the big screen. Filmed by BBC Earth with dizzying aerial photography and featuring soaring eagles and flocks of flamingos – this captivating film is an absolute essential view for nature lovers of all ages and is narrated by Cate Blanchett.
Before and after the screening of Earthflight, Shadowgrapher Drew Colby will be giving a free and interactive demonstration in the cinema at 11am, explaining how he creates intricate shapes and stories, using only his hands in front of a light, showing us how to create birds and animal shadow play to get us in the mood for the film.
Susie Evans, Cinema Curator, comments:
"This year's film programme is all about celebrating the wonder of our natural world and finding stories that connect young viewers in exciting ways to precious landscapes, mysterious environments and those huge wide open spaces that are amplified to the max on the big screen."
Screenings and Events:
The Secret Garden (PG) – Introduced by Flo Headlam of Garden Rescue      
UK 2020, Dir Mark Munden, 99min
Sat 23 Oct 11 am, Cinema 2 (HoH Captioned / BSL interpreted intro)
Also screens Wed 27 Oct 11 am, Cinema 2
(without intro, but with additional short film – see below)
Age recommendation 7+
Oceans: Our Blue Planet (U) – Introduced by Will McCallum,
Head of Oceans from Greenpeace and author of How to Give Up Plastic
UK 2018, Dir. Mark Brownlow & Rachel Buter, 41min
Sat 23 Oct 1.30 pm, Cinema 2 (HoH captioned / BSL interpreted intro)
Also screens Thu 28 Oct 11am, Cinema 2 (without intro)
Age recommendation: 5+
Free Foyer Activity: Design Your Own Film Poster
Sat 23 and Sun 24 Oct 10am – 4pm (BSL available on Sat 23 Oct)
Led by the DIY Print Collective
Spectacular Shorts: Our Natural World (U*)
Sun 24 Oct 11 am, Cinema 2
Total approx event running time: 60 min
A selection of gentle, thought-provoking stories featuring characters and animals navigating the natural world. These international shorts are a great way of introducing young ones to world cinema in easy bite-sized chunks:
Apple Tree Man
Russia 2020, Dir Alla Vartanyan, 10min
Based on a Somerset folktale, this lovely pastoral animation follows the Apple Tree Man who lives in the oldest tree in the orchard and a farmer never asks anything for himself. 
Little Grey Wolfy: Summer Party
Norway 2020, Dir Natalia Malykhina, 6min
Wolfy's friends work together to get a very special cake ready for a very special birthday.
Robot and the Whale
Sweden 2018, Dir Jonas Forsman, 6min
Lobo the Robot and his dog Banjo live alone until one day they discover a beached whale on the sand. But to help the stranded animal Lobo must be brave and overcome his fear of water.
Umbrellas
Spain/France 2020, Dir José Prats, Álvaro Robles, 12min
Six-year-old Kyna lives in fear of the rain and lives beneath her father's 'umbrella beard' with her dog Nana. But one night, Nana disappears and Kyna must turn her life upside down to save her best friend
Juan Viento
Argentina 2019, Dir Carlos Farina, 5min
Juan spends his time cleaning the leaves from the local park, but one day the wind brings a surprise with it.
The Bird and the Whale
Ireland 2019, Dir Carol Freeman, 7min
Created using paint-on-glass animation, this stunning story follows a young whale and a caged bird struggling to survive the power of the waves.
And That is How the Rivers Came to be
Peru 2019, Dir Miguel Araoz Cartegena, 3min Kukama-Kukamiria with English subtitles
Based on the Peruvian legend, this gorgeous animation takes viewers inside the magic and beauty of the Amazon region and reminds us of our sacred connection to water.
The Lighthouse Man
Canada 2020, Dir Matt Walton, 4mins
The huge rocky Lighthouse Man protects his small fishing village with pride, but when the village becomes a town and then a city, space is limited and the Lighthouse Man feels like he may not be useful anymore.
Age recommendation 6+
Calamity (PG*)
France 2020, Dir Rémi Chayé 85min. French with English subtitles.
Sun 24 Oct 1.30 pm, Cinema 2
A voice over artist will read the subtitles aloud for children wishing to use headsets. 
Age recommendation 6+
WolfWalkers
Ireland/Luxembourg/France/US 2020, Dir Tomm Moore Ross Stewart, 103 min
Tue 26 Oct 11 am, Cinema 2
Age recommendation: 6+
The Secret Garden (PG) + Short Film: Talia (PG*)
UK 2020, Dir Mark Munden, 99min
Wed 27 Oct 11am, Cinema 2+ Talia
UK 2020 Dir Cara Bamford 10min
Age recommendation 7+
Earthflight (U) + interactive shadowgraphy demonstration from
Drew Colby
UK 2016 Dir. John Downer 41min
Sat 30 Oct 2021, Barbican Cinema 2
Total event runtime approx. 60mins
Age recommendation 5+