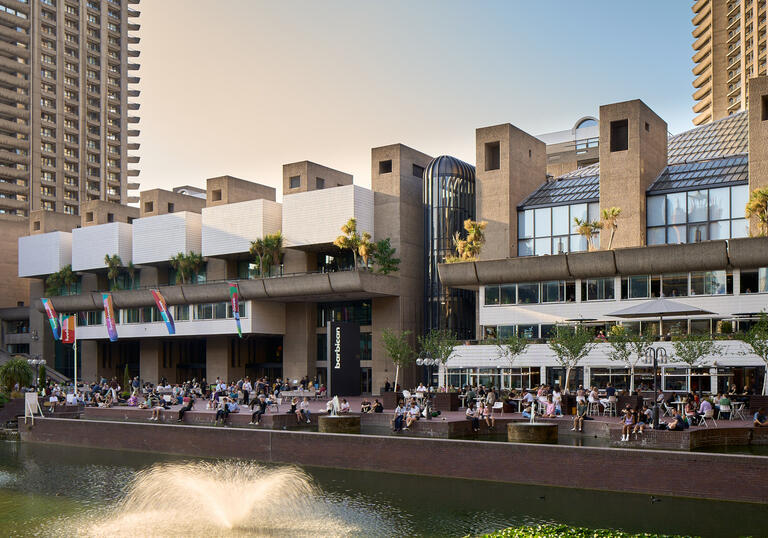 Annual Report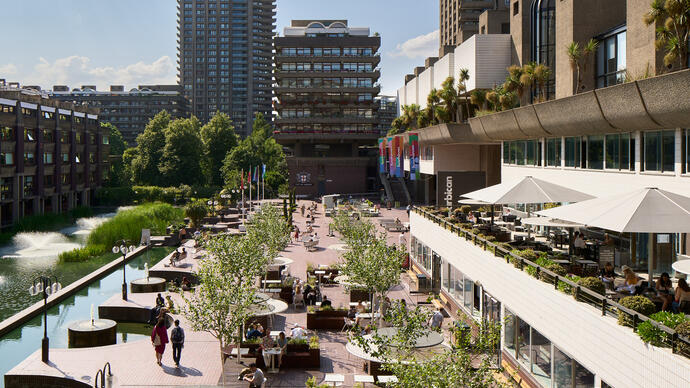 Watch our Annual Report for 2022/23, featuring five staff members who reflect on a successful year and explain in their words what the Barbican means to them.
Our shared values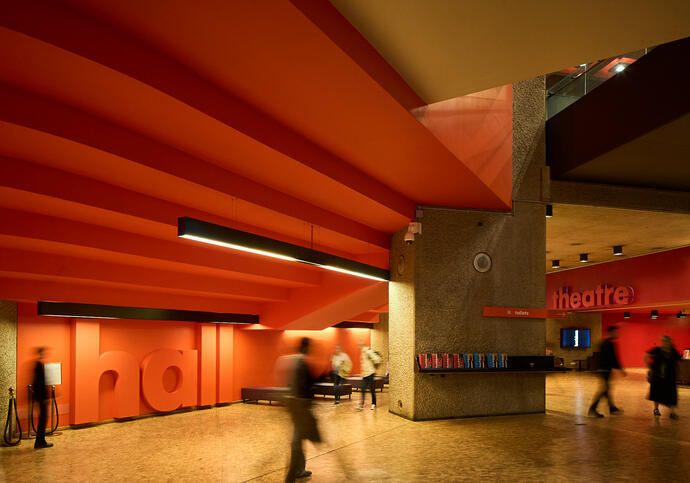 Our purpose and values
We're London's Creative Catalyst for arts, curiosity, and enterprise. We spark creative possibilities and transformation for artists, audiences, and communities – to inspire, connect and provoke debate.  
We're the place to be in this Destination City, where everyone is welcome. Our impact is felt far outside our walls and ripples beyond the experiences we offer – locally, nationally, and internationally.  
We want to ensure that creativity, inclusion, community, and enterprise are an essential part of the Barbican's future development. By underpinning everything we do with our organisational values, by being inclusive, connected, sustainable, and daring, and by approaching our work in a joyful way, we hope that being part of the Barbican community will become a positive, life-enhancing experience for everyone.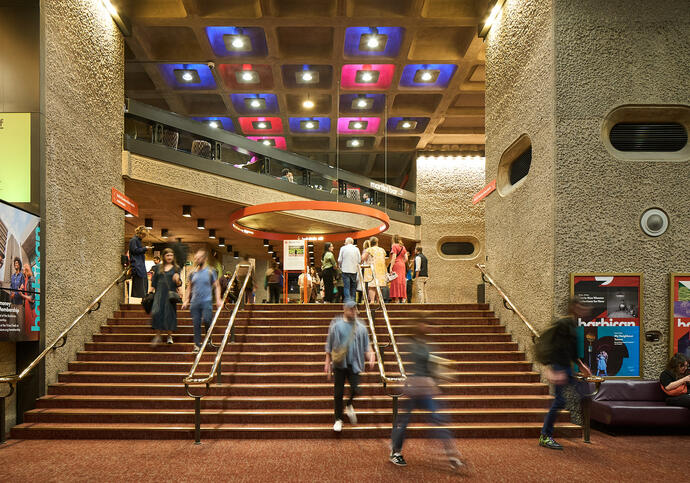 Strategic framework
Our organisation-wide strategy enables us to deliver our purpose and values. It sets out the areas we want to transform over the next 3-5 years. These shared goals also unify us as an organisation and ensures clarity around what we're all collectively trying to achieve.  
Read the framework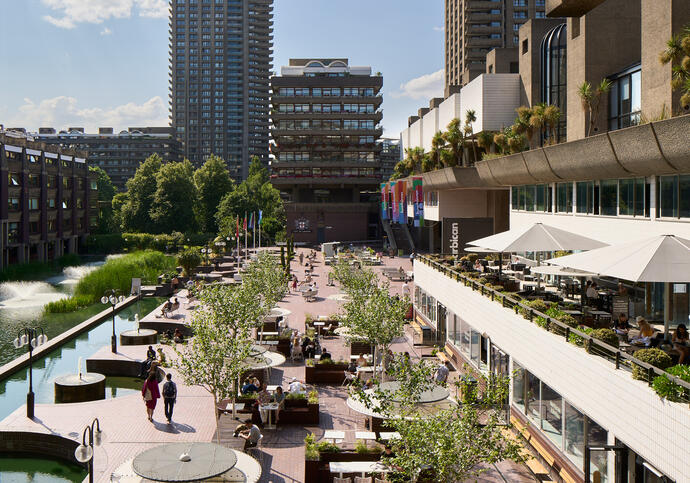 We're changing
Focussed firmly on the future, we're working on ambitious plans to create better access to the arts, transforming our building reimagining what an arts centre can be, and doing our part to address the climate crisis. Through our work on Equity, Diversity and Inclusion, we'll ensure the Barbican becomes a place where everyone belongs – where creativity, enterprise, and learning coexist, and everybody can achieve their fullest potential.  
Read more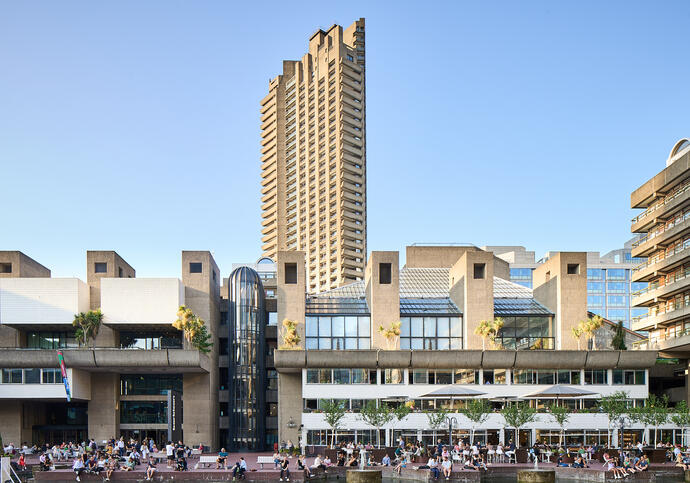 Our people and governance
From Theatre Administrators and Music Programmers to Engineers and Event Managers, the Barbican is an exciting and inspiring place to work.   
Our people are our greatest asset and they sit at the heart of everything we do. Every member of our 700+ staff plays a vital role in making the Barbican a catalyst for creativity which sparks possibilities for artists, audiences, and communities.    
The Barbican was founded by the City of London Corporation, which remains our principal funder today. It's also the employer of all our staff. The Barbican is governed by the Barbican Centre Board, consisting of City of London Corporation and external members. Our charitable arm, the Barbican Centre Trust is led by a cross-section of corporate and cultural leaders. 
View the org chart
10 surprising things you might not know about the Barbican
1. We have our own Conservatory  
It's the biggest in London after Kew Gardens with over 1,500 species of plants and trees. Its original purpose was to hide part of our theatre fly tower - the tall building which holds scenery to be flown in on the stage of the Theatre below. In early design proposals, the Conservatory was envisioned inside a giant glass pyramid on the lake.  
2. There's a time capsule in our foundations  
It was laid in the early 1970s as building work got underway and has stayed untouched ever since. Jack Waller, an engineer who worked for a number of years from start to finish on the building site, filmed the time capsule being cemented in.   
3. The London Symphony Orchestra has recorded some of the most iconic movie soundtracks   
Our Resident Orchestra, the LSO, has recorded soundtracks for some of the biggest blockbuster movies including Star Wars, Indiana Jones, Jurassic Park, Harry Potter, Fiddler on the Roof, The Sound of Music, plus many more.  
4. We nurture the next generation of creatives  
Every year we run hundreds of learning activities, development programmes and events to nearly 50,000 participants, providing the resources needed for more young people to develop their artistic practice and access jobs in the creative industry.  
5. There are two Banksy artworks on our famous concrete walls  
Inspired by our hugely popular Jean-Michel Basquiat exhibition in 2017 titled, Basquiat: Boom For Real, Banksy paid us a clandestine visit just before the opening of the show and created two works overnight in homage to the pioneering New York artist.  
6. Our popular Martini Bar was inspired by a James Bond exhibition  
Believe it or not, but our Martini Bar started out as a pop-up bar in 2012 to cater to discerning Martini drinkers visiting our Designing 007 exhibition, and has been producing an exciting range of cocktails, both shaken and stirred, ever since.  
7. Lights, camera, action!  
The Barbican's striking architecture has been the backdrop of numerous films and music videos for some of the biggest pop stars including Harry Styles's hit 2022 single As It Was, Skepta's 2015 grime anthem Shutdown, and, of course, Kylie Minogue's 2004 single Giving You Up featuring a giant 17-foot-high Kylie walking through the Barbican's Beech Street.    
8. A revolutionary theatre  
On 8 October 1985, we presented the world premiere of the Royal Shakespeare Company's Les Misérables. The musical adaptation of a 19th century novel by Victor Hugo opened to initially unfavourable reviews. However, now in its 32nd year, Les Misérables is currently the world's longest running musical, and has played to more than 65 million people in 42 countries and 22 languages. And it all started in our theatre!    
9. A different kind of cinema experience  
The Barbican's architects Chamberlin, Powell, and Bon had never designed a performing arts centre before they started working on the Barbican. As a result, when they were designing the cinema, they originally had the screen on the ceiling and the front row would have had moviegoers lying down on beds.  
10. Beyond our walls  
We often co-create events, from large-scale festivals to more-intimate talks and screenings, made by, for, and with our communities and neighbourhoods. We also offer community-led funding and grants which allows people to test new ideas and make things happen together in their local community.  
Director for Audiences
The Director for Audiences leads all aspects of the audience experience and journey. They will have a remit covering existing audiences but also those that are yet to engage. As such, the role leads the marketing, press and media relations, external affairs, digital engagement, brand and design, visitor and online experience and ticketing teams. It further ensures we present ourselves to the world in an embracing, inclusive, consistent and impactful way. 
This role is part of the Directors' Group and reports directly to the CEO of the Barbican.   
They will lead in developing and implementing our Audiences Strategy, with clear goals to include new, diverse and more representative communities, and to improve the overall audience experience. 
The Director will develop an overarching communications and marketing strategy consistent with our Purpose, Values, artistic and corporate ambitions and which aligns to enhance the Barbican's reputation, extend our reach and develop our revenues and income streams. They will also lead in driving digital transformation in the areas of promotional content creation and the management of our social channels and platforms and enhancing visitor experience through the use of technology. 
The Director will be accountable for the delivery of all the audience facing functions, with oversight of the end-to-end experience, both in person and online. It will also have accountability for: 
Reinforcing and building relationships with current visitors and audiences 

Developing strategies to attract new audiences  
Director for Buildings and Renewal
This post will manage the significant impact that the physical estate of the Barbican Centre and Guildhall School of Music and Drama has on the experience of millions of visitors, partners, staff, students, residents, artists and performers as well on the Barbican's and the Guildhall School's financial and environmental/sustainability and performance.  
The role has the unique vantage point of managing the specific challenges of the Barbican and School estates as well as leading the ambitions of our bold and visionary new plans as part of our Barbican Renewal Programme.  
Key aspects of this role will include strategic organisational planning and operational leadership, advising on estate management matters and driving value, including via third party/outsourced service providers in collaboration with the City of London's City Surveyor. It will also drive and coordinate a fit for purpose approach to planned and reactive maintenance, security, health and safety, project and facilities management.   
The Director for Buildings and Renewal will ensure infrastructure and any relevant capital projects are delivered on time, to scope, to quality and within budget.  
This role is part of the Directors' Group and reports directly to the CEO of the Barbican.   
The Director will develop and deliver on our organisational strategy as it pertains to the ongoing operation and maintenance of our buildings and facilities, ensuring the Barbican Renewal Programme will both restore and transform the Centre. They will also lead on all things to do with climate action and sustainability, as the most significant impact we can have is through our buildings. 
The Director will also have oversight of a number of contracts and services and will need to ensure that value for money, service delivery, innovation and environmental sustainability, audience sensitivity and staff well-being and productivity are at the heart of key decisions.  
This role will also be accountable for the delivery of the engineering (including buildings compliance and buildings risk management), projects, Barbican Renewal, climate action, safety and security activities, with oversight of everything that happens in the Centre related to these activities. 
Job Description - Director for Buildings and Renewal
Summary of Terms and Conditions of Employment
Recruitment agent
If you are an inclusive and leader looking for a new challenge, please contact our recruitment advisors at McLean Public:
Jonathan Swain on 07733 304094 or Rebecca Rampat on 07957 730837
Recruitment timeline 
Deadline for applications: 24 November 2023, 09:00
Online psychometric tests: 29 November – 6 December 2023
Fireside chats: 4 December, in person, throughout the day at the Barbican 
Colleague engagement panel: 6 December, in person, at the Barbican 
Final panel interviews: 12 December, in person, at the Barbican
Director for Arts and Participation
Working with our Heads of Art Forms (Music, Theatre and Dance, Cinema, Visual Arts, Barbican Immersive, and Creative Collaboration) the Director will develop and communicate an inspiring, distinctive, and forward-looking vision for arts and participation for a new generation of audiences as well as for existing audiences. 
They will take the Barbican's leading reputation to the next stage and bring our purpose of being "London's creative catalyst" to life. The Director will provide visible leadership both internally amongst staff and externally in the industry in delivering a diverse world-class, relevant artistic programme within available resources. The successful individual will be a magnet for artists and supporters, and act as an enabler for the arts, championing the industry, and connecting within and outside the organisation. The arts and participation division has circa 180 employees and the Director will be responsible for a salaries and expenditure budget of around £20m and an income budget of £12m.
They will also nurture and encourage greater integration and co-ordination between the activities of the Barbican and the wider arts activity of the Corporation of London, providing the highest level of best practice, advice and expertise to support the aspirations of Destination City, the Corporation's strategy to make the City the best place to work, rest, play and visit. 
This role is part of the Directors' Group and reports directly to the CEO of the Barbican.