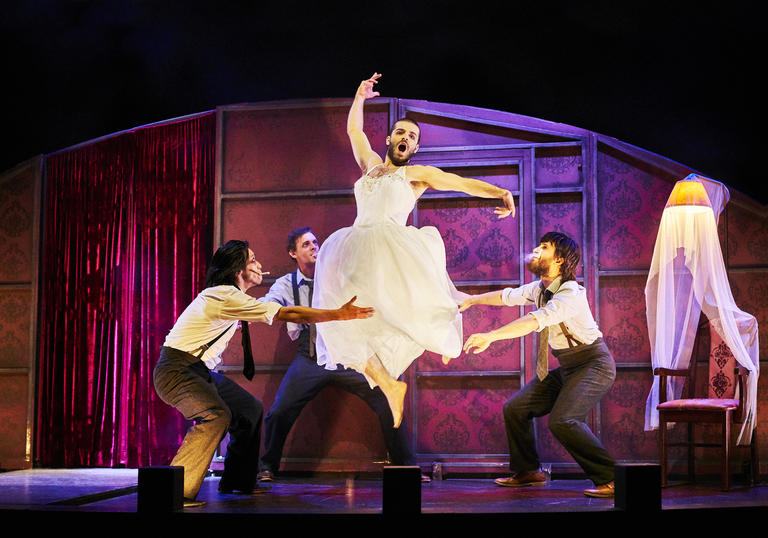 Performers & Creative team
Devising Performers
Lucia Chocarro
Anna Finkel 
Chris Evans 
Madeleine Fairminer
Katie Lusby 
Ryen Perkins-Gangnes 
Uros Petronijevic
Dan Watson
Kenny Wing Tao Ho 
Creator Amit Lahav
Designer Rhys Jarman
Lighting Designer Joe Hornsby
Sound Designer Jon Everett
Original music Dave Price
Associate Director Rich Rusk
Costume Supervisor Gayle Playford
Performers during creation Greig Cook, Fionn Cox-Davies and Louise Tanoto
Production Manager Sean Ford
Company Stage Manager Alyssa Watts
Sound Operator André Birck
Lighting Joe Hornsby
Musicians and vocalists
Dave Price with: Tom Allan (trumpet), Sam Burgess (electric and double bass), Ben Hales (electric guitar), Frank Moon (oud), Dave Shulman (clarinets and saxophones) and Jon Thomas (bass guitar). Amharic vocal, krar and masenko by Temesgen Zeleke.
Production photos by Richard Haughton 
Presented by the Barbican in association with London International Mime Festival
Gecko are supported by Arts Council England and Ipswich Borough Council. The Wedding is a Gecko production. Co-commissioned by DanceEast, New Wolsey Theatre Ipswich, Northern Stage, HOME Manchester and Beijing 707 N-Theatre Co. Ltd. (Edinburgh Fringe Showcase in China), in association with Lighthouse Poole and Warwick Arts Centre, supported by The Point Eastleigh
About Gecko
'The process of discovery, of searching, however difficult, however glorious that is, the process of creating our own world, our own story, our own script. That is Gecko.' 
Amit Lahav, Artistic Director of Gecko
Gecko is an award-winning and critically-acclaimed physical theatre company, founded in 2001 by Artistic Director Amit Lahav. We are based in Ipswich, Suffolk but regularly tour across the UK and across the world. We aim to create world-class theatre that inspires, moves and entertains our audiences. Gecko's work is visual, visceral and ambitious and we create work through collaboration, experimentation and play. 
We have an expanding ensemble of international performers and collaborators including company members, technicians and office staff from the UK, France, Spain, Canada, USA, Norway, Serbia, Colombia and Hungary. As a truly international company we use multiple languages within our shows, and because of this we find our shows have huge appeal around the world. We focus on presenting the narrative of our shows through movement, imagery and music rather than focussing on dialogue between characters, therefore it doesn't matter if the audience cannot understand every language that is spoken.
We are often asked to describe what physical theatre is, and for us it means a focus on movement and imagery with a diversity of performance styles. We 'write' and 'storyboard' our shows just like traditional plays or films, even though very little text is used. It's also integral to our process to include music, lighting, set, props and costumes as early as possible when developing a show. We work collaboratively with an amazing creative team who ensure that all of these elements are developed simultaneously with the narrative and movement of the piece, so that the end product is cohesive and powerful. 
Artistic Director Amit Lahav
Executive Producer Rosalind Wynn
General Manager Joff Whitten
Finance Manager Andy Brumwell
Project and Participation Manager Pippa Fox
Administrator and Digital Marketing Officer Manwah Siu
Associate Directors Helen Baggett, Rich Rusk
Patrons
Arlene Phillips and Dominic West
Board
Giles Kerkham
Jon Neal (chair)
Jeanette Siddall CBE
Dr Sue Smith
With thanks to: Age UK (Ipswich), Andrew Marshall, Brides To Be Bridal Shop, Chris Morphitis, City of Sanctuary, Ian Carter, Ipswich and Suffolk Council for Racial Equality, Just A Day Bridal Shop, Liverpool Scenic Workshop, Marcus Edwards, Mark Tate from the Screaming Memes, Open Stages plus Jessica and Megan, Rhona Dalling, Richard Couldrey, Robin Tottenham, St Helen's Primary School Ipswich, Transition Network, the Wardrobe Department at Northern Stage and all of our Strategic Touring partners. 
Discover
After a series of poetic and emotional productions, Gecko director Amit Lahav is now asking what it means to be in a 'forced marriage'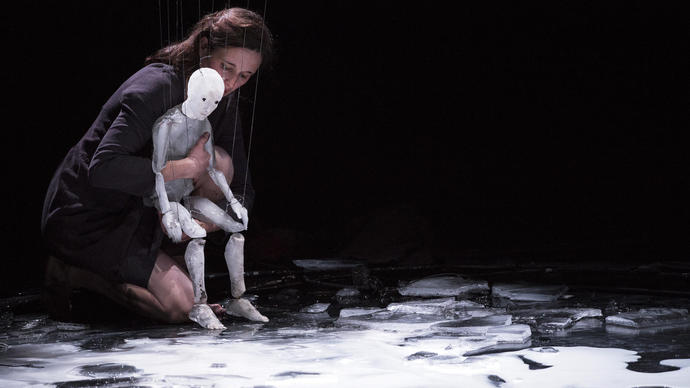 Watch: London International Mime Festival 2019
Now in its 42nd year, Mime Festival returns to the Barbican with four captivating theatre shows and two film events in the cinema, spanning the spectrum of contemporary visual performance.
Biographies
Performers
Lucia Chocarro graduated from London Contemporary Dance School in 2013 with a First Class degree. She has collaborated and performed on a variety of projects in the UK and Europe and has performed with Punchdrunk, Wayne Parsons Dance, Jamaal Burkmar Dance, BitterSuite, Victoria Fox, Sara Dowling and Just Us Dance Theatre (Joseph Toonga). She has also worked as Special Action Artist for Wonder Woman & Justice League with Warner Bros Productions, is a founding member of Feet Off the Ground Dance collective and a certified Yoga Alliance Teacher.
Anna Finkel trained at The School of Toronto Dance Theatre, completing her Masters at Laban, London. Since 2007 she has worked in the UK as deviser and performer with Punchdrunk, Gecko, DV8, Handspring, Ace, Mad Dogs, Anthony Hamilton and Lost Dog. Recent work includes movement direction with Louis Vuitton and film director Alex Garland, and rehearsal director for Punchdrunk's Sleep No More in Shanghai.
Chris Evans began his career with Hofesh Shechter Company as one of the original performers and continues a creative relationship with the company. He has worked with Gecko since 2011 on the creation and worldwide touring of Missing and Institute and worked as Movement Director on the company's first international co-production, The Dreamer (with Shanghai Dramatic Arts Centre).
Madeleine Fairminer studied dance at the Baardar Academy in her hometown, Oslo. After gaining her degree she worked as a freelance dancer, doing commercial work as well as projects with the choreographer-duo Flukt. She then spent a year as an apprentice dancer with Hofesh Shechter Company in London and shortly after started working with Gecko. Other work includes devising and performing Small World by Rich Rusk, and performing Antes by Cie Alias – Guilherme Botelho.
Katie Lusby trained at London Studio Centre and London Contemporary Dance School, joining Gecko in 2015. She has worked with Richard Alston Dance Company, Van Huynh Company, Punchdrunk, New Adventures, Aletta Collins, James Cousins, Sarah Dowling, Akram Khan, Wayne Parsons, Liam Steele and Didy Veldman. She regularly teaches professional classes for The Place, TripSpace and ProDanceLeeds.
Ryen Perkins-Gangnes has worked with Gecko since 2012 devising and touring Missing and Institute, and The Time of Your Life broadcast live on BBC4. He was movement specialist/cast member for Paramount's 2013 film World War Z, spent two years as Lea Anderson's assistant and has worked with companies such as the Cholmondeleys and Featherstonehaughs, Frauke Requardt, Fabulous Beast and Gary Clarke.
Uros Petronijevic graduated from Serbia's National Ballet School Lujo Davico (national/folk dance section) in 2004. After graduating, he went on to work at the musical theatre Theatre on Terazije until 2014. During his years in musical theatre he worked and performed in other projects with Bitef Dance Company that were based on contemporary movement and physical theatre. In 2014, he joined Jasmin Vardimon Company before going on to perform with Gecko in 2018.  
Dan Watson was a formative member of StopGAP Dance Company before moving on to work with such artists as Wendy Houstoun, Nigel Charnock, Stan Won't Dance, 5 Men Dancing, Slung Low Theatre, Protein Dance, Sweetshop Revolution, Seven Sisters Group and Freddie Opoku-Addaie amongst others. He joined Gecko for The Time Of Your Life, broadcast live on BBC4 in 2015.
Kenny Wing Tao Ho began breakdancing from a young age and went on to study at London Contemporary Dance School. He began his career at the 2012 London Olympics, working with Akram Khan. Since graduating, he worked as a freelance dancer for various artists, and has gone on to dance for Protein Dance Company, Hofesh Shechter Company and Gecko.
Creative team
Amit Lahav
Creator
Amit Lahav is the Artistic Director of Gecko and has created seven critically-acclaimed shows, all of which have toured nationally and internationally. He has worked as a director, facilitator, writer and choreographer for numerous companies throughout the world and in recent years he has mentored young artists and companies in search of their theatrical language.
Rhys Jarman
Designer
Rhys Jarman was one of the winners of the 2007 Linbury Biennial Prize and has designed for opera, television and a range of site-specific works. Recent work includes James and the Giant Peach for Northern Stage; The Machine Stops at York Theatre Royal, and The Nutcracker at Nuffield Theatres. Designs for Gecko include Missing, Institute, The Time of Your Life and The Dreamer. 
Joe Hornsby
Lighting Designer
Joe Hornsby has worked extensively with dance and physical theatre companies for the past ten years, creating shows as both lighting designer and production manager and touring works internationally. The Wedding is Joe's first collaboration with Gecko.
Jonathan Everett
Sound Designer
Jonathan Everett's recent sound design credits include work for Bristol Old Vic Theatre School, Theatre Rites, 20 Stories High, The Egg, Travelling Light, Tobacco Factory Productions, Show Of Strength, Bristol Old Vic, Moving Stories and Theatre Royal Bath. He also ran the sound departments at Bristol Old Vic and Theatre Royal Bath. He is delighted to be joining the Gecko team for this production.
Dave Price
Original music
Dave Price has worked as a composer, multi-instrumentalist, performer, sound designer, music producer, teacher and a drummer in a pop band. He has a longstanding association with Gecko, performing in Taylor's Dummies and The Overcoat, and composing original scores for The Overcoat, Missing, Institute, The Time of Your Life and The Dreamer.
Rich Rusk
Associate Director
Rich Rusk is a director specialising in ensemble physical theatre. For eight years he has toured nationally and internationally with Gecko on Missing, Institute and The Overcoat and in 2016 directed The Dreamer, Gecko's first international co-production with Shanghai Dramatic Arts Centre. He has worked with some of the UK's top devising companies and is a passionate mentor of innovative young companies.
Gayle Playford
Costume Supervisor
Gayle Playford is a professional costume maker and supervisor for theatre and television. She is inspired by everything in the world around her, and is particularly interested in the role of costume as a narrative tool.  
For Gecko
Rosalind Wynn 
Executive Producer
Rosalind Wynn has been working for the company since 2013. For Gecko she has worked on UK and international touring of Missing and Institute and also produced The Time of Your Life for Live From Television Centre. She previously worked as Producer for Coney and Project Manager for Fuel and Belluard Festival as well as producing numerous freelance projects.
Helen Baggett
Associate Director
Helen Baggett develops and leads many of Gecko's residencies, workshops and community projects. A founder member of CandoCo Dance Company, she danced with them for eight years and co-developed and delivered their international education programme. In 2000, she joined the David Glass Ensemble as performer, choreographer and project leader for The Lost Child Project. 
Sean Ford
Production Manager
Sean Ford has worked extensively in the festival circuit around the world, including the Adelaide Fringe, Melbourne International Comedy Festival and is the Technical Production Coordinator for the Pleasance in Edinburgh. His lighting work includes In the Pink and Ruby in the Smoke and he headed up a team to commission the installation and design at Dubai Parks and Resorts.
Alyssa Watts
Company Stage Manager
Alyssa Watts is a freelance Stage Manager currently based in Manchester. Recent credits include Future Bodies for Rash Dash / Unlimited Theatre; Oh Man for Hetain Patel / Contact Young Company; Holiday at Derby Theatre; Sweeney Todd at Derby Theatre and Colchester Mercury; and On Corporation Street for ANU / HOME Manchester. 
André Birck 
Sound Operator
André Birck graduated from the IGAP and has since worked as Technical and Stage Director, Technical Co-Ordinator, Sound Technician and Lighting Designer with major music artists from Southern Brazil as well as some of the most recognised theatre and dance companies from around the world including Pina Bausch, Sascha Waltz, Culberg Ballet, and Philip Glass.
London International Mime Festival
London International Mime Festival (LIMF) promotes contemporary visual theatre. Its productions have won nominations for Olivier Awards and in 2017 the festival was honoured with the Empty Space - Peter Brook Special Achievement Award for its work over four decades. Founded in 1977, LIMF is an Arts Council England National Portfolio Organisation.
Festival Directors Helen Lannaghan, Joseph Seelig
Production Manager Bill Deverson
Artists Managers Stephanie Brotchie, Shanti Freed
Press Representatives Anna Arthur PR
Graphics & Website Iain Lanyon  
Marketing Consultants Mobius Industries
London International Mime Festival 2019 gratefully acknowledges co-operation / financial support from: Arts Council England; Institut français, Royal Norwegian Embassy, London; Finnish Institute in London/TelePART and Wallonie-Bruxelles International (WBI)