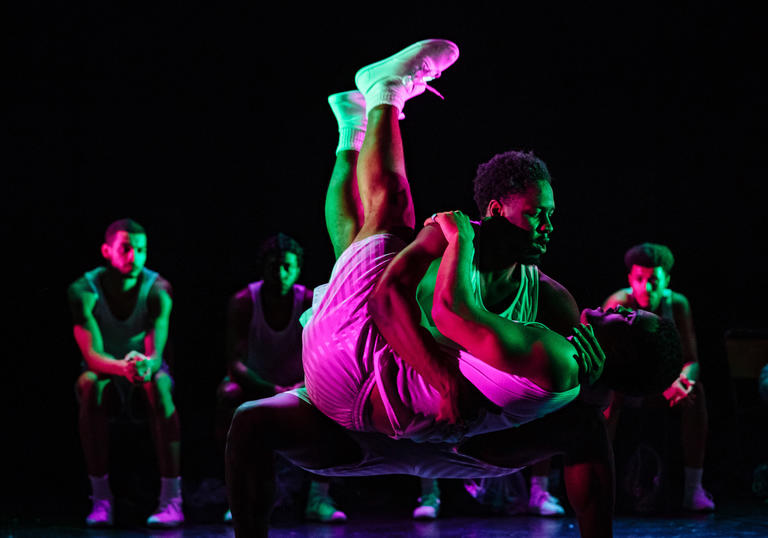 About the show
Bursting with physical energy, tender reflection and playful improvisation. Laugh, celebrate and listen as these boys dive headfirst into their experiences of being young men of colour.
Weaving slick choreography and dialogue with a soundtrack of contemporary beats, this award-winning show celebrates male tenderness, silliness, vulnerability and community. Joyful, electric, unscripted and occasionally raw but always tender. BOYS was created by this 10-strong company to unravel preconceptions and uncover the endless possibilities of masculinity.
BOYS was the winner of the Origins Outstanding New Work Award at VAULT Festival.
About the company
Founded by Kane Husbands in 2013, The PappyShow is an ensemble theatre company of eight core friends that brings people together to move, dance, create moments of radical joy, share stories and take time just to PLAY! They work across performance disciplines platforming the marginalised identities that they believe society could do better with.
As well as their critically acclaimed productions, such as BOYS (winner of the Origins Outstanding New Work Award at VAULT Festival), the OFFIE nominated GIRLS, and most recently What Do You See? at Shoreditch Town Hall (part of London International Mime Festival), they also lead diverse workshops that centre on physical training for everybody, all bodies that are full of heart and where you can just be you.
Join Young Barbican
Be there when it happens with discounted access to unmissable art and entertainment as well as events and creative opportunities for 14-25 year olds
Creative team
For The PappyShow
Creative team
Kane Husbands Director
Roly Botha Composer and Sound
Saul Valiunas Lighting
Lewis Hetherington Dramaturgy
Helena Bonner Designer
Kit Hinchcliffe Associate Set Designer
Performers
James Bokola
Jules Chan
Dior Clarke
Mateus Daniel
Arran Green
Nickcolia King-N'da
Jetsun Lama
Akshay Sharan
Adam Strawford
Kamran Vahabi
Presented by the Barbican in association with Guildhall School of Music & Drama
Supported by Arts Council England
For the Barbican
Toni Racklin Head of Theatre and Dance  
Simon Bourne Senior Production Manager  
Leanne Cosby, Jill Shelley, Angie Smith Producers  
Anna Dominian, Saxon Mudge Assistant Producers  
Kyle Bradshaw Marketing Manager 
Rebecca Moore Marketing Assistant 
Angela Dias Senior Communications Manager 
Ella Gold Communications Intern 
Freddie Todd Fordham Communications Officer 
Lauren Brown Creative Learning Producer (Theatre, Dance, Poetry) 
Jamie Maisey, Lee Tasker Production Managers   
Tony Brand, Steve Daly, Jane Dickerson, Martin Morgan, Stevie Porter Technical Managers   
Lucinda Hamlin, Charlotte Oliver Stage Managers  
John Gilroy, Nik Kennedy, Jamie Massey, Adam Parrott, Tom Salmon, John Seston, Chris Wilby, Lawrence Sills Technical Supervisors  
David Green PA to Head of Theatre  
Caroline Hall Production Administrator  
Andrew Pellett Production Assistant  
Kendell Foster, Burcham Johnson, Christian Lyons, Charlie Mann, Josh Massey, Matt Nelson, Neil Sowerby Technicians  
Heather Readdy Systems and Maintenance Technician  
Fiona Badgery, Gary Hunt, Nicola Lake Venue Managers  
Rebecca Oliver Access and Licensing Manager  
Harriet Davis, Rob Norris, Elizabeth Wilks Centre Managers (Delivery)  
Pheona Kidd Centre Manager (Planning)  
Mo Reideman Centre Manager (Health & Safety)  
Julian Fox, aLbi Gravener Stage Door 
Beat the queues with Membership
Members enjoy priority booking, discounts on tickets and exclusive events, so you can get closer to our theatre programme.
Biographies
Kane Husbands (he/him) - Director
Kane is the founder and artistic director of The PappyShow and a lecturer at Central Saint Martins, University of the Arts London. His work is all about community and bringing people together to move, share practice and play. He is a facilitator, director, performer and maker specialising in movement, dance, ensemble and physical theatre. His work and research look into diversity, inclusion and difference and finding spaces where many identities thrive. Kane is an associate of the National Youth Theatre, Squint Theatre and The North Wall (Oxford). He choreographed the Welcoming Ceremonies of the London Olympics, Paralympics, and the Glasgow Commonwealth Team. His work is site-specific, on stages, screen and in the digital space.
He has worked across theatre spaces from the National Theatre, Chichester Festival Theatre, Nottingham Playhouse, Sheffield Crucible Theatre, the Old Vic, the Midlands Arts Centre (Birmingham), the SCOOP Outdoor Theatre, Rose Bruford College (London), the Royal Central School of Speech and Drama (London), University of West London, the Royal Welsh College of Music and Drama (Cardiff), the National Youth Theatre, the King Abdulaziz Centre for World Culture (Saudi Arabia), the National Theatre of Scotland and the Kiln Theatre (London) and Fran Wen, among other companies and venues.
For The PappyShow Kane has directed BOYS; Boy, Fly; GIRLS (2018), Care, Shine Black, Our House and What Do You See? and continues to lead and curate The PappyShow's works and training in collaboration with the full core team.
Adam Strawford (he/him) - Cast
Theatre credits include: Mark in God's Dice (Soho Theatre - James Grieve MBE); Corporal Stoddart in The Plough and the Stars (Lyric / Abbey - Sean Holmes); Hector in SCUM (Park Theatre - Tatty Hennessy); and Romeo in Romeo and Juliet (Tatty Hennessy).
Film credits include: Rajiv in The 355 (Universal) and Luke in Faces (Dreamcoat Productions).
Kit Hinchcliffe (she/her) - Associate Set Designer
Kit studied Performance Design and Practice at Central St Martins Collage of Art and Design. Since graduating her work has spanned theatre, dance, film, and interactive installation. She has had the pleasure of working with companies such as Duckworth & Persson, Jethro Compton, Ciemulator Dance Theatre and shown work at theatres including The Place, The Hope, The Pleasance and Dansstationen Malmö. She is a key member of the team at Architecture Social Club where she works as a designer/fabricator and co-artistic director of Lidless Theatre.
Jules Chan (he/him) - Cast
Since graduating Drama Centre London, Jules has appeared as a guest lead on BBC's Doctors and has credits at the National Theatre, Southbank Centre and has recently written, directed and acted in his own play in Dalston. He has also co-founded Rising Waves which is a mentorship programme for British East and South East Asians supported by Arts Council England and will be soon appearing on Apple TV. This year, he has worked on What Do You See? with The PappyShow and celebrated the Barbican's 40th year anniversary with The PappyShow: Pit Party!
Lewis Hetherington (he/him) - Dramaturg and Associate Director
Lewis is an award-winning Glasgow-based playwright and performance maker. His work is rooted in collaboration, storytelling and play.
He is co-founder of fieldwork performance and an associate artist of The PappyShow. He has made work with companies including National Theatre of Scotland, Platform, Analogue, Grid Iron, RCS, and the National Youth Theatre. He is on the board of Playwrights' Studio, Scotland and Creative Carbon Scotland.
Recent projects include Dear Green Place for fieldwork performance; a programme of workshops, performance and community action across North East Glasgow responding to the Climate Crisis. He was creative lead for The Coming Back Out Ball for the National Theatre of Scotland and a two-year project celebrating the lives of LGBTI+ Elders.
His work has toured all over the world including performances in Australia, China, Canada, Japan, Saudi Arabia, Germany, USA and Japan.
Leah Butterworth (she/her) - Stage Manager
Leah is a London-based stage manager with freelance and in-house experience across theatres, fringe festivals and immersive events. With a background in physical theatre performing, Leah now specialises in immersive and physical theatre company stage management. Recent credits include: The Wedding Tour (Gecko); What Do You See? (The Pappy Show, London Mime Festival) and BOYS (The Pappy Show, the Barbican); The Dog Show (Pleasance Theatre); The Great Gatsby Immersive Experience (Immersive Everywhere), and The Murder Express (Funicular Productions). Leah is also the stage manager for Dead Rabbits Theatre Company and founder/editor of MadWomxn Magazine.
Working with The PappyShow has been a dream of hers for a long time now and she is ready to take on this new challenge and become a part of this wonderful family.
Mateus Daniel (he/him) - Cast
Mateus Daniel is a performer, choreographer and aerial hoop artist who graduated in Physical Theatre at East 15 Acting School in 2019. He has built a love and curiosity for telling stories physically that express themes of culture, race, change, and transitions.
His theatre credits include: The Quest for the Baby (The Gruesome Twosome, The Place, Resolution 2020), Street Circus Collective (The Roundhouse), The Taste of Ginger (Mundane Magazine), BOYS (The PappyShow), and Run It Back (Talawa Theatre company)
Movement director credits: Passion Fruit at the New Diorama (Offie nominated for choreography and ensemble performance) and Dull Thuds of Love with Definitely Fine Theatre Company.
Kamran Vahabi (he/him) - Cast
Kamran is an actor and writer of Middle Eastern heritage. After studying History at Royal Holloway, he worked in the City before becoming a full-time freelance artist. He has worked with the National Theatre, Lyric Hammersmith, and Royal Court. Currently, Kamran works full-time in advertising. For the company, Kamran has performed in BOYS and heads up the company's marketing team.
Akshay Sharan (he/him) - Cast
Theatre credits include: The Reluctant Fundamentalist (Finborough Theatre / The Yard Theatre / Bradford Literature Festival / Edinburgh Fringe Festival); Three Sisters (Almeida Theatre); The Treatment (Almeida Theatre); The Bee in Me (Unicorn Theatre); Renaissance (Stephens House & Gardens / The Hurlingham Club); Sara Pascoe's Christmas Assembly (Battersea Arts Centre); A Tale of Two Cities (Darlington Civic Theatre); and Daughter of the Forest (Komola Collective)
Television credits include: Grantchester (ITV); Guerrilla (Sky Atlantic); Shiny Floors (NFTS); and Story Seekers (short film with Unicorn Theatre + National Theatre)
Akshay will next be seen in Richard Bean's Jack Absolute Flies Again at the National Theatre this summer
Roly Botha (they/them) - Sound Designer and Composer
Roly is a composer and sound designer, and they're proud to be an associate artist of The PappyShow.
Theatre credits includes: Orlando (Jermyn Street); Coming To England (Birmingham Rep); WILD (Unicorn); Muck, Warheads (Park); Blowhole (Soho) Milk & Gall (Theatre503); Fritz & Matlock (Pleasance London); Helen (BAC); Brother (Southwark Playhouse); BOYS, GIRLS, Care (The PappyShow, touring nationally); and Making Fatiha (Camden People's Theatre).
Audio credits includes: It's A Practice! Podcast (The PappyShow); and Plays For Today (Southwark Playhouse).
Helena Bonner (she/her) - Designer
Helena has been working professionally in costume and production design for over 10 years. Her work spans TV, film and theatre, including Apple TV, BBC Drama, Sky, Film4, Secret Cinema, the National Youth Theatre, Rambert, Opera North, and Regent's Park Open Air Theatre. She has proudly been involved with BOYS since its award-winning premiere at VAULT Festival, and is delighted to be part of its evolution leading to this staging at the Barbican.
Nickcolia King-N'Da (he/him) - Cast
Theatre includes: Running with Lions (Lyric Hammersmith); The Death of a Black Man (Hampstead Theatre); BOYS (The PappyShow); Venice Preserved, The Provoked Wife (Royal Shakespeare Company); King Lear (Orange Tree Theatre); Peter Pan (Park Theatre); See For Myself (Tabard Theatre); and Astley's Astounding Adventures (New Vic Theatre).
Television includes: McDonald & Dodds (Mammoth Screen); and Silent Witness (BBC Studios).
James Bokola (he/him) - Cast
While currently studying entrepreneurship and innovation at Brunel University, James Bokola has a few professional credits, which include the play Nightshade at the Hackney Empire. He is extremely excited to be making his official debut at the Barbican with BOYS and The PappyShow.
Jetsun Lama (he/they) - Cast
Jetsun is a trans-masculine mover, performer and tattoo artist. They trained last year on Hackney Showroom's Young Actors course.
Jet is over the moon that this will be his first time performing since starting HRT (Hormone replacement therapy) as well as their debut at the Barbican.
Arran Green (he/him) - Cast
Arran Green is a movement artist and dance educator from Finsbury Park. Originating from the culture of Capoeira and later developed through the wider Hip Hop community, Arran attended London Contemporary Dance School to complete both a formal and cultural education in dance. Post graduating, Green has enjoyed a performance career representing contemporary companies domestically and internationally such as South Paw, Avant Guard, Rubber Band, and Fubu Nation. Committed to the understanding of education through dance, Arran now sits as co-chair of the youth board at Sadler's Wells and works as a full-time lecturer at Rambert School, and former home, London Contemporary.
Dior Clarke (he/him) - Cast
Dior Clarke was born and raised in North London. After graduating from LSDA he joined the National Youth Theatre. Soon after he completed a MA in acting at ALRA. Dior has performed in various professional productions.
Most recent credits include: Baby Boy directed by Greg Hall on film; Inner Demon directed by Thomas Meadmore; and Shooters/Scooters & Shottas directed by Rikki Beadle Blair.
Dior is also big on creating his own work which includes Batty Boy, a Sky Arts and Creative England production. His most recent semi-autobiographical stage play Passion Fruit debuted at the New Diorama Theatre this year. He continues to create and be part of the stories we never see to inspire people.
Saulius Valiunas - Lighting Designer
Theatre credits include: The Hidden People (Lighting Associate - Hikapee Theatre / Huldufugl, Worthing Pavillion, 2022); The Greatest Hits of Lily & John (Tritone Theatre, The Other Palace Studio, 2022); GIRLS (The PappyShow, various (2019); Care (The PappyShow, various, 2019); The Apologists (Unlikely Productions, VAULT Festival 2019); A Gym Thing (Small Things Theatre Company/Working Cast Productions, The Pleasance London 2018); and X-NN Systems: Meet Market (Runhoratio, VAULT Festival 2018).
Live music credits include: Mitski - Lauren Hell (UK/EU Tour various, 2022); Elder Island (various, 2021 - current); King Krule End of the Road (Festival, 2021); Little Simz (various, 2018 - 2021); Kojey Radical (various, 2017 - current); and Broken Social Scene (UK tour, various, 2017).
The PappyShow are:
Marc Benga
Sam Hardie
Rachel-Leah Hosker
Bea Holland
Kane Husbands
Kwami Odoom
Kamran Vahabi
Seda Yildiz
For more information on the show or on the company, please visit www.thepappyshow.co.uk or email [email protected]