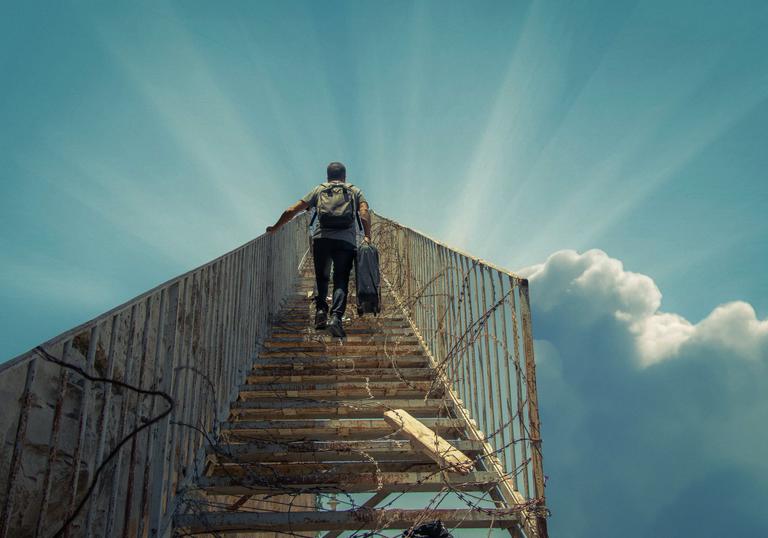 Let your ears do the walking
What power do tour guides have, and how willing are we to believe everything they tell us? This is one of the questions being explored in an innovative production that'll give you a new perspective on a familiar city.
Text by James Drury
Showing as part of Shubbak Festival: London's festival of contemporary Arab Culture, The Land's Heart is Greater Than Its Map takes you on an audio tour around the Square Mile, with one key difference: the descriptions you're hearing are from another city entirely. 
Created by Palestinian actor and filmmaker Ramzi Maqdisi and British theatremaker Olivia Furber, it explores the authoritative voice of tour guides and our preparedness to believe them.
'This is really powerful and quite dangerous,' says Furber. 'When we researched it, we found that many of the more repressive regimes strongly moderate and control their tour guiding industry to make sure that the narrative that's told is fixed, and no one deviates from it.' 
While developing the idea, Furber and Maqdisi realised that visitors didn't want to question what they were being told. On a test visit to Munich, they fabricated a city tour and invited people to take part. 'We walked around and found things that looked interesting and created stories around them to bring them to life,' says Furber. 'Some of them were ridiculous. Others were more believable. But what was so incredible from the tour was that people either believed them or they just wanted to. They would come up to you afterwards and be like, "Is that real? Did that really happen?"' 
They specifically wanted to work with the audio tour format because it offers a very personal experience for audiences, says Furber. 'This idea of an art form where someone is whispering in your ear, or talking to you directly, is very intimate. It's much more conversational. We both come from a theatre background and love it, but there's a certain frustration at how much can we directly speak to a person when we're showing them something on the screen or a stage?'
Ramzi says giving people the chance to use their own imaginations to conjure the places described in the audio tour has a powerful impact on audiences. 
In the 70-minute experience, you'll be transported to a different city to hear about places there while looking at familiar landmarks in London. Unlike the test events, everything you'll hear is true. Let your ears be your guide. 
Reproduced from the Barbican Guide, June 2021
Key information
Duration 70 minutes walking
Age guidance 15+
BSL-interpreted performance Sat 3 July, 3.30pm
The route of this tour will be accessible for wheelchair users
The performance contains sensitive material and references to violence.
The headphone soundtrack includes some loud and sudden sounds. You will have access to control the volume yourself. Headphones are sanitised before each use.
You'll just need comfortable shoes and appropriate clothing for any potential wet weather.
Performed in English.
Presented by the Barbican and Shubbak Festival. London premiere commissioned by Shubbak Festival.
The piece was developed with the support of The British Council, Hoch X, The Albany, Ensemble 52 and the Blast Theory Residency Programme.
The artistic concept was initially conceived through a research workshop with Meta Theater, Villa Waldberta and IETM.
Biographies
Ramzi Maqdisi
Co-Creator
Ramzi Maqdisi is a Palestinian filmmaker, writer and actor. His work addresses the minute and everyday aspects of life under occupation. Using subtle, subversive and visual storytelling, he seeks to convey an experience of the overwhelming nature of occupation through zooming in on the tiny details that we all, as humans, share. Ramzi Maqdisi began his professional career as an actor in the Palestinian National Theatre (2000-2005) and went on to work internationally with theatres such as The Nordic Black Theatre (Norway), La Invenció (Spain) and Khashabi (Palestine). As a director he has staged numerous works at the Palestinian National Theatre and his work as a writer has been produced by Northern Stage (Here is the News from Over There) and Ensemble 52 (Aviatrix). As an actor for film, his work includes Ghost Hunting (winner of the Berlinale Prize for Best Documentary), Omar and The Attack. Ramzi Maqdisi is co-artistic director of Quds Art Films, a collective of artists from Europe and the Middle East covering multiple disciplines including film, theatre and installation. Their theatre work has been produced by the Palestinian National Theatre and recent film projects have had global festival releases as well as airing on BBC Arabic and Al Jazeera.
Olivia Furber 
Co-Creator
Olivia Furber is a theatre director and writer working across theatre and installation; indoors, outdoors and in places you weren't expecting to find her. She trained in movement direction at Opera North and has gone on to direct, assistant direct and deliver dramaturge work for York Theatre Royal, London International Festival of Theatre, Ensemble 52 and Theatre Hullabaloo. Her work focuses on borders (both those which are written into the mind and drawn into the ground) and how humans find ever-ingenious ways to cross them. From 2012-2021 she was co-artistic director of Ivo theatre, with whom she created a heterogeneous mix of theatre, live art and VR that was fierce, rigorous and sideways in form and content. Their work has been produced with partners including The National Theatre, Almeida Theatre, The British Council and IETM. 
9T Antiope 
Sound Artists
The 9T Antiope duo consists of Paris-based, Iranian musicians Nima Aghiani and Sara Bigdeli Shamloo [aka SarrSew]. The main focus of the band is experimental music, using layers of acoustic instruments, electronics and combining them with vocals and lyrics, in order to narrate tiny bits or huge landscapes of the chaotic worlds they envision, along with their inhabitants. Since 2014, they've had releases on multiple labels such as PTP (Purple Tape Pedigree), Eilean Rec., Hallow Ground, Zabte Sote/Opal Tapes, Flaming Pines, Unperceived Records and an upcoming project on American Dreams. The duo also work in different theatre, film and performance projects, for which they do sound design and composition.
www.9tantiope.com
Tony Bell
Voice of the Tour Guide
Tony Bell is an actor, director and voiceover artist. He was a member of Propeller Shakespeare company for 17 years, touring internationally to New York, Milan, Madrid, Indonesia, Malaysia, Sri Lanka, India and Bangladesh. He was a member of the BBC Radio Acting company from 2010 until 2012. He is a keen footballer and currently studying for an MA in scriptwriting at UEA.
Angus Kemp
Sound Recordist
Angus Kemp is an audio producer and composer from South London. Angus Kemp's work often focuses on found sound and field recordings – capturing the hidden moments in every day audio and composing around them. Alongside his broad spectrum of musical output he is also one of the brains behind Boss Lids Records.
www.anguskempaudio.co.uk
About Shubbak Festival
Shubbak Festival is the UK's premier festival of contemporary Arab arts and culture. 
Since its inception in 2011, its bold programmes have celebrated the creativity and innovation of contemporary Arab artists from South West Asia, North Africa and the wider diaspora. 
New and unexpected voices feature alongside distinguished names in its ambitious programmes of premieres, and new commissions showcased at London's landmark venues, its bustling markets, on local streets, iconic green spaces and in the cloud. 
Much more than just another London festival, Shubbak has become a magnet for different people to come together who otherwise wouldn't meet. It has a reputation for sparking curiosity into new artists and artistic expressions. In presenting poignant and urgent work by Arab artists questioning the norm, the festival offers an alternative perspective to the dominant media's conflict-based narrative on the Arab world. 
With its vibrant mix of visual arts, film, music, theatre, dance, literature and debates, Shubbak Festival showcases the diversity of contemporary Arab arts and culture, and celebrates what makes it distinctive to itself.
Shubbak Festival 20 Jun–17 Jul 2021
A window on contemporary Arab art and culture
www.shubbak.co.uk
Instagram & Twitter: @shubbakfestival 
Facebook: shubbakfestival 
Shubbak Festival
Eckhard Thiemann Artistic Director/CEO
Taghrid Choucair-Vizoso Senior Producer and Festival Programme
Fiona Aber-Taruona General Manager
Youcef Hadjazi Administrative and Projects Assistant
Kevin Wratten Festival Projects Producer
Valeria Mariani Festival Projects Producer
Jess Franses Digital Event Producer
Ameerah Ayyad Assistant Producer
Jackie Friend Marketing & Communications Manager
Anna Arthur PR consultant
Barbican Theatre Department 
Toni Racklin Head of Theatre and Dance 
Simon Bourne Senior Production Manager 
Leanne Cosby, Jill Shelley, Angie Smith Producers 
Kyle Bradshaw Marketing Manager
Angela Dias Senior Communications Manager
Freddie Todd Fordham Communications Officer
Lauren Brown Creative Learning Producer (Theatre, Dance, Poetry)
Jamie Maisey, Lee Tasker Production Managers  
Tony Brand, Steve Daly, Jane Dickerson, Martin Morgan, Stevie Porter Technical Managers  
Lucinda Hamlin, Charlotte Oliver Stage Managers 
John Gilroy, Nik Kennedy, Jamie Massey, Adam Parrott, Tom Salmon, John Seston, Chris Wilby Technical Supervisors 
David Green PA to Head of Theatre 
Anna Dominian, Alex Legge, Bernie Whittle Assistant Producers 
Caroline Hall Production Administrator 
Andrew Pellett Production Assistant 
Kendell Foster, Burcham Johnson, Christian Lyons, Charlie Mann, Josh Massey, Matt Nelson, Lawrence Sills, Neil Sowerby Technicians 
Heather Readdy Systems and Maintenance Technician 
Fiona Badgery, Nyah Farier, Gary Hunt, Nicola Lake Venue Managers 
Rebecca Oliver Access and Licensing Manager 
Elizabeth Wilks, Harriet Davis, Rob Norris Centre Managers (Delivery) 
Pheona Kidd Centre Manager (Planning) 
Mo Reideman Centre Manager (Health & Safety) 
Julian Fox, aLbi Gravener Stage Door