Digital Programmes
Maxim Vengerov & Simon Trpčeski
Start time: 7.30pm
Approximate running time: 105 mins including a 20-minute interval
Please note all timings are approximate and subject to change
This performance is subject to government guidelines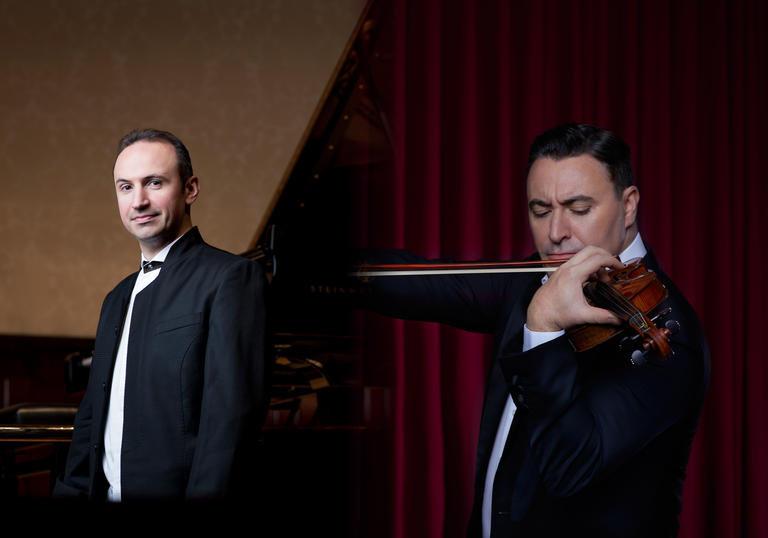 There's a clear thread in tonight's programme, according to Maxim Vengerov. Ariane Todes speaks to him to find out more.
'These works were all written by people who were inspired by the violin. Wolfgang Amadeus Mozart played the violin; Sergey Prokofiev wrote for David Oistrakh, one of the greatest violinists of the 20th century; César Franck wrote for Eugène Ysaÿe, regarded as 'King of the Violin' in his time; and Maurice Ravel was inspired by Jelly d'Arányi. The whole programme is about the love of the violin felt by four of the greatest composers of different epochs.'
It would be wrong to call it a violin recital, though, especially with a collaborator such as Simon Trpčeski, as Vengerov explains: 'In the great violin sonatas, the piano always leads, because it provides the harmonic and rhythmic foundations. That's how the violin finds its freedom, submitting itself to this magnificent instrument, which has so many colours and facets. As a violinist you have to understand the harmonies and have at least one ear in your partner's score, matching their colouring. Simon and I have been friends for a long time, and he is a wonderful musical soul – in his own league. It's always exciting to collaborate with a soloist who also plays chamber music, so it's exciting to see where he will lead me!'
The Mozart Sonata in E minor that opens the programme certainly has a specific harmonic colour. Vengerov says: 'This is Mozart's only violin and piano sonata to be written in a minor key, which is probably because it was written in 1778, the year Mozart's mother died. The key indicates the mood that Mozart was in at that time.' In playing it, he also gets clues from elsewhere in Mozart's repertoire: 'Any instrumental work of Mozart has to has to be played with a sense of operatic imagination – music without words that nevertheless always has a message.'
Mozart (1756–1791) and Prokofiev (1891–1953) might not seem obvious companions, but Vengerov sees a link: 'They are completely different in style and epoch, but they share a cosmic purity.' Both composers have also been underestimated, Vengerov argues: 'Mozart is always valued at a surface level. People think of the lovely tunes and the lightness, but beyond that, there is great depth. Prokofiev is as difficult as Mozart, but in violin competitions, I've often watched students who think that if they choose Shostakovich or Prokofiev, they can't go wrong – they just have to play dramatically, loud and fast, and they'll win. Prokofiev is more subtle than that. If you want to go really deep with Prokofiev and Mozart, it takes years of maturity.'
Vengerov is uniquely qualified to speak of Prokofiev, as the composer's metaphorical musical grandchild – he was mentored by the legendary cellist Mstislav Rostropovich, who studied closely with Prokofiev. What stories does he remember? 'Rostropovich always said that Prokofiev was a man of great contrasts. On one hand, he possessed an incredible discipline, waking up at six o'clock in the morning and dressing in an elegant suit like a businessman or accountant. At the same time, he was totally free and unattached to this world.'
These contrasts run through the music, Vengerov explains: 'If I had to describe Prokofiev in two words, I would use "time" and "timeless". There's always the sense of time that you can't change, but also of time that goes on forever, an infinite universe that we can't comprehend. In every piece there is a pulse, but also fantasy that goes beyond that: rigidity and freedom; hot and cold; love and hatred. This sonata, especially, possesses all these feelings, finely balanced between the two instruments.'
The sonata was written for David Oistrakh (1908–1974), who performed it first in 1946, and played two movements at Prokofiev's funeral in 1953. Vengerov describes the work: 'It's one of his most dramatic pieces, filled with different colours. There's a passage at the end of the last moment that Prokofiev described as the wind in the graveyards – the most chilling colouring that the violin can produce. It shows his imagination and is one of the greatest sonatas ever written for violin and piano.'
The Violin Sonata of César Franck (1822–1890) is one of his best-known works, written for the wedding of Eugène Ysaÿe (1858–1931), master of the Franco-Belgian school of violin playing. Vengerov says: 'The Franck rhymes very well with the colours of Prokofiev. Ysaÿe possessed an amazing sound and a way of colouring the instrument, which we can hear in his recordings. The Franck is like a painting, full of images.'
Legend has it that by the time it came to perform the piece at its public premiere in 1886, the lights in the venue had gone out, and Ysaÿe and his pianist Marie-Léontine Bordes-Pène had to perform it in virtual darkness. There will be light in the Barbican Hall, but you might see Vengerov shut his eyes. He explains: 'I go inside for the first and third movements, into different dimensions. Our eyes are not the strongest receptor of our body – our auditory experiences are far stronger. If anything, our eyes distract us from really listening and can be misleading.'
The programme ends with Ravel's Tzigane (a French word for a generic gypsy style), dedicated to the Hungarian violinist Jelly d'Arányi (1893–1966). Vengerov says: 'The Tzigane is the cherry on the cake. Every time I play it, I discover something new. Ravel's music is as difficult as Mozart because it's so transparent. There's a borderline and if you overstep that line, it becomes vulgar. It can easily be misinterpreted and played too rhapsodically. You can't just play it like you want, though. It has a structure – it's a serious work.'
Vengerov says he is happy to be back at the Barbican Hall, where he has performed many times over the years: 'The Barbican has a special atmosphere – there have been so many great concerts, not just for me with great conductors including Rostropovich, Boulez, Davis, but during its whole history. So many wonderful musicians have played and recorded here. It has a special aura and I am definitely affected by that.'
He is also pleased to present a violin and piano programme: 'The recital has always been one of my favourite ways to express music. Sharing a couple of hours of intimacy with an audience, there's no hurry. I can talk to my audiences in different ways, in different styles, with different colours – there's so much to say!'
© Ariane Todes
Start time: 7.30pm
Approximate running time: 105 mins including a 20-minute interval
Please note all timings are approximate and subject to change
This performance is subject to government guidelines
Programme and performers
Wolfgang Amadeus Mozart Violin Sonata No 21 in E minor
1. Allegro
2. Tempo di Menuetto
Sergei Prokofiev Sonata No 1 in F minor
1. Andante assai
2. Allegro brusco
3. Andante
4. Allegrissimo – Andante assai, come prima
César Franck Violin Sonata
1. Allegretto ben moderato
2. Allegro
3. Ben moderato: Recitativo-Fantasia
4. Allegretto poco mosso
Maurice Ravel Tzigane
 
Maxim Vengerov violin
Simon Trpčeski piano
Universally hailed as one of the world's finest musicians, and often referred to as the greatest living string player in the world today, Grammy award winner Maxim Vengerov also enjoys international acclaim as a conductor and is one of the most in-demand soloists.
Born in 1974, he began his career as a solo violinist at the age of five, won the Wieniawski and Carl Flesch international competitions at ages 10 and 15 respectively, studied with Galina Tourchaninova and Zakhar Bron, made his first recording at the age of 10, and went on to record extensively for high-profile labels including Melodia, Teldec and EMI, earning among others, Grammy and Gramophone artist of the year awards.
In 2007 he followed in the footsteps of his mentor, the late Mstislav Rostropovich, and turned his attention to conducting and in 2010 was appointed the first chief conductor of the Gstaad Festival Orchestra.
Recent Highlights include Mr Vengerov opening the season of the Orchestra Filarmonica della Scala with Maestro Chailly, a Residence with Monte Carlo Philharmonic and the Philharmonie in Paris and extensive recital tours throughout the world.
In January of last year, Maxim Vengerov became Classic FM's first solo Artist in Residence and released a new recording of Tchaikovsky's Violin Concerto with conductor Myung-Whun Chung and the Orchestre Philharmonique de Radio France, coupled with works by Saint-Säens and Ravel as well as a live recital from his Carnegie Hall concert in October 2018. Further recordings will follow to coincide with Maxim Vengerov's celebration of 40 years on stage at the Royal Albert Hall, originally planned for June 12, but now rescheduled to September 2022. He will be joined by his colleagues Misha Maiski, Martha Argerich, the Oxford Philharmonic with its Music Director Marios Papadopoulos and students from the Royal College of Music London.
As one of Mr Vengerov's greatest passions is the teaching and encouraging of young talent, he has held various teaching positions around the world. He currently holds the Stephan and Viktoria Schmidheiny Stiftungsprofessor at the Mozarteum University Salzburg and since September 2016 he is also the Polonsky Visiting Professor of Violin at the Royal College of Music in London. In 2018 Maxim Vengerov became the Goodwill Ambassador of the Musica Mundi School - a unique institution, which supports young talents. With the aim of making musical support generally accessible, he initiated his own online teaching platform in January 2021: www.maximvengerov.com
Mr Vengerov has received numerous awards including Grammy Award for Best Instrumental Soloist Performance and a World Economic Forum Crystal award in 2007, honouring artists who have used their art to improve the state of the world, as well as the Ordre du Chevallier from the Palace in Monte Carlo where he resides.
He plays the ex-Kreutzer Stradivari (1727).
Simon Trpčeski has been praised not only for his powerful virtuosity and deeply expressive approach, but also for his charismatic stage presence.
Launched onto the international scene twenty years ago as a BBC New-Generation Artist, in an incredibly fast-paced career that encompass no cultural or musical boundaries, Simon Trpčeski has collaborated with over a hundred orchestras on four continents, including the London Symphony Orchestra, Philharmonia Orchestra, City of Birmingham Orchestra, Orchestre National de France, Royal Concertgebouw Orchestra, Deutsche Sinfonie Orchester Berlin and Dresden Philharmonic, while In North America, he is a frequent soloist with the Cleveland and Philadelphia Orchestras, the Los Angeles and New-York Philharmonic, and the San Francisco, St. Louis, Seattle, and Baltimore Symphonies. Further afield, he has performed with the New Japan, Seoul, and Hong Kong Philharmonics, and the Sydney, Adelaide, Melbourne, and New Zealand Symphonies. 
A much sought-after soloist, the long list of prominent conductors Simon Trpčeski works with includes Marin Alsop, Gustavo Dudamel, Cristian Măcelaru, Charles Dutoit, Jakob Hrusa, Vladimir Jurowski, Susanna Malkki, Andris Nelsons, Antonio Pappano, Vasily Petrenko, Robert Spano, Michael Tilson Thomas, and David Zinman. He has a particularly long-standing relationship with the Royal Liverpool Philharmonic Orchestra, further strengthened during the tenure of Vassily Petrenko. Together, they have recorded the monuments of the Russian piano repertoire, all four Rachmaninov piano concertos as well as the Rhapsody on a Theme of Paganini, for Avie, the two Tchaikovsky piano concertos and most recently Prokofiev piano concertos no. 1 and 3 for Onyx Classics.
An acclaimed recitalist, Simon Trpčeski has performed in major halls in New York, San Francisco, Washington, D.C., London, Paris, Amsterdam, Milan, Munich, Prague, Hamburg, Bilbao, Istanbul, Dublin, and Tokyo. Since his debut at Wigmore Hall in 2001, he has remained a regular guest of this prestigious venue, including a Residency in 2018, and with two recitals released on the Wigmore Live label. 
In chamber music, Simon Trpčeski regularly partners cellist Daniel Müller-Schott, and regularly appears as a chamber musician in festivals such as Aspen, Verbier, Risor, Bergen, and the Baltic Sea Festival.
A natural music explorer, Simon Trpčeski is also committed to strengthening the cultural image of his native Macedonia. His latest chamber music project MAKEDONISSIMO is dedicated to introducing audiences world-wide to the rich traditional Macedonian folk roots. With the collaboration of composer Pande Shahov, it weaves into one unique sound world, the Macedonian folk music tradition with highly virtuoso, jazz-influenced riffs and harmonies. Since its successful premiere in Germany at the Ludwigsburger Schlossfestspiele, the project has travelled to Slovenia, UK, Poland, The Netherlands, France, Serbia, Montenegro and Romania with future performances scheduled in Russia, New Zealand and Australia.
Simon Trpčeski's fruitful collaborations with EMI Classics, Avie Records, Wigmore Hall Live, Onyx Classics, and currently Linn Records has resulted in a broad and award-winning discography. His natural affinity with Russian composers of the 19th and 20th century is featured in seven CDs presenting works by Rachmaninov, Prokofiev, Stravinsky, Tchaikovsky, Scriabine, Mussorgsky and Rimsky-Korsakov. He has also recorded the music of Chopin, Brahms, Poulenc, Bach, Liszt and Debussy. His debut album received both the 'Editor's Choice' and 'Debut Album' prizes at the Gramophone Awards in 2002. His Rachmaninov concerto cycle in 2010 and 2011 was Gramophone 'Editor's Choice' and also received a Diapason d'Or. The Wigmore Live CD of 2012 was The Telegraph 'Classical CD of the Week'.
With the special support of KulturOp - Macedonia's leading cultural and arts organization - Simon Trpčeski works regularly with young musicians in Macedonia nurturing the talent of the next generation of artists. In 2009, he received the Presidential Order of Merit for Macedonia, a decoration given to foreign and domestic dignitaries responsible for the affirmation of Macedonia abroad. In 2011, he became the first-ever recipient of the title 'National Artist of Macedonia'.
Born in Macedonia in 1979, Simon Trpčeski is a graduate of the School of Music at the University of St. Cyril and St. Methodius in Skopje, where he studied with Boris Romanov. He was BBC New Generation Artist 2001-2003 and in 2003, was honoured with the Young Artist Award by the Royal Philharmonic Society.