Digital Programmes
Joyce DiDonato: Eden
Start time: 7.30pm
Approximate running time: 80 minutes with no interval
Please note all timings are approximate and subject to change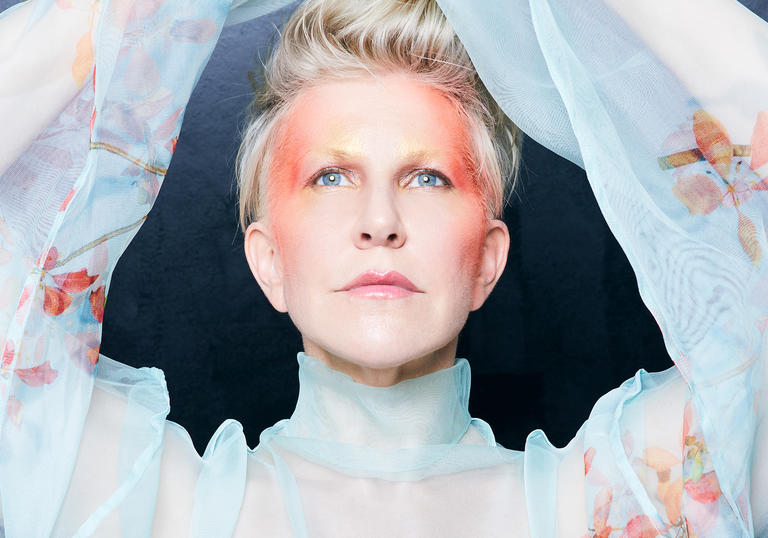 Joyce DiDonato's latest project is nothing if not ambitious. James Drury finds out more.
'It is an overture to contemplate the sheer perfection of the world around us, and to explore whether or not we are connecting as profoundly as we can to the pure essence of our being,' writes the globally esteemed mezzo-soprano.
The idea came to her five years ago and was initially a 'preachy' and 'militant' call to arms about climate change, but evolved into something more universal that goes beyond that to ask us to embrace our role as part of nature. 'There's this disconnect within people at large, within communities, within nations, that we're not taking care of each other,' she told the Irish Times. 'And that's the bigger question that EDEN morphed into in these last two years,' 
As well as a concert tour and album, EDEN also includes outreach work with schools. The project's catchline 'One song, one seed' aims to plant seeds of change in people's minds as we revel in the mezzo-soprano's broad choices of music. To that end – and somewhat more literally – you'll have received a corn poppy seed, which DiDonato would like you to plant. 'They were once a familiar sight in arable fields but modern farming methods have made them much less common,' she says, explaining why these were chosen for Barbican audiences. 
She hopes as a result of this project people will 'look how much extraordinary benevolence there is in the world around us; let's participate in building that up and taking care of that'. 
The driving force behind this mission is DiDonato's relentless optimism (she laughs she sometimes belligerently clings to this trait). Renowned as an activist, she says 'I know music can save lives, heal deep wounds, unify communities, and can bring real hope and comfort in the darkest hour. This is why I am an activist.' She's taken part in prison outreach work in the USA, is an active advocate for music education through El Sistema, which has changed the lives of more than 700,000 children in Venezuela, and uses her platform to champion social change.
EDEN opens with Charles Ives' The Unanswered Question. On a trip to Brazil for the development of the project, conductor Maxim Emelyanychev suggested the 20th century American experimentalist composer's piece. 'I went, "We can't do Charles Ives, what are you talking about?",' recalls the Kansas-born singer. 'He started to play this music. I'd never heard it before and the minute it started, I was transported into the cosmos. I didn't dare breathe for the four and a half minutes it was playing…we all got goosebumps and said "that's how we start".'
This breath-taking work begins with a solo voice posing what sounds like a question that goes unanswered until the wind section strikes up with an almost robotic response. The original voice seems to persist, asking again and again, and the answers come with a little more impatience, a growing sense disagreement among themselves as they become discordant. 
DiDonato says: 'What I love about it is it's putting us in a place that's slightly outside of ourselves; it's giving that energy we all have: why am I here, what's happening to me, what are we doing to ourselves? We all have so many questions in our head right now and this piece is somehow calming but so human.' 
Following this extraordinary opening is the UK premiere of The First Morning of the World written by Academy Award-winning English composer Rachel Portman with libretto by Gene Scheer, who frequently works with DiDonato's long-time collaborator Jake Heggie.
Knowing that his new piece comes after The Unanswered Question, Sheer's first line is 'There is a language without question marks; you can read it in the rings of trees and in the wind and in the river and in the sound of birds singing. Has their song changed from the first morning of the world?' It then takes us on a journey of more questions, asking for the grace to be able to speak that language. 
'It was very important for us in this project to create a new piece and to have the birth of something, because the whole thing is about planting seeds, putting seeds of music, ideas, questions, maybe even answers along the way and seeing what fruit comes from them,' says DiDonato. 'Rachel is such a beautifully sensitive, attuned human being and composer. That searching and sensitivity comes through her music.'
'This project and this piece is a call to remember that this language exists, that we're a part of it, and the gifts and the revelations that come to us if we can open back up and value, listen and engage with it. This isn't just about avoiding climate disaster, it's about giving ourselves the fullness of the life that's here now, and connecting to that.'
Journeying through two centuries of works by the likes of Mahler, Gluck, Wagner and others, the concert closes with one of DiDonato's showcase pieces, Handel's 'Ombra mai fù' from Serse. Inspired by the idea of sitting in the shade of a plane tree, it is one of the composer's most famous and popular vocal works. It's the perfect ending for a project that's 'trying to tell the story of perfection, the story of paradise, the story of being inundated and flooded with beauty, love, nature in its extraordinary balance,' says DiDonato. 'I would venture a guess that we've all had access to that feeling at one time or another. I find that when I listen to a story, when I'm carried away by music, it connects me to that glimpse a little bit longer. That's what we want to build.'
© James Drury
Start time: 7.30pm
Approximate running time: 80 minutes with no interval
Please note all timings are approximate and subject to change
Programme and performers
Programme
Charles Ives The Unanswered Question
Rachel Portman The First Morning of the World (UK premiere*)
Gustav Mahler 'Ich atmet einen linden Duft' from Rückert-Lieder
Biagio Marini 'Con le stelle in ciel che mai' from Scherzi e canzonette
Josef Myslivecek 'Toglierò le sponde al mare' from Adamo ed Eva
Aaron Copland 'Nature, the Gentlest Mother' from Eight Poems of Emily Dickinson
Giovanni Valentini Sonata enharmonica
Francesco Cavalli 'Piante ombrose' from La Calisto
Christoph Willibald Gluck 'Danza degli spettri e delle furie: Allegro non troppo' from Orfeo ed Euridice
Christoph Willibald Gluck 'Misera, dove son… Ah! non son io che parlo' from Ezio
George Frideric Handel 'As with rosy steps the morn' from Theodora
Gustav Mahler 'Ich bin der Welt abhanden gekommen' from Rückert-Lieder
*Commissioned by University Musical Society of the University of Michigan; the Harriman-Jewell Series, Kansas City; Abu Dhabi Music & Arts Foundation; and Cal Performances at University of California, Berkeley
Performers
il Pomo d'Oro
Maxim Emelyanychev conductor
Joyce DiDonato executive producer and mezzo-soprano
Manuel Palazzo actor
Bishop Ramsey CE School Choir
Music Centre London Choir
Marie Lambert-Le Bihan stage director
John Torres lighting designer
The First Morning of the World (Gene Scheer)
There's a language without question marks.
You can read it in the rings of trees.
And in the wind and the river.
And in the sound of birds singing.
Has their song changed since they sang it once in Eden?
Oh, to understand the language of the trees...
the grammar of the earth...
the sounds and the songs from the first morning of the world.
But I am filled with nothing but questions.
And each one is bound together like logs on a raft,
Taking me down the river mile by mile.
Ever further away from the mountain top.
Ever further away from the borders of my heart.
Ever further away... away... away...
Away from the first morning of the world.
There is a torn map in my clenched first.
On it is marked where I have been
And where I want to go.
But this moment is not on any map.
It is in the rings of trees.
In the wind and the river.
It is in the sound of birds singing as they did in Eden.
In the songs on the first morning of the world.
Oh tree, Oh, bird, Oh, world. Oh, all of you...
Oh, forgotten garden! I am here.
Touch me. Teach me to sing notes that bloom like a canopy of leaves,
Meant to do nothing but feel the sun.
© Gene Scheer
Reprinted with kind permission of Hal Leonard Europe Ltd
Ich atmet' einen linden Duft (Friedrich Rückert)
Ich atmet' einen linden Duft.
    Im Zimmer stand 
    Ein Zweig der Linde,
    Ein Angebinde von lieber Hand;
    Wie lieblich war der Lindenduft!
Wie lieblich ist der Lindenduft!
    Das Lindenreis 
    Brachst du gelinde;
    Ich atme leis 
    Im Duft der Linde
    Der Liebe linden Duft.
I breathed a gentle fragrance
I breathed a gentle fragrance!
    In the room stood
    A spray of lime,
    A gift from a dear hand;
    How lovely the fragrance of lime was!
How lovely the fragrance of lime is!
    The spray of lime
    Was gently plucked by you!
    Softly I breathe 
    In the fragrance of lime
    The gentle fragrance of love.
Con le stelle in ciel che mai (Anon.)
Con le stelle in ciel che mai
Vidi il Sol spiegar i rai?
Chi tra gelo nel suo stelo
Amoroso star la rosa,
Tra tempest', e tra procelle
Lampeggiar amiche stelle?
Ecco uscir del sol il sole,
E di Dio l'immensa prole
Tra gli orrori spuntari fiori;
O bel lampo, o del campo
Fior che sol fa primavera
E de l'or l'età primiera.
Casti amanti, ecco senz'ali
Ecco Amor senz'arco e strali,
Che nel seno di vil fieno
Freddo giace, senza face:
Ma se scalda il core algente,
E che poi sarebbe ardente.
Nudo fere, e disarmato,
Che faria poi faretrato
Con que sguardi mille dardi
Da begl'occhi par che scocchi,
E le calde lagrimelle
Son faville, e al cor facelle.
S'apre poi le labbra al riso,
Rose dà di Paradiso,
S'altri puote ne le gotte
Vagheggiarele senz'amarle,
Sù, sù prendi arco, e faretra,
Casto Amore, e'l cor mi spetra.
Hor' al mondo il grand' Augusto,
Signoreggio – io nel angusto
Aero speco vivrò teco,
Dove invite co' i vegiti,
Che s'è culla al tuo natale,
A  me sia tomba vitale
Who has ever seen the sun
Who has ever seen the sun
Spread its rays in the firmament?
Who has seen a lovely rose on frozen ground
Stand upright on its stem?
Who has seen through storms and tempests
The friendly stars twinkle?
Here the sun rises from the ground,
And the offspring of God's great fecundity,
Flowers now blossom amid the horror;
O fair lightning, O flower of the field
That alone brings springtime
And the first Golden Age.
Chaste lovers, here is Cupid
Without wings, bows or arrows.
He lies in the humble hay,
Cold and without a light:
But if his frozen heart once warms,
How will it then burn!
He was naked and unnamed,
But what would he have done with a quiver,
When with those glances he seems
To shoot a thousand darts from his fine eyes,
And his hot tears
Are sparks that illumine hearts.
If then he opens his lips to laugh,
He brings forth roses of Paradise;
If someone gazes on his cheeks
Without desire or love,
Come, take up bow and quiver,
Chaste Cupid, and soften my heart.
While great Augustus reigns on earth,
I in a narrow unsheltered cave
Shall live with you,
Lured there by your moans,
For if it be a cradle for your birth,
May it be for me a living tomb.
Toglierò le sponde al mare (Giovanni Granelli)
Toglierò le sponde al mare,
Perderò cittadi e genti!
Acque pria, poi fiamme ardenti:
Alti danni e piaghe amare
Sulla terra spargerò!
Ah, mia spada, e di qual sangue
Finalmente andrai vermiglia?
Vela, o luna, al sol le ciglia!
Trema, o terra: estinto, esangue
Mira il dio che ti creò!
I shall remove the sea from its shores
I shall remove the sea from its shores,
I shall erase cities and peoples!
Waters first, then burning flames:
Sore destruction, bitter plagues
I shall scatter across the globe!
Ah, my sword, whose blood
Will turn you red at last?
Veil, O moon, your countenance from the sun!
Quake, O earth: lifeless and bloodless,
Behold the god who created you!
Nature – the Gentlest Mother  (Emily Dickinson)
Nature – the Gentlest Mother,
Impatient of no Child –
The feeblest – or the waywardest –
Her Admonition mild –
In Forest – and the Hill –
By Traveller – is heard –
Restraining Rampant Squirrel –
Or too impetuous Bird –
How fair Her Conversation –
A Summer Afternoon –
Her Household – Her Assembly –
And when the Sun go down –
Her Voice among the Aisles
Incites the timid prayer
Of the minutest Cricket –
The most unworthy Flower –
When all the Children sleep –
She turns as long away
As will suffice to light Her lamps –
Then bending from the Sky –
With infinite Affection –
And infiniter Care –
Her Golden finger on Her lip –
Wills Silence – Everywhere –
Piante ombrose (Giovanni Faustini)
Piante ombrose, 
Dove sono i vostri onori?
Vaghi fiori
Dalla fiamma inceneriti,
Colli e liti,
Di smeraldi già coperti,
Or deserti
Del bel verde, io vi sospiro:
Dove giro,
Calda, il piede e sitibonda,
Trovo l'onda
Rifuggita entro la fonte,
Né la fronte
Bagnar posso, o 'l labbro ardente.
Inclemente:
Si, si, chi tuona arde la terra?
Non più, Giove, ah non più Guerra!
Shady woodlands
Shady woodlands,
Where now is your beauty?
Radiant flowers,
Now a withered heap of ash,
Hills and shores
Once covered in emerald
But now bereft
Of your fair foliage – I grieve for you.
Wherever I turn,
Hot and thirsty,
I find the brooklets
Have fled back to their source
And I cannot bathe
My brow or burning lips.
Does the god of thunder
So mercilessly scorch the earth?
No more, Jove, ah, no more war!
Misera, dove son? . . . Ah! non son io che parlo (Pietro Metastasio)
Recitative
Misera, dove son? L'aure del Tebro
Son queste ch'io respiro?
Per le strade m'aggiro
Di Tebe e d'Argo? O dalle greche sponde,
Di tragedie feconde,
Le domestiche furie
Vennero a questi lidi,
Della prole di Cadmo e degli Atridi?
Là, d'un monarca ingiusto
L'ingrata crudeltà m'empie d'orrore,
D'un padre traditore
Qua la colpa m'agghiaccia:
E lo sposo innocente ho sempre in faccia.
Oh immagini funeste!
Oh memorie! Oh martiro!
Ed io parlo, infelice, ed io respiro?
Aria
Ahi! Non son io che parlo,
È il barbaro dolore
Che mi divide il core,
Che delirar mi fa.
Non cura il ciel tiranno
L'affanno, in cui mi vedo:
Un fulmine gli chiedo,
E un fulmine non ha.
Alas, where am I?  . . . Ah, it is not I who speak 
Recitative
Alas, where am I? Is this the air
Of Tiber that I breathe?
Do I wander through the streets
Of Thebes and Argos? 
Or have domestic furies,
Sprung from the race of Cadmus and the Atridae,
Come to these shores of ours from Greece,
That has spawned so many tragedies.
The cruelty of a wicked monarch
Fills my soul with horror,
The treacherous deed of a father
Causes my blood to run cold;
And I always see before me
My innocent betrothed. Ah, baleful images!
Ah memories, ah torment!
And yet I, unhappy woman, can live and breathe?
Aria
Alas! It is not I who speaks, 
But the wrenching grief
That breaks my heart asunder
And renders me insane.
Heaven is insensible
To my despair:
I beg it for a thunderbolt
And it has none to send.
As with rosy steps the morn (Thomas Morell, after Robert Boyle)
As with rosy steps the morn,
Advancing, drives the shades of night,
So from virtuous toil well-borne,
Raise Thou our hopes of endless light.
Triumphant Saviour, Lord of day,
Thou art the life, the light, the way!
Ich bin der Welt abhanden gekommen (Friedrich Rückert)
Ich bin der Welt abhanden gekommen,
    Mit der ich sonst viele Zeit verdorben.
Sie hat so lange nichts von mir vernommen,
Sie mag wohl glauben, ich sei gestorben.
Es ist mir auch gar nichts daran gelegen,
    Ob sie mich für gestorben hält.
    Ich kann auch gar nichts sagen dagegen,
    Denn wirklich bin ich gestorben der Welt.
Ich bin gestorben dem Weltgetümmel,
Und ruh' in einem stillen Gebiet.
    Ich leb' allein in meinem Himmel,
    In meinem Lieben, in meinem Lied.
I am lost to the world
I am lost to the world
    With which I used to waste much time;
    It has for so long heard nothing of me,
    It may well believe I am dead.
Nor am I at all concerned
    If it should think me dead.
    Nor can I deny it,
    For truly I am dead to the world.
I am dead to the world's tumult
    And rest in a quiet realm.
    I live alone in my heaven,
    In my loving, in my song.
Translations by Richard Stokes © author of The Book of Lieder (Faber, 2005) and The Complete Songs of Hugo Wolf (Faber, 2021)
Multi Grammy Award winner and 2018 Olivier Award winner, Joyce DiDonato entrances audiences across the globe and has been proclaimed 'perhaps the most potent female singer of her generation' by The New Yorker. With a voice 'nothing less than 24-carat gold' (The Times), Joyce has soared to the top of the industry both as a performer and a fierce advocate for the arts. 
Joyce's recent roles include Agrippina at the Metropolitan Opera and the Royal Opera House, Didon Les Troyens at the Vienna State Opera; Sesto, Cendrillon and Adalgisa Norma at the Metropolitan Opera, Agrippina in concert with il Pomo d'Oro; Sister Helen in Dead Man Walking at the Teatro Real Madrid and London's Barbican Centre; Semiramide at the Bavarian State Opera and Royal Opera House, and Charlotte Werther at the Royal Opera.
Much in demand on the concert and recital circuit, Joyce has held residencies at Carnegie Hall and at London's Barbican Centre, toured extensively in the United States, South America, Europe and Asia and appeared as guest soloist at the BBC's Last Night of the Proms. Other highlights include the Berlin Philharmonic under Sir Simon Rattle, Orchestre Révolutionnaire et Romantique under Sir John Eliot Gardiner, the Philadelphia Orchestra under Yannick Nézet-Séguin, and the Accademia Santa Cecilia Orchestra and the National Youth Orchestra USA under Sir Antonio Pappano.
An exclusive recording artist with Warner Classics/Erato, Joyce's expansive discography includes Les Troyens, which in 2018 won the Recording (Complete Opera) category at the International Opera Awards, the Opera Award at the BBC Music Magazine Awards and Gramophone's Recording of the Year; and Handel's Agrippina which won the Gramophone Opera Recording and Limelight Opera Recording of the Year awards in 2020. Joyce's other albums include her celebrated Winterreise with Yannick Nézet-Séguin, In War & Peace which won the 2017 Best Recital Gramophone Award, and her Grammy-Award-winning Diva Divo and Drama Queens. Other honours include the Gramophone Artist of the Year and Recital of the Year awards, and an induction into the Gramophone Hall of Fame.
Shortly after his conducting debut at the age of 12, Maxim Emelyanychev was invited to conduct several of the international baroque and symphonic orchestras in Russia. In 2013, he became Principal Conductor of the historically informed orchestra il Pomo d'Oro and of the Nizhny-Novgorod Soloists Chamber Orchestra. In 2014, he made a remarkable debut in Mozart's Don Giovanni at the Sevilla Teatro de la Maestranza. 
An invitation to conduct the Scottish Chamber Orchestra in Schubert's Symphony No 9 on a last-minute replacement led the enthused musicians to appoint him their new Principal Conductor, effective from the autumn of 2019 and extended until 2025. 
The 2021/22 season sees him at the head of the Accademia Nazionale di Santa Cecilia, the Royal Concertgebouw Orchestra, the Hessischer Rundfunk Frankfurt Orchestra, the Deutsche Symphony Orchestra, the Bergen Philharmonic, the New Japan Philharmonic, the Helsinki Radio Symphony, the Toronto Symphony and the Rotterdam Philharmonic, and includes returns to the Royal Liverpool Philharmonic Orchestra, the Antwerpen Symphony Orchestra, the Orchestre National du Capitole de Toulouse and to the Royal Opera House in Mozart The Magic Flute.
Maxim was awarded The Golden Mask for his participation in 2013 as the forte pianist in a stage production of Nozze di Figaro at the Perm Opera Theatre. Maxim has recorded several CDs for Warner Classics/Erato at the head of il Pomo d'Oro, plus two CDs with countertenor Jakub Orlinski. In 2019 his first CD with the Scottish Chamber Orchestra in Schubert's Symphony No 9 was released on Linn Records and was awarded 5 stars by The Guardian, The Times and The Scotsman. In 2019 he received the Young Talent Award in the Music Section of the Critics' Circle, and an International Opera Award in the Newcomer category.
 
il Pomo d'Oro was founded in 2012 and is characterized by an authentic, dynamic interpretation of operas and instrumental works from the Baroque and Classical periods. The musicians are among the best in the field of historical performance practice. The ensemble has worked with conductors Riccardo Minasi, Maxim Emelyanychev, Stefano Montanari, George Petrou, Enrico Onofri and Francesco Corti. Since 2016, Maxim Emelyanychev has been its chief conductor, and since 2019 Francesco Corti is principal guest conductor. 
The ensemble is a regular guest in prestigious concert halls and festivals all over Europe. After the worldwide success of 'In War and Peace' with Joyce DiDonato, in 2020 il Pomo d'Oro and Maxim Emelyanychev presented the program 'My Favorite Things' with the American mezzo-soprano. 
il Pomo d'Oro's discography includes Handel's Agrippina, Serse, Tamerlano, Partenope and Ottone, Leonardo Vinci's Catone in Utica, and Alessandro Stradella's La Doriclea. Among the instrumental albums are recordings of Haydn's violin and harpsichord concertos as well as a cello album with Edgar Moreau which won an Echo Klassik Award in 2016. 
 
il Pomo d'Oro is an official ambassador of El Sistema Greece, a humanitarian project to provide free musical education to children in Greek refugee camps. il Pomo d'Oro plays charity concerts and offers workshops and music lessons according to the El Sistema method on a regular basis in various refugee camps in Greece.
The name of the ensemble refers to Antonio Cesti's opera from the year 1666. Composed for the wedding celebrations of Emperor Leopold I and Margarita Teresa of Spain, il Pomo d'Oro was probably one of the largest, most expensive and most spectacular opera productions in the still young history of the genre. Twenty-four different stage designs, a horse-ballet of 300 horses, a firework display of 73,000 rockets and numerous 'special effects' – superlatives which should make the Emperor's court the highlight of cultural splendour in Europe.