Digital Programmes
Johan Dalene & Nicola Eimer
Start time: 1pm
Approximate running time: 60 mins with no interval
Please note all timings are approximate and subject to change
This performance is subject to government guidelines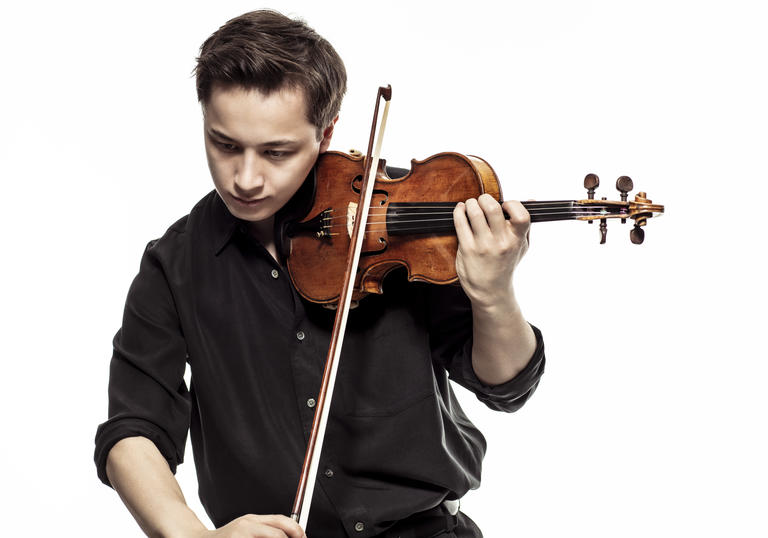 Looking at Johan Dalene's tour schedule with pianist Nicola Eimer, you might assume he's a rock star, writes Ariane Todes. But if he hadn't become a classical soloist, he would've become a footballer.
21-year-old Dalene began the violin at the age of 4 and by 7 he was performing Monti's exuberant Czardas with his local orchestra at home in Sweden. At the same time, he also loved football and considered a career in the game. What changed his mind? 'From the age of 14 I realised this was what I wanted to do. I went to a music course, and the teacher was like a sports coach and said I should go for it. Something clicked in my brain. I started listening to other violinists and got really inspired to start practising properly.' 
From that point, there was no turning back. In 2019 he won both the Norwegian Soloist Prize and First Prize in the 2019 Carl Nielsen Competition, and was selected for the prestigious BBC New Generation Artist 2019–21. Still a student, studying with Per Enoksson at the Royal College of Music in Stockholm, his current tour is one of the benefits of being selected by the European Concert Hall Organisation (ECHO) as one of its Rising Stars, alongside extensive career support, and being involved in its young artists in education and community initiatives. 
Performing the same repertoire across a whole tour may be standard for rock stars, but it's less common for classical musicians, and there are both benefits and challenges, as Dalene explains: 'You want to find something new each time you play the same music, but you also feel safe doing a programme so many times. I've never performed the same programme so many times in a short time, so it's going to be interesting, and challenging to keep it fresh.'
The first work on the programme, Ludwig van Beethoven's Violin Sonata No.8 in G major, was probably completed in the summer of 1802 while he stayed in Heiligenstadt, just outside Vienna, and it was published in 1803, dedicated to Tsar Alexander I of Russia. Dalene says, 'It's a lovely piece. It's one of the most played and beloved of Beethoven's sonatas and it's easy to understand why. It's full of lightness, spontaneity and life. The second movement is gorgeous and the last movement is very humorous, with off-beat accents creating the character. Although you hear the humour in Beethoven's music, there must have been a lot of frustration inside him, and you also hear that.'
Dalene has included Elgar's 1914 Sospiri (Italian for 'sighs') as a special gift to audiences in England. He says, 'I haven't played the work before, but it's very dramatic, warm and lyrical, and is a good contrast to the other pieces on the programme, especially the Prokofiev.'
The ECHO scheme also includes the commission of a new work for each of its players, and Dalene will perform Companion (seasons) for solo violin by fellow Swede Tebogo Monnakgotla – he gave the world premiere in November 2021 in Budapest. The piece lasts around ten minutes, with five variations. Dalene explains: 'The idea is that we're following a musician through the stages of life, and you can also imagine that these stages represent the seasons.'
What does Monnakgotla's work sound like? 'It's beautiful, unique music – it has its own language. There are a lot of tricks: it uses lots of trills, and sometimes gets quite high on the E string, with the fastest variation getting quite loud, harsh and turbulent. It's quite mysterious, based around semitones, so it sounds Turkish or Oriental, rather than Scandinavian. I try to find that quietness and spontaneity.'
The piece is for solo violin, so how does it feel being alone on stage to perform it? 'Anything you play by yourself is challenging, especially Bach, but I try not to think about it too much. You're alone, but that also means you're freer to do whatever you want. The timing of Monnakgotla's music is very open, so you can be quite flexible.'
Prokofiev's Second Violin Sonata was originally written for flute and piano in 1942. Dalene tells the story: 'David Oistrakh was a good friend of Prokofiev and liked it so much he asked Prokofiev to write it for violin, which he did, and it was a great success.'
Its origins are clear, he says: 'It works for both instruments. In some of the loud, virtuosic moments it's better on the violin, but you can hear that it is written for flute – especially in the gentle flowing music in the first movement, Moderato. It sounds very classical, almost like Mozart with a twist, especially in the beginning. After that you have a fast movement, which is really fun to play. In the middle, the music almost seems to stop. There are a few moments of reflection and then it bursts out again and comes back to the fast music. The third movement, Andante, is jazz inspired – beautiful and lyrical – and the fourth movement is very optimistic. It's a great ending to a masterpiece and a good way to end the concert.'
Dalene and Eimer have worked together many times and he says, 'She is a fantastic player and it's very easy to work with her, so it's a privilege to get to do this tour with her.' His other partner on stage is a Stradivari violin made in 1736, a year before the great luthier died. It's unusual for his work, Dalene explains: 'It differs from the usual idea of Strads that you don't have to push and that they sound light but powerful. This instrument is a little more dark, especially in the lower registers, which I really like. You can play very softly, but it carries really well and there are so many different sounds that you can experiment with. I'm very lucky to have it!'
Like musicians all over the world, Dalene is happy to be performing again in public: 'When you're only playing for cameras, you miss that special atmosphere and being greeted by an audience when you walk into the stage.'
© Ariane Todes
Start time: 1pm
Approximate running time: 60 mins with no interval
Please note all timings are approximate and subject to change
This performance is subject to government guidelines
Programme and performers
Ludwig van Beethoven Violin Sonata No 8 in G major
1. Allegro assai
2. Tempo di minuetto, ma molto moderato e grazioso
3. Allegro vivace
Edward Elgar Sospiri
Tebogo Monnakgotla Companion
Sergei Prokofiev Violin Sonata No 2 in D major
1. Moderato
2. Presto
3. Andante
4. Allegro con brio
Performers
Johan Dalene violin
Nicola Eimer piano
21 year old violinist Johan Dalene is already making an impact on the international scene, performing with leading orchestras and in important recital halls both at home in Sweden and abroad. His refreshingly honest musicality, combined with an ability to engage with musicians and audiences alike, has won him many admirers, most recently as the winner of the Norwegian Soloist Prize, and of First Prize at the prestigious 2019 Carl Nielsen Competition, which was broadcast to audiences worldwide on medici.tv.
Johan began playing the violin at the age of four and made his professional concerto debut three years later. In Summer 2016, he was a student-in-residence at Switzerland's Verbier Festival and in 2018 was accepted on to the Norwegian Crescendo programme, where he has worked closely with mentors Janine Jansen, Leif Ove Andsnes and Gidon Kremer. Andsnes subsequently invited Johan to play at the Rosendal Chamber Music Festival and they performed together again in May 2019 at the Bergen International Festival. In 2019 he joined Janine Jansen and other members of the Crescendo Programme for a performance at the Wigmore Hall in London, and at the International Chamber Music Festival in Utrecht.
Recording exclusively for BIS, Johan released his first recording album on the label in December 2019, featuring the Tchaikovsky and Barber Violin Concerti with the Norrköping Symphony Orchestra – with whom he was Artist in Residence in 2018/19. The album was praised by BBC Music Magazine as 'one of the finest violin debuts of the last decade', with Johan being hailed as a 'musician of special sensibilities' (Gramophone) and a 'highly gifted soloist' (RBB Kultur). Johan's second disc of Nordic recital music was released in Spring 2021 and received a coveted 'Editors Choice' from Gramophone magazine as well as winning a prestigious Diapason D'Or.
A graduate of the Juilliard School, the British pianist Nicola Eimer has performed as a soloist and chamber musician across Europe, America and Asia. She was a prize winner at the Dudley, John Lill and the Royal Overseas League competitions, and was also a featured performer on the Tillett Trust Young Artists Platform, leading to recitals and concerto performances across the UK.
 
Nicola has performed at St. Martin-in-the Fields, St John's Smith Square, the Barbican and Wigmore Hall, and has played at the Purcell Room for the Kirckman Concert Society and the Park Lane Group. She has made regular appearances for the London Chopin Society since first performing in their gala at Wigmore Hall in 1997.
 
As a chamber musician, Nicola was a founding member of the Eimer Piano Trio, with whom she performed for over ten years. She now regularly collaborates with other musicians such as Adolfo Gutiérrez Arenas, Richard Harwood, Ziyu He, Ariel Horowitz, Fenella Humphreys, Christoph Richter and Maria Wloszczowska.
 
Nicola works as a regular class pianist for the IMS masterclasses in Prussia Cove, and has taken part in their annual Open Chamber Music sessions. She has also been a class pianist for Ralph Kirshbaum at the London Masterclasses. Nicola has been an official accompanist for the Hastings International Piano Concerto Competition and the Menuhin International Violin Competition, and will be returning to play for their Geneva competition in April 2018. 
 
Beginning her studies in London with Danielle Salamon, Nicola was awarded a scholarship to study with Christopher Elton at the Royal Academy of Music. She won many of the piano and chamber music prizes at the Academy, and received generous support from the Countess of Munster Musical Trust and the Delphine de Martelly Trust. In 2000 she won a Fulbright Scholarship to study on the Master's programme at the Juilliard School in New York with Joseph Kalichstein.
 
Nicola is an Associate of the Royal Academy of Music, and she teaches piano and chamber music at both their Junior and Senior Departments. She was recently appointed specialist piano tutor on the Academy's LRAM course.