Digital Programmes
Insula orchestra/Laurence Equilbey: Fidelio
Start time: 7.30pm
Approximate running time: 135 minutes with no interval
Please note all timings are approximate and subject to change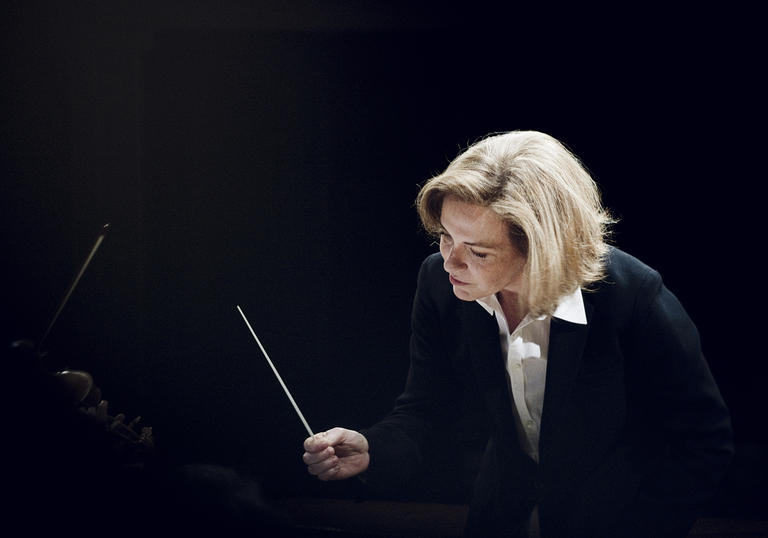 Composed and re-composed for almost a decade, surviving in three different versions with four different overtures, Fidelio – Beethoven's only opera – was hard-won, writes Alexandra Coghlan.
Even by the standards of a composer whose genius was the product of relentless labour, doubt, self-examination and reflection, as both his letters and sketchbooks vividly testify, Fidelio was a work apart – a 'martyr's crown', as the composer himself described it.
An exception within Beethoven's own output, dominated by orchestral and chamber works, Fidelio also represented something new within the 19th-century opera house. The composer stepped onto a stage filled with fashionable French tragedies and Italian comedies and offered Austria something else: a serious, moral drama in the nation's own language, a powerful manifesto for democracy, freedom and the power of the individual at a time of war and occupation. 
But there's another side to Fidelio, as the work's subtitle – 'Leonore, Or The Triumph of Marital Love' makes clear. This politically charged, public piece also has a private face. It's a domestic drama that – unusually – rejects the thrills of courtship and romantic conflict, to celebrate instead the enduring, quiet virtues of marriage. 
Fidelio is an opera of dualities and conflicts: a stage work by a great symphonist; an intimate drama and a loud shout of political protest. It's a piece whose tensions – both dramatic and musical – are played out in full view of the audience, a poignant testament to the irresolutions and imperfections, the untidiness of the human condition.
When Fidelio premiered at Vienna's Theater an der Wien on 20 November 1805, it was in a city that had been occupied just six days earlier by Napoleon and his troops. The performance was a notorious flop, the start of a long process of revisions that would never fully seem resolved: not after the premiere of the shortened, two-act adaptation in 1806, nor even after the triumphant staging of the final version (the score we know as Fidelio today) in 1814.
The opera's plot is, at first glance, typical of its age – a 'rescue opera' of the kind made fashionable during the French Revolution, pitting idealistic, honourable individuals against a corrupt regime. But Beethoven's opera is far from conventional. Not only does the plot (adapted by librettist Joseph Sonnleithner from Jean-Nicolas Bouilly's original French drama) turn the genre on its head with a dynamic, female rescuer (Leonore) and an imprisoned hero (Florestan), but the opera shows less interest in action than in ideas. Fidelio is less a rescue drama, than a meditation on one: a philosophical and musical exploration of concepts of justice, freedom, fidelity and virtue.
Critics have long pointed to this abstraction as the fatal flaw in Fidelio, arguing that the work lacks the instinct for drama that a Mozart or Verdi might have brought to the story. It's true that the characters scarcely deviate from their archetypes – the loyal wife; the flirtatious young girl; the wicked tyrant. But Beethoven's score fills out these stock types and situations with an urgency, a specificity, that's hard to ignore.
You only have to look at the orchestral costume the composer gives Leonore to put on in her Act I aria 'Abscheulicher!' (Monster!). We see a wife concealing her identity and dressing herself as a man to rescue her husband. But we hear so much more in the three horns and bassoon – a strikingly martial, masculine ensemble – in which she clothes herself for the battle ahead, their battlefield power cuttingly tellingly against the infinitely gentle beauty and control of her central melody. 
Or, perhaps, examine instead the famous Act I quartet 'Mir ist so wunderbar' (I feel so wonderful). The decision to set the very different (and often actively conflicting) emotions of four characters – jailer Rocco, his love-struck daughter Marzelline, her jealous would-be lover Jacquino and the disguised Leonore – as a canon, in which each singers treads an identical musical path, is provocative. But how much more powerful than the confessional release of private, particular emotions, is this unexpected formal unanimity? All pay lip-service to musical and social etiquette: polite, orderly, controlled. Yet underneath passions churn, unexpressed. The drama here emerges from the chasm we perceive between what is expressed, and what must remain concealed.
Beethoven understood enough of the theatre to transform Don Pizarro completely, from the speaking-part originally presented in the libretto – a cardboard cut-out of a villain – into a figure alive with musical agency, whose 'Ha! Welch'ein Augenblick' (Ha! What a moment) paints a disturbing portrait of a violent, vengeful despot in its unsettled, chromatic tonality and stabbing, staccato phrases. And what about the coup of Florestan's first entry? Having delayed the appearance of his hero until Act II, Beethoven has him take shape gradually out of the darkness, emerging in musical silhouette – a craggy outline that gropes and grasps its way out of darkness to find light and clarity only as his thoughts and aria turn to his beloved wife.
Whether in its vast architecture of tonality and key relationships – a move from darkness to light that underpins the entire opera – or its carefully shaded orchestral atmospherics – thoughts of money flickering through the score with jingling brilliance, the exhilarating joy in freedom and reunion that courses through the closing duet, with its chasing firework-streaks of melody – Fidelio is the product of a great symphonist in the opera house. For better or worse.
© Alexandra Coghlan
Start time: 7.30pm
Approximate running time: 135 minutes with no interval
Please note all timings are approximate and subject to change
Programme and performers
Ludwig van Beethoven Fidelio (concert staging)
Insula orchestra
Laurence Equilbey conductor
Stanislas de Barbeyrac Florestan
Sinéad Campbell-Wallace Léonore
Sebastian Holecek Don Pizzaro
Christian Immler Rocco
Hélène Carpentier Marzelline
Anas Séguin Don Fernando
Patrick Grahl Jacquino
Lancelot Lamotte prisoner tenor
Matthieu Heim prisoner bass
accentus
David Bobée director
Nicolas Girard-Michelotti assistant director
Sabine Siegwalt costume designer
Beate Haeckl libretto revisions
Chloé Dufresne assistant conductor
Marc Korovitch choirmaster
Nicolaï Maslenko vocal coach
Johannes Koegel-Dorfs language coach
Synopsis
Act I
In eighteenth-century Spain, Leonore's husband Florestan has been arrested and imprisoned by his villainous noble rival Don Pizzaro, for attempting to expose the latter's crimes. Determined to rescue him, Leonore disguises herself as a boy, Fidelio, and takes a job at the prison where he is being held. Both the prison governor Rocco and his daughter Marzelline take a liking to 'Fidelio' causing problems for Leonore and for Jaquino, who loves Marzelline and is jealous of this new rival. 'Fidelio' works hard to gain Rocco's trust, hoping that he will allow her to accompany him to the underground cell where her husband is imprisoned. She persuades Rocco to let the other prisoners out into the garden for a rare glimpse of sunlight. But when Pizarro discovers this he is furious, and orders them all immediately back to their cells.
Act II
On Pizzaro's orders, Rocco has been slowly starving Florestan to death. But when Pizzaro hears that Don Fernando, a king's minister, will visit shortly to investigate claims of Pizzaro's cruelty, he vows to murder his captive. But just as Pizzaro is about to kill Florestan, 'Fidelio' throws himself between them. The stand-off is ended when a trumpet-call announces Don Fernando's arrival: Florestan is saved, Pizarro led away to prison, and all sing the praises of brave Leonore. 
Synopsis by Alexandra Coghlan, courtesy of Glyndebourne Productions Ltd.
Insula orchestra's purpose is very clear: to serve music from the baroque, classical and pre-romantic eras at the best of its abilities – that is, in a historically informed way. Side-by-side with masterpieces of the repertoire, the orchestra also features rarer pieces, such as the work of Louise Farrenc or Clara Schumann. The ensemble performs on period instruments to match as closely as possible the original sound, text and writing design.
With support of the Hauts-de-Seine department, Insula orchestra was founded in 2012 by its artistic director and conductor Laurence Equilbey. In 2017, it inaugurated the Seine Musicale venue as its resident orchestra. The orchestra is in charge of part of the Auditorium's season, for which it invites numerous ensembles and artists. Insula orchestra also regularly performs in France and internationally in leading venues and festivals: Philharmonie de Paris, Grand Théâtre de Provence, Theater an der Wien, Stadtcasino in Basel, Elbphilharmonie of Hamburg, Barbican Centre in London and Louvre Abu Dhabi for its official inauguration.
The orchestra reinvents the formats and rules of classical music to reach out to all audiences. It regularly produces staged concerts to shine a new light on music, working with artists such as Yoann Bourgeois, Antonin Baudry, Pascale Ferran and David Bobée. It is particularly active on the field of digital technologies, and has delved into 360° experiences and virtual reality. A diversified and innovative education programme, striving towards sharing and inclusion, was developed throughout the Hauts-de-Seine department. In 2022, a new resource centre will be created to widely share its musical and scientific research, as well as the developed educational and digital resources: Insula Documenta.
Insula orchestra receives support from the Hauts-de-Seine department and is resident orchestra at the Seine Musicale. It is sponsored by Région Île-de-France. Mrs Aline Foriel-Destezet and Chargeurs are its great patrons. The circle of friends accio and the Insula orchestra – Laurence Equilbey foundation accompany its projects. Insula orchestra is a member of FEVIS and SPPF.
Conductor, musical director and founder of Insula Orchestra and accentus, Laurence Equilbey embodies the alliance of artistic excellence and innovative, inclusive projects.
Her carrier in the symphonic repertoire has led her to conduct orchestras such as the BBC National Orchestra of Wales, Hessischer Rundfunk, the orchestras of Lyon, Liège or Leipzig, the Brussels Philharmonic, Copenhagen, Gulbenkian, Akademie für Alte Musik Berlin, Concerto Köln, Camerata Salzburg, Mozarteumorchester Salzburg, Scottish Chamber Orchestra, Philharmonia in London, Barcelona, Bilbao, H&H Boston, etc.
With support from the Hauts-de-Seine department, she founded Insula Orchestra in 2012. The period instrument orchestra inaugurated an artistic residency at the Seine Musicale, on the Seguin Island, in April 2017. It is also in charge of part of the Auditorium's season.
On the lyric scene, Laurence Equilbey conducted Gounod's Nonne Sanglante (Paris' Opéra Comique) and Weber's Der Freischütz, staged by the new magic company 14:20 (Théâtre de Caen, Grand Théâtre de Provence, Bozar in Brussels, Theater an der Wien, Barbican Centre, Ludwigsburg Festival, Grand Théâtre de Luxembourg, Théâtre des Champs-Élysées).
Every season at the Seine Musicale, Laurence Equilbey creates staged performances with artists from diverse backgrounds. For example, Haydn's Die Schöpfung (performed in Aix-en-Provence, Hamburg, Vienna and New York) or Beethoven's Pastoral Symphony were created alongside with the theatre company La Fura dels Baus, Mozart's Requiem with Yoann Bourgeois, the ballet Le Jeune homme et la Mort (the Young man and Death) with choreographer Marie-Agnès Gillot, Mozart's Mass in C minor with Pascal Ferran, or the last ballads of Robert Schumann with Antonin Baudry. In 2021/2022, Laurence Equilbey joins forces with David Bobée again to perform Beethoven's opera Fidelio. She will then undertake an ambitious project around Mozart's last day of work with David Lescot.
Laurence Equilbey is associated artist at the Grand Théâtre d'Aix-en-Provence and enjoys a privileged relationship with the Paris Philharmonie.
With accentus, she continually explores the great repertoire of vocal music. Recently, she conducted the ensemble in Salzburg, in a program featuring Dusapin and Goubaïdoulina. Truly invested in education and the transmission of knowledge, she is artistic and teaching director of the Senior department for young singers/CRR de Paris.
After two recordings of Beethoven's work and Weber's Freischütz, all critically-acclaimed, two additional records with Insula Orchestra were released this season under the label Warner Classics – Erato: Louise Farrenc's 1st and 3rd Symphonies (July 2021) and Mozart's Lucio Silla (March 2022).
Laurence Equilbey studied music in Paris, Vienna and London, with conductors such as Nikolaus Harnoncourt, Eric Ericson, Denise Ham, Colin Metters and Jorma Panula.
accentus is a chamber choir founded 28 years ago by Laurence Equilbey. It specializes in the a cappella repertoire, contemporary music, oratorio and opera. A point of reference in the vocal music industry, accentus was chosen by the French Ministry of Culture to become the first National centre for vocal art in 2018. This strengthened its artistic and educational mission but also reaffirmed its position as a key player on a national and international scale.
accentus regularly performs at the most prominent venues and festivals in France and internationally. It is a prime partner of the Paris Philharmonie and of the Seine Musicale, and continues an artistic residency at the Rouen-Normandie Opera around the performance of both concerts and operas. accentus is also the prime choir of Insula Orchestra, resident orchestra at the Seine Musicale. Christophe Grapperon has been Associate conductor of the chamber choir since 2013.
The ensemble collaborates with prestigious conductors, soloists and orchestras, including Pierre Boulez, Andris Nelsons, Eric Ericson, Sir Simon Rattle, Philippe Jordan, Simone Young, Yannick Nézet-Séguin, Orchestre de Paris, Ensemble intercontemporain, Insula orchestra, Akademie für Alte Musik Berlin, Berliner Philharmoniker, Brigitte Engerer, Bertrand Chamayou, Alain Planès and Edouard Garcin. 
accentus' recordings have been amply awarded by the musical press. Transcriptions was nominated for the 2004 Grammy Awards and was awarded a gold disc in 2008. This season, two new records are released: The Freischütz Project with Insula orchestra and Laurence Equilbey for Warner Classics-Erato, and Betulia Liberata with the Talents Lyriques and Christophe Rousset for the label Aparté. accentus was named Ensemble of the year by the Victoires de la Musique in 2002, 2005 and 2008.
accentus, National centre for vocal art Paris Ile-de-France – Normandie, receives support from the Ile-de-France Regional direction of cultural affairs, from the French Ministry of Culture, and is subsidized by the city of Paris, the Ile-de-France region and the Normandie region. It is also sponsored by SACEM. The choir is artist in residence at the Rouen-Normandie Opera House. accentus' performing and educational activities in the department receive the support of the Hauts-de-Seine department. The Bettencourt Schueller Foundation is its primary sponsor. accio, the circle of private donators of accentus and Insula orchestra, supports its artistic and educational endeavours.
Stanislas de Barbeyrac is one of the most exciting new tenors to have emerged in recent seasons.
De Barbeyrac's engagements in previous seasons have included Le Chevalier de la Force in Dialogues des Carmelites at Dutch National Opera and Bayerische Staatsoper, Tamino in Die Zauberflöte, Macduff in Macbeth at Opera de Marseille, Don Ottavio in Don Giovanni at Drottningsholms Slottsteater in Sweden, Narraboth in Salome at Teatro Municipal in Sao Paulo, and Arbace in a new production of Idomeneo for his debut at the Royal Opera House, Covent Garden.
Stanislas de Barberyac completed his musical education at the Conservatoire de Bordeaux, where he first studied with his current vocal mentor Lionel Sarazzin. De Barbeyrac began his career in both supporting and leading roles, with appearances at many of the French theatres. Other roles in his repertoire include Cassio in Otello, Alfredo in La Traviata, and Walther von der Vogelweide in Tannhäuser. De Barbeyrac has also performed with orchestras in numerous works, including Mendelssohn's Elijah, Haydn's The Creation, Mozart's Requiem, Puccini's Messa di Gloria, and Berlioz's L'enfance du Christ and Te Deum.
De Barbeyrac has won numerous prestigious vocal competitions in France and was a prize-winner at the International Competition of Queen Elizabeth in 2011. In 2014, he was named Revelation Artiste Lyrique by the prestigious French competition Victoires de la Musique.
Having started her career as a light-lyric soprano, Sinéad has moved into fuller dramatic repertoire to roles including Leonore in Fidelio, Ariadne, Agathe in Der Freischütz, Helmwige in Die Walküre and Kaiserin in Die Frau ohne Schatten. 
In 2020 Sinéad made her Salzburg Festival debut as Vierte Magd in Elektra, a role she was due to reprise in the 2020/21 season in Madrid and London but which was sadly cancelled due to the COVID pandemic. The season did, however, see Sinéad perform Andrew Hamilton's short opera Erth upon Erth as part of Irish National Opera's 20 Shorts of Opera project, give a concert performance of Beethoven's Ah! Perfido with the RTÉ National Symphony Orchestra and return to the Salzburg Festival as Aufseherin in Elektra. 
Highlights of Sinéad's 2021/22 season include Leonore in Fidelio and the title role in Tosca for Irish National Opera, Mimi in La boheme for ENO and Leonore with Insula Orchestra at Brussels' Bozar, London's Barbican Centre and La Seine Musicale in Paris. Future plans include her role debuts as the title role in Suor Angelica, Giorgetta in Il Tabarro and Tatyana in Eugene Onegin.
On the concert platform, Sinéad has joined the RTE Concert Orchestra for Rossini Stabat Mater and for excerpts from La Forza del Destino and Otello in a Verdi Prom, performed works by Richard Strauss, Beethoven and a live radio broadcast of Puccini arias with the RTE National Symphony Orchestra at the National Concert Hall, Dublin, and has appeared in recital at Wigmore Hall.
Sinéad Campbell-Wallace is a graduate of the Dublin Conservatory of Music and Drama, the National Opera Studio and the Britten-Pears young artist programme.
 
Sebastian Holecek was born in Vienna and studied singing at the Conservatory in Vienna. After contracts in smaller theaters in Austria, the Netherlands, Switzerland and Germany, he was engaged at Gärtnerplatz-theater in Munich, where he sang Figaro in Nozze di Figaro, Don Giovanni and Harlekin.
He made his debut at Staatsoper Vienna as Papageno and later at Volksoper Vienna. His first guest appearances as Papageno, Don Giovanni and Figaro brought him to Paris, Monte Carlo, Athens, Basel, Düsseldorf, Santiago de Chile, St. Gallen, Staatsoper Berlin, Barcelona and Cape Town.
He was heard at Covent Garden London as Kothner in Meistersinger von Nürnberg and Peter in Hänsel und Gretel, in Stuttgart as Scarpia, at Staatsoper Munich with Frau ohne Schatten and Hänsel und Gretel, in Rome as Pizarro, in Madrid as Alfio, in Milan, Tokyo and China with Beethoven's Symphony No 9, in Catania as Jochanaan, at Staatsoper Vienna as Peter in Hänsel und Gretel, in Beijing with Meistersinger von Nürnberg and at Theater an der Wien in Vienna and in Paris, Basel and Luxemburg as Pizarro. 
Recent and future contracts in 2022/23 include Frau ohne Schatten at Staatsoper Vienna, Salome in Bologna and Tel Aviv, Fidelio in Prague, Luxembourg and Bilbao, Peter in Hänsel und Gretel in Frankfurt, Rheingold in Beijing and Pizarro in Paris, London and Brussels.
Sebastian Holecek has recorded CDs of Wagner's Die Feen, Irrelohe and Christophoros by Schreker, Sprecher in Zauberflöte and a CD of Mozart arias. He can be seen in videos and DVDs of Don Giovanni in the title role as well as in a production from Vienna as Masetto and as Sprecher in Zauberflöte.
From the Tölzer Knabenchor as a boy alto soloist to singing at major concert halls, festivals and opera houses, German bass-baritone Christian Immler has spent many years making music of the highest quality. He studied with Rudolf Piernay in London and won the International Nadia et Lili Boulanger Competition in Paris.
In concert, he has immersed himself in the works of Handel, Haydn, Mozart, Mendelssohn, Mahler and Bach, appearing all over the world. Christian has worked with such conductors as Nikolaus Harnoncourt, Marc Minkowski, Christophe Rousset, Philippe Herreweghe, Ivor Bolton, Daniel Harding, Kent Nagano, James Conlon, Andrew Parrott, Michel Corboz, Masaaki Suzuki, Raphael Pichon, Ottavio Dantone, Giovanni Antonini, Thomas Hengelbrock, Frieder Bernius, William Christie and Leonardo García Alarcón, performing at places such as the Amsterdam Concertgebouw, the Sydney Opera House, the Salzburg, Aix-en-Provence and Lucerne Festivals and the BBC Proms.
A keen recitalist, Christian has been invited to perform at the Wigmore Hall in London, the Frick Collection in New York, the Paris Philharmonie, the Salzburg Mozarteum and the Tonhalle Zurich, the latter with pianist Helmut Deutsch with whom he released the album entitled Modern Times. He collaborates regularly with Christoph Berner, Kristian Bezuidenhout and Danny Driver.
His more than 50 recordings have been awarded prizes such as a 2016 Grammy Nomination, the Echo Klassik, the Preis der Deutschen Schallplattenkritik, several Diapason d'Or, Diamant d'Opéra, France Musiques' Enregistrement de l'année. 
Much in demand for worldwide masterclasses, Christian is Professor of Voice at the Kalaidos Fachhochschule in Zurich.
Hélène Carpentier won First Prize and Prize for the best interpretation of the French repertoire at the Voix Nouvelles Competition in Paris and was awarded Révélation Classique 2018 by ADAMI. She was also a finalist at the 2019 International Neue Stimmen Competition in Gütersloh, Germany.
After studies in piano and flute, she discovered singing in Amiens, her hometown. Admitted in 2015 to the Choir of the Maîtrise Notre-Dame de Paris, and, the following year, to the entrance examination of the National Superior Conservatory of Music and Dance of Paris, she has performed in various productions under the direction of conductors such as Laurence Equilbey, Paul Agnew and David Reiland.
The 2019/2020 season saw her in the role of Madeleine in Le Postillon de Lonjumeau in Rouen, as well as Despina in Così fan tutte in Nice. She was Sandmännchen/Taumännchen in Hänsel and Gretel at the Opéra national du Rhin, Mélisande in Ariane and Barbe-bleue at the Opéra de Lyon, Électre in Idoménée at the Opéra Lille and at the Staatsoper Berlin, and the title role in Iphigénie en Tauride at the Opéra de Rouen. In concert she sang Beethoven's Missa solemnis in Rouen and Ariane et Bacchus at the Théâtre des Champs-Elysées with Le Concert Spirituel.
Current projects include Marzelline in Fidelio, Pamina in Die Zauberflöte at the Opéra national du Rhin, the title role in Cendrillon at the Opéra de Limoges, Juliette in Roméo et Juliette in Québec, and Blanche in Dialogues des Carmélites at the Opéra de Rouen and at the Opéra national de Lorraine. In concert, she will perform Beethoven's Symphony No 9 in Paris, Amiens and Geneva, Médée by Charpentier at the Théâtre des Champs-Elysées, and Sophie in Werther in Budapest.
Patrick Grahl was born in Leipzig and was initially a member of the St Thomas Choir of Leipzig under Georg Christoph Biller. He then went on to complete his singing training at the Felix Mendelssohn-Bartholdy Academy of Music in Leipzig. He attended masterclasses held by Peter Schreier, Gotthold Schwarz, Gerd Türk, Ileana Cotrubas and Professor Karl-Peter Kammerlander, which gave him decisive momentum for his artistic development. 
While still a student he was able to perform roles such as Alfred in Die Fledermaus, Tamino in Mozart's Die Zauberflöte and Albert in Albert Herring by Britten. He was also the Young Servant in Elektra, and as Shepherd/Voice of a Young Sailor in Richard Wagner's Tristan und Isolde at the Opéra National de Lyon.
In 2016 the tenor won first prize at the XX International Johann Sebastian Bach Competition in Leipzig. He is already much in demand as an oratorio and concert singer and has been invited to perform as soloist with orchestras such as the Leipzig Gewandhausorchester, the Dresden Philharmonic, the NDR Radio Philharmonic, the Gürzenichorchester Cologne as well as the Accademia Nazionale di Santa Cecilia and the London Symphony Orchestra.  
In addition to his numerous engagements on the concert and opera stage, Patrick Grahl attaches great importance to chamber music projects and recitals, including a guest appearance at the Schubertiade in Schwarzenberg together with Daniel Heide.
Until 2013 Patrick Grahl was a scholarship holder of the Friedrich-Ebert-Stiftung, Bonn. In 2014 he won the 1st prize of the Early Music Promotion Prize of the Saarland Radio and the Academy for Early Music in Saarland with the Ensemble Barockwerk Ost. Until 2018 he was also a member of the Thios Omilos male quartet. Since then, he has only been active as a soloist.
David Bobée is a director, scenographer and theatre artistic director. After studying cinema and performing arts at the University of Caen, he created his company Rictus in 1999. His creations combine theatre, dance, circus, video and light, featuring actresses, dancers or acrobats.
He works with the classical repertoire: Roméo et Juliette, Lucrèce Borgia with Béatrice Dalle, La Vie est un Songe, Peer Gynt, as well as texts by living authors, collaborating especially with Ronan Chéneau.
Opera houses have called on him since 2016: The Rake's Progress by Stravinsky (Rouen Opera), Louées soient-elles from Handel (Festival Spring 2019), Tannhäuser by Wagner (musical direction: Rudolph Piehlmayer).
From 2013 to 2021, David Bobée directed the Centre Dramatique National de Normandie-Rouen. In 2021 he was appointed director of the Théâtre du Nord, Centre Dramatique National Lille Tourcoing Hauts-de-France, as well as of the École du Nord, Professional High Drama School.
He defends a high conception of public culture service through his works, writings and actions, and commits his theatre against any form of discrimination. In 2015, he joined the Diversity College within the Ministry of Culture and founded the action group Décoloniser les arts, for better consideration of diversity on stages in France.
As a director of a public institution, he advocates for equal and diversified programming, the fair sharing of means of production between men and women, and accessibility for all women and men.
In January 2023, Dom Juan by Molière will be his first creation at the Théâtre du Nord.