Insula orchestra/Equilbey: Fauré's Requiem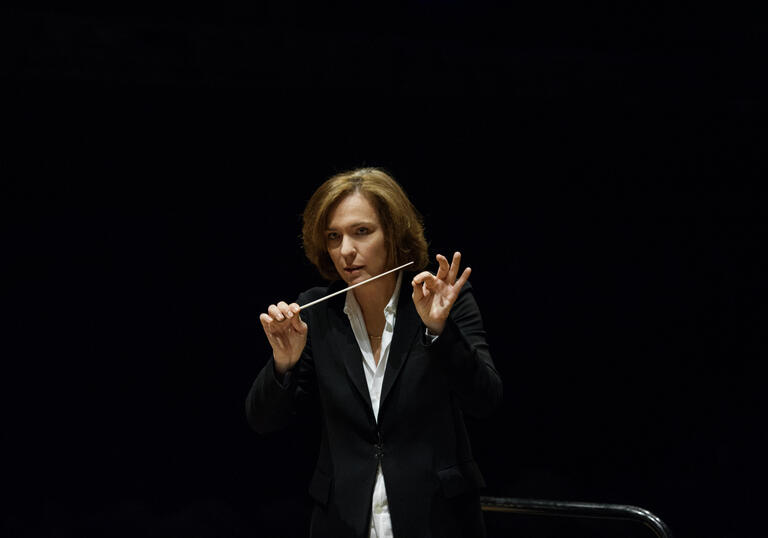 Sacred masterpieces by Gounod and Fauré are brought viscerally alive through the period-instrument timbres of Insula orchestra together with Mat Collishaw's haunting projections juxtaposing images of nature and grief.
'Do not weep! It is death itself that flees away.' Charles Gounod
A quiet, radiant confidence hangs over both Gabriel Fauré's Requiem and Charles Gounod's Saint Francois d'Assise. These are works – one familiar, the other all but unknown, one imbued with faith (Gounod almost gave up music for the life of a priest) and one composed 'for fun' – that look death in the eye with the certainty of salvation, of resolution, of peace.
Composed within a few years of one another at the very end of the 19th century, they speak of a new relationship between God and congregation. Verdi's hellish chorus of the damned, Berlioz's battering Judgment Day fanfares and volleys of timpani are banished, and in their place we find a new gentleness and intimacy: music to comfort the living as much as mourn the dead.
For over a century Gounod's final oratorio Saint Francois d'Assise was only a story and a name. Composed for the regular sacred concerts of Paris's Société des Concerts du Conservatoire, where it was premiered in March 1891, the manuscript was subsequently lost – only rediscovered in the 1990s in a convent library – and recorded for the first time by accentus in 2016.
The work arrived in the composer's imagination as a pair of images – a diptych 'after the manner of the primitive painters'. Two musical movements take inspiration from Murillo's St Francis Embracing Christ and Giotto's The Death of St Francis respectively: the first tender, the image of the crucified Christ softened by pastels and hazy sfumato; the second starkly ceremonial, perspective flattened, the dead saint surrounded by reverent crowd of clergy.
Mirroring the spirit, if not the style of each, Gounod gives us two contrasting musical panels. Strings conjure a cloudy sort of plainsong for the start of 'La cellule', setting the tone for an instrumental prelude that paints medieval piety with the rich brushstrokes of the 19th century.
Soon the circling shapes coalesce into a wordless chorale or hymn, before St Francis himself (a solo tenor) first speaks in flexible, lyrical recitative, taking up the hymn in a suddenly passionate outpouring. Faced with such rapturous devotion, the Crucifix comes to life (as a solo baritone) and answers – a miracle that stirs the music not to new intensity but simplicity, a harp now gilding the gentle strings.
Part 2 – 'La mort' – sees St Francis on his deathbed. Musically the lights have dimmed, brass and woodwind adding shadowy depth. The saint addresses his followers, reassuring them as they (male chorus) chant their sombre prayers of intercession. Just as Francis promises, at the moment of his death darkness is banished. The harp returns, joined by an angelic chorus of female voices who waft him upwards – the hopes of the opening hymn (reprised in the orchestra) tenderly and wonderfully fulfilled.
Premiered just a few years earlier in 1888 (though heard complete for the first time in 1893) Gabriel Fauré's Requiem re-set the course of death-music so effectively that it's now impossible to hear it with the same shock as those first listeners. 'I wanted to do something different,' the composer declared.
To those steeped in tumultuous spiritual drama, in the struggle between light and dark played out so violently from Verdi onwards, both the liturgy and the sound-world of Fauré's 'lullaby of death' were alien. What should listeners make of the sober restraint and 'sweet nature' of a work that did away with the 'Dies irae' altogether, made significant cuts to the text of the 'Offertorium' and borrowed the 'In paradisum' from the burial service, a Mass that ends not on the hopes and pleas of the Agnus Dei but with a sublime vision of heaven achieved?
It's a battle between tradition and innovation that we hear in the work's opening bars. A fortissimo D minor chord in woodwind and strings jolts the 'Introit' into stentorian life. But the choir refuses to be drawn, entering instead at pianissimo. The two worlds tussle for a while, before the tension resolves into the soaring 'Requiem aeternam' melody.
If the Requiem is a lullaby, then the 'Kyrie' sets the rocking tempo, setting its pleas ('Lord have mercy') to a lulling hymn heard first in tenors and subsequently taken up by the whole choir. Desperation breaks through in the 'Christe eleison' but its tensions are short-lived.
The extended 'Offertoire' glances back to the same medieval world as the Gounod in music that nods both to plainsong and polyphony without ever actually imitating either. Its shifting moods find repose on the surer ground of the echoing 'Sanctus' and the stillness of the 'Pie Jesu' – a moment of exquisite purity for solo soprano, or as here, a fluting treble voice.
Two of the Requiem's greatest melodies dominate the 'Agnus Dei' and the 'Libera me' that follows. The 'Agnus Dei' closes with a reprise of the opening Introit; to anyone familiar with the liturgy this must surely have seemed to be a full-circle ending. But Fauré adds a glorious coda in the form of the 'Libera me' – final doubts and fears voiced then dispelled by the surging baritone solo – and the closing 'In paradisum': a glimpse of an endless, unbroken musical horizon, D minor now transfigured into luminous D major.
© Alexandra Coghlan
Details
There won't be an interval
All timings are approximate and subject to change
Programme and performers
Charles Gounod Saint François d'Assise
Part 1, La cellule
Part 2, La mort
Gabriel Fauré Requiem
1. Introit
2. Kyrie
3. Offertoire
4. Sanctus
5. Pie Jesu
6. Agnus Dei
7. Libera me
8. In paradisum
Insula orchestra
Laurence Equilbey conductor
Oliver Barlow treble (Trinity Boys Choir)
John Brancy baritone
Amitai Pati tenor
Mat Collishaw filmmaker
accentus
Christophe Grapperon accentus associate conductor
Part 1: La cellule 
St Francis 
Mon sauveur adoré, 
Seul amour de ma vie 
Tout ce qui n'est pas toi 
N'est plus rien pour mon coeur. 
Ton mystère m'enivre 
Et mon âme ravive, 
Allume en tous mes sens 
Une ineffable ardeur. 
Tout ce qui n'est pas toi 
N'est plus rien pour mon coeur. 
Agneau de Dieu! 
Sainte victime! 
En toi, Jésus, 
Mon coeur s'abîme! 
De ton amour embrase-moi! 
Tu meurs pour moi! 
Je vis par toi! 
De ton amour embrase-moi! 
Comme le cerf soupire 
Après l'eau des fontaines, 
Ainsi mon âme a soif de toi, Seigneur! 
C'est ton sang adoré 
Qui coule dans mes veines 
Et m'enivre déjà du céleste bonheur! 
The Crucifix 
Viens! viens, amant de ma croix! 
Viens! ma douce victime! 
En attendant la mort qui comblera tes voeux, 
De mon amour pour toi 
Touche, un instant, la cime, et vois, 
Vois que, plus que toi, je veux ce que tu veux! 
St Francis 
Un miracle! Jésus! 
Et jusqu'à cet excès! 
Je ne suis plus à moi! 
Je t'adore … Et me tais!
Part 2: The death of St Francis
St Francis
Mes enfants! … L'heure approche … 
Au séjour des élus, 
Je vais donc voir, enfin, le doux Sauveur, Jésus!
Mais, avant que d'entrer dans la terre promise, 
Une dernière fois je veux bénir Assise!
Chorus of Men
Père qui régnez dans les cieux!
Ô Dieu d'amour! Dieu de miséricorde!
Que votre grâce nous accorde 
Ce qu'implorent de vous les larmes de nos yeux! 
Par pitié pour notre misère
Par les clous vénérés de ses pieds, de ses mains, 
Ne rappelez pas notre père,
Ne nous laissez pas orphelins!
St Francis
Mes fils! Ne pleurez pas!
C'est le jour qui commence!
La lumière bientôt va dissiper la nuit! …
C'est la fin de l'exil, du deuil, 
De la souffrance, mes fils!
Ne pleurez pas!
C'est la mort qui s'enfuit!
(He dies)
Chorus of angels
Prends ton vol vers les cieux, 
Bienheureux Séraphique!
De la terre pour toi les liens sont rompus!
Viens chanter pour toujours le céleste cantique!
Entre dans la paix des élus!
Charles Gounod (1818–93)
Part 1: The cell 
St Francis
My adored Saviour, 
Sole love of my life, 
All that is not Thee 
Is henceforth as nothing for my heart. 
Thy mystery enraptures me 
And revives my soul, 
Kindling in all my senses 
An ineffable fervour. 
All that is not Thee 
Is henceforth as nothing for my heart. 
Lamb of God! 
Sacred Victim! 
In thee, Jesus, 
My heart is engulfed! 
Inflame me with thy love! 
Thou dost die for me! 
I live through thee! 
Inflame me with thy love! 
Like as the hart 
Desireth the water-brooks, 
So longeth my soul after thee, O Lord! 
It is thy beloved blood 
That flows in my veins 
And already intoxicates me with heavenly bliss! 
The Crucifix
Come, come, lover of my Cross! 
Come, my gentle victim! 
As you await the death that will fulfil all your desires, 
Touch, for an instant, the pinnacle 
Of my love for you, and see, 
See that, more than yourself, I desire what you desire! 
St Francis
A miracle! Jesus! 
And a supreme one! 
I am no longer mine! 
I adore thee – and am silent!
Part 2: The death of St Francis
St Francis
My children! The hour draws nigh.
In the abode of the chosen
I shall at last see the sweet Saviour, Jesus!
But before I enter the promised land,
For the last time I wish to bless Assisi!
Chorus of Men
Father who dost reign in the heavens!
O God of love! God of mercy!
May thy grace grant us
What the tears of our eyes implore of thee!
In pity for our misery,
By the venerated stigmata of his feet and hands,
Do not call our father to Thee,
Do not leave us orphans!
St Francis
My sons! Do not weep!
It is day that dawns!
Soon the light will dispel the darkness!
It is the end of exile, of mourning,
Of suffering, my sons!
Do not weep!
It is death that flees away!
(He dies)
Chorus of angels
Take flight towards the heavens,
Blessed seraphic Father!
For you the bonds of earth are broken!
Come and sing the celestial hymn for evermore!
Enter the peace of the chosen!
Translation © Charles Johnston
1. Introit 
Requiem aeternam dona eis, Domine; 
et lux perpetua luceat eis; 
Te decet hymnus, Deus, in Sion, 
et tibi reddetur votum in Jerusalem. 
Exaudi orationem meam: 
ad te omnis caro veniet. 
2. Kyrie 
Kyrie eleison. 
Christe eleison. 
Kyrie eleison. 
3. Offertoire 
Domine Jesu Christe, Rex gloriae: 
libera animas omnium fidelum defunctorum 
de poenis inferni et profondo lacu. 
Libera eas de ore leonis; 
ne absorbeat eas tartarus, 
ne cadant in obscurum. 
Sed signifer sanctus Michael 
repraesentet eas in lucem sanctam 
quam olim Abrahae promisisti et semini ejus. 
Hostias et preces tibi, Domine, laudis offerimus. 
Tu suscipe pro animabus illis, quarum hodie memoriam facimus. 
Fac eas, Domine, de morte transire ad vitam, 
quam olim Abrahae promisisti et semini ejus. 
4. Sanctus 
Sanctus, sanctus, sanctus, Dominus Deus Sabaoth. 
Pleni sunt coeli et terra gloria tua. 
Hosanna in excelsis! 
Benedictus qui venit in nomini Domini. 
Hosanna in excelsis! 
5. Pie Jesu 
Pie Jesu Domine: 
dona eis requiem sempiternam.
6. Agnus Dei
Agnus Dei, qui tollis peccata mundi:
dona eis requiem.
Agnus Dei, qui tollis peccata mundi:
dona eis requiem.
Agnus Dei, qui tollis peccata mundi:
dona eis requiem sempiternam.
Lux aeterna luceat eis, Domine.
Cum sanstis tuis in aeternam, quia pius es.
Requiem aeternam dona eis, Domine, et lux perpetua luceat eis.
7. Libera me
Libera me, Domine, de morte aeterna,
in die illa tremenda:
quando coeli movendi sunt et terra
dum veneris judicare saeculum per ignem.
Tremens factus sum ego et timeo,
dum discussio venerit,
atque ventura ira.
Dies illa, dies irae,
calamitis et miseriae,
dies magna et amara valde
dum veneris judicare saeculum per ignem:
requiem aeternam dona eis, Domine,
et lux perpetua luceat eis.
8. In paradisum
In Paradisum deducant te Angeli;
in tuo adventu suscipiant te Martyres,
et perducant te in civitatem sanctam Jerusalem.
Chorus Angelorum te suscipiat,
et cum Lazaro quondam paupere,
aeternam habeas requiem.
1. Introit
Eternal rest give unto them, O Lord, 
and let perpetual light shine upon them. 
A hymn, O God, becomes thee in Sion, 
and a vow shall be paid to Thee in Jerusalem. 
Hear my prayer, 
all flesh shall come before thee. 
2. Kyrie
Lord, have mercy. 
Christ, have mercy. 
Lord, have mercy. 
3. Offertoire
O Lord Jesus Christ, King of glory, 
deliver the souls of all the faithful departed 
from the pains of hell and the bottomless pit. 
Deliver them from the jaws of the lion, 
lest hell engulf them, 
lest they be plunged into darkness; 
but let the holy standard-bearer Michael, 
lead them into the holy light, 
as once thou promised to Abraham and to his seed. 
Lord, in praise we offer thee sacrifices and prayers. 
Accept them on behalf of those whom we remember this day: 
Lord, make them pass form death to life, 
As once thou promised to Abraham and to his seed. 
4. Sanctus
Holy, holy, holy Lord, God of Hosts. 
Heaven and earth are full of thy glory. 
Hosanna in the highest! 
Blessed is he that cometh in the name of the Lord. 
Hosanna in the highest! 
5. Pie Jesu
Merciful Lord Jesus, grant them rest, 
Grant them eternal rest.
6. Agnus Dei
O Lamb of God, thou that takest away the sins of the world,
Grant them rest.
O Lamb of God, thou that takest away the sins of the world,
Grant them rest.
O Lamb of God, thou that takest away the sins of the world,
Grant them eternal rest.
Let light eternal shine on them, O Lord,
with thy saints forever, for thou art merciful.
Rest eternal grant them, O Lord, and let perpetual light shine on them.
7. Libera me
Deliver me, O Lord, for everlasting death,
On that dread day
When the heavens and the earth shall quake,
When thou shalt come to judge the world by fire.
I am seized with trembling, and I am afraid,
until the day of reckoning shall arrive
and the wrath to come.
That day, a day of wrath, 
calamity, and misery, 
the great day and most bitter,
When thou shalt come to judge the world by fire.
Rest eternal grant them, O Lord, 
and let light perpetual shine upon them.
8. In paradisum
May the Angels lead you into paradise,
may the martyrs receive you in your coming,
and may they guide you into the holy city, Jerusalem.
May the chorus of angels receive you,
and with Lazarus, once poor,
may you have eternal rest.
Translation © Charles Johnston 
Insula orchestra's purpose is to present music from the Baroque, Classical and pre-Romantic eras in a historically informed way. Side-by-side with masterpieces of the repertoire, the orchestra also features rarer pieces, such as the music of Louise Farrenc and Emilie Mayer. The ensemble performs on period instruments to match as closely as possible the sound and balance of the original score.
Insula orchestra was founded in 2012 by its Artistic Director and conductor Laurence Equilbey. In 2017 Insula inaugurated La Seine Musicale venue as its resident orchestra. The ensemble performs part of the Auditorium's season, alongside numerous other ensembles and artists. Insula orchestra also regularly performs at leading venues and festivals, including the Philharmonie de Paris, Grand Théâtre de Provence, Theater an der Wien, Stadtcasino in Basel, Hamburg Elbphilharmonie, here at the Barbican Centre and at the official inauguration of the Louvre Abu Dhabi.
The orchestra takes a creative approach to classical music in order to reach the broadest audience. This includes staged concerts, working with artists such as Yoann Bourgeois, Antonin Baudry, Pascale Ferran, David Bobée and the theatre group La Fura Dels Baus. It is particularly active on the field of digital technologies and has explored 360° experiences and virtual reality. Earlier this year it presented Beethoven Wars at La Seine Musicale: an immersive show combining new technologies with a manga universe.
A diversified and innovative education programme, striving towards sharing and inclusion, was developed throughout the Hauts-de-Seine department. Insula orchestra is also a member of LaDocumenta.eu, an online resource centre dedicated to sharing musical and scientific research.
Insula orchestra receives support from the Hauts-de-Seine department and is resident orchestra at the Seine Musicale. It is sponsored by Région Île-de-France. Mrs Aline Foriel-Destezet and Chargeurs Philanthropies are its major patrons. The circle of friends accio and the Insula orchestra – Laurence Equilbey foundation support its projects. Insula orchestra is a member of FEVIS and SPPF.
Laurence Equilbey is one of the leading French conductors of today, combining a distinctive artistic vision and an open-minded approach to her music-making.
She studied with Nikolaus Harnoncourt, Eric Ericson, Denise Ham, Colin Metters and Jorma Panula, and first rose to prominence as founder and Music Director of the award-winning chamber choir accentus. In 2012 she created the Insula orchestra (of which she is also Music Director): a period-instrument ensemble focused on repertoire of the Classical and pre-Romantic periods. Together, they have garnered exceptional critical acclaim, made numerous recordings, toured throughout Europe and currently hold a residency here at the Barbican.
In 2017 Insula became the first Orchestra-in- Residence at La Seine Musicale, a state-of-the-art multi-disciplinary arts venue situated to the south-west of Paris. In her position as Artistic Director, Laurence Equilbey oversees the classical music programming, including a major international orchestras series.
Beyond her work with Insula, she appears as a regular guest conductor with the Orchestre National de Lyon and Orchestre Philharmonique de Strasbourg. She is Artist-in-Association with the Grand Théâtre de Provence, and also enjoys a close relationship with the Philharmonie de Paris.
Recent and forthcoming highlights include concerts with BBC National Orchestra of Wales, the Barcelona, BBC, Gävle, Gothenburg and Montreal Symphony orchestras, Brussels Philharmonic, Gulbenkian Orchestra, Philharmonia Orchestra and Handel and Haydn Society. She also works regularly with leading chamber orchestras, as well as the period ensembles Akademie für Alte Musik Berlin and Concerto Köln.
She is lauded in the theatre for her approach to established works, including innovative stagings of Haydn's The Creation, Mozart's Requiem and Weber's Der Freischütz. She has also conducted Britten's Albert Herring, Hahn's Ciboulette and Gounod's La nonne sanglante.
Laurence Equilbey is also Artistic Director and Director of Education at the Department for Young Singers at the Paris Conservatoire.
Thirteen-year-old Oliver Barlow is a Music Scholar at Trinity School, Croydon, and a senior member of Trinity Boys Choir. He has sung with the choir on tour to Germany and on numerous film soundtracks, including as a soloist. In February he sang the treble solos in Galina Ustvolskaya's Symphony No 1 with the BBC Symphony Orchestra here at the Barbican and on BBC Radio 3 and recorded the same work with the London Philharmonic Orchestra in September.
He spent the summer performing the role of Puck (Britten's A Midsummer Night's Dream) at Glyndebourne. Forthcoming engagements include a concert and recording of extracts from Mozart's The Magic Flute with Opéra de Rouen. He plays the piano and trumpet and studies singing with Katharine Fuge.
John Brancy is equally at home in opera, concert performance and recital, with a wide-ranging repertoire that includes classical, contemporary music and musical theatre.
Highlights last season included his debut at the Aix-en-Provence Festival in the world premiere of Sir George Benjamin's Picture a Day Like This; he also made debuts with Opéra de Montréal as Franz Wolff-Metternich in the world premiere of Julien Bilodeau's La Beauté du monde; with the Cleveland Orchestra as Jack Wallace (La fanciulla del West) and performed Schubert's Winterreise in an orchestral arrangement at Theater Erfurt. Current and future highlights include a return to Opéra de Montréal and debuts at the Opéra Comique, Paris, Opéra national du Rhin, Opéra de Rouen, Grand Théâtre de Luxembourg, Teatro San Carlo, Naples, and the Royal Opera House, Covent Garden.
His portrayal of the title-role in Tobias Picker's Fantastic Mr Fox led to a Grammy in 2020 for Best Opera Recording. Other highlights include Guglielmo (Così fan tutte) and Donald (Billy Budd) for San Francisco Opera; Albert (Werther) for the Stadttheater Klagenfurt; Harlequin (Ariadne auf Naxos) for Opéra national de Lorraine; the Steward (Flight) and Demetrius (A Midsummer Night's Dream) for the Pacific Opera Victoria; Pete (Olga Neuwirth's Lost Highway) at Oper Frankfurt; Magnussen (Meredith Monk's Atlas) with the LA Philharmonic and Mercutio (Roméo et Juliette) with the Gulbenkian Orchestra, Lisbon.
He has appeared in concert with the Boston, Edmonton, Kansas City, San Francisco and Tucson Symphony orchestras and the Netherlands Radio Philharmonic Orchestra, among others.
John Brancy is a graduate of the Juilliard School and the Music Academy of the West.
Samoan tenor Amitai Pati came to international attention with an acclaimed concert performance of Bizet's The Pearl Fishers at the Philharmonie de Paris in 2019. He has since made a number of notable debuts, including Don Ottavio (Don Giovanni) for San Francisco Opera under Bertrand de Billy; Alfredo (La traviata) with Théâtre du Capitole du Toulouse under Michele Spotti; and concert performances of Così fan tutte and Don Giovanni at the Tanglewood Festival under Andris Nelsons. This season he makes his debut with Opéra national de Paris in Bellini's Beatrice di Tenda, conducted by Mark Wigglesworth, and returns to San Francisco Opera for Tamino (The Magic Flute) under Eun Sun Kim.
In the concert hall, last season's highlights included Mozart's Requiem with the New Zealand Symphony Orchestra under Gemma New, and with Paris Chamber Orchestra under Hervé Niquet. He also performed Gounod's Saint François d'Assise with Insula orchestra under Laurence Equilbey in Paris and Aix-en-Provence, the work with which he tonight makes his London concert debut. He also joins his brother Pene Pati and soprano Golda Schultz for an evening of arias, duets and trios with Les frivolités Parisiennes at the Théâtre des Champs-Élysées.
His recordings include a Mozart album with Golda Schultz and the Kammerakademie Potsdam under Antonello Manacorda, to be released later this season; Puccini's Madama Butterfly and La fanciulla del West, conducted by Lawrence Foster and Handel's Semele under Peter Walls.
Together with his brother, fellow tenor Pene Pati, and their cousin, baritone Moses Mackey, Amitai Pati is part of the New Zealand-based vocal trio of SOL3 MIO; they have released three albums.
He studied at the Wales International Academy of Voice with Dennis O'Neill, is an alumnus of the Merola Opera Program in San Francisco and was invited to join the 2014 Young Singers Project in Salzburg, where he shared the stage with Elīna Garanča, Juan Diego Flórez and Ludovic Tézier.
Mat Collishaw is one of the most significant and compelling artists in contemporary British art. With an early foundation at Goldsmiths College, he formed part of the groundbreaking movement of Young British Artists. He was one of 16 young artists who participated in the seminal Freeze exhibition organised by Damien Hirst in 1988, as well as the provocative Sensation show of 1997.
Throughout his 30-year career, Mat Collishaw has contemplated the nature of the human subconscious and explored ways to influence it through various media. Through optical illusions, paintings, projections and moving sculptures, he creates works and scenarios that directly and unconsciously engage their viewers. The works encourage people to think about fundamental questions of psychology, history, sociology and science. Behind the richness and visual appeal of each one there is a deep exploration of how viewers perceive and are influenced by the world today through images and modern technology.
The chamber choir accentus was founded in 1991 by Laurence Equilbey. It specialises in a cappella repertoire, contemporary music, oratorio and opera. In 2018 it was chosen by the French Ministry of Culture to become the first national centre for vocal art (Paris Ile-de-France, Normandie), strengthening its long-term artistic and educational goals and affirming its national and international reputation.
accentus regularly performs at leading venues and festivals, including the Paris Philharmonie, Seine Musicale, Grand Théâtre de Provence, Salzburg Festival, here at the Barbican, Essen Philharmonie, Theater an der Wien, Hamburg Elbphilharmonie, Lincoln Center, Théâtre des Champs-Elysées and the Hong Kong Arts Festival, among others. It has an artistic residency with the Rouen-Normandie Opéra, as well as working closely with Insula orchestra. Christophe Grapperon has been its associate conductor since 2013.
The choir collaborates with leading conductors, soloists and orchestras, notably Andris Nelsons, Sir Simon Rattle, Philippe Jordan, Simone Young, Orchestre de Paris, Ensemble Intercontemporain, Akademie für Alte Musik Berlin, Berliner Philharmoniker, Brigitte Engerer, Bertrand Chamayou, Alain Planès and Edouard Garcin. It has also taken part in numerous operatic productions, including, most recently, Pascal Dusapin's Macbeth Underworld at the Opéra Comique.
The choir's award-winning discography includes Transcriptions, which was nominated for a Grammy, and, most recently, Beethoven's Symphony No 9 with the Chamber Orchestra of Europe and Yannick Nézet-Séguin, and an a cappella recording of works by Saint-Saëns and Hahn, conducted by Christophe Grapperon. accentus was named Ensemble of the Year by the Victoires de la Musique in 2002, 2005 and 2008.
accentus, National centre for vocal art Paris Ile-de-France – Normandie, receives support from the Ile-de-France Regional direction of cultural affairs, from the French Ministry of Culture, and is subsidised by the city of Paris, the Ile-de-France region and the Normandie region. It is also sponsored by SACEM. The choir is artist-in-residence at the Rouen-Normandie Opera House. accentus's performing and educational activities receive the support of the Hauts-de-Seine department. The Bettencourt Schueller Foundation is its primary sponsor. accio, the circle of private donors of accentus and Insula orchestra, supports its artistic and educational endeavours.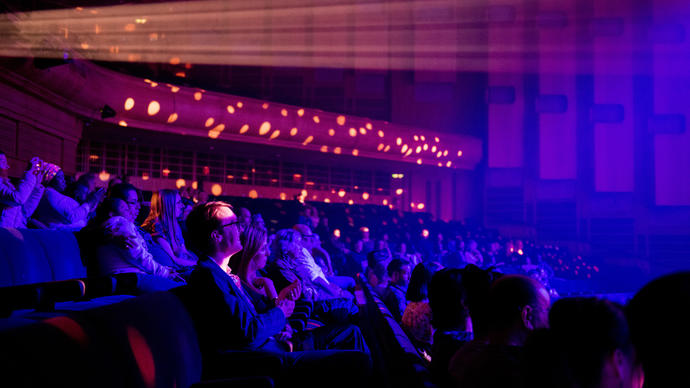 Find out about our Patrons, who help us keep our programme accessible to everyone and allow us to continue investing in the artists and communities we work with.
Love the arts? Become a Patron to engage more closely with our programme.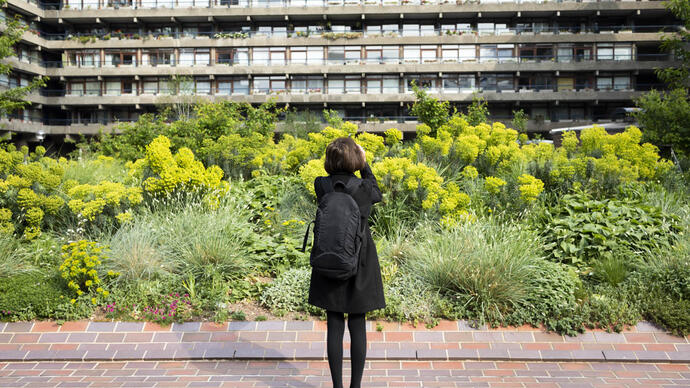 Meet our management team, our Board and the Trustees of our charitable arm, Barbican Centre Trust.