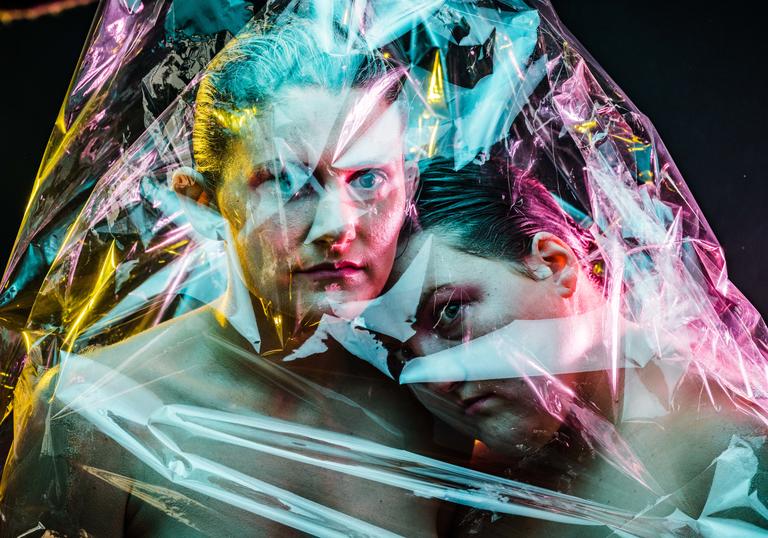 About the show
IN BED WITH MY BROTHER's brand new, controversial and somewhat tongue-in-cheek show looks at the effect Amazon has had on us all – both good and bad. But mainly bad. 
Dora Lynn, Kat Cory and Nora Alexander, the trio behind IN BED WITH MY BROTHER and winners of the Oxford Samuel Beckett Theatre Trust Award, create performances that critique power, inequality and the state of the world. They tell us about their new show PRIME_TIME. 
Tell us about the premise of PRIME_TIME.
Dora: It's basically a one-act extravaganza of us tormenting Jeff Bezos (founder of Amazon) and trying to take him down in the only way we know how: through the magical power of theatre – and with the aid of a few axes we've purchased via Amazon.com. 
 
Kat: We don't want to give it all away, but we're going to annihilate him. Having said that, we're also ordering something from Amazon Prime. So, don't worry guys, there's a bit of retail therapy in there too. 
How did you come up with the idea?
Dora: Our basic thinking was: if this big, bald bloke is gonna destroy the planet and leave us all behind to burn while he floats around space in a big dick-shaped rocket – how do we want history to remember him? 
Kat: There's a whole generation of aspiring Jeffs who wake up every day at 4am hoping it will make them billionaires. We don't want those guys to write the history books – to make out that Jeff was this great innovator or hero. We want to write our own account and I guess this is it.  
Nora: I think we also got really dejected thinking about how the internet was meant to be this incredible resource where anything was possible and you could instantly connect with anyone in the world and share ideas and art and feel inspired. But it turns out it's just a massive shop. We wanted to imagine what the internet could be if it hadn't been seized by a bunch of blokes with rockets who don't pay enough tax. 
Dora: Yeah, we've also been thinking a lot about the Greek myth of Amazon women and how we can reclaim the word Amazon from Jeff and his mega online shop. In pop culture, Amazonians are usually just sexy, tall ladies with hench thighs, but they also went into battle against powerful men, so we want to take on some Amazonian energy.
Nora: Because we live in such an extreme time, it doesn't feel right to make a kind of subtle and nuanced show, so it's not going to be that. We've tried, but we just can't do nuance.
Do you think people's attitude towards Amazon has changed since lockdown?
Dora: During lockdown, Amazon delivery drivers and staff at fulfilment centres became essential workers, putting their health at risk and getting paid a sh*t wage to get us our next-day sourdough starters. And when you're shielding, you find Amazon is the only place you can turn – it becomes a sort of lifeline.  
 
Kat: I feel like most people are aware of Jeff Bezos' disproportionate wealth and power and that Amazon is 'bad'. If you ask someone where they got something and they say "Amazon", they always make this face, where they look down all apologetically. Why do we do that?! It's a shame so many buy from Amazon but as wages get worse and the cost of living goes up, Amazon becomes the only choice – Amazon can always sell cheaper.  
This show isn't going to be us shaming anyone for using Amazon or calling for a mass boycott. You can't really escape it.  
What did it mean to you to win the Oxford Samuel Beckett Theatre Trust Award? 
Dora: It's a little bit surreal to be honest. The future of live theatre feels really uncertain at this time, especially for early career artists, so it's amazing that the Trust and the Barbican have given us this opportunity. We're well aware of how lucky we are, so we really want to make this show mega. 
Interview by James Drury
 
Tracklist
Music by SOPHIE 
Tracklist
SOPHIE – BIPP
SOPHIE – MSMSMSM
SOPHIE – VYZEE
SOPHIE – L.O.V.E.
SOPHIE – UNISIL
SOPHIE – Is It Cold in the Water?
SOPHIE – Ponyboy
SOPHIE – Immaterial
Biographies
Helen Mugridge – Production Manager
Helen is an experienced production manager. Her previous credits include: RED (Likely Story, Wales Millennium Centre); Gaping Hole (Rachel Mars and Greg Wohead/Ovalhouse, London); Little Wimmin (Figs in Wigs/Pleasance, London and HOME, Manchester); Class (Scottee/Edinburgh, Canada and UK tour); Atomic 50 (interactive installation for Waltham Forest Borough of Culture, Les Voyages, Company XY/Greenwich and Docklands International Festival); Idol (Jamal Gerald/Transform Festival and Theatre in the Mill, Bradford); I'm a Phoenix, Bitch (Bryony Kimmings/Grand Hall, BAC and international dates); Fat Blokes (Scottee/Edinburgh and UK tour); The Shape of the Pain (Rachel Bagshaw and Chris Thorpe with Chinaplate/Edinburgh Germany, BAC); Golem (1927/West End, The Space/BBC, UK and international tour).
Liv Lynch – Stage Manager
Livvy Lynch collaborates with queer and experimental performance makers. She loves helping artists putting shows on their feet and wears many hats including stage manager, technician and production assistance. She also creates and collaborates as a sound designer and performer, performing live electronic music under the artist name Flem Hacker.
Katherina Radeva – Costume and Set Design
Katherina designs environment, set and costume for theatre, dance and performance. A Wimbledon School of Art graduate, Katherina was a finalist in the 2005 Linbury Prize for Stage Design. Since then she has worked on numerous small, big, touring, rep, outdoor and site-specific exciting and spectacular projects. Her designs tour around the world and have won awards.
Credits include: the multi-award-winning stage production salt. by Selina Thompson as well as an adaptation for BBC4, If You Love This Might Hurt by Matty May, No Planet B for Perth Theatre, The Kind Body by Fat Blokes and Scottee, Class by Scotee, with bread by Leo Burin, Chasm by Sophie Unwin, Everything We've Always Wanted to Tell You by Scotee, Whirlygig by Daniel Padden, Leaving by Curious Monkey, Stick By Me by Andy Manley, Brothers Karamazov at Tron Theatre, Then Leap by Laura Lindow, Moonfleece and Discontented Winter for Salisbury Playhouse, Falling in Love with Frida by Caroline Bowditch, Lay Me Down Safe for Scottish Dance Theatre amongst many others.
Katherina co-runs Two Destination Language: an award-winning performance company which celebrates difference and makes work for stages which tour extensively in the UK and internationally, makes projects with communities and curates festivals and peer-to-peer support projects with artists at the heart, recognising the artist as catalyst for change.
Katherina is also a visual artist whose work has appeared at critically acclaimed solo shows in Scotland as well as numerous group exhibitions in the UK, Europe and the USA
Brain Rays – Sound Design
Brain Rays (aka Benjamin Hudson) is a music producer, film composer and sound designer. Known for his hectic, high pressure club music with Quiet, and soundtrack work with Dean Puckett (The Sermon, Satan's Bite), Rhys Chapman (Wonderkid) and Max Sobol (You [Us] Me). He has also scored films for Sophia Ray (adidas Runners) and Italian fashion photographer Stella Asia Consonni (Vogue Italia 'Not Your Girl') as well as working alongside IN BED WITH MY BROTHER, co-producing the music and sound design for their infamous show, TRICKY SECOND ALBUM.
Sorcha Mae Stott-Strzala – Lighting Design
Sorcha Stott-Strzala is a lighting designer (and sometimes a production manager too!). She likes to work with new, experimental and queer work. She loves working collaboratively in the room with artists to help make their shows look great, cool and fun. As well as IN BED WITH MY BROTHER, Sorcha works/has worked with Figs in Wigs, Lucy McCormick, Julie Cunningham, Rachel Young, Es Morgan, Jean-Daniel Brousse, Rachel Mars, Bourgeois & Maurice, Malikiscrycrycry amongst others.
 
Creative Team
Created by Nora Alexander, Dora Lynn and Kat Cory
IN BED WITH MY BROTHER Producer
Helen Mugridge Production Manager
Roxanne Carney Assistant Producer
Liv Lynch Stage Manager
Katherina Radeva Costume and Set Design
Brain Rays Sound Design
Sorcha Mae Stott-Strzala Lighting Design
IN BED WITH MY BROTHER Video Design
Nigel Barrett and Louise Mari Dramaturgy
With thanks for the generous support of Shoreditch Town Hall and New Diorama Theatre
Thanks also to Hackney Showroom for the dancefloor, Simon Froud and Valeriya Voronkina
Presented and co-produced by the Barbican 
Barbican Theatre Department
Toni Racklin Head of Theatre and Dance 
Simon Bourne Senior Production Manager 
Angie Smith, Leanne Cosby, Jill Shelley Producers 
Anna Dominian, Bridget Thornborrow Assistant Producers 
Kyle Bradshaw Marketing Manager
Kaya Birch-Skerritt Marketing Assistant
Angela Dias Senior Communications Manager
Freddie Todd Fordham Communications Officer
Lauren Brown Creative Learning Producer (Theatre, Dance, Poetry)
Jamie Maisey, Lee Tasker Production Managers  
Tony Brand, Steve Daly, Jane Dickerson, Martin Morgan, Stevie Porter Technical Managers  
Lucinda Hamlin, Charlotte Oliver Stage Managers 
John Gilroy, Nik Kennedy, Jamie Massey, Adam Parrott, Tom Salmon, John Seston, Chris Wilby Technical Supervisors 
David Green PA to Head of Theatre 
Caroline Hall Production Administrator 
Andrew Pellett Production Assistant 
Kendell Foster, Burcham Johnson, Christian Lyons, Charlie Mann, Josh Massey, Matt Nelson, Lawrence Sills, Neil Sowerby Technicians 
Heather Readdy Systems and Maintenance Technician 
Fiona Badgery, Gary Hunt, Nicola Lake Venue Managers 
Rebecca Oliver Access and Licensing Manager 
Elizabeth Wilks, Harriet Davis, Rob Norris Centre Managers (Delivery) 
Pheona Kidd Centre Manager (Planning) 
Mo Reideman Centre Manager (Health & Safety) 
Julian Fox, Albi Gravener Stage Door