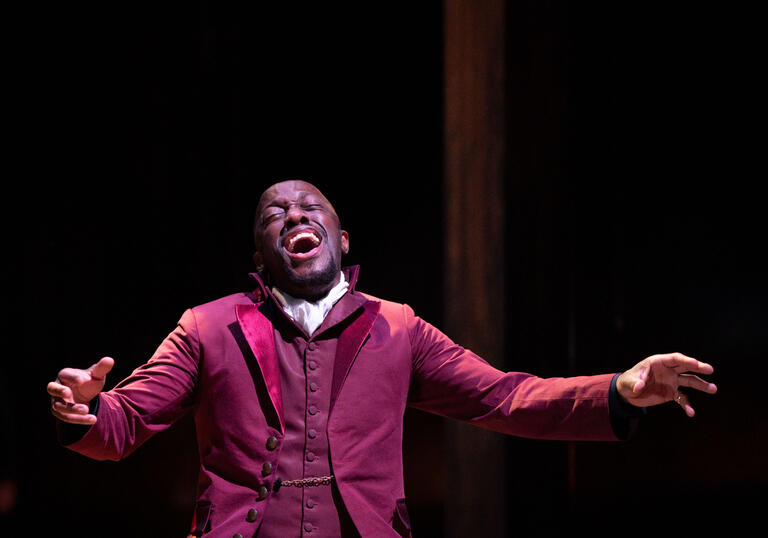 Telling Stories Without Fear: A Conversation with Giles Terera and Tom Morris
Giles Terera and Tom Morris have been working together to bring this story to the stage for over six years. We caught up with them in a lunchbreak during rehearsals to get a sense of the impact it has had on both of them and why it's an important story to share.
Tom Morris: "How's it feeling being in the middle of this play at this point in history? You created this role for the stage, you're also performing it, and directing it with me… After almost six years of battling to get it on its feet…"
Giles Terera: "Because we worked on this play for such a long time I feel really prepared for it. It's crazy to write it, direct it and also be in it… But we've been on such a journey that I feel we've got this."
Tom: "You said that there is a tradition that inspired you, in West Africa, where the writer, the storyteller and the performer are all the same person."
Giles: "Initially I didn't think about being in it. Writing it is hard enough! But then along the way you said; 'you need to be in it' and actually, that chimed with me because I believe artists should come up with their own work. Also, in the West in particular, for too long, we had this tendency of excluding the audience. For me, the storyteller comes into the village, people gather and then they start telling the story. So I knew I wanted this piece to be in that mode of storytelling. The result is a natural climax to the way we went on working on the project. Had we been able to produce it in the first year, it wouldn't have been quite as rich."
Tom: "In one of the drafts, there was a prologue, in which the character said 'you won't need your iPhone or any earphones, all you'll need are these eyes, those ears, and this heart'. Since the first draft there's been an element of this sort of storytelling. The storytelling impulse in the writing is so close to your skill as a performer."
Giles: "It took me a while to realise that, but actually, yeah, from the very first stretch of the project, it was about filling the gaps between the research and the existing materials about this historic event. I think I also needed some encouraging because it's such a difficult subject. It's essentially about how I came into existence, and which are the pieces of history that made me. It's rare you get the chance to look at that element of your own history. There's a scene where Riba reflects about self-doubt and says: 'If you think you can do it and if you believe in it, you find a way of doing it; you have the story within you, and you're passionate about it; it's in you, and you're stronger that you know'.
I've learned that lesson myself in writing this play."
Tom: "The whole thing has been an amazing learning experience. Personally, I've learned that in order for change to happen politically now, some habits need to change. And that applies inside the creative process as much as outside. It's a fascinating journey to go on, with your leadership, and your challenge. And I wanted to ask you: you always said that it was important to tell that story now in 2022, I wanted to ask you why."
Giles: "I want to create theatre about the world I live in now, and the world our audience is living in. This story takes place a couple of hundred years ago, but there is a very universal learning in it; it's about individuals trying to achieve something and what they are able to stand for. To understand the world we're living in, we have to find out how our society was created and owned. So, for me, to see that the world we're living in now is absolutely connected to the world of the play was extremely important. Those times, the 1780s, were massively influential. Our financial system was defined then, the education system we're living with, our class system; they were all built at this period or very much influenced by it. If you look at the last couple of years and the statue of Colston being pulled down, all that is rooted in the period we're talking about.
But we, as a society, don't want to address this period; we don't want to look at this particular period in our history. But we have to look at it. White people might not want to look at it because they feel they have lots to answer for. Black people might not want to look at it because it's trauma from the past. But in the telling of this story, there is no 'trauma porn', and there's no exploitation, completely the opposite. Those two elements, from both sides of the demographic coin, are only adding to obscure the past that we're looking at".
Tom: "One of the things I've learned on being able to work on this, is that it is a story of survival, renewal and transformation. Unless you look at the atrocity of this period of history, you can't see the courage, the resilience, the care and the love which enabled the survival to happen; the cultures to survive."
Giles: "I did so much research about this period, but these huge holes in history and our unwillingness to talk about this subject only adds to keeping this history invisible. So, for me, it was about finding a way to tell this story so that the audience could listen to it, hear it, see it, without fear. If we can have this conversation, we're better equipped to move forward in 2022, rather than remaining completely divided, which is what's happening now."
As told to Melissa Chemam, writer, journalist, lecturer in Media & Journalism (Bristol)
Writer in residence at Arnolfini Art Gallery
Sidiki Dembele: The music meets at a place where the story unfolds
I was initially contacted by Bristol Old Vic about the play, but it was when I read through the script, that I just felt connected to the story. I'm from West Africa, so the experiences of the enslaved people in the play were very much woven into my people's history, my ancestors and my community. So the integrity of the message really spoke to me and drew me in. It's deeply personal on one level, and just about humanity on another. Its objective fits my personal mission.
The music is integral. The rhythms are connected to the movement of the play. Music is like that; it brings completion to a tale, and it's a character within the story we are telling. Much of the musical canvas comes from tradition and antiquity. Other pieces evolved naturally as we worked.
I hope that audiences will be carried along by the music, and come with us on this journey, fostering connections not only with the rhythms and movement, but with the people and places, and finding a deeper consciousness of this part of history.
All the instruments I'm using are traditional. My Griot heritage goes back to the thirteenth century, and I'm using the same instruments which were designed for story telling. Like Djeli N'goni, a stringed instrument, was used for story-telling by the Djeli or Griot people. The larger Kamelen N'goni was played in the villages of Mandeng West Africa, to bear witness to the feats of hunters and warriors. It's an instrument of integrity, joyfully conveying the value and dignity of the hunting people. Finally, the Djembe, handcrafted and played in the spirit of celebration, equality, of compassion, peace and respect - along with several other traditional instruments, they all integrate beautifully with the soul of the play.
Some of the sounds were already in my head, before the rehearsals, arranging and adapting traditional pieces - but many evolved while I watched the story and characters come to life. The music travels along two strands, finally meeting at a place where the story unfolds.
I've been privileged to work with this cast and we've learned together - I've certainly supported their development, but they are all so engaged and talented that it's been a wonderful process. I've worked alongside Dave Price, my co-composer and the sound engineer, Sam, to develop and create new facets and perspectives.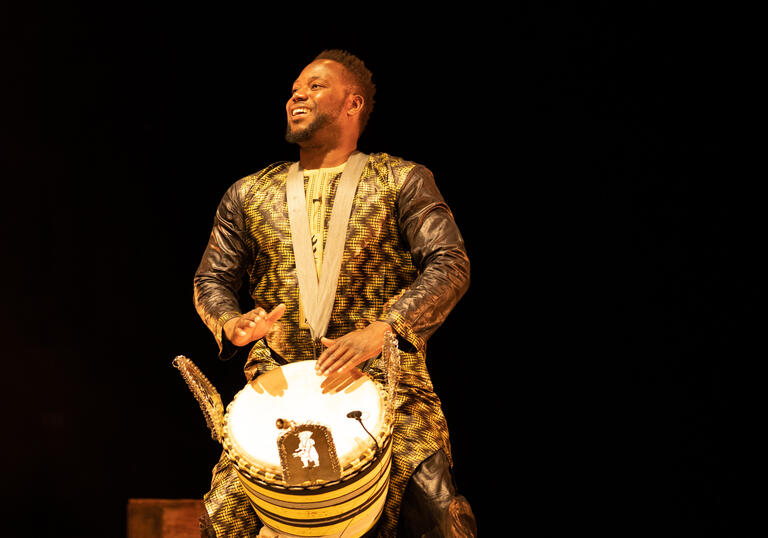 An Interesting Narrative
Olaudah Equiano rose to prominence in the late 18th century as the leading black campaigner for the abolition of the transatlantic slave trade. His book, 'The Interesting Narrative of the Life of Olaudah Equiano or Gustavus Vassa, the African' was one of the earliest first-hand accounts of life in Africa, the horrors of the Middle Passage and enslavement. The book was an important tool in the abolition campaign and remains relevant today as a fascinating historical document and an inspiring story of success against the odds.
Equiano's peaceful upbringing in West Africa was shattered when he was kidnapped and enslaved at about the age of 11. Transported to the Caribbean, then to Virginia (North America), Equiano was resold to Michael Henry Pascal, a Royal Navy lieutenant who renamed him Gustavus Vassa. Equiano spent his teenage years onboard Naval ships, engaged in the Seven Years War against France. During that time Equiano had the opportunity to educate himself, learning to read and write.
Resold by Pascal, Equiano was taken to Montserrat, in the West Indies, where he was purchased by a Quaker named Robert King. Recognising Equiano's skill and ability, King gave Equiano a position of responsibility working in his stores and trading goods around the West Indies and the Atlantic coast of North America. This role enabled Equiano to engage in additional trading for his own benefit and over three years he saved more than forty pounds, enough to buy his own freedom from King.
As a freeman Equiano returned to London and continued to work aboard ships throughout Europe and further afield.
In 1773 Equiano took part in a voyage to the Arctic in a failed attempt to find a northern passage to India.
During the 1780's Equiano became involved in the campaign for the abolition of the transatlantic slave trade. In 1782 he brought the Zong massacre, in which 133 slaves were thrown overboard, to the attention of campaigner Granville Sharp. Equiano self-published his narrative to much acclaim in 1789 and spent several years touring the country to promote the book. 'The Interesting Narrative', was a best seller, and went to nine editions in Equiano's own lifetime.
In 1792 Equiano married Susanna Cullen in Cambridgeshire and they had two daughters. Susanna died in February 1796 and just over a year later on 31 March 1797 Equiano passed away in London, he was about 52. Ann Maria, the eldest daughter, died just months after Equiano; the younger daughter Joanna went on to inherit Equiano's fortune of £950 (worth perhaps £100,000 today) and survived into adulthood
Biography reproduced by kind permission of The Equiano Society.
The Equiano Society was founded by Arthur Torrington and Samuel B. King in 1996, to publicise and celebrate the life and work of Olaudah Equiano. The society also celebrates the achievements of Equiano's contemporaries: Ignatius Sancho, Phillis Wheatley, Ottobah Cugoano, and others who made outstanding contributions to African literary and cultural heritage.
To discover more visit: equiano.uk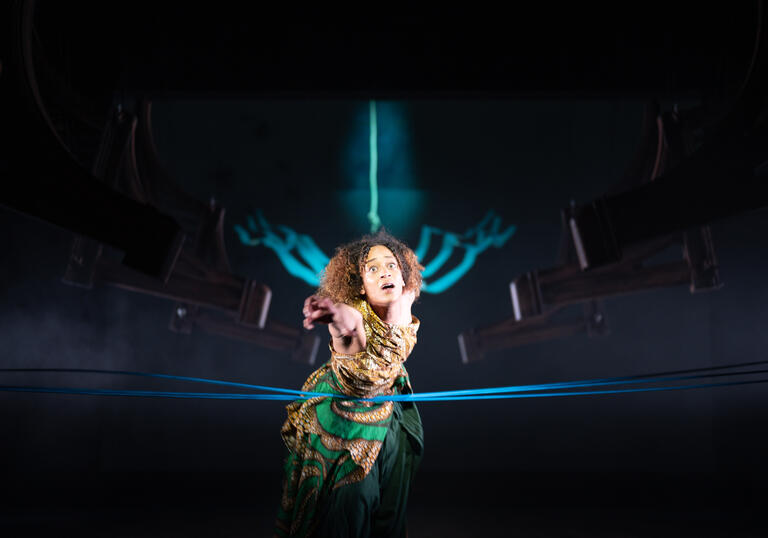 Audience care
Some of the content featured in this show may be triggering to some audience members. We have outlined more information about sensitive topics covered by this show and some support resources to help you decide what's best for you.
Our duty of care to our audience is paramount. If you require further information or would like to discuss specific content or any of the warnings below please do get in touch with the Barbican box office at [email protected].
Content Warnings
This show contains distressing scenes, historical racial language, themes of slavery and violence and some strong language.
If you need to leave the theatre during the performance, a quiet space is available in the Latecomer's Lounge. The Latecomer's Lounge is located on the Circle Level of the theatre on the left side of the auditorium. The hosts will assist you and if you'd like to come back in at any point, we will readmit you as soon as we can.
After the performance the auditorium will be held open and you are welcome to take a few minutes to reflect before leaving the theatre.
Resources and Information
The Barbican operates a Zero Tolerance approach to racism and all forms of discrimination. If you would like to know more, please see our website: Zero Tolerance | Barbican
If you are affected by any of the issues in this play, the following organizations can provide confidential advice and support.
Race On the Agenda: ROTA
rota.org.uk
One of the UKs leading anti-racist change drivers, ROTA works closely with communities impacted by systemic racism, prioritizing mental health, education and criminal justice.
SARI - Stand Against Racism and Inequality
saricharity.org.uk
SARI provides free and confidential support for anyone who is a victim of hate crime. We also work to build greater understanding and respect for diversity and difference within our community.
Samaritans
Samaritans.org
Call 116 123 for free
The Samaritans are free to call 24/7, 365 days a year to support you with whatever you are going through
Mind
mind.org.uk
If racism is affecting your mental health, we're here for you. Our information can help you understand the impact of racism – and choose how and where to seek help.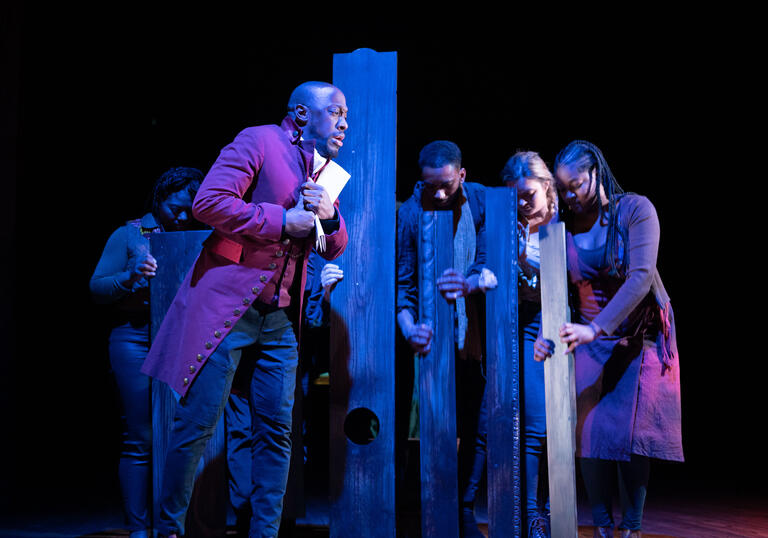 About Bristol Old Vic
Bristol Old Vic is the longest continuously running theatre in the UK and celebrated its 250th birthday in 2016. The historic playhouse aims to inspire audiences with its own original productions, both at home and on tour, (Touching the Void - West End / International, The Grinning Man – West End and Mark Rylance's Dr Semmelweis – coming to the West End this Summer.), whilst nurturing the next generation of artists, supporting experiment and innovation, and creating access to their programme for people who would not otherwise encounter it.
Since 2020, Bristol Old Vic has been sharing its shows in new ways: Live Broadcast from the Georgian auditorium to tens of thousands and also On Demand to TV and cinema. This has led to the launch of Bristol Old Vic On Screen - unforgettable performances filmed in its 257 year-old theatre, broadcast live to you wherever you are in the world. 
Creative team
Performers
On Stage Musician Sidiki Dembele
Sir John Lee / Robert Stubbs / William Woodfall Simon Holland-Roberts
Riba Kezrena James
Arthur Pigot/Kelsall Remi King
Ama/Gloria Kiera Lester
Joyi/Lord Mansfield Bethan Mary James 
Annie Greenwood/Elijah Brown Rona Morison
Ottobah Cugoano Ényì Okoronkwo
Granville Sharp Tristan Sturrock
Olaudah Equiano Giles Terera
Creative team
Dramatherapist and Artist Samantha E. Adams
Set and Costume Designer Jean Chan
Composer and Musical Director Sidiki Dembele
Costume Supervisor Becky Gunstone
Video Associate Barret Hodgson
Lighting Designer Zeynep Kepekli
Movement Director Ingrid Mackinnon
Co-Director Tom Morris
Video Designer Tom Newell
Sound Designer/Co-Composer Dave Price
Writer/Co-Director Giles Terera
Fight Director Kate Waters
Hair Consultant Sophia Khan 
Production team
Producer Jessica Campbell
Assistant Producer Ruby Gilmour
Producing Administrator Zachary Parsons
Production Manager David Harraway
Company Stage Manager Lucy Topham
Deputy Stage Manager Fiona Bardsley
Assistant Stage Manager Zoe Gledhill
Production Carpenter Andy Humphreys
Production Electrician Katherine Mercer
Lighting Programmer Imogen Clarke
Scenic Painter Cliff Thorne
For the Barbican
Barbican Centre Board
Chair
Tom Sleigh
Deputy Chair
Sir William Anthony Bowater Russell
Deputy Chair
Tobi Ruth Adebekun
Board Members
Munsur Ali, Randall Anderson, Michael 'Mikey J' Asante, Stephen Bediako, Farmida Bi, Tijs Broeke, Zulum Elumogo, Gerard Grech, Ann Holmes, Wendy Hyde, Charles Edward Lord, Wendy Mead, Graham Packham, Mark Page, Alpa Raja, Jens Riegelsberger, Jane Roscoe, Despina Tsatsas, Irem Yerdelen
Clerk to the Board
Ben Dunleavy
Barbican Centre Trust
Chair
Farmida Bi CBE
Vice Chair
Robert Glick OBE
Trustees
Farmida Bi CBE, Tom Bloxham MBE, Stephanie Camu, Tony Chambers, Cas Donald, Robert Glick OBE, Tracey-Joy Harrison, David Kapur, Ann Kenrick, Kendall Langford, Sir William Anthony Bowater Russell, Tom Sleigh, Claire Spencer AM, Sian Westerman
Theatre Department
Head of Theatre and Dance
Toni Racklin
Senior Production Manager
Simon Bourne
Producers
Liz Eddy, Jill Shelley, Fiona Stewart
Assistant Producers
Anna Dominian, Saxon Mudge, Mali Siloko
Production Managers
Jamie Maisey, Lee Tasker
Technical Managers
Steve Daly, Jane Dickerson, Nik Kennedy, Martin Morgan, Stevie Porter
Stage Managers
Lucinda Hamlin, Charlotte Oliver
Technical Supervisors
James Breedon, John Gilroy, Jamie Massey, Adam Parrott, Tom Salmon, Lawrence Sills, Chris Wilby
PA to Head of Theatre
David Green
Production Administrator
Caroline Hall
Production Assistant
Andrew Pellett
Technicians
Eleanor Foster, Kendell Foster, Helena Gardner, Sandy Golden, Burcham Johnson, Christian Lyons, Josh Massey, Matt Nelson
Stage Door
Julian Fox, aLbi Gravener
Creative Collaboration and Learning
Head of Creative Collaboration
Karena Johnson
Senior Producer
Lauren Monaghan-Pisano
Producer
Lauren Brown
Assistant Producer
Rikky Onefeli
Marketing Department
Acting Head of Marketing
Ben Jefferies
Marketing Manager
Kyle Bradshaw
Marketing Assistant
Rebecca Moore
Communications Department
Head of Communications
James Tringham
Senior Communications Manager
Ariane Oiticica
Communications Manager
HBL
Communications Assistant
Sumayyah Sheikh
Audience Experience
Deputy Head of Audience Experience & Operations
Sheree Miller
Ticket Sales Managers
Lucy Allen, Oliver Robinson, Ben Skinner, Jane Thomas
Operations Managers
Seán Carter, Richard Long, Rob Norris, Elizabeth Davies-Sadd, Samantha Teatheredge
Operations Manager (Health & Safety)
Mo Reideman
Audience Event & Planning Manager
Freda Pouflis
Venue Managers
Discover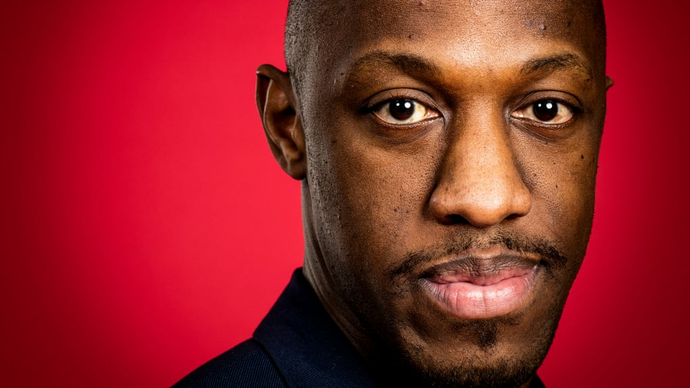 'It was shameful I didn't know about it.'
In this article in The Guardian, Giles Terera reflects upon the horrifying chapter of history at the centre of The Meaning of Zong and the importance of making the story heard.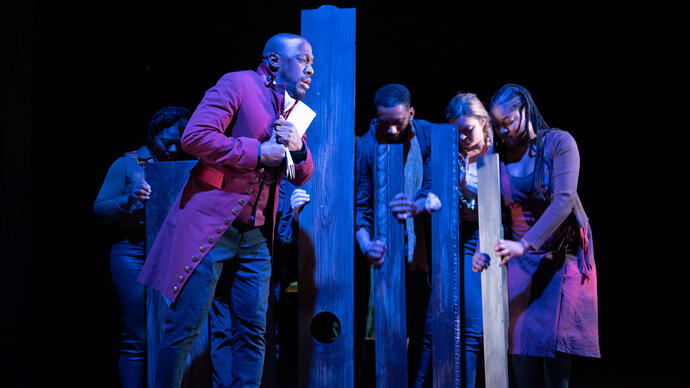 Ahead of performances, listen to Happened Here's (@StoriesHappened) moving podcast and find out more about a painting of the horrific incident aboard the slave ship Zong, created by painter JMW Turner.
Biographies
Samantha E. Adams – Dramatherapist and Artist
Sam is a state HCPC registered Dramatherapist and Creative Arts Supervisor who graduated from the University of Roehampton with a Masters in Dramatherapy, and where she now teaches the Therapeutic Stories Unit. Before retraining to become a therapist, Sam's final role on stage was Prospero in Shakespeare's Tempest.  As a therapist Sam works in the community with women that have experience of the Criminal Justice System and or enduring mental ill health. As well as leading Health & Wellbeing at Clean Break Theatre Company, Sam regularly works as in-house production Dramatherapist with several renowned theatres including and most recently, National Theatre's Othello and Trouble in Mind, Bristol Old Vic's The Meaning of Zong, and currently, the Wellbeing Consultant on a Long Covid programme at the Old Vic Theatre. Sam also regularly works with Kiln Theatre, and teaches the Pedagogy of Storytelling and Ritual Theatre, annually at the Royal Central School of Speech & Drama. Sam began her Dramatherapy career on an acute NHS mental health ward and she continues to centre the empowerment of community through democratising creativity and wellness, in her practice, on behalf of those she works with. Sam's academic research article about working with her mother's original Windrush suitcase, published in the Sage Journal, can be found here: https://doi.org/10.1177/0263067220964432. Dramatherapy information can be found at www.badth.org.uk. Sam is currently setting up an exciting new consultancy that launches this Summer. Stage Dialogue will work at the intersections of wellness, creativity and embodiment.
Jean Chan – Set and Costume Designer
Jean graduated in 2008 at Royal Welsh College of Music and Drama. Resident Trainee Designer at the Royal Shakespeare Company 2008-09. Linbury Prize winner for Stage Design in 2009.
2023 projects: Miss Saigon - Costume Designer (Scenekvelder, Oslo), Lost and Found (Manchester International Festival).
Theatre design: Twelfth Night and A Midsummer Night's Dream (Shakespeare's Globe), Pinocchio (Unicorn Theatre), Reason You Should(n't) Love Me (Kiln Theatre), Dick Whittington and Jack and the Beanstalk (Lyric Hammersmith), The Witches, James and the Giant Peach, The BFG (Dundee Rep), Petula and Mother Courage (National Theatre Wales). 
Costume design: Legally Blonde (Regent's Park Open Air Theatre), Knights' Tale (Toho Theatre, Japan), The Grinning Man (Trafalgar Studio/Bristol Old Vic), and Lionboy (Complicite). 
Sidiki Dembele – Co-composer, Musical Director and on stage musician
Sidiki hails from an ancient line of Malian Griot musicians, diplomats and oral historians, raised in the cultural traditions of his ancestors. He is an accomplished multi-instrumentalist, beginning his professional career at the age fourteen. He teaches at masterclass level internationally. Since appearing and composing for Justin Macgregor's Mugabeland! (2012, Lowry Theatre), and as musical director for Ballet Nimba (2010-2015) he joined the RSC as player musician (Hamlet 2016 and 2018), and was named 21st century drummers ambassador in 2020. Numerous appearances with BBC Concert Orchestra, Welsh National Orchestra and Manchester Collective, culminated in a 2021 BBC Proms appearance, bringing together the music and traditions of two worlds and spaces in time. Associate Lecturer at RWCMD, with arrangement and contribution credits for several albums. 
Becky Gunstone – Costume Supervisor
As costume supervisor: Romeo & Julia Liebe ist Alles (Theater des Westens, Berlin), A Christmas Carol (RSC), Legally Blonde (Regent's Park Open Air Theatre), Force Majeure (Donmar Warehouse), Wicked das Musical (Neue Flora Hamburg), The Tempest, As You Like It, A Midsummer Night's Dream (Shakespeare's Globe Theatre), The Bridges of Madison County (Menier Chocolate Factory), Amélie das Musical (Werk7 Theater Munich), and Zoonation - Into the Hoods (Peacock Theatre).
As deputy costume supervisor: & Juliet (Shaftesbury Theatre), Bat Out of Hell (Dominion Theatre, London Coliseum, Metronom Theater Oberhausen & North American tour), and The Band (Manchester Opera House).
Barret Hodgson – Video Associate
Barret is an award-winning video artist and digital projection designer. His company Vent Media was created after completing his master's degree in Collaborative Arts Practise at Trent University, Nottingham. Vent Media specialises in creating and staging visual media for live performance including theatre, dance and music events, gallery installations, film productions and architectural projection.
Barret has continued to refine his practice, working on cutting-edge techniques and hardware to create a huge array of visual digital experiences.
Clients and commissions have included: BBC, 59 Productions, Game City, Sadler's Wells, Red Bull, DreamThinkSpeak, Warp Films, and the Guggenheim Gallery, Bilbao. Barret has toured nationally as a VJ for many years and has collaborated with DJ Yoda, Fatboy Slim, Ghostface Killah, and Roni Size amongst many others. His theatre and dance collaborations have had international recognition including touring in Asia, and across Europe including the Venice Biennale.
More information can be found at www.ventmedia.co.uk 
Simon Holland-Roberts – Sir John Lee / Robert Stubbs / William Woodfall
Co-founder of ShakesVR with Giles Terera in 2019, and Pigtown Theatre CIC in 2009, both based in Conwy, North Wales.
Theatre includes: The Rise and Fall of Little Voice, Cyrano, All My Sons, Arms and the Man, Aristocrats, Glengarry Glen Ross (Theatr Clwyd); The Resistible Rise of Arturo Ui, Saint Joan (Donmar); Strife (Chichester Festival Theatre); Of Mice and Men (Leeds Playhouse); Assembly13 (NTW); and Love's Labour's Lost, Lisa's Sex Strike, The Tempest, Richard III, Othello, Henry VI, The Man with Two Gaffers (Northern Broadsides).
TV and film includes: All at Sea, Da Vinci's Demons, Stepping Up, The Borrowers, Coronation Street, Shameless, Eric & Ernie, Accused, and The Street. 
Kezrena James – Riba
A Welsh creative from Cardiff, Wales.
Theatre credits include: Under Milk Wood, From Morning to Midnight and My Brilliant Friend (National Theatre), Captain Corelli's Mandolin (Harold Pinter Theatre/tour), The Cherry Orchard (Theatre Royal, Windsor), othellomacbeth (Lyric Hammersmith/Home, Manchester), The Little Matchgirl (Shakespeare's Globe/Bristol Old Vic), Medea and Sleeping Beauty (Bristol Old Vic), The Borrowers and Clytemnestra (Sherman Theatre), Primetime and The Faith Machine (The Royal Court), Macbeth, The Comedy of Errors and The Secret Garden (Chester Performs), The Winter's Tale (Regent's Park Open Air Theatre), Arabian Nights (The Lowry) and Five Children And It (The Egg, Theatre Royal Bath). 
TV credits include: The A List, 15 Days, Ordinary Lies, Being Human, Doctors and Crash. 
Zeynep Kepekli – Lighting Designer
Zeynep Kepekli is a lighting designer who presents work in the UK and around the world across dance, theatre, opera, ballet as well as site specific projects and installations.
Her work is influenced by art, architecture and bodies in spaces. She continuously questions geography and belonging as an immigrant in her work.
She has a long-standing collaboration with Sadler's Wells and Yolande Yorke Edgell. Some of her credits include: How Did We Get Here (Julie Cunningham Company, Sadler's Wells), Common Grounds (Pina Bausch Foundation/Ecoles des Sables/Sadler's Wells), and Afternoon Conversations With Dancers (Robert Cohan/Yolande Yorke Edgell – The Royal Opera House).
Remi King – Arthur Pigot/Kelsall
Remi trained as an actor at the Royal Central School of Speech and Drama.
Theatre includes: The Meaning of Zong (Bristol Old Vic, Edinburgh Lyceum, Liverpool Playhouse), and Romeo in Romeo & Juliet (Oxford Castle).
Theatre whilst training: Colossal, Punk Rock, A Doll's House, King Lear, The Oresteia, The Man of Mode, A Lie of the Mind, Twelfth Night, and The Seagull (Royal Central School of Speech and Drama).
The Meaning of Zong is his professional stage debut.
Kiera Lester – Ama/Gloria
Kiera is a graduate of Bristol Old Vic Theatre School.
Her film and television credits include: the upcoming Embers (short), Ruby Speaking and Grace for ITV, as well as Chloe and Death in Paradise for the BBC.
Her theatre credits include: The Meaning of Zong (Barbican and Bristol Old Vic) and while training Her Naked Skin, Dog Sees God, and Talking in Tongues.
Ingrid Mackinnon – Movement Director
Ingrid Mackinnon is a London-based movement director, choreographer and intimacy director. 
Movement direction and Choreography include: Blue (English National Opera), Trouble in Butetown (Donmar Warehouse), Enough of Him (National Theatre of Scotland), A Dead Body in Taos (Fuel Theatre), The Darkest Part of the Night (Kiln Theatre), Girl on an Altar (Kiln Theatre), Playboy of the West Indies (Birmingham Rep), The Meaning of Zong (Bristol Old Vic/UK tour), Moreno (Theatre503), Red Riding Hood (Theatre Royal Stratford East), Antigone (Mercury Theatre), Romeo and Juliet (Regent's Park Open Air Theatre - winner Black British Theatre Awards 2021 Best Choreography), Liminal – Le Gateau Chocolat (King's Head Theatre), Liar Heretic Thief (Lyric Hammersmith), Reimagining Cacophony (Almeida Theatre), First Encounters: The Merchant of Venice, Kingdom Come (RSC), Josephine (Theatre Royal Bath), Typical (Soho Theatre), #WeAreArrested (Arcola Theatre and RSC), The Border (Theatre Centre), Fantastic Mr Fox (as Associate Movement Director, Nuffield Southampton and National/International tour), Hamlet, #DR@CULA! (Royal Central School of Speech and Drama), and Bonnie & Clyde (UWL: London College of Music).
Intimacy credits include: Es & Flo (Wales Millennium Centre), Phaedra (National Theatre), Super High Resolution (Soho Theatre), Enough of Him (National Theatre of Scotland), Girl on An Altar (Kiln Theatre), Season Associate 2023 – Once On This Island, Every Leaf A Hallelujah, Robin Hood, The Tempest, La Cage aux Folles, Season Associate 2022 - Antigone, 101 Dalmatians, Legally Blonde (Regent's Park Open Air Theatre), and Carousel (Regent's Park Open Air Theatre).
Bethan Mary James – Joyi/Lord Mansfield
A creative born and bred in the heart of Cardiff, Wales.
Trained: Royal Welsh College of Music and Drama. 
Theatre includes: Trouble in Butetown (Donmar Warehouse), The Meaning of Zong (Barbican and Bristol Old Vic), The Merthyr Stigmatist (Sherman Theatre, Theatre Uncut and Zoar Theatre), This Beautiful Virtual Village (Abbey Theatre) Antigone (National Theatre Wales), This Beautiful Village (Abbey Theatre), Much Ado About Nothing (Tobacco Factory and Wiltons Music Hall), Henry II (Between the Lines Theatre), Women of the World Festival (YAP YAP YAP/Southbank), Pride & Prejudice (Nottingham Playhouse and York Theatre Royal), The Revenger's Tragedy (Nottingham Playhouse), Moon on a Rainbow Shawl (Talawa/National Theatre), A Christmas Carol (Birmingham Repertory Theatre), All My Sons (Talawa and Manchester Royal Exchange), Future For Beginners (Wales Millennium Centre), and Early Days of a Better Nation (You Have Found Coney).
Television includes: Sisters (Peer Pressure), Friday Night Dinner (Big Talk), Doctors, Casualty (BBC), The Collection (Amazon), Cuffs (Tiger Aspect), Stella (Sky1), and Public Enemies (BBC One).
Voice Over includes: Jukebox Juniors (CBBC).
Film includes: Seven (Short), Spinning (Short), Belle, and On a Knife Edge (Short).
Radio includes: H Is For Hair (BBC3).
Rona Morison – Annie Greenwood/Elijah Brown
Theatre includes: Mary (Hampstead Theatre), The Haystack (Hampstead Theatre), The Prime of Miss Jean Brodie (Donmar Warehouse), Cover My Tracks (Old Vic), The Diary of a Teenage Girl (Southwark Playhouse), Glory On Earth (Royal Lyceum Edinburgh), Dead Don't Floss (National Theatre), Orca (Southwark Playhouse), The Crucible (Bristol Old Vic), Buckets (Orange Tree Theatre), Scuttlers (Manchester Royal Exchange), Anhedonia (Royal Court), To Kill A Mockingbird (Regent's Park Open Air Theatre), The Second Mrs Tanqueray (Rose Theatre), Crave and Illusion (Bush Theatre), Julie (Northern Stage), and The James Plays (National Theatre of Scotland).
Film includes: Our Ladies, Solo: A Star Wars Story, Ready Player One, and The Boy I Loved.
TV includes: The Control Room, Absentia, and Decline and Fall.
Tom Morris – Co-Director
Work as a director includes: Juliet and Her Romeo, The Meaning of Zong (with Giles Terera), Cyrano, King Lear, Touching the Void, The Grinning Man, Swallows & Amazons, and A Midsummer Night's Dream (all for Bristol Old Vic and/or West End/International tour), Monteverdi's L'Orfeo (Vienna Statsoper), Breaking the Waves (Scottish Opera/ Opera Ventures, EIF, Opera Comique, Adelaide Festival), The Death of Klinghoffer (ENO and Metropolitan Opera), Every Good Boy Deserves Favour (NT), War Horse (NT, Lincoln Center and world tour (winning numerous awards including Tony for Best Director, with co-director Marianne Elliott)), Disembodied, Newsnight: The Opera, Home, Passions, Unsung, Othello Music, Trio and All That Fall (all for BAC). Writing includes: A Christmas Carol and The Nutcracker (Bristol Old Vic), World Cup Final 1966, Jason & the Argonauts and Ben Hur (all with Carl Heap for BAC), The Wooden Frock, Nights at the Circus and A Matter of Life and Death (all with Emma Rice for Kneehigh) and the libretto for Orpheus in Hell for ENO.
He was Artistic Director of Bristol Old Vic from 2009 to 2022, where he re-established the theatre's programme after closure, conceived and directed two landmark festivals (Bristol Proms, festival of world class music and integrated digital technology in collaboration with Watershed Bristol and Universal Music, and Bristol Jam: Britain's first festival of improvised performance). He also oversaw a major restoration and refurbishment of Britain's oldest continuously working theatre – creating direct visibility from the street for the very first time. He was Artistic Director of BAC from 1995 to 2004 where he established the scratch developmental programme, restructured the organisation, set up and curated A Sharp Intake of Music, Playing in the Dark, the British Festival of Visual Theatre and the Sam Shepard Festival, and BAC Opera, where he produced Jerry Springer the Opera. Morris, has been Associate Director at the National Theatre since 2004, was founding Chair of the JMK Trust, is the current Chair of Complicité, has honorary doctorates from UWE and Bristol University, and an OBE for services to Theatre.
Tom Newell – Video Designer
Tom Newell is a video designer, creative technologist and a co-founding director of Limbic Cinema, an award-winning multimedia design studio specialising in projection mapping and immersive video environments.
Limbic Cinema have designed multiple award winning theatre productions. Their ongoing relationship with the Bristol Old Vic began as part of the 250th Birthday celebrations in 2016, and they have collaborated on multiple projects with Tom Morris and Bristol Old Vic's creative team. Limbic Cinema are proud to be working on Wonder Boy, their first show in the auditorium. 
Theatre credits include: Wonder Boy (Bristol Old Vic), Things Hidden Since the Foundation of the World, History of Shopping Malls in Tehran (Javaad Alipoor), Vigil (Mechanimal), Ergo Sum (Sleight of Hand Theatre),The Little Mermaid (Pins and Needles), The Stick House, and Ice Road (Raucous).
Ényì Okoronkwo – Ottobah Cugoano
Theatre work includes: Dr Semmelweis (Bristol Old Vic), Tartuffe, Wonder.Land (National Theatre), The Haystack (Hampstead Theatre), Noises Off (Lyric Hammersmith), The Model Apartment (Ustinov Studio, Theatre Royal, Bath), The Cherry Orchard (Bristol Old Vic), Junkyard (Bristol Old Vic/Theatre Clwyd/Rose, Kingston), Boy with Beer (King's Head), and Arthur's World (Bush Theatre).  
Film work includes: A Midsummer Night's Dream and Up on the Roof.
Television work includes: Renegade Nell (Disney+), Giri/Haji (Netflix), I Hate You (Channel 4), Funny Woman (Sky), and The Lazarus Project (Sky) 
Dave Price – Sound Designer/Co-Composer
Dave Price makes music for theatre, dance, and film. His work has been described as "fabulously diverse", "fantastically evocative, haunting, melodic & uplifting", "eclectic, often strange and always wonderful". He has a longstanding association with award-winning physical theatre company Gecko, performing in their early shows and working as composer on most productions including stage shows, films, and associate projects. As a musician Dave has recorded and performed extensively with many artists including: Aqualung, Gwyneth Herbert, Regina Spektor, and Finn Peters.
Recent work includes a re-imagining of Carmen starring Natalia Osipova, and a documentary film about elephant conservation in Thailand co-composed with Dame Evelyn Glennie 
Tristan Sturrock – Granville Sharp
Theatre credits includes: The Nutcracker, Cyrano, Messiah, Peter Pan, Coram Boy, Far Away, Juliet and Her Romeo and The Beaux Stratagem (Bristol Old Vic); Edward II, Blue Remembered Hills (Sheffield Crucible); As You Like It (Manchester Royal Exchange); Mysteries, and Spanish Tragedy (RSC).
For Kneehigh Theatre (Founder Member): Rebecca, Brief Encounter, A Matter Of Life & Death, Tristan & Yseult, and The Riot.
Television includes: The Tower, Malpractice, Miss Scarlet & The Duke, The Outlaws, Midsomer Murders, Poldark (5 Series), The Crown, Three Girls, Endeavour, Doc Martin, Jamaica Inn, The Borgias, The Queen, Bad Girls, The Project, and The Bill.
Film includes: My Policeman, Christopher Robin, Bait, Saving Grace, and Long Way Back.
Giles Terera – Writer/Co-Director/Olaudah Equiano
Giles Terera MBE is an award-winning actor, musician and writer. 
He trained at Mountview Theatre School and has worked consistently at venues such as the National Theatre, the Royal Shakespeare Company and Shakespeare's Globe. He is best known for originating the role of Aaron Burr in the London production of the award-winning musical Hamilton, for which he won the 2018 Olivier Award for Best Actor in a Musical. 
His other theatre credits include: Rosmersholm, The Tempest, Avenue Q, The Book of Mormon, 125th Street, Rent (West End); Ma Rainey's Black Bottom, Hamlet, Death and the King's Horseman, The Hour We Knew Nothing of Each Other, Troilus and Cressida, Candide, Honk! (National Theatre); The Merchant of Venice (Shakespeare's Globe/international tour); The Resistible Rise of Arturo Ui (Donmar Warehouse); Pure Imagination – The Songs of Lesley Bricusse (St. James's); King John (Shakespeare's Globe/UK tour); Don't You Leave Me Here (West Yorkshire Playhouse); The Playboy of the Western World (Abbey, Dublin); The Rat Pack (West End/international tour); Jailhouse Rock (Theatre Royal Plymouth/West End); You Don't Kiss (Stratford Circus); Up on the Roof (Chichester); The Tempest (RSC); Six Degrees of Separation (Sheffield); Generations of the Dead (Young Vic); Bill Shakespeare's Italian Job (Playbox, Warwick/Gilded Balloon, Edinburgh); The Demon Headmaster/The Animals of Farthing Wood (Pleasance, Edinburgh). 
As a writer, his theatre work includes: The Meaning of Zong (Bristol Old Vic); The Ballad of Soho Jones (St. James') and Black Matter (Crazy Coqs). As a filmmaker, Giles's first documentary, Muse of Fire – created with Dan Poole – centres on modern perspectives of Shakespeare and premiered on BBC Four in Autumn 2013. Giles was an associate producer on Poole's feature documentary The Space: Theatre of Survival and he wrote and directed the concert film Hello Harry! A Celebration. 
Giles was appointed a Member of the Order of the British Empire (MBE) in the 2020 New Year Honours for services to theatre. 
Kate Waters – Fight Director
Kate has been an Equity registered fight director since 2001. She is also a qualified boxing coach and coaches at Rathbone Amateur Boxing Club.
Kate has worked extensively in theatre, recent work includes:  The Secret Life of Bees (Almeida), Lord of the Flies (Leeds Playhouse), Private Lives (Donmar), Guys & Dolls (Bridge Theatre), Unexpected Twist (Royal & Derngate), Henry V (Globe), Small Island and Much Ado About Nothing (National Theatre), Cyrano de Bergerac (West End, Glasgow and Brooklyn), Tina, The Musical (West End and Germany). 
Television and film credits include: Coronation Street, Emmerdale, Hollyoaks, My Policeman (Amazon Studios), Death of England (Sky Arts and National Theatre – BAFTA Nominee for Best Single Drama), and Romeo & Juilet (Sky Arts, PBS America and National Theatre). 
With thanks
With thanks to:
Jim Molyneux, Ian Penny, Constance Canavarro, Andrew Cunningham, James Walvin, Rhys Gillard, Laura Pogose, Charlie Rowen, Amber Bowerman, Charlotte Weiss, Issy Lawerence, Gabrielle Firth, Sophia Khan, Rosie Maynard, Grace Dobson,  Tom Crossley-Thorne, Charlie Crossley-Thorne, The Equiano Society, Simon Beresford, Wole Soyinka, M. Nourbese Philip, Anni Domingo, Marcus Redirer, Bristol Old Vic Scenic Workshop, Cliff Thorne, Toni Racklin, Fiona Stewart and Anna Dominian at the Barbican, and all the actors who worked on various workshops and starred in the production at Bristol Old Vic.
The Meaning of Zong is a Bristol Old Vic Production. First performed at Bristol Old Vic on 2 April 2022
Presented by the Barbican
A Bristol Old Vic production. Supported by The Mackintosh Foundation, The Ronald Duncan Literary Foundation, Christopher Sharp, Daniel Weyman, Reynolds Porter Chamberlain, St John's Chambers, Burges Salmon, Bevan Brittan, Clarke Willmott
The Barbican sparks creative possibilities and transformation for artists, audiences and communities – to inspire, connect, and provoke debate.
As a not-for-profit, we need to raise two thirds of our income through fundraising, ticket sales, and commercial activities. With the help of our generous supporters, we are able to share the work of some of the most inspiring and visionary artists and creatives, enabling the widest possible audience to experience the joy of the arts.
There are many ways you can support the Barbican, including by making a donation, joining our programme as a sponsor, or becoming a Member. To find out more and join our community, please visit www.barbican.org.uk/join-support/support-us or contact [email protected]
With thanks...
The City of London Corporation, founder and principal funder
Major Supporters
Arts Council England
Calouste Gulbenkian Foundation (UK Branch)
SHM Foundation
The Terra Foundation for American Art
Leading Supporters
Lonti Ebers
Trevor Fenwick and Jane Hindley
Marcus Margulies
Programme Supporters
Marie-Laure de Clermont-Tonnerre (Spirit Now London)
Kristin Hjellegjerde Gallery
Sayeh Ghanbari
Elizabeth and J Jeffry Louis
Pat and Pierre Maugüé
The Clare McKeon Charitable Trust
Hugh Monk
Romilly Walton Masters Award
The Rudge Shipley Charitable Trust
Director's Circle
Anonymous (1)
Farmida Bi
Tom and Jo Bloxham MBE
Philippe and Stephanie Camu
Cas Donald
Alex and Elena Gerko
Trevor Fenwick and Jane Hindley
Ruth and Stuart Lipton
Tracey, Eloise and Max Mayerson
John MurrayNatrium
Capital LimitedCorporate
Corporate Supporters
Audible
Bank of America
Bloomberg
Bolt Burdon Kemp
DLA Piper
Google Arts & Culture
Linklaters LLP
Morrison Foerster
Norton Rose Fulbright
Osborne Clarke
Pinsent Masons
Sotheby's
Slaughter and May
Taittinger
UBS
Trusts & Grantmakers
Art Fund
Art Mentor Foundation Lucerne
The Austin and Hope Pilkington Charitable Trust
Bagri Foundation
CHK FoundationCockayne – Grants for the Arts
John S Cohen Foundation
Goethe-Institut London
Helen Frankenthaler Foundation
Italian Cultural Institute in London
Korean Cultural Centre UK
Kusuma Trust UK
London Community Foundation
Mactaggart Third Fund
The Polonsky Foundation
Rix-Thompson-Rothenberg Foundation
Swiss Cultural Fund
We also want to thank the Barbican Patrons, Members, and the many thousands who made a donation when purchasing tickets or at the Centre.
The Barbican Centre Trust, registered charity no. 294282