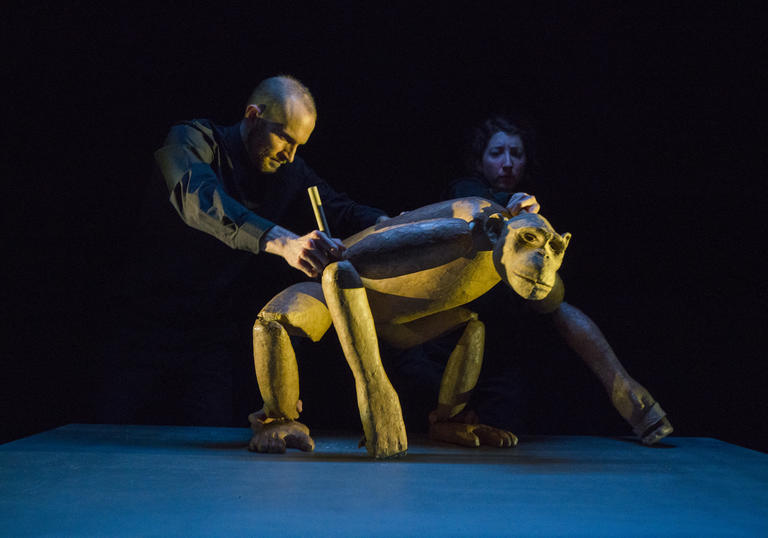 Creative team & puppeteers
Creative team
Nick Lehane Creator, Director and Designer
Marika Kent Lighting and Associate Set Design
Kate Marvin Sound Designer
Abby Schlackman Associate Lighting Designer
Avery Orvis Associate Sound Designer
Puppeteers
Rowan Magee, Andy Manjuck, Emma Wiseman
About the show
In this extraordinary and heartbreaking puppet play, a life-sized chimpanzee escapes the despair of her captive existence by piecing together memories of her childhood in a human home.
Now from her solitary cage in a biomedical facility, she reminisces about the comfort, curiosity and freedom she had growing up in a human family. Her bleak present-day reality switches into vivid recollections of discovery and delight: scarves float into the air from a storage box, a teacup fascinates, opera music plays, a tiny toy baby is carefully cradled to her chest.
Three highly skilled puppeteers invest feeling, expression and delicately nuanced movement to the beautifully crafted creature of this poignant non-verbal production, which conveys shifts in time and place through haunting sound and lighting. Written and created by Brooklyn-based Nick Lehane, it is distilled from the real stories of apes once fostered into American families only to be abandoned to science as they reach maturity.
Chimpanzee received its world premiere in New York City at HERE's Dream Music Puppetry Programme, presented by Basil Twist and Barbara Busackino, and received generous funding from Cheryl Henson and the Jim Henson Foundation. Chimpanzee was a recipient of The Jim Henson Foundation Puppetry Residency at the Eugene O'Neill Theater Center and received work-in-progress presentations at Puppetry at the Carriage House and The Puppet Lab at St Ann's Warehouse.
Nick Lehane wishes to thank Cheryl Henson, Barbara Busackino and Basil Twist for their invaluable support of this work.
Creator's note
Chimpanzee is based on the stranger-than-fiction stories of chimpanzees raised as children in human homes, in a series of cross-fostering experiments conducted in the United States. When these chimpanzees matured, or when funding dried up, some of these cross-fostered chimps went on to live as test subjects in a radically different area of scientific research – pathogen studies performed in biomedical facilities. Hundreds of chimpanzees remain warehoused in labs to this day.
Chimpanzee is an hour in a theatre, a day in a biomedical facility, and a lifetime in the mind of a chimpanzee.
Nick Lehane
Interview
What inspired you to create Chimpanzee?
Nick Lehane: I read a book called Next of Kin by Roger Fouts and that was my introduction to the chimpanzee language and cross-fostering experiments. That led to Growing up Human by Maurice Temerlin and a lot of animal rights, activist research like the Humane Society, PETA, Save the Chimps, and Friends of Washoe.
We see the chimpanzee in your play reenacting memories of living with humans. I'm curious about the fact that they were all so happy.
NL: Yes. Maurice Temerlin's book Growing up Human is about Lucy [a chimpanzee raised by humans who] seemed to take her human family for granted and there was a loving, positive relationship. I think that may have been the seed for making the memories in Chimpanzee largely positive. Also the intense juxtaposition of a suburban, middle class American family life next to the most inconceivably solitary life of confinement and vivisection—being given Hepatitis C and electrodes in your brain… because a lot of cross-foster chimps didn't end up in zoos. Zoos didn't want chimps that behaved so culturally human. So behaviour and pathogen studies were a more common route, from what I've read. I can't imagine more diametrically opposed experiences. That's part of what was scary and touching and drew me to the work, how far apart those experiences are. But they're both man-made containers: the container of the home and the container of the lab.
I think all interpretations of the show are valid because it's what people take away, but for me having a happy memory doesn't necessarily make a positive judgment on an experience. You can look back on something warmly even if it wasn't ultimately for your well being. So my hope is there is something bittersweet about these memories because of how the chimpanzees end up. That's what was on my mind anyway.
The other thing I'm curious about is the puppet's movements. Where did you draw from for the jumping, and the different gestures?
NL: I worked with a team of really talented puppeteers, Rowan Magee, Andy Manjuck, and Emma Wiseman. We just watched a ton of video. I haven't actually seen a chimpanzee in person since working on this. We watched videos of them in the wild. The Gardners were the scientists who raised Washoe, the signing chimp, and they filmed her at random to try to catch spontaneous signing. So there is a lot of really rich footage. It was really fascinating for me to see how chimps that were human enculturated behaved really differently. It's uncanny how their behaviour is modified even when they're alone, so it's not just to get rewards, it seems that it really changes their culture.
Can you say a little more about that, what you noticed?
NL: Signing to themselves, for instance. Playing with dolls by themselves. Looking at a picture book and signing casually. There was a chimp, I think one of the Gardner's chimps, that would hoot involuntarily when they were about to steal a cookie and then would sign in ASL quiet, quiet to themselves. One of the reasons it seems that chimpanzees can learn some ASL and they can't learn much English, in addition to the difference in lengths of their vocal tracts and the degree to which they have mobility of their lips and tongue, is that the parts of their brain that control their mouths are only the non-voluntary parts. So where they're able to control their hands more voluntarily like humans, they have less deliberate control over their vocalizations.
How long were you developing Chimpanzee? It seems like this is the kind of subject that could really take over all of your time with research.
NL: The first 15-minute iteration of it was developed over the course of a year in 2013, and then a couple years ago I got inspired to make it a full play and that's been about two years since of research and development on and off.
What audience, if you have any particular one in mind, are you excited to see the play?
NL: I was particularly stoked when a neuroscientist who studies macaques came. He said he recognized the environment and the movement immediately, which freaked me out. I asked if he would send other people from his lab and he said he'd be happy to, but he worried some of the younger scientist would be disturbed because they haven't gotten used to it yet. So that was bizarre and exciting because I'd love to reach people who actually have any kind of agency over how chimps are treated. I like hearing from people who come at it from really different angles, when people who are in the dance world see it I find they have really interesting take aways. From a puppetry/mask angle they have their own perspective. I think I'm most excited when people who 'aren't theatre people' are interested in seeing it. That's probably the most edifying.
I was really struck by the size of the puppet. Was to scale?
NL: She's the exact size of an average-sized female chimpanzee.
Did you question making her smaller or bigger?
NL: For sure. I knew that I never wanted her to be larger than real-scale, but most puppetry is smaller than real life. Once I knew that the frame of the piece was the biomedical facility in a small cage, I knew that I wanted her to be the size of a real chimp.
Did it have to do with being able to feel her in captivity?
NL: Yes, exactly.
This interview was originally published on scienceandfilm.org
Biographies
Nick Lehane – Creator, Director and Designer
Nick is a Brooklyn based puppeteer and theatre artist. His original puppet work has shown in New York at HERE Arts Center, St Ann's Warehouse, Puppet BloK at Dixon Place, The Jim Henson Carriage House, Special Effects Festival at wild project, and at the Pillsbury House Theatre in Minneapolis. He has collaborated with PigPen Theatre Co as the puppet designer for The Tale of Despereaux (the Old Globe, Berkley Rep) and The Phantom Folktales (Virgin Atlantic), and as the understudy for The Old Man and The Old Moon. Lehane provided puppet and movement direction for SeaWife (Naked Angels). He will be puppet designing Douglas Carter Beane and Lewis Flinn's Hood (Asolo Rep, dir Mark Brokaw). Lehane's select performance credits include This Is Our Youth on Broadway, Fidelis (The Public), The Electric Baby (Two River Theater, Quantum Theatre), Robin Frohardt's The Plastic Bag Store and The Pigeoning (HERE Arts Center, international tour), Petrushka (Giants Are Small, New York Philharmonic, Barbican Centre), Islamic Solidarity Games Opening Ceremonies (Betty Productions, Baku, Azerbaijan), Doug Fitch's El retablo de maese Pedro (American Symphony Orchestra, Bard SummerScape), James Ortiz's The Little Mermaid (Glass Bandits Theater Company, Strangemen Theatre Company), Warrior (Lionsgate, dir Gavin O'Connor), The Last Tycoon and Lore (Amazon). Lehane studied at the Moscow Art Theatre School and received his BFA from the Carnegie Mellon School of Drama.
Marika Kent – Lighting and Associate Set Design
Marika designs new and classic plays, musical theatre, opera, dance, experimental theatre, puppetry and site-specific performance. Recent and upcoming: School Girls; Or, the African Mean Girls Play (Portland Center Stage), Reconstruction (The TEAM), Jazz Singer (Abrons Arts Center), The 25th Annual Putnam County Spelling Bee (ACT of CT), No Child; Memphis; Peter and the Starcatcher (Cape Fear Regional Theater), Ajijaak on Turtle Island (IBEX Puppetry, The New Victory), Roan @ The Gates (Luna Stage), Perp; Abigail's Party (the Barrow Group), Generation NYZ; Alaxsxa/Alaska; Beyond Sacred (Ping Chong + Company), Skinnamarink or The Peanut Butter Show; Now is the Time... (Little Lord), How To Hamlet; You on the Moors Now (Theater Reconstruction Ensemble), Cheryomushki; Albert Herring; The Snow Maiden (Manhattan School of Music Opera) She; No Words; Rhapsody in K (Ariel Rivka Dance). Proud member of Wingspace Theatrical Design. www.marikakent.com
Kate Marvin – Sound Designer
Kate is a composer, designer and musician based in New York. Recent work: Wives (Playwrights Horizons); Twelfth Night (Two River Theater); Queen (Geva Theatre Center); Lifespan of a Fact (Cincinnati Playhouse in the Park); Fruiting Bodies (Ma-Yi Theater); Happy Days (Mark Taper Forum); Sweat (Asolo Repertory Theatre); Men on Boats (American Conservatory Theater); A Doll's House, Part 2 (Actors Theatre of Louisville); Indecent (Guthrie Theater); Babette's Feast (Portland Stage Company); Crossing Delancey (Alliance Theatre); [Porto] (Women's Project); Wilder Gone (Clubbed Thumb); Fidelio (Heartbeat Opera); Richard III (Trinity Shakespeare Festival). Kate is an Associate Artist with Target Margin Theater and Little Lord. MFA Yale School of Drama. www.katemarvinsound.com
Abby Schlackman – Associate Lighting Designer
Originally from Long Island, Abby Schlackman is a Philadelphia based lighting designer. She has a BFA in Theater Design and Technology from the University of the Arts. Her work focuses mostly on designing and assisting new productions and modern interpretations of classic work. Her recent designs include: Candles, The Night Alive, Click, The Bald Soprano, Neighborhood 3, The Trojan Women, Just Another Normal Conversation, Sonnets for an Old Century, and more. Website: abbyschlackman.com
Avery Orvis – Associate Sound Designer
Avery is a theatrical sound designer from Knoxville, Tennessee, currently living and working in Brooklyn. Recent credits include: sound designer for the world premiere of Anna Christie for Encompass New Opera Theatre, sound designer for All of My Blood at the Corkscrew Theatre Festival, sound designer for Before the Orgy at the NY Theater Festival, and stage manager and sound designer for A Fighting Light at the Sibiu International Theatre Festival.
Rowan Magee – Puppeteer
Rowan is a puppeteer from Troy, NY. He is curator for Dixon Place's Puppet BloK and for the Object Movement Festival, a winter residency and spring showcase of experimental puppet artists in New York City. Rowan has puppeteered on international tours with Phantom Limb Company, Robin Frohardt, and Dan Hurlin, in stadium performances with Betty Productions in Baku and Abu Dhabi, and in New York City for American Opera Projects, Trusty Sidekick, Chris Green, Spencer Lott, and the National Theater in the 2018 Broadway revival of Angels in America. He has designed puppets for the Dalton School and Lincoln Center Education, received a Henson Foundation Grant for his marionette show No 1 Chinese, and teaches for CO/LAB, Marquis Studios, and Story Pirates. You can see Rowan puppeteer a 10-foot puppy on the silver screen this coming November in the live action/CGI Clifford the Big Red Dog movie.
Andy Manjuck – Puppeteer
Andy is the Co-Artistic Director of Eat Drink Tell Your Friends, and a company member of the award-winning Wakka Wakka. Selected credits include: Saga (Drama Desk Special Award), Baby Universe (Obie Special Award, Drama Desk Nomination, Helen Hayes Nomination), The Pigeoning, The Plastic Bag Store, Made in China, and Petrushka with Giants are Small and the New York Philharmonic Orchestra. Recently, Andy co-developed Lectures for Puppet Labapalooza at St Ann's Warehouse which since has received a Henson Foundation Grant. He is currently developing his new show Bill's 44th which will premiere at Dixon Place in NYC this Fall. He can be seen on GoNoodle as their resident beatboxer, and is also a voiceover artist. andymanjuck.com
Emma Wiseman – Puppeteer
Emma is a multidisciplinary theater-maker with a particular interest in puppets and objects. She has been a resident artist with Mabou Mines and the Puppet Lab at St Ann's Warehouse, and her original and collaborative works of performance have been seen at St Ann's Warehouse, Dixon Place, LaMaMa, Brooklyn Studios for Dance, the Chicago International Puppet Theater Festival, the Upper Jay Arts Center and the INSITU Dance Festival. As a performer, Emma has worked with David Neumann, Jeanette Yew, Megan Murtha, Dan Hurlin, and dance/music collective The Space We Make. Emma has toured internationally with Robin Frohardt's The Pigeoning and premiered Frohardt's The Plastic Bag Store in 2018. She served as lead puppeteer for the Emmy-nominated Animated Life, a New York Times Op-Doc series created by Sweet Fern Productions. www.emmawiseman.me
Presented by the Barbican in association with London International Mime Festival. Supported by The Jim Henson Foundation and Cheryl Henson.
In association with Dream Puppetry Program and Tandem Otter Productions.
Discover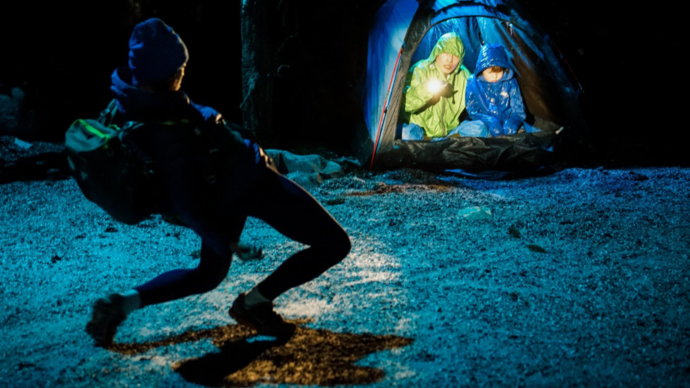 Watch: London International Mime Festival 2020
For 2020, the 44th year of London's annual festival of contemporary visual theatre, 10 overseas companies join 8 British groups, including 4 LIMF co-commissioned productions.
London International Mime Festival
Somerset House, Strand, London WC2R 1LA
 +44 (0)20 7637 5661 [email protected] www.mimelondon.com
London International Mime Festival (LIMF) promotes contemporary visual theatre. Its productions have been nominated for and won Olivier Awards, and in 2017 the festival was honoured with the Empty Space - Peter Brook Special Achievement Award for its work over four decades. Founded in 1977, LIMF is an Arts Council England National Portfolio Organisation.
Festival Directors Helen Lannaghan and Joseph Seelig
Production Manager Bill Deverson
Artists Manager Stephanie Brotchie
Press Representatives Anna Arthur PR [email protected]
Graphics & Website Iain Lanyon keanlanyon.com
Marketing Consultants Anne Dillow, Richard Fitzmaurice mobius industries.com
London International Mime Festival 2020 gratefully acknowledges co-operation / financial support from: Arts Council England; Institut français as part of its En Scène programme; Arts Queensland; Arts South Australia; Cheryl Henson; Jim Henson Foundation