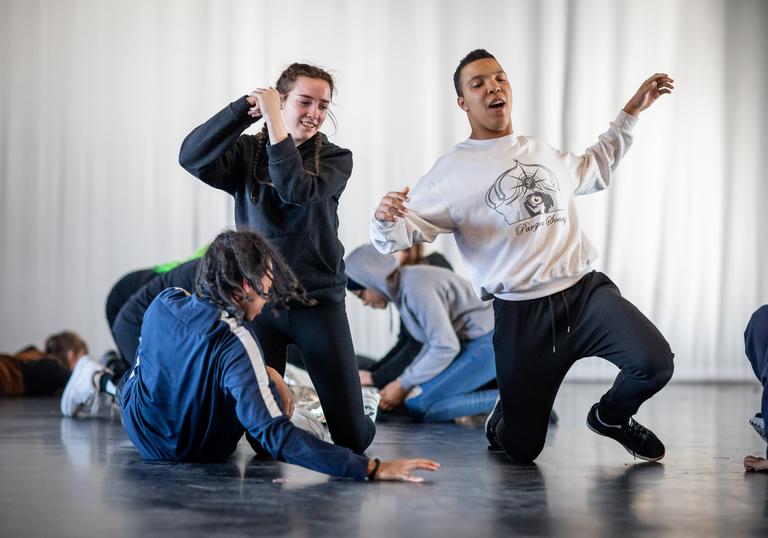 About
What is Barbican Box? 
Barbican Box supports the arts in schools through creating and presenting artistic work which can support the drama and dance curriculum. The programme was developed in response to teachers' requests for a more creative, expressive form of arts education. The aim of the programme is to enable young participants to develop a range of creative and transferable skills whilst accessing the Barbican's world-class arts programme. 
The impact of Barbican Box is three-fold: empowering students to create original work, giving teachers the skills to lead this creative process during Barbican Box and beyond, and presenting theatre which audiences can enjoy as an end in itself. 
How does Barbican Box happen? 
Each year, the Barbican commissions a world class theatre company artist to design and curate a Box, providing an artistic starting point from which teachers and students can devise their own piece of theatre. Barbican Box 2019 is designed in partnership with Slung Low, an award-winning theatre company based in Leeds. 
The project kicks off for teachers with a two-day Professional Development workshop led by Slung Low artists, which explores different artistic approaches to the Box. Teachers are then matched with an Artist Mentor, from whom they and their students receive ongoing mentoring. 
In schools, teachers use the Box and its learning resources with their group to create new work.  The process of creation and collaboration evolves over months of making theatre, and through this, students develop a wider knowledge of the arts, creative skills and other transferable qualities such as teamwork, communication, decision making and leadership. 
Schools are offered tickets to see a main house production at the Barbican, to introduce them to new work and the devising process. The project culminates with an inspirational performance showcase, at which students share the results of their hard work with other schools and an invited audience of family, friends and guests.
 
Barbican Box and Slung Low
Slung Low's way of making theatre is profoundly practical. Risk-taking but not dangerous. Robust but kind. 
We make theatre adventures in unlikely spaces. We rehearse in these public spaces as well as performing there. This helps us join a community where we make and talk to passersby who never fail to ask us who we are and what we do. We invite these people to come and see our work, offering free tickets so that we can help grow an audience that we might not get to meet in a traditional theatre space. We also find the outdoors exciting, you can do anything there and anything can happen when you're outside. Every show is different and often the show drenched by torrential rain brings gifts you could never imagine.
The Box hopes to share how we make with you. It concentrates a lot, like we do, on creating the right space and time to create a theatre making community- that works as a company or as a class.
It also tries to simplify the world a little bit, takes us back to basics so we can see the wood for the trees.
So we invite you to build a shelter, make a fire, feed each other, play outside, dance, tell stories and dream of a new (and better) world.
 
The Box
Inside the Box
30m length of rope
3 survival blankets
One can of Acrylic line marker
One American Football
Instant Hot Chocolate for 40
One roll of Gaffer Tape
Stop Watch.
Whistle
A fire bowl
Kindling
A CD of Heather Fenoughty's music
5 Speeches on laminated card
40 blank Top Trump Cards
Chalk
A small screen
A motorcycle 12v battery
A 12v battery charger
A fire blanket
Pieces of dark and mid blue fabric
A waterproof camera with an SD card which plugs straight into the screen
Participating Schools and Colleges
Barking and Dagenham College
Big Creative Education
Central Foundation Girls' School
The City Academy Hackney 
City of London Academy Highbury Grove
The Cumberland School
Dagenham Park Church of England School
Elizabeth Garrett Anderson School
Frederick Bremer Secondary School
Garden School
Leytonstone School
Lister Community School
New City College Hackney
Sarah Bonnell School
The Sydney Russell School
Barbican Box Artist Mentors
Craig Blake
Emily Louizou 
Endy McKay
Grace Gibson
Nima Taleghani
Victoria Gould
Barbican Box Student Artist Mentor
Katie Bunting
Who's Who?
The Barbican 
A world-class arts and learning organisation, the Barbican pushes the boundaries of all major art forms including dance, film, music, theatre and visual arts. The Barbican exists to serve its wide and diverse audiences – engaging with arts lovers through our unique and inspiring artistic events at the Centre and using our Creative Learning programme and free events to introduce new audiences to great arts experiences. Over 1.77 million people pass through our doors every year, plus a further 300,000 at offsite events across London, alongside hundreds of artists and performers from across the globe featuring in our artistic programme. 
Barbican Guildhall Creative Learning 
We believe the arts have the power to transform lives, that people of all ages and backgrounds should have access to world-class music, theatre, dance, visual art, film and spoken word.
Since the Barbican Centre and Guildhall School launched a creative learning partnership in 2009, more than 42,000 people, including children, young people, teachers, families, artists and communities, have participated in the hundreds of free events and activities we programme each year designed to give people the opportunity to engage with the arts, access some of the world's most in demand artists and discover their creative voice. Our cutting edge projects take place in the Barbican's iconic building, the Guildhall School's state-of-the-art facilities and in community centres, parks, hospitals, schools and colleges across the City and East London. 
Barbican Guilghall Creative Learning
Testimonials
"I talk to people about Barbican Box all the time. It is difficult to sum it up simply, because I think it is such a rich project in terms of what it offers to young people, teachers, schools and all those taking part. Every time I do [the project] I learn so much in terms of what it is possible to achieve when a group works as an ensemble and collaborates to make a piece that is truly their own. The fact that they are working toward a performance in such a prestigious space raises the stakes and allows the young people to really push themselves, more than they might have thought possible."
Victoria Gould, Barbican Box Artist Mentor
"It is such a great opportunity for our students to perform at a professional theatre. They have really enjoyed being able to explore the limits of performance and what is and isn't possible."
"It's been great seeing our students grow in confidence and preparing for opportunities they may never have had the chance to do without the Barbican."
Drama Teacher, Dagenham Park Church of England School
"I've loved working with a professional artist, he has been such fun to work with."
"I loved opening the box and seeing how random things can inspire a performance."
Students, Dagenham Park Church of England School
 
With Special Thanks to:
Barbican Theatre Box 2019 is generously supported by:
City Bridge Trust
The Haberdashers' Company
The John S Cohen Foundation
The Miss Joan Sinclair Charitable Trust
The Sackler Trust
Tower Hill Trust
The Worshipful Company of Barbers
The Worshipful Company of Gold and Silver Wyre Drawers
Charles S. French Charitable Trust
We would like to extend a warm thank you to our artistic partner for 2019, Slung Low, and to the schools and colleges whose participation made the project possible this year. 
 
Slung Low:
The Barbican Box 2019 was made by Matt Angove, James Blakey, Brett Chapman, Lucy Hind, Alan Lane, Sally Proctor & Joanna Resnick.
With additional material by
Helen Goalen, Abbi Greenland and Becky Wilkie of RashDash
Heather Fenoughty
James Phillips
Special thanks to
Alex Garth and Sarah-Jane Wingrove of Handheld Arts
Matthew David Scott
Barbican Guildhall Creative Learning:
Creative Learning Producer (Theatre, Dance, and Poetry) - Kirsten Adam
Creative Learning Assistant Producer - Lauren Brown
Creative Learning Apprentice - Kaya Birch-Skerritt
Film:
Whalebone Films
Photographer:
Camilla Greenwell and Matthew Kaltenborn
This is a Barbican Guildhall Creative Learning programme. 
Photography by Matthew Kaltenborn
Join Young Barbican
Be there when it happens with discounted access to unmissable art and entertainment as well as events and creative opportunities for 14-25 year olds