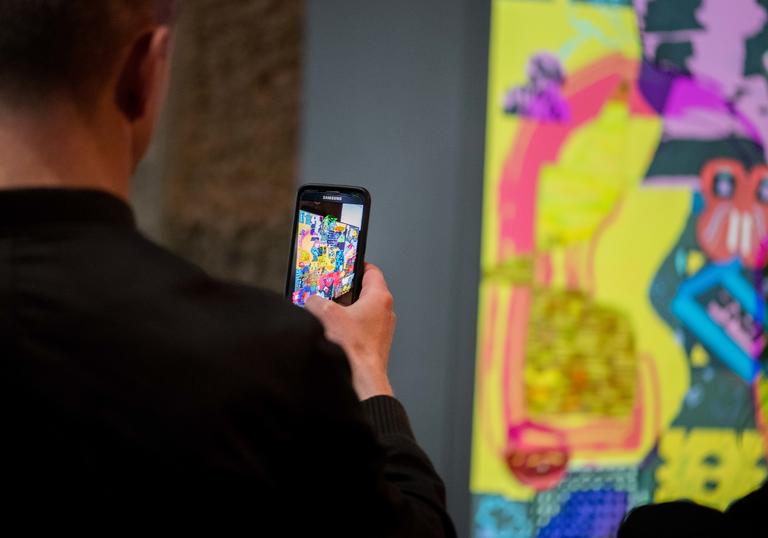 Join fellow Young Barbican members and Young Creatives for an evening of creative responses to the Out and About! exhibition.
Bishopsgate Institute stages a take-over of The Curve with an archive installation of objects, ephemera, and media highlighting 40 moments and stories in London's LGBTQ+ history.
Over the past month, a group of young creatives have come together to explore the purpose of archives and the stories they tell. They will be sharing their own response and interpretation of the Out and About! exhibition. Find out more about them.
Running time: Approx. 1 hour 
Out and about archiving lgbtq history at bishopsgate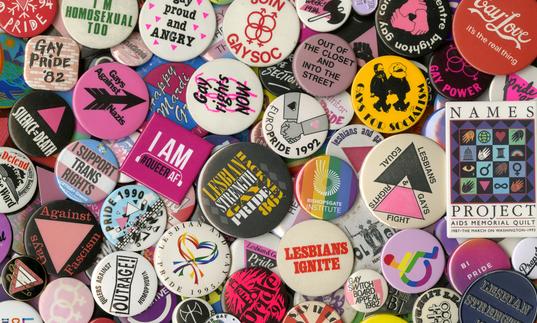 Archiving LGBTQ+ history at Bishopsgate Institute
Out and about public programme
Join Young Barbican
Be there when it happens with discounted access to unmissable art and entertainment as well as events and creative opportunities for 14-25 year olds
Alwi Saad is a creative arts enthusiast interested in the intersection of faith and sexuality and particularly the queer Muslim experience.
Aurora Fantechi is a young creative currently studying cultural theory, criticism, and curatorial arts at Central Saint Martin's (UAL). 
She is a Florence-London-based writer and has experience experimenting with visual arts including photography, film, fashion as well as movement art, and performance. 
She strives to push the boundaries of her practice to explore uncharted territories and trace the realms that are yet to come. 
LGBTQIA+ experiences and stories are integral to my work and, more broadly, to my life. For this reason, I was captivated by the project. Specifically, questioning and re-evaluating archival practice. How can it be employed as a navigational tool to trace the difference between history and heritage? How can materiality develop its own language and articulate its own responses? How, in other words, can objects be alive and matter?
In the entanglements between queer experiences and materiality, these questions can potentially find an answer and new perspectives can be advanced.  
Gabriele Uboldi (he/they) is a queer and migrant playwright, director, and multidisciplinary artist working across theatre and audio. He is the Artistic Director of the London-based company Undone Theatre, which focuses on the intersection between formal experimentation and expressing queer, marginalised voices.
He is the author of LONDON/LONDRA, an award-winning series of audio walks around London combining autobiography with archival material to explore queer history and migration as they are inscribed in London's public spaces.
You can find out more about Gabriele here: www.gabrieleuboldi.com
Holly Stepp is an MA History student at UCL specialising in gender and social history of post-war Britain and has experience working with a range of community-driven digital archives.
"I was interested in working on this project as I wanted to build on my experience of working on queer archives and see how the practice of archiving queer experiences may differ in a larger institution. I also wanted to work within a team of young people who all specialise in different disciplines to improve my practice as an archivist and social historian, and to learn from my peers to produce a creative project that will positively impact the way that the experiences of marginalised are archived, curated and presented."
Jackson Deans is a designer whose work spans the fields of graphic design, architecture, and critical design research, with a specific focus on LGBTQ+ themes. As a graduate of the Mackintosh School of Architecture in Glasgow, spatial practice informs all of his creative works; his final year project was a hybrid typology for the queer community where the boundaries between bathing, dance, and sexual escapism are dismantled.
His most recent work, a research project completed whilst at a design residency with School SOS, explores historical trans+ exclusion from LGBTQ+ activism and the current climate of corporate late-stage Pride; a video piece from this project was exhibited at the South London Gallery last year. The prospect of engaging critically with archival material and the opportunity to collaborate with other queer creatives lead him to get involved with this project at the Barbican.
Min-Kyoo has a background in studying politics and film.
"I am interested in exploring the themes of (in)visibility and erasure in the archive — this is why I am motivated to be involved in this project, in order to collaboratively and critically interrogate and redress the representation of LGBTQ+ people. I'm also excited to be working with a diverse range of film, photographic and other visual material across the Barbican and Bishopsgate Institute; I hope this will animate discussions around how archives could become more accessible and inclusive in contemporary society."
Morisha Moodley is a London-based moving image artist and curator whose work traverses ideas of race, queerness, disability, and spirituality. They are interested in how the archive can be used as a tool for queer identity-making; the forgotten or lesser-known histories that the archive might show and the possibilities for imagining in its gaps. 
Zoe Sutherland-Rowe is an MA Classical art and Archaeology student at KCL who is interested in how each of us can feel a personal connection with the people of the past.
They have a particular focus on non-elite Roman and Romano-British material culture, and LGBTQ+ voices throughout history.
For a recent example of their work see - Queer Suffragettes: Censorship and Opposing the Law
 
Digital Programme
Download our digital programme for this event to find out more information about what is taking place across the exhibition and a full transcript of the audio. 
Location
The Curve is located on Level G and can be found at the bottom of the Silk Street entrance ramp, opposite the Barbican Shop. 
Address
Barbican Centre
Silk Street, London
EC2Y 8DS
Public transport
The Barbican is widely accessible by bus, tube, train and by foot or bicycle. Plan your journey and find more route information in 'Your Visit' or book your car parking space in advance.
We've plenty of places for you to relax and replenish, from coffee and cake to wood-fired pizzas and full pre-theatre menus
Assistance dogs are welcome. If you prefer, you may leave your dog with a member of the gallery staff during your visit.
For more access information, please visit our Accessibility section.
Enhanced security measures are currently in place at the Barbican.
As part of these measures only one reasonably-sized bag (no larger than 32cm L x 18cm W x 22cm H) per person may be taken inside our venues and all bags may be searched by a member of our team.
We ask that, where possible, visitors avoid bringing large bags to the Centre. If you do need to check bags into our free cloakrooms, we suggest arriving early. All bags deposited will be subject to search and random bag searches are also in operation.
Please also remember that belongings should not be left unattended at any time.
Thank you for your understanding – we look forward to welcoming you to the Barbican.