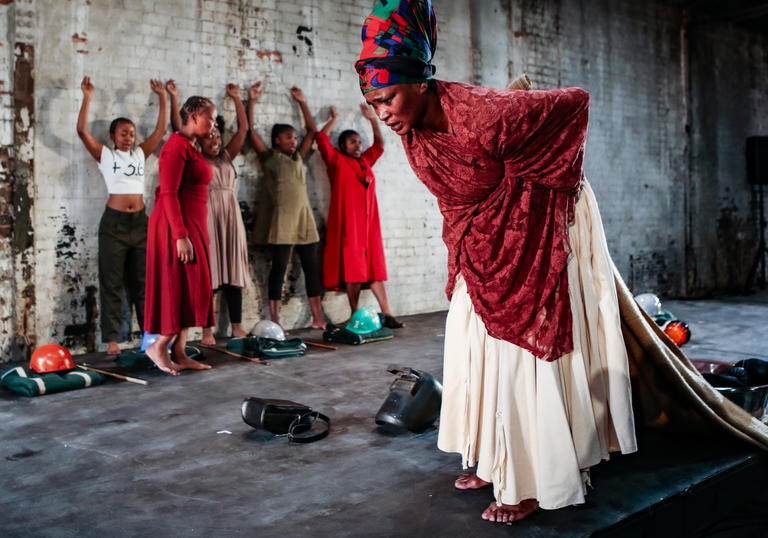 Booking fees
£4 booking fee per online/phone transaction. 
No fee when tickets are booked in person.
Booking fees are per transaction and not per ticket. If your booking contains several events the highest booking fee will apply. The booking fee may be reduced on certain events. Members do not pay booking fees.
Reviews
'A space funded by the artist for collaboration and creation, and for ideas to flourish without the usual confines and constraints imposed by institutional or corporate funding'
Financial Times on The Centre for the Less Good Idea
'The South African William Kentridge is one of the great artists of our time'
Discover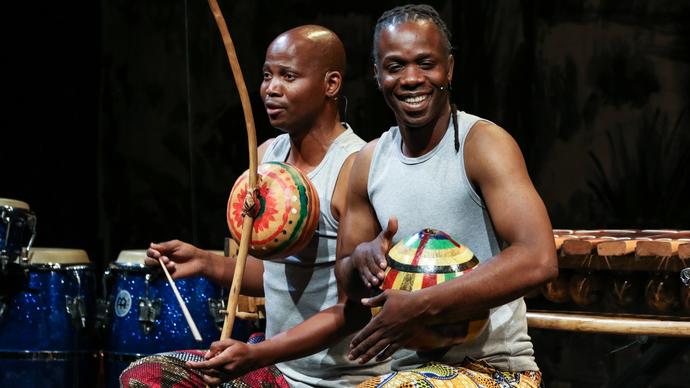 Discover more about The Centre for the Less Good Idea, William Kentridge's cultural incubator in Johannesburg, a place for the creation and support of experimental, collaborative and cross-disciplinary arts projects.
The Programme
The programme features Footnotes, where a team of dancers and musicians equipped with typewriters and percussive instruments question the nature of their being and their labour. Caught between modes of survival and instruction, this is a rampantly physical dance and sound piece. 
The Weep of the Whips is a breathtaking physical two-hander seeking to find power in brokenness in which the sjambok (whip) is used as a tool for instruction and musicality.
Commission Continua is a personal and heartfelt one-hander, in which paper becomes a shrewd and incisive metaphor.
A musical performance sees the use of instruments and bodies to both replicate and pay tribute to the myriad sounds and narratives of South Africa's northernmost province in Sounds of Limpopo. 
The largest ensemble work of the programme, Pitsana is a performance that grapples with the conventions of responsibility, duty, and labour. It is a story that posits the consequences of a physical and psychological repression of energy.
An ensemble female chorus come together in the performance of Umthandazo, taking its lead from the oft-overlooked victims of the 2012 Marikana Massacre.
Join Young Barbican
Be there when it happens with discounted access to unmissable art and entertainment as well as events and creative opportunities for 14-25 year olds
Creative team
Footnotes
Conceptualiser & Director – Vusi Mdoyi
Programme Dramaturg – Bongile Lecoge-Zulu
Performers – Vusi Mdoyi, Volley Nchabeleng, Micca Manganye, Thabo Rapoo & Muzi Shili
Choreographers– Vusi Mdoyi & Thabo Rapoo
Musicians – Volley Nchabeleng & Micca Manganye
Costume Designers – Greta Goiris, Emmanuelle Erhart & SO Academy Costume Mentees
The Weep of Whips
Conceptualiser & Choreographer – Thulisile Binda 
Performers – Thulisile Binda & Micca Manganye
Musician – Micca Manganye
Costume Designers – Nthabiseng Malaka & Natalie Paneng
Commission Continua
Conceptualisers – Tony Bonani Miyambo & Phala Ookeditse Phala
Director – Phala Ookeditse Phala
Performer – Tony Bonani Miyambo
Sounds of Limpopo
Conceptualisers & Performers – Micca Manganye & Volley Nchabeleng
Pitsana
Conceptualiser & Choreographer – Thulisile Binda
Director – Phala Ookeditse Phala
Musicians – Thembinkosi Mavimbela, Micca Manganye & Muzi Shili
Performers – Thabo Rapoo, Thulisile Binda, Sibahle Mangena & Muzi Shili
Costume Designers – Nthabiseng Malaka & Natalie Paneng
Umthandazo
Director – Faniswa Yisa
Performers – Asanda Hanabe, Buhle Mazibuko, Molebogeng Phiri, Sibahle Mangena, Zandi Hlatshwayo & Elma Motloenya 
Costume Designers – Greta Goiris, Emmanuelle Erhart & SO Academy Costume Mentees
Co-founder & Director of The Centre for the Less Good Idea – Bronwyn Lace
Animateur & Programmes Curator for The Centre for the Less Good Idea – Phala Ookeditse Phala