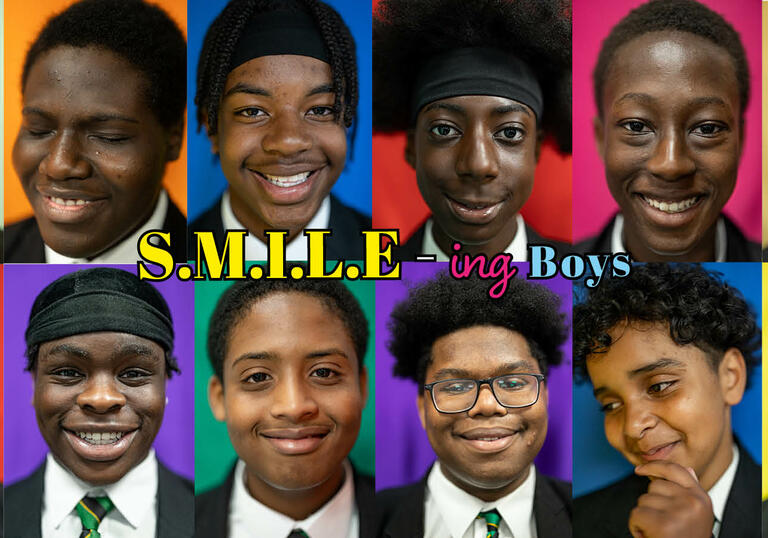 Join Young Barbican
Be there when it happens with discounted access to unmissable art and entertainment as well as events and creative opportunities for 14-25 year olds
About Kay Rufai
Kay Rufai is a photographer, poet, filmmaker, author, mental health researcher, founder of the internationally acclaimed S.M.I.L.E-ing Boys Project and the first artist-in-residence for a police force in the UK.
His work spans the past eight years across Bhutan, Colombia, Ethiopia, Germany, Mexico, Nigeria, Scandinavia, UK, and USA.
He has received numerous accolades for his research-led series of workshops ad exhibitions across the country. His award-winning work has been featured on the BBC, Channel 5 News, in the Guardian and HuffPost.
 
Equity, Diversity and Inclusion
Read about our EDI journey and the steps we're taking to ensure we become a truly inclusive organisation.
Statements
Kay Rufai, Artist, S.M.I.L.E-ing Boys Project 
"Part of the S.M.I.L.E-ing Boys mission is to interrogate the relationship between art spaces and black bodies, specifically those of black boys and young men. Who belongs in those spaces? Are those spaces welcoming? How authentically can black boys exist in such spaces without feeling overpoliced or penalised for their expressions of self? And what art, if any, reflects their realities and cultures in those spaces?
In pursuit of these questions, we partnered with the Barbican and Leytonstone School to deliver the S.M.I.L.E-ing Boys Project. With an initial cloud of scepticism, owing to the publication of Barbican Stories*, it felt imperative that the Barbican's buy-in and genuine commitment to change was authentic, non-tokenistic, and, most of all, led from the top of the organisational hierarchy. 
Throughout the project, there were clear signs of positive impact on the boys who took part in relation to their levels of happiness, behaviour, well-being and sense of belonging. The group took a trip to the Barbican on the sixth week of the programme – all visiting for the first time and feeding back positive reflections on their experiences in the space. Our hope is that this is the beginning of a longstanding commitment to continue to platform black boys' faces, voices, and presence in spaces like the Barbican, shifting a culture that has at times been unwelcoming and unrepresentative of this demographic.
The pride expressed by the boys and the school in their exhibition is incredibly joyous to witness, and I look forward to what the future holds."
 
*Barbican Stories is a collection of first-hand and witnessed accounts of discrimination and racism at the Barbican Centre, written anonymously by current and former employees.
Will Gompertz, Artistic Director, Barbican Centre 
"We are delighted to present the work of artist Kay Rufai and the S.M.I.L.E-ing Boys Project participants from Leytonstone School, whose portraits feature in the exhibition here at the Barbican. 
We're committed to making the Barbican a place where everyone is valued, respected and, most importantly, feels like they belong. We certainly haven't always got this right, and there's still a long and complex journey to go on, but over the past few months, we've been working hard to build an institution where everyone feels welcome. 
To find out more about our Equity, Diversity, and Inclusion work go to EDI Updates | Barbican."