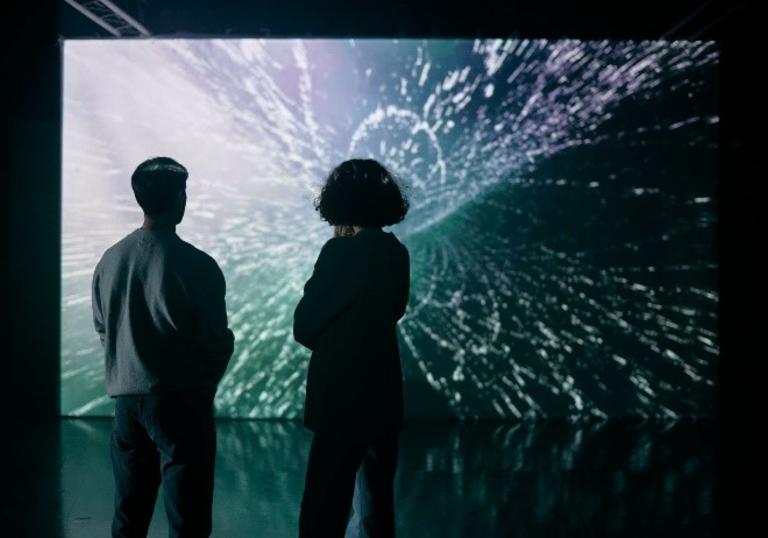 Members are invited to get behind-the-scenes of Our Time on Earth and Postwar Modern at an evening of art, crafts, talks, and drinks. 
Explore two major exhibitions; Our Time on Earth and Postwar Modern: New Art in Britain 1945-1965 after hours at this Members' Late.
You'll have the chance to hear from the experts at curator talks, get creative at a collage workshop with fungi futures and learn how to grow your own herbs (even if you don't have a garden!) with Hackney Herbal. Explore our Conservatory in a self-guided trail created especially for this event by our Head Gardener. Plus, you can enjoy drinks from our Garden Room bar and an increased 20% discount in the Gallery Shop.
This event is open to Members and Members' Plus and up to three guests. Guests will require their own ticket. 
The event will run 6.30-9.30pm. 
Our Time on Earth
The Curve
A journey through immersive, interactive installations and digital works, Our Time on Earth is an exploration of radical ideas for the way we live, celebrating the power of global creativity to transform the conversation around the climate emergency, inviting visitors to explore Earth as a community to which we all belong - humans as just one species among millions. 
Visit the Our Time on Earth exhibition page
Postwar Modern: New Art in Britain 1945-1965
Art Gallery
An ambitious and timely reassessment of art produced in Britain during the twenty years after the Second World War, this major exhibition looks at the country in the aftermath of a cataclysmic war that called into question religion, ideology, and humanity itself and the rich artistic imagery, forms, and materials these conditions gave rise to.
What can fungi teach us about care? a collaging workshop with fungi futures
Garden Room
Join researcher, community gardener, herbalist and forager Maymana Arefin (aka fungi futures) for an introduction to the mycelial threads that weave together the underground world of fungi with climate justice.
This creative workshop invites you to reflect on soil and land, care and connection for human and more-than-human life. Drop in throughout the evening to sit, breathe, compost, imagine and cut and paste your visions of the future!
Growing Your Own Herbs with Hackney Herbal
Conservatory
Hackney Herbal will be sharing their top tips for growing your own herbs (even if you don't have a garden!). You'll get to sow some seeds to take home as part of the workshop. 
Postwar Modern: British Art from 1945-65 Curator Talk     
Garden Room
Head of Visual Arts at the Barbican and Curator of Postwar Modern, Jane Alison joins us for an introductory talk, giving an exclusive insight into the curatorial process and the ideas and themes behind the exhibition.
Our Time on Earth Talk     
Garden Room
Luke Kemp will give an insight into this timely exhibition in this introductory talk. Luke Kemp is Co-Head of Barbican International Enterprises, which conceived and curated Our Time on Earth alongside guest curators Caroline Till and Kate Franklin.
Explore the secrets of our hidden tropical Oasis in this self-guided tour of the Conservatory, designed by our Head Gardener, Marta Lowcewiz.
Head to the Lounge to escape the hustle and bustle of the Centre and enjoy a drink or light snack in comfort. Come down between 5.30-6.30pm for Happy Hour and enjoy a cocktail for £7.
Members enjoy free entry to all exhibitions
With 3 exhibitions already announced within the next year, it's a great time to join. Members Plus can bring a guest, too.