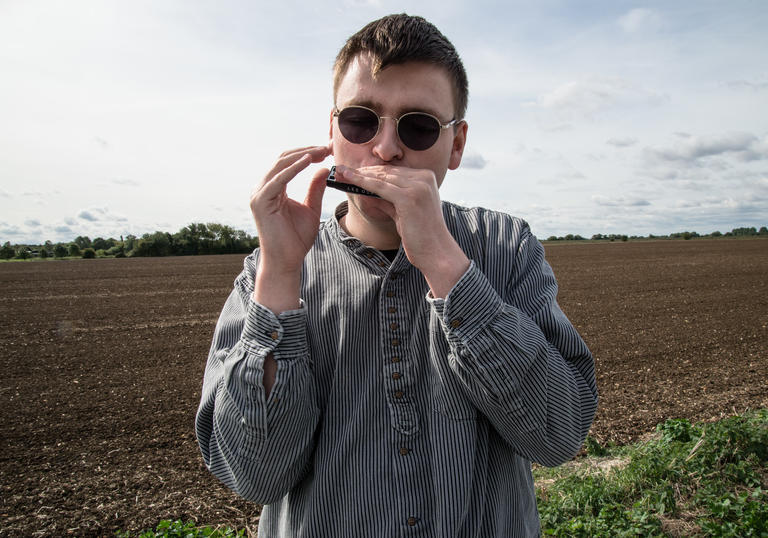 Always open, always free
Discover our year-round programme dedicated to transforming our public spaces with installations, exhibitions, talks and events.
About the artists
Visit the Cambridgeshire Fens at daybreak and travel to dusk in Transylvania. Oliver combines a passion for film-making with a fusion of English and Romanian folk music in his evocative commission, improvised and performed live with three musicians. The Visitor is part concert and part collaboration, with an open workshop before the performance and an invitation to the audience to join the jam.
Oliver Cross is a folk musician and is also part of the National Open Youth Orchestra and British Paraorchestra. Oliver plays diatonic, chromatic and bass harmonicas, as well as keyboards and synths. He has been experimenting with electro-acoustic music using harmonicas, tape delays and loop pedals. He trained as a photographer and film-maker and his recent work is inspired by travels in Romania and his research into their folk music traditions.
Caroline Dearnley studied at the Royal College of Music with Joan Dickson and William Pleeth. She has been principal cello with Britten Sinfonia since 1992. She is also in demand as guest principal cello with many orchestras including the London Sinfonietta, ENO and English Chamber Orchestra. Caroline was a founder member of the Joachim Trio, recording extensively and winning the Editor's Choice accolade from Gramophone magazine. As a chamber musician she has taken part in all the country's major festivals, including the International Artists in Residence series at the Bath Festival, festivals at Aldeburgh and Edinburgh, and Robert Cohen's summer festivals at Charleston Manor.
Drake Music are leaders in music, disability and technology. A team of Disabled and non-disabled professionals, musicians and technologists, they work together towards a more open and inclusive music sector and equal access to music making for all. They work with disabled musicians of all ages to break down disabling barriers to music, from school children playing their first musical notes, to professional musicians developing new commissions. Today they present an experimental series of world premieres in which audiences are invited to mould, mash up and be a part of the music making experience. Take a trip through Transylvania or interface with a humanoid from 2049 in these pop-up performances where cutting-edge technology is fused with improvisation and interaction to create a many-sided musical gem.
Something from Nothing commission is not a piece of music. It is a set of criteria, parameters, library instrumentation and an audience. He is inviting you, members of the Barbican audience, to become composers. Every time the work is performed it is created anew.
Ewan is a cellist and composer whose work is largely tonal, with elements of neo-romanticism and neo-impressionism. Ewan studied at the North East Scotland College, majoring in composition and producing a number of pieces from orchestral to solo music and is currently in his Honours year at the University of the Highlands and Islands. Over his thirteen-year performance career as a cellist he has performed with multiple orchestras and ensembles. including the highly acclaimed Aberdeen Chamber Orchestra.
A humanoid is sent to present day London from the year 2049 with news of a cosmic event that changes human brain chemistry for ever. Inspired by a new hope for the future, Dike Okoh's electro-pop masterpiece 2049 upends typical dystopian future fantasies. Using bespoke interactive technology he invites spectators to take part in an exploration of our cerebral chemistry, thinking about signal flow and interruption in a musical exploration of the electrical/mechanical processes happening in our brains.
Dike is a songwriter, singer, composer and teacher. He has toured widely including performances at Glastonbury Festival and the Montreux Jazz Festival in Switzerland. Dike studied Theatre at Goldsmiths College where he wrote and produced Scandinavian Heart as part of the Goldsmiths College festival of new musicals at the Tristan Bates Theatre. He is interested in how, at its best, music is able to remake the world, showing it to us anew.
Open Up Music is a charity with a simple mission: to make orchestras accessible to young disabled people, empowering them to shape the modern orchestra to be inclusive. They develop accessible youth orchestras; innovative musical instruments and modular repertoire; challenge expectations and forge new progression routes through the creation of great music.
The Clarion, developed through eight years of participatory design, is a digital musical instrument for iPad and Windows PC that can be played independently using any part of the body. It provides essential creative content in the on-going development of their orchestras.
In 2019, through their Open Orchestras programme, Open Up Music will support Music Education Hubs, schools and arts organisations in building and running 54 accessible orchestras, giving over 500 of the UK's most marginalised young disabled people the joy of playing as part of an orchestra the very first time.
Featuring his solar-powered electric wheelchair loop-desk,The Steve Varden Cloud Looping Experience explores the theme of communication in a cloud connected world. Via radio, Bluetooth, Wi-Fi, email, SMS, instant messaging and perhaps the odd Post-It Note; Steve will put you, the audience, at the heart of his electronic loop creation process. Shaped from found sounds and snippets of conversation, Steve's roaming performance opens up questions around how technology shapes our interactions, divides or unites us.
Steve Varden is a writer, actor, digital musician, traditional percussionist and former Paralympian. After dropping out of drama school he co-wrote and starred in British indie film Cloud Cuckoo Land. Steve has been involved with Drake Music since 2017, working with technologists to build a new format of bespoke accessible instrument - the one-man wheelchair band - and since 2018 as a PRS Talent Development fellow. Often delivering the unexpected, Steve is not afraid to go off script in order to make the best of any performance situation. 
A Buddhist herself for many years, Sloane sees chanting as a form of meditation. The 'Gate, gate' chant of zen Buddhist scripture – the melody and text of the chant, and the striking effect of thirty or forty untrained voices singing in unison – inspired this piece. First performed by Oliver Coates at Café Oto, the piece is divided into seven sections each with a phrase from the chant.
Alexia Sloane is a synaesthetic British composer. She studies Composition at the Royal Northern College of Music under the tutelage of Professor Emily Howard and has previously studied Composition at the Royal College of Music Junior Department. She is a composer with the National Youth Orchestra and the Britten Sinfonia Academy. Alexia's pieces have been performed at venues including Kings College Chapel, the Tate Modern, Snape Maltings Concert Hall, the South Bank Centre, Café Oto and further afield, in Melbourne. The musicians who have performed her pieces include the Brodsky String Quartet, The Ligeti Quartet, The Phaedra Ensemble and Huw Watkins.
Robyn is an avant-garde jazz musician who uses live trumpet and loop pedals to create melody and rhythm. In this hyper-relaxed performance Robyn will immerse herself in, and move among, the audience, creating the music with your input. Bringing together improvisation and interaction, you can join in the music-making, or just relax and listen. The choice is yours.
Robyn started playing the cornet aged eight, but classical training was not best suited to Robyn's abilities. She has since released her first EP New York and has started a duo called Two Horns. In March 2018 Robyn went to SXSW with Heart N Soul and spoke on a panel on neurodiversity in music. After a successful run of nights at Vinyl Deptford, Robyn curated an immersive night of music at Cafe Oto in 2018. Robyn has also written two books on autism, has spoken about autism around the world and is on the Shaw Trust 100 Power List 2018. 
Discover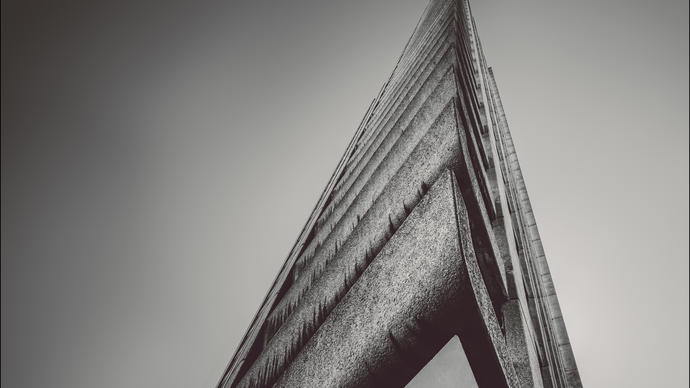 Listen: Barbican Recommends
Not sure what to listen to? Every month we update our Barbican Recommends Spotify playlist with what we've been listening to in the office. Expect everything from Actress and Arcade Fire to Kamasi Washington and Omar Souleyman.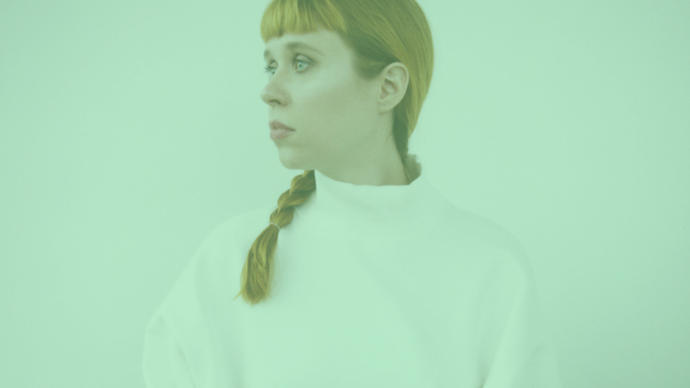 Listen: Electronic Music on Spotify
Follow our regularly updated Electronic Music playlist for a sample of the music you'll hear across our programme.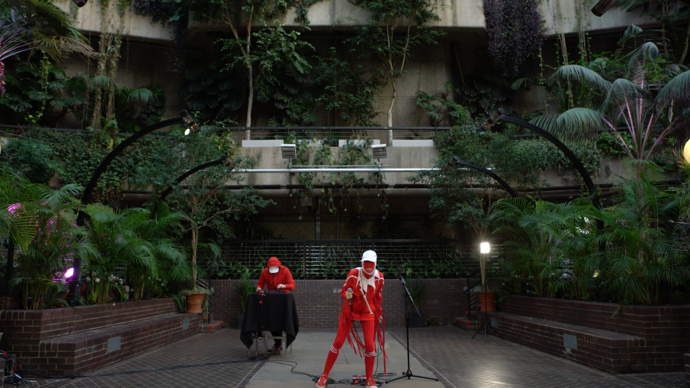 Barbican Sessions: Gazelle Twin
In our latest Barbican Session, British composer, producer and musician Gazelle Twin performs 'Glory' in the Barbican Conservatory.