Dele Sosimi & Theo Ogundipe
L'Aubette Live
Event information
The performance starts at 7pm and is free with an Into the Night exhibition ticket.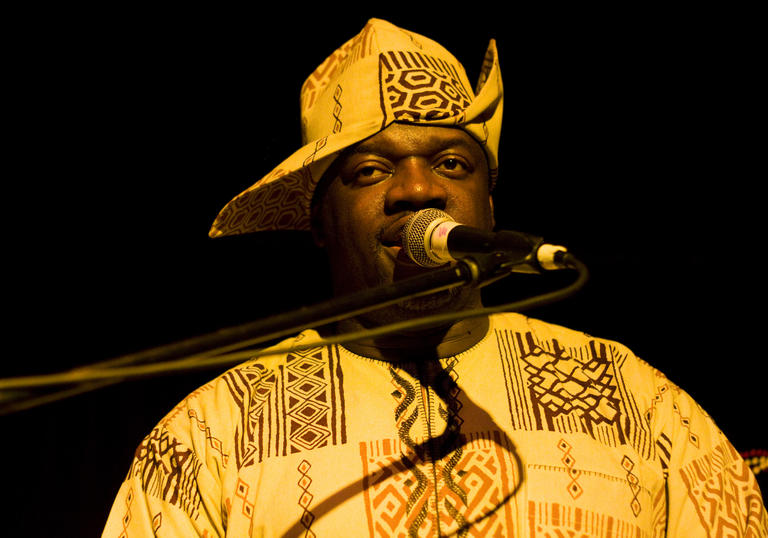 Former pianist in Fela Kuti's Egypt 80 and Afrobeat ambassador, Dele Sosimi, pays tribute to the inspirational Mbari club scene in 1960s Nigeria.
Located in Ibadan and Osogbo, the Mbari clubs were hotbeds of literary and musical experiment. The musical performance will be interspersed with readings by actor Theo Ogundipe of works by John Pepper Clark, Christopher Okigbo and other important poets associated with the clubs.
Every Thursday evening throughout Into the Night, the galleries will come to life with performance in the exhibition's recreation of Strasbourg's iconic L'Aubette (1928), focusing on the vitality and diversity of jazz as performed across the globe. The evenings are co-curated with Mark Kavuma, a prominent young trumpet player on the British jazz scene.
Classic cocktails will also be served in the adjoining recreation of Vienna's jewel-like Cabaret Fledermaus bar.
The performance starts at 7pm and is free with an Into the Night exhibition ticket. 
Please note that the performance finishes and the gallery closes at 8pm
Get closer to the art
Members enjoy invites to exclusive private views and free access to all gallery exhibitions, so they can visit as many times as they like.
Trevor paglen from apple to anomaly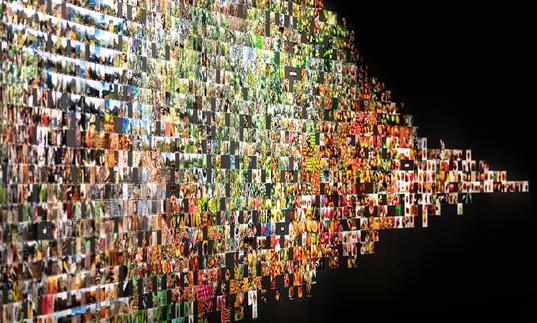 From 'Apple' to 'Anomaly'
Location
The Art Gallery is located on Level 3 and can be accessed by stairs and lifts from Level G or via the Sculpture Court if coming from outside. 
Address
Barbican Centre
Silk Street, London
EC2Y 8DS
Public transport
The Barbican is widely accessible by bus, tube, train and by foot or bicycle. Plan your journey and find more route information in 'Your Visit' or book your car parking space in advance.
We've plenty of places for you to relax and replenish, from coffee and cake to wood-fired pizzas and full pre-theatre menus
Access
Doors normally in open position during exhibition hours. Ticket desk 98cm with a drop section of 76cm. Step-free access on each floor of the Art Gallery.
Mobility
The Art Gallery has two levels, linked by a flight of 24 stairs with an intermediate landing. A passengeroperated lift (76 x 110cm) connects the two floors. If you need assistance, staff will be happy to help.
Assistance dogs
Assistance dogs are welcome. If you prefer, you may leave your dog with a member of the gallery staff during your visit.
Large-print exhibition information
To request a large print copy, please call the Art Gallery on 020 7382 2382 before your visit.
For more access information, please visit our Accessibility section.
Enhanced security measures are currently in place at the Barbican.
As part of these measures only one reasonably-sized bag (no larger than 32cm L x 18cm W x 22cm H) per person may be taken inside our venues and all bags may be searched by a member of our team.
We ask that, where possible, visitors avoid bringing large bags to the Centre. If you do need to check bags into our free cloakrooms, we suggest arriving early. All bags deposited will be subject to search and random bag searches are also in operation.
Please also remember that belongings should not be left unattended at any time.
Thank you for your understanding – we look forward to welcoming you to the Barbican.