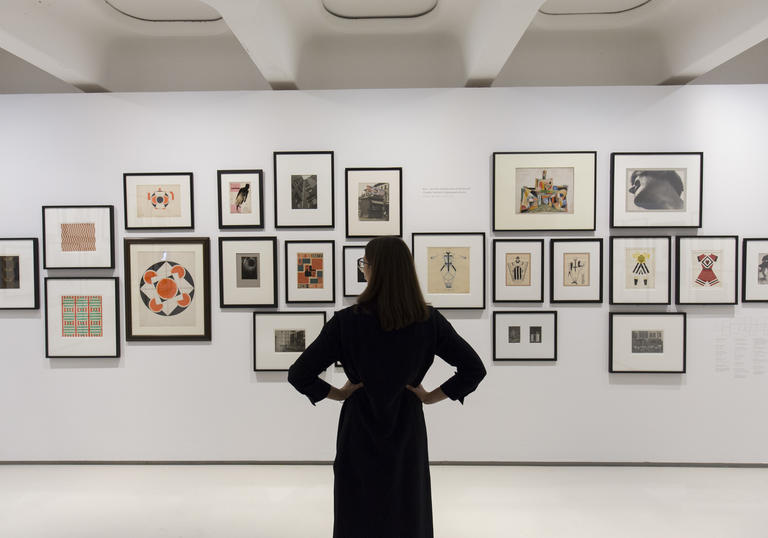 About the exhibition
Featuring the biggest names in Modern Art, Modern Couples explores creative relationships, across painting, sculpture, photography, design and literature. Meet the artist couples that forged new ways of making art and of living and loving. The exhibition illuminates these creative and personal relationships, from the obsessional and fleeting to the life-long.
Including Dora Maar & Pablo Picasso; Salvador Dalí & Federico García Lorca; Camille Claudel & Auguste Rodin; Frida Kahlo & Diego Rivera; Emilie Flöge & Gustav Klimt – plus many more.
Barbican Young Creatives
Join our Barbican Young Creatives for a series of 'happenings' in response to the exhibition. They will invite you to look at chosen artworks, themes or ideas within the exhibition in a new light by encouraging you to watch, participate or interact with their work. 
Our Barbican Young Creatives have participated in one of our young creative programmes. Open to any member of Young Barbican, the programmes are led by Barbican Guildhall Creative Learning.
Pietro will be delivering a collaborative performance with Tice Cin. Their work will explore the creative possibility of music and poetry in a short performance inspired by Mikhail Larionov and Natalia Goncharova's Rayism, on the second floor of the gallery.
Pietro will also curate a post-industrial music set showcasing the works of Cosey and Chris: the music projects of the artist couple Cosey Fanni Tutti and Chris Carter.
Pietro is a multimedia artist and composer who works with audio-visual installations. Pietro has been involved in the music composition and sound design for TV and commercials (PS4, Allergan, Audi), and has been nominated for best ambient composition at the Production Music Awards 2018. He is also a co-founder of the art collective Concrete Assembly.
Bianca is a Culture, Criticism and Curation student at Central Saint Martins, University of the Arts London. Half Russian, half Bulgarian, she grew up in Cyprus, and has been based in London for the last two and a half years. She is particularly interested in the representation of love and relationships in contemporary art, culture and media, and is greatly inspired by this exhibition. 
For Modern Couples, she'll be screening a short film, in which she has interviewed 'successful' creative couples, or couples of the same occupation and field. Meet Bianca in the Garden Room and be part of her film which will juxtapose the 'Modern Couples' of the exhibition with 'Contemporary Couples', and see whether this kind of romanticism is possible in the 2018.
Tice will be delivering three poems within the space based on research carried out to unveil some of what we don't know about those included in the exhibition. Expect a bio-poem written about Henry Crowder's career as a musician, and a poem exploring Lorca, Dali, and their Madrid memories.
Tice Cin is a writer and creative producer from Tottenham, North London. Her work has been placed in publications such as Skin Deep Magazine and commissioned by St Paul's Cathedral, Apples and Snakes, and the Barbican Centre. An awardee of The London Writers Awards literary fiction category, she is currently working on her first novel – a story set in Tottenham and Cyprus exploring generational trauma.
Mateo is a choreographer and performance artist from Bolivia. Along with collaborator Monika Błaszczak, they present a series of living sculptures that respond to the gallery's environment, bridging the gap between viewers and the exhibition, offering their own bodies as canvases of presence in space. 
Mateo Dupleich Rozo is a multidisciplinary artist from Bolivia. She is currently finishing her studies at Trinity Laban Conservatoire while working as a freelance performance artist, musician and choreographer in London. She has presented choreographies and performed in various projects in Norway, London and Bolivia, with artists such as Jana Winderen, Hagit Yakira, Rachel Birch-Lawson, Daniel Jacoby, Anna Talvi, Maque Pereyra, Norma Quintana and more. She is currently working on a new piece to be presented at the Bonnie Bird Theatre in June 2019.
Annie has always been drawn to relics, and will be exploring rooms on the lower floor of the exhibition through the lens of poetry. Inhabiting the ghosts of partners, muses and collaborators, her tour will give voice to the different guises of Lee Miller, Claude Cahun and Virginia Woolf, speaking to their beloveds.
Annie Hayter embraces the queerness of writing. Lately graduated from the University of Oxford, she is a London Writers Awardee, and a Barbican Young Poet 2017-2018. She won the BBC Proms Young Poet 2011, and was a runner up for Times Young Poet 2012. Recently, she has performed at The Pit in The Barbican, Hoxton Hall, and Walthamstow Garden Party.
Join Phoebe for an interactive collage workshop inspired by Modern Couples. Create a guide to the exhibition or a hand-made zine –work individually or in pairs and experiment with drawing, text and book-making.
Phoebe is an illustrator who uses collaborative collage workshops to inspire participants to engage directly with artwork. Her aim is to encourage discussion and creative responses using the artwork as a starting point.
talk to me
We spend our lives practising the conversations we don't have. Sometimes our best loves live in books, in paintings, in music. This poetic gallery tour explores the unspoken lives of the featured artists through a series of letters between people who never met in life, but whose work speaks volumes - to one another, and to us. In this house, romance is a flexible concept. In this house, the dead talk back.   
Eleanor Penny is a prize-winning poet, writer and journalist. She's a Barbican Young Poet, and an editor at Red Pepper Magazine and Novara Media. She's on the TS Elliot Emerging Writer's scheme, and she runs the poetry podcast Bedtime Stories for the End of the World. She's a former artist in residence at the Centre for Recent Drawing, and was shortlisted for the Young People's Poet Laureate for London. Her first book is due to be published by flipped eye. 
 
Discover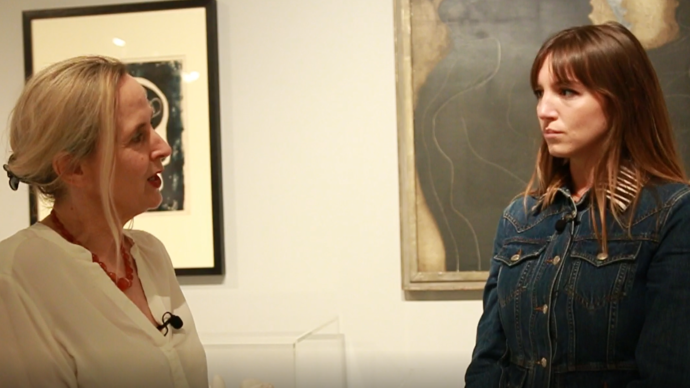 Curator Jane Alison & Katy Hessel on Modern Couples
Curator Jane Alison and Katy Hessel (from The Great Women Artists) discuss some of creative and romantic couples featured in our exhibition 'Modern Couples: Art, Intimacy and the Avant-garde'.