Press room
Yahael Camara Onono Milton Court Residency and Portico Quartet Ensemble concert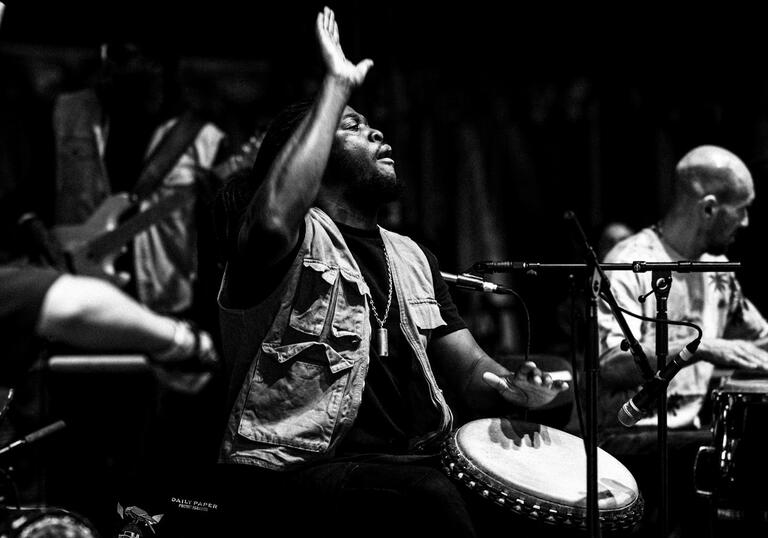 Barbican announces Yahael Camara Onono as Milton Court Artist-in-Residence as part of the Barbican's 2022-23 music season
The Barbican welcomes British percussionist and Djembe player, Yahael Camara Onono, as the fifth Milton Court Artist-in-Residence for its 2022-23 music season. He will be the first contemporary artist following on from the residencies by violinist Richard Tognetti (2016-17), pianist Jeremy Denk (2017-18), baritone Roderick Williams (2018-19) and trumpeter Alison Balson (2019-20).
The Residency will include three masterclasses and two performances throughout the season, with the first performance to take place on 15 November 2022, as part of the EFG London Jazz Festival.
Yahael Camara Onono says 'I believe that this residency is a stepping stone to showing the classical and contemporary music worlds that 'classical' forms aren't limited to the Beethoven's of this world but that West African folklore, oral history and its importance in everyday society for millions is as complex and educational as any form. Mande music is one of the most complex musical stylings in the world and is at the root and heart of many if the genres.'
Ankata Niogonfé: A night of Mande music and folklore
Part of EFG London Jazz Festival
This evening as part of the EFG London Jazz Festival will be the first concert as part of the 2022-23 Milton Court Artist-in-Residency with percussionist Yahael Camara Onono.
As a second-generation Londoner with rich West African roots, and his musical experiences in the UK, Camara Onono will showcase his multi-faceted artistry through his unique heritage and his virtuoso sound.
Camara Onono made his Milton Court Concert Hall debut in October 2021, in a double-bill performance from the Balimaya Project and Colectiva, with the concert being one of the first full capacity live audience concerts, as part of the Barbican's music programme post-COVID-19. The concert forged musical and cultural ties, with the band drawing on Mande material from Senegal and Mali and blending it with London jazz currents from new generation players.
Camara Onono is Balimaya Project's bandleader, lead djembe player, composer, and arranger. Their debut-album released in July 2021 Wolo So, was referred to one of the most 'significant releases of 2021' by BBC Radio 6 DJ, Giles Peterson, as well as featuring on many 'Album of the Year' lists including The Guardian and Songlines Magazine.
Produced by the Barbican in association with EFG London Jazz Festival
On sale to Barbican patrons and members on Wed 29 June 2022 
On general sale on Fri 1 July 2022.
Just Announced for September 2022
Terrain: The Earth Beneath My Feet
Portico Quartet Ensemble with Hannah Collins
Mercury Prize nominated Portico Quartet return to the Barbican's music programme in September with an extended line-up, presenting their new audio-visual work Terrain: The Earth Beneath My Feet in collaboration with Turner Prize nominated artist Hannah Collins. The performance sees Collins's sensitive, mesmerising images of Las Campanas Observatory in the Atacama Desert in Chile find a gently resonant dialogue with the Quartet's 2021 album Terrain, one of the most complex and beautiful pieces the band have composed. The music will be presented here as a counterpoint to the images, with the composition phasing between expansive moments of calm and a subtle dissonance that perfectly illuminate the visuals.
Based in London, Portico Quartet, have defied categorisation over the course of six studio albums, from their 2007 Mercury Music Prize nominated breakthrough Knee-Deep in the North Sea through to the longform minimalism and ambience of Terrain in 2021. The Portico Quartet Ensemble features an expanded and reconfigured line-up of Duncan Bellamy (drums / sampler), Jack Wyllie (saxophone / piano), Simmy Singh (violin), Joy Becker (violin), Laura Senior (violin), Rachel Shakespeare (cello), Taz Modi (keyboards / bass) and Keir Vine (hang / piano).
Hannah Collins has received many awards and was nominated for the Turner Prize in 1993. Her body of work includes photographs, films, written texts and books, embedded in historical and social frameworks with a wide range of subjects and geographical locations. Most recently she curated the exhibition We Will Walk - Art and Resistance in the American South at Turner Contemporary in Margate UK in 2020.
Produced by the Barbican 
On sale to Barbican patrons and members on Wed 29 June 2022 
On general sale on Fri 1 July 2022
Ankata Niogonfé: A night of Mande music and folklore Part of EFG London Jazz Festival: Tue 15 Nov 2022, Milton Court, 7.30pm Tickets £12.50 - 15 plus booking fee
Terrain: The Earth Beneath My Feet Portico Quartet Ensemble with Hannah Collins: Thu 29 September 2022, Barbican Hall, 8pm Tickets £20 – 35 plus booking fee