Press room
Subject to Change returns to the Barbican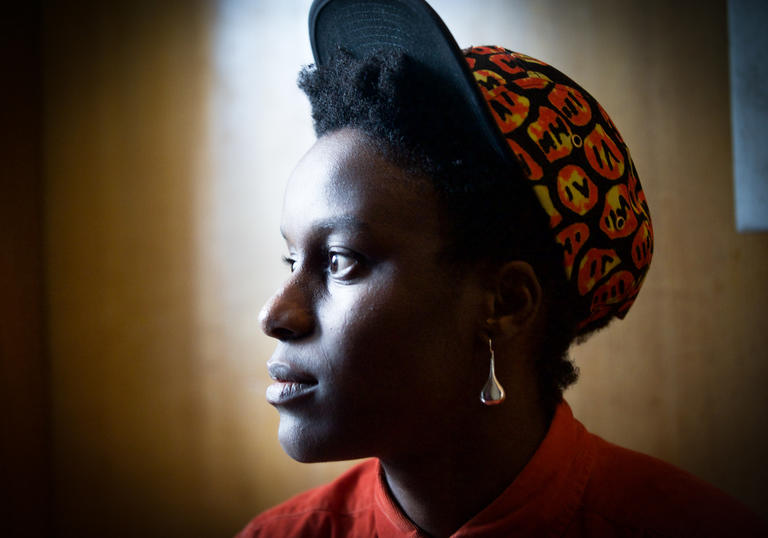 Young Poet and drummer Remi Graves today releases On Breathing, a powerful new poem exploring the process, privilege and politics of breathing as part of Subject to Change: New Horizons from Barbican Guildhall Creative Learning.
Each month for a year, Young Creatives will be commissioned to produce new and powerful artistic work responding to the uncertain times we are living in. Graves' performance of the poem, the first of the twelve creative responses, has just been released here. New work will be shared every month on the Barbican's website and social media channels from today until June 2021. As with all Creative Learning programmes, each participant is provided with support throughout the process to help them deal with sensitive issues that may arise.
Remi Graves said: 'Writing this piece was unsurprisingly challenging, not least because of how emotionally trying the last few months have been (for myself, my family and friends) but also because of the lack of fitting language to discuss the particular exhaustion of having the right to breathe (in all senses of that word) revoked at every turn. Everything I needed to say has been said before, and yet I still needed to say it. This piece is a fragile attempt at archiving this exhaustion and refusal to give up.'
Lauren Monaghan-Pisano, Senior Producer for Barbican Guildhall Creative Learning, said: 'Remi's performance – released today – takes the disproportionate number of deaths of black people from Covid-19 as its starting point. It asks: who today is allowed to breathe easy, and who isn't? It is an incredibly powerful and moving poem from a very talented poet.
'When we first ran Subject to Change with twelve of our Young Creatives back in 2018 we were astounded, although not at all surprised, by the quality of their work. The response from our audiences was fantastic, proving that people have a real appetite for art that confronts and addresses what's going on in the world today.
'One of the best things about Subject to Change: New Horizons is how topical it is – the Young Creatives choose the subject their work will focus on just a few weeks prior to publication, meaning there is a relevance and urgency to this work. For our young artists, there is a need to articulate their thoughts on the world around them in a creative form, and the results are profound.'
Subject to Change: New Horizons is commissioned by Barbican Guildhall Creative Learning, which supports people of all ages and backgrounds to develop creative skills for life. Over the past ten years, they have supported over 100,000 people to find and develop their creative voice.
Young Creatives is a Barbican Guildhall Creative Learning programme providing talent development opportunities that give 14 to 25-year-olds the skills and confidence needed to progress in today's creative industries. The programme includes Young Poets, Young Programmers, Young Visual Arts Group, the Youth Panel and Creative Careers. To find out more, visit https://www.barbican.org.uk/take-part/young-creatives