Press room
Other Modernisms, Other Futures: Global Art Cinema 1960-80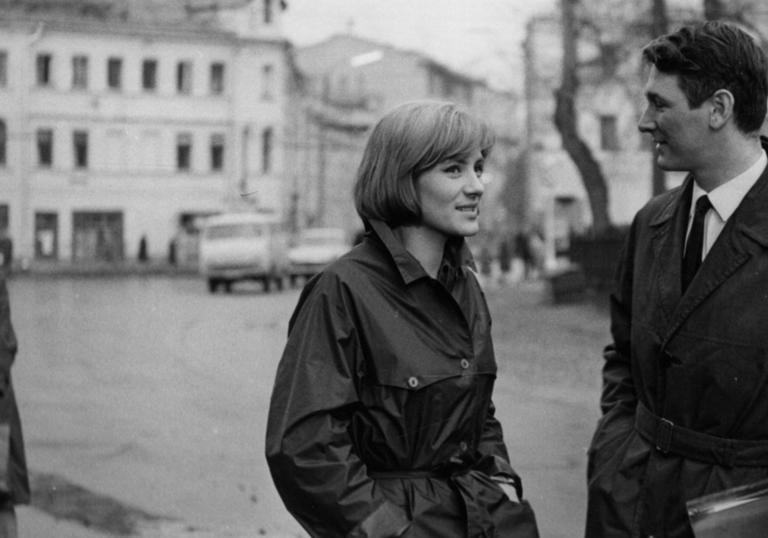 July Rain, USSR 1967, Dir Marlen Khutsiev
Thu 3 Mar – Thu 31 Mar
www.barbican.org.uk/whats-on/2022/series/other-modernisms-other-futures-global-art-cinema-1960-80
In March Barbican Cinema presents Other Modernisms, Other Futures: Global Art Cinema, a season which looks at the period between 1960-80 when filmmakers created new innovative, risk-taking approaches to cinema. Typically considered to be a movement defined by Western cinema, this season instead features six films made by modernist directors from across the world.
Filmmakers outside the West were addressing the social and political issues of the time, such as anti-colonialism, anti-imperialism and nation building, and were also finding new ways to express themselves. They saw their films as contributing towards the creation of new possibilities, new futures and new worlds. Manifestoes were written; new cinemas emerged, and directors crafted an authentic cultural identity for their country on screen.
Other Modernisms, Other Futures: Global Art Cinema (1960-80) samples a cross-section of this filmmaking, including:  Downpour by Bahram Beyzaie (Iran, 1972); July Rain by Marlen Khutsiev (USSR, 1967); Interview by Mrinal Sen (India, 1971), Blood of the Condor by Jorge Sanjinés and the Ukamau Collective (Bolivia, 1971); Fad'Jal by Safi Fay (Senegal, 1971) and De Cierta Manera by Sara Gómez (Cuba, 1971).
Cinema Curator Matthew Barrington, who developed the programme with Curator Tamara Anderson, says:
"When looking back at cinema over these decades, there's too often a tendency to concentrate on Western perspectives, with a particular focus on the French New Wave and North American modernism. But this was a rich period of creativity everywhere – as this season illustrates – with films from Iran, Bolivia, the USSR, Senegal, India and Cuba.
A strong spirit of optimism and desire for change permeates this period, and that comes through in these works.  There's this sense of 'we can create a new world', and 'we can create new things.'
This is also an excellent opportunity to see a number of rarely screened, seminal works of international art cinema on the big screen. By bringing these titles together, we invite audiences to discover (or re-discover) a collection of vitally important, provocative works which sought to react to shifting political situations and push the boundaries of existing of conceptions of cinema."
Screenings
July Rain PG*
USSR 1967, Dir Marlen Khutsiev 107 min 35mm presentation
Thu 3 March, 6 pm, Barbican Cinema 2 
This luminously beautiful, gently melancholic film follows 20-something student Lena through an existential crisis.
It catches her at a pivotal point in her life, with the weight of several important decisions on her shoulders: whether to continue her post-grad studies and marry her long-time boyfriend. At a difficult time, she takes comfort in the solitude of her flat, and in intimate telephone chats with a stranger who once showed her kindness in a rainstorm.
July Rain belongs to the so-called Thaw, a brief period of political and sociocultural liberalization following Stalin's death. It gives expression to the experience of the younger generation living through these years, as well as responding to cinematic influences from the West.
Downpour PG*
Iran 1972 Dir Bahram Beyzaie 128 min Digital presentation
Sat 5 Mar, 3 pm, Barbican Cinema 2 
Immense stylistic and a playful sense of humour mark out this Iranian rom-com, a landmark of the Iranian New Wave.
Beginning a new job in a poor, conservative neighbourhood of Tehran, schoolteacher Mr Hekmati meets Atefeh, the elder sister of one of his pupils.
A tentative romance develops between them. But almost before they recognise their own feelings, gossip about the two has begun to spread, reaching the ears of her pre-existing suitor – a thuggish local butcher.
In the late 1960s, Iranian audiences and filmmakers were hungry for an alternative to Hollywood imports and Iran's own home-grown commercial genre cinema.
With its contemporary, true-to-life subject, working-class protagonists, veiled social critique, and combined native and Western expressive styles, Downpour is typical of the new counter-cinema that emerged.
Blood of the Condor 12A*
Bolivia 1969, Dir Jorge Sanjinés and the Ukamau Collective, 70 min, Digital presentation
Sun 6 March, 6.15, Barbican Cinema 2
This famous example of Latin American militant cinema is an angry indictment of US neo-colonialist meddling, and of the indifference of Bolivia's white elites towards the suffering of the indigenous majority.
The falling birth rate and high infant mortality are noted with concern by the inhabitants of a remote Andean village. As rumour swirl, corrupt local police open fire on some local men. Ignacio, the sole survivor, is taken by his wife to La Paz for hospital care. There, his brother desperately tries to scrape together the cash for a blood transfusion, a quest that leads him to some shocking discoveries.
Blood of the Condon was made in Quechua, and with the participation of (and starring) people from the village where it was shot. Its baseline realism is overlaid with an intricate narrative structure that makes extensive use of flashbacks, a technique borrowed from European art cinema.
Interview PG*
India 1971, Dir Mrinal Sen, 101 min. Digital presentation
Wed 16 Mar, 6.15pm, Barbican Cinema 2
The story is a simple but engaging one. A family friend promises our ambitious, personable young protagonist a job with a prestigious foreign firm. All he needs to do is turn up to the interview in a Western-style suit. When the big day arrives, a strike at the dry cleaners throws everything into chaos.
Director Mrinal Sen was co-author, in 1968, of a manifesto calling for a break with the existing Indian commercial and art cinema. He and a generation of young filmmakers responded with a slew of socially relevant, politically committed and formally experimental films drawing on local and international influences. Interview is exemplary of this new Parallel Cinema: an analysis and deconstruction of neo-colonialism, deploying a plethora of avant-garde devices (freeze-frames, jump cuts, direct-to-camera address).
Fad'Jal 12A*
Senegal 1979, Dir Safi Faye, 112 min Digital Presentation
Sun 27 Mar, 3 pm, Barbican Cinema 2
A seminal work of post-colonial cinema, highlighting the conflictual, interconnected relationship between the histories of France and Senegal.
Premiering at the 1979 Cannes Film Festival, ethnologist and filmmaker Safi Faye's masterpiece, explores traditions of storytelling through a portrait of a small farming village.
Faye investigates the tension between African folklore and Modernism, mixing documentary with autobiography, resulting in a distinctive film which draws from realist cinema, but through Faye's anti-colonialist critique departs from European traditions to foreground an African subjectivity.
Faye's experience working with Jean Rouch, appearing as an actress in Petit à Petit (1969), informs her own approach here, but whilst Rouch's camera would always remain that of a French man, Faye's engagement with her subjects, is informed by her own direct experience of Serer, the people Faye belongs to, and whom she depicts in her film.
De Cierta Manera
Cuba 1974, Dir Sara Gómez, 78 min Digital Presentation
Thu 31 Mar, 6.30 pm, Barbican Cinema 2
A stunning example of politically engaged cinema, at times haunting, romantic and deeply moving, Gómez masterfully incorporates music, documentary and newsreels into a complex portrayal of life in post-revolution Cuba.
Her film draws from a multitude of voices to explore the experiences of urban communities, capturing their dreams and aspirations, which serve as a mirror for the contradictions and turmoils of life after the revolution.
Sara Gómez would tragically pass away at 31, shortly before the film was completed, leaving it to be finished and released three years later. The work stands as a legacy to her artistry and remains a fascinating film, eluding categorisation, its radicality can be seen in the way in which Gomez addresses questions of racial identity, gender and class through a formal approach which radiates with energy, anger and passion.
Ends
The Barbican believes in creating space for people and ideas to connect though its international arts programme, community events and learning activity. To keep its programme accessible to everyone, and to keep investing in the artists it works with, the Barbican needs to raise more than 60% of its income through ticket sales, commercial activities and fundraising every year.
Donations can be made here: barbican.org.uk/donate