Press room
Francis Upritchard: Wetwang Slack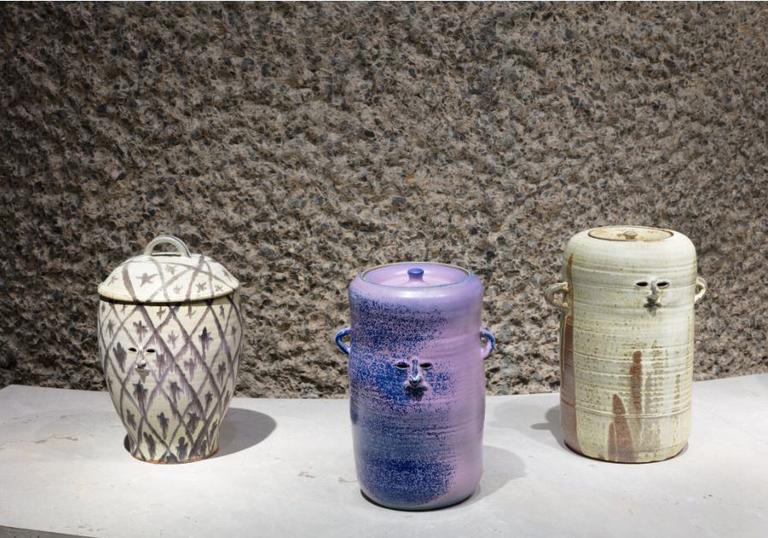 This autumn, marking the 30th Curve commission at the Barbican, New Zealand born and London-based artist Francis Upritchard has created a new, site-specific installation. 
Supported using public funding by Arts Council England. With additional support from Creative New Zealand Toi Aotearoa and the Henry Moore Foundation.#FrancisUpritchard
Drawing from figurative sculpture, craft traditions and design, blended with references from literature and history, Upritchard pushes these practices into new directions, bringing them together to create a striking and original visual language of her own. Francis Upritchard: Wetwang Slack opens in The Curve on Thursday 27 September 2018.
Playing with scale, colour and texture, Upritchard is populating The Curve with a spectrum of different materials, vibrant figures and eclectic objects. The exhibition begins with brightly coloured polymer clay sculptures in various poses, bedecked in hand-made garments supported by plinths, leading to a series of bespoke metal and glass shelves suspended from the ceiling, displaying smaller-scale felt hats. As the exhibition unfolds the colour slowly weakens from the sculptures concluding with large figures made from balata, a wild rubber harvested in Brazil. These are inspired by the Parthenon Reliefs; creatures from science fiction novels; and the Japanese folklore characters of Ashinaga-tenaga (Long Legs and Long Arms), who extol the virtues of harmonious working relationships, coalescing into a melting pot of traditions where no dominant culture persists.
Francis Upritchard said: "I'm envisaging an exhibition which works with the brutalist Barbican architecture with stone, wood, glass and metal – brutal but rational with my delicate, strange and sometimes colourful works atop. I've been thinking about The Curve as offering a kind of rainbow-light spectrum that plays with distortion and scale."
Upritchard's works are characterised by a sense of curiosity and exploration of the human form, from medieval knights to meditating futuristic hippies, these tantalising figures are hand-modelled in polymer clay, their skins painted in a range of monochromatic colours or distinct gridded patterns. Traversing cultures and time periods, her figures resist easy categorisation, allowing for multiple readings. Hand-woven blankets, tie-dyed silks and bespoke garments often decorate these deftly made sculptures which are frequently combined with found objects. Upritchard also regularly creates sculptural installations of utilitarian objects from vases, plates, lamps or urns often imbued with anthropomorphic forms and carefully arranged into mysterious domestic environments.  More recently, she has experimented with both form and material, creating a group of dinosaurs out of papier-mâchéand extracts from wild rubber trees in Brazil.
Jane Alison, Head of Visual Arts, Barbican, said: "It is with great pleasure that we are welcoming Francis Upritchard to devise a new installation. Our 30th commission, Upritchard is the latest in an exciting lineage of contemporary artists, such as Tomas Saraceno, Random International, Richard Mosse, Yto Barrada, and many more, who have exhibited in our unique space. I am especially excited to see an installation of figurative sculpture and have no doubt that Upritchard's cast of remarkable characters will occupy The Curve space in an entirely magical way, demonstrating her imaginative approach and sensitivity to materials."
Previous works include Upritchard's installation, Traveller's Collection (2003), in which she created a tomb-like cabinet of curiosities, influenced by both Ancient Egypt and Maori cultures.  Her installation Rainwob I & II (2007) similarly saw Upritchard drawing inspiration from different historical periods, whereby her small, handmade, colourful figures were based on 15th century wooden sculptures as well as 1970s photographs of revellers at Glastonbury Festival. Upritchard represented New Zealand at the Venice Biennale in 2009 with her installation Save Yourself, here she created an imaginary landscape of figures and structures, placed on recycled wooden table tops. More recently, a survey of the last two decades of her work entitled Jealous Saboteurs was presented at the Monash University Museum, Melbourne, Australia; Christchurch Art Gallery, New Zealand and Dunedin Public Art Gallery, New Zealand in 2016–17.
Francis Upritchard was born in 1976 in New Plymouth, New Zealand and lives and works in London. After studying Fine Art at Ilam School of Art, Christchurch, she moved to London in 1998 where she co-founded the Bart Wells Institute, an artist run gallery, with artist Luke Gottelier. In 2006 Upritchard won New Zealand's prestigious Walters Prize, and has had major solo exhibitions at Vienna Secession in 2009, Nottingham Contemporary in 2012, Cincinnati Contemporary Arts Center in 2012, Marugame Genichiro-Inokuma Museum of Contemporary Art in 2013, and the Hammer Museum, Los Angeles in 2014. In 2009, she represented New Zealand at the Venice Biennale. Her work is in international collections including Tate, London; Hammer Museum, Los Angles; Paisley Museum, Scotland; Saatchi Gallery, London; Auckland Art Gallery, Toi o Tāmaki; Christchurch Art Gallery, Te Puna o Waiwhetu; National Gallery of Victoria, Melbourne; and Queensland Art Gallery of Modern Art, Brisbane. She is represented by Kate MacGarry, London; Anton Kern Gallery, New York; and Ivan Anthony Gallery, Auckland.
Francis Upritchard: Wetwang Slack
The Curve, Barbican Centre
27 Sep 2018 – 6 Jan 2019
Media View: Wed 26 Sep, 10am – 1pm
#FrancisUpritchard