Press room
Barbican announces two Masterclasses with Milton Court Artist-In-Residence Yahael Camara Onono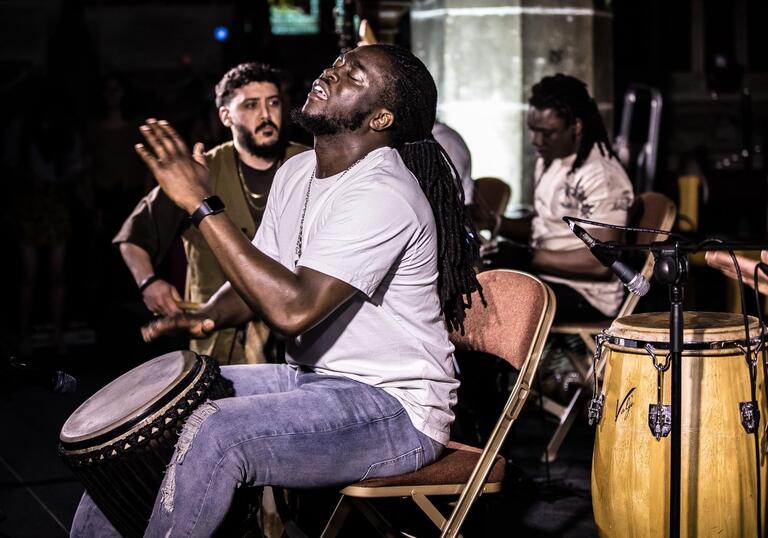 Masterclass: Yahael Camara Onono 
As part of his tenure as Milton Court Artist-in-Residence for 2022-23, British percussionist and djembe player, Yahael Camara Onono will host a public masterclass and presentation on the oral tradition of Mande music, griots (historians, storytellers, singers, poets, or musicians in West African culture) and the djembe drum. The masterclass will consider the role that griots and the djembe play in West African society and how the different musical components of this long oral tradition work together harmoniously. The presentation will feature live musical demonstrations to illuminate each part of the lecture.
This workshop precedes a performance on the 15 Nov as part of the EFG London Jazz Festival 2022, during which Camara Onono will showcase his multi-faceted artistry through his unique heritage and virtuoso sound.
Produced by the Barbican
On sale to Barbican patrons and members on Wed 27 July 2022
On general sale on Wed 29 July 2022
Masterclass (Guildhall Students): Yahael Camara Onono
Open for participation to Guildhall students of horns, drums and percussion and open to the public to observe, Yahael Camara Onono's second masterclass as part of his Milton Court Artist-in-Residence tenure invites students to learn how to build a composition with Mande music and arrangement at its core, but with a contemporary outlook. The arrangements will be transmitted orally – encouraging participants to draw on their skills and hone their ear – in keeping with a folkloric tradition with djembe arrangements and Mande rhythmic language at the heart.
This masterclass forms part of the Guildhall Jazz Festival in association with EFG London Jazz Festival.
Camara Onono is the bandleader, lead djembe player, composer, and arranger for Balimaya Project. Their debut-album, released in July 2021, Wolo So, was referred to as one of the most 'significant releases of 2021' by BBC Radio 6 DJ, Gilles Peterson, as well as featuring on many 'Album of the Year' lists including in The Guardian and Songlines Magazine.
Produced by the Barbican
On sale to Barbican patrons and members on Wed 27 July 2022
On general sale on Wed 29 July 2022
Masterclass: Yahael Camara Onono: Thu 29 Sep 2022, Milton Court Concert Hall, 2pm Tickets £10, plus booking fee / free for Guildhall Students
Masterclass (Guildhall Students): Yahael Camara Onono: Wed 16 Nov 2022, Milton Court Concert Hall, 2pm Tickets free, booking essential