Press room
Barbican announces Mark Kavuma Presents Banger Factory Records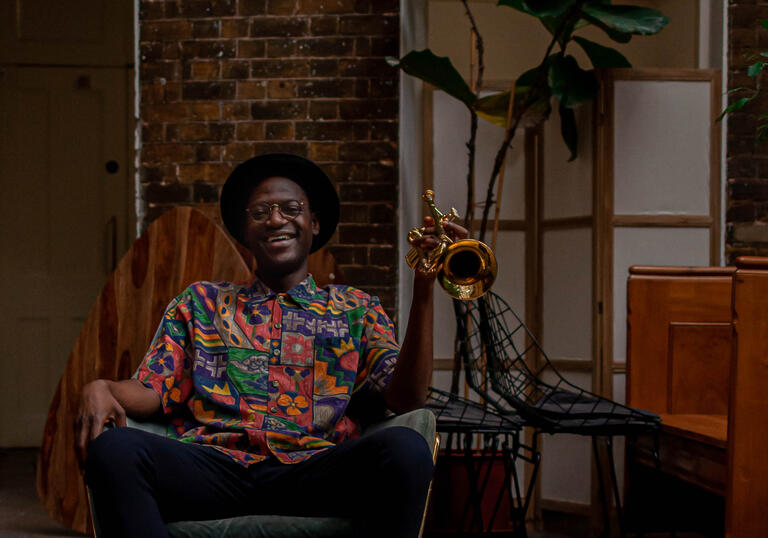 Just Announced for November 2022
Trumpeter Mark Kavuma presents Banger Factory Records, with special guests at Milton Court Concert Hall
As part of the EFG London Jazz Festival, the Barbican welcomes back British jazz trumpeter and band leader Mark Kavuma for a night celebrating his new label Banger Factory Records. Featuring Zaitz & Kavuma, The Banger Factory and Kinetika Bloco, this one-off event brings together an all-star line-up of musicians and special guests from across the London jazz scene, including Sheila Maurice Grey, Theon Cross and Deschanel Gordon.   
Banger Factory Records burst on to the scene in 2021 and has rapidly established itself as a label where veterans of British jazz rub shoulders with young lions to release music that encapsulates the sound, the look, the language, and the swagger of jazz music, spreading love and good vibes that promise to shape the future of music beyond genres, gender and borders.  
Kavuma returns to the Barbican following a co-curated series of evenings in 2019 entitled L'Aubette Live Thursdays in the Barbican Art Gallery as part of its Into The Night exhibition, celebrating the creative spaces where artists congregated to push the boundaries of artistic expression from 1880-1960. In the same year, he led a musical response to one of Lee Krasner's favourite jazz records – Thelonious Monk's 1957 album Brilliant Corners as part of the exhibition Lee Krasner: Living Colour.
Programme:  
Zaitz and Kavuma: Artie Zaitz, Mark Kavuma, Will Cleasby  
An instrumental switch-up sees guitarist Artie Zaitz on organ and trumpeter Mark Kavuma playing piano in a mix of original material and classic tunes underpinned by drummer Will Cleasby's dexterity and mastery of groove. 
The Banger Factory
Mussinghi Brian Edwards, Theo Erskine, David Mrakpor, Deschanel Gordon, Artie Zaitz, Will Cleasby, Jack Garside, Michael Shrimpling  
Special Guests: Theon Cross, Ruben Fox, Trevor Edwards, Ritchie Seivwright and The Choir led by Shayanna Dyer-Harris  
Mark Kavuma leads his eclectic ensemble of exceptional musicians performing music from albums 'Arashi no Ato' (2021), and the upcoming 'Warriors' (2022).
Kinetika Bloco  
Special guests: Sheila Maurice Grey, Kaidi Akinnibi and Theon Cross 
Fusing influences from Brazil, New Orleans, Africa and the Caribbean, this joyful performance revisits some of carnival band Kinetika Bloco's iconic pieces, capturing the spirit of youth and showcasing the wealth of creative musical talent in London. 
Produced by the Barbican in association with the EFG London Jazz Festival
On sale to Barbican patrons and members on Wed 3 Aug 2022
On general sale on Fri 5 Aug 2022
Find out more
Mark Kavuma presents Banger Factory Records: Friday 18 November, Milton Court Concert Hall, 7:30pm Tickets £17.50 – 20, plus booking fee