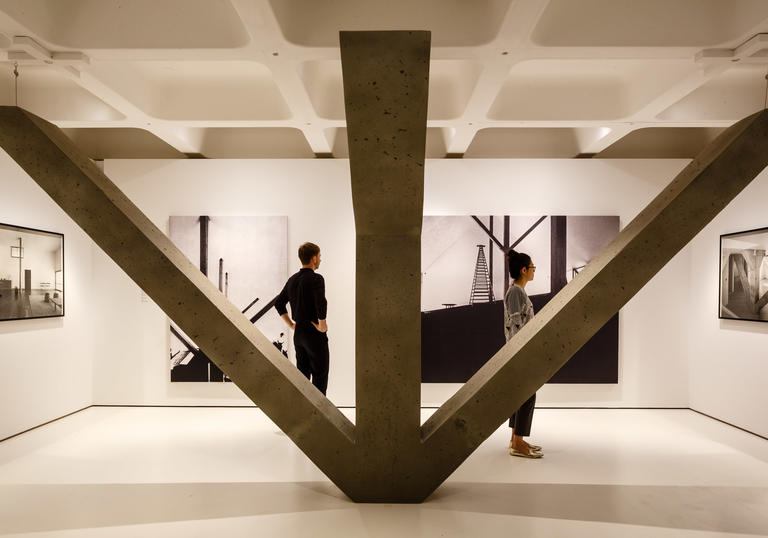 Exhibition Archive
Browse previous exhibitions
Since the Barbican Art Gallery opened in March 1982, our visual arts programme has embraced art, architecture, design, fashion, photography and film. The Art Gallery Archive allows you to look back through the decades to discover past exhibitions and learn more about our programme and its legacy beyond the Barbican.
Browse archive
Touring
In partnership with renowned museums and art galleries, many of our exhibitions travel to reach both national and international audiences.
Our current and forthcoming programme includes:
Lee Krasner: Living Colour
Zentrum Paul Klee, Bern Switzerland: 7 February – 16 August 2020
Guggenheim Bilbao: 18 September 2020 – 10 January 2021
Into the Night
Belvedare Vienna: 14 February – 1 June 2020
Toyin Ojih Odutola: A Countervailing Theory
Kunsten Museum of Modern Art in Aalborg, Denmark: 2021
Hirshhorn Museum and Sculpture Garden, Washington: 2021
Masculinities: Liberation through Photography 
Gropius-Bau, Berlin: 2021
Michael Clark 
Tramway, Glasgow: 2021
For more information about our future programme and opportunities to collaborate please contact [email protected]
Join membership for free entry to all exhibitions
New memberships will be extended, so you'll enjoy a full year of benefits when more of the Centre reopens
Immunity from Seizure Part 6 of the Tribunals, Courts and Enforcement Act 2007 provides immunity from seizure for cultural objects which are loaned from overseas to temporary public exhibitions in approved museums or galleries in the UK where conditions are met when the object enters the UK.
The conditions are:
the object is usually kept outside the UK
the object is not owned by a person who is resident in UK
the import of the object does not contravene any law
the object is brought into UK for purpose of a temporary public exhibition at an approved museum or gallery
the museum or gallery has published information about the object