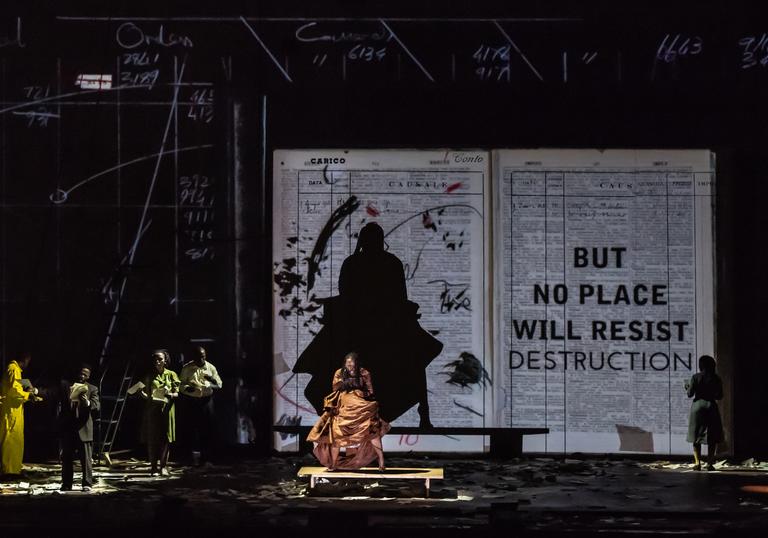 Waiting for the Sibyl: Programme Note
Originally written for the premiere of Waiting for the Sibyl at the Teatro dell'Opera di Roma.
I came to know Alexander Calder's work in reverse. First I had seen some gouaches in the house of friends of my parents. Later on I discovered the extraordinary mobiles, and from those discovered his earliest, and in many ways, greatest work, the circus that he worked on for so many years – the mechanical wire constructions which contain the germ of so many of the ideas he worked with throughout his life. When the invitation came from Rome Opera came to make a companion piece to Work in Progress, Calder's piece from 1968, all of these different elements of his work were present in my head. I needed to find something that could be in a dialogue with the work that Calder had done, responding to the playfulness and to the form of the Calder, without becoming a second, poorer copy of a Calder.
There always has to be a meeting, usually a two-way meeting, between a theme one is working on and a material in which to think about the theme. A drawing or construction or material that will elucidate and make thinking about a theme related to something in the world, possible.
In this case there was a three-way meeting. I was thinking about the theme of fate and our future and the telling of our future, as the Sibyls did; this meets the work of Alexander Calder; and both of these come together in the material ways of working to make the piece.
At the end of Dante's Paradiso there is the story of the Cumaean Sibyl. The leaves blown in a circle around the Sibyl turn into the pages of Dante's book, which are collected by the wind and brought together in his book.
The story of the Cumaean Sibyl was that you would go and ask her a question. She would write your fate on an oak leaf and place the leaf at the mouth of her cave, accumulating a pile of oak leaves. But as you went to retrieve your particular oak leaf, a breeze would blow up and swirl the leaves about, so that you never knew if you were getting your fate or someone else's fate. The fact that your fate would be known, but you couldn't know it, is the deep theme of our relationship of dread, of expectation, of foreboding towards the future.
The idea of turning the leaves into pages, and the pages swirling around, brought together the turning sculptures of Calder, and the pages on which I'd been obsessively drawing in the service of making films out of books. Drawing on thousands of successive pages of encyclopedias and dictionaries, like an impossible flip-book. Instead of taking one-and-a-half seconds as a flip-book would, these would take nine minutes or twelve minutes, and become a film in themselves. This became the starting form for the piece, to think of those leaves swirling around and what future could or couldn't be known.
The turning sculptures I've made in the past have all been ones which have one moment of coherence, when the different components of the sculpture align. From one viewpoint they turn into a coffee pot, a tree, a typewriter, an opera singer. And then, as the sculpture turns, the elements fragment into chaos. This fragmentary possibility of coherence in the world is a theme that I've been interested in and which seemed to me connect to the movement of Calder's mobiles.
The invitation from Rome Opera was to do a piece which would use only recorded music, not to require an orchestra or chorus or solo opera singers. I tried valiantly to do this. I invited two composers: Nhlanhla Mahlangu, who works a lot with vocals, with singers and choirs; and Kyle Shepherd, who is a well-known South African jazz pianist, to work with me on the project. The astringency in Kyle's piano-playing seemed to have an echo to the 1960s Italian modernist music from the Calder. At the same time, something that would root us directly into the human problems of knowing our future, our fates, our agency or lack of agency in our fates, seemed suggested in the work with Nhlanhla and the singers.
But when we had our first workshop in Johannesburg, in which we brought together the singers, the pianist, a dancer to be the Sibyl, costume designer, set designer, videographer, the editor of the animations I've been drawing, we discovered very quickly that the magic of the piece was in the live performance of the music. At this point the project became possible to do only if we could have these singers on stage. The piano part in the piece remains recorded as one layer of the music in the piece, layered together with live voices.
The next stage was to find the questions that were being asked. This was done as a collage. As much as the pages are gathered from many different books, the lines that appear in the projection of the piece, which become its libretto, come from many different sources: from proverbs, from phrases I've found in old notebooks of my own, lines of poets from Finland, Israel, South Africa, North Africa, many places in South America and around the world – which are either used as they were or adapted or changed, but which in some way address the question: 'To what end?'
Part of the form became the projections of the texts and the drawings in the book and the shadow made in the book by the performer of the Sibyl. Different scenes were added. A scene in the waiting room for the Sibyl. A scene about which is the right decision and which is the wrong one. How do you know which is the chair that will collapse when you sit on it and which is the chair that will support you? Is the plane that you're rushing to catch the one that will crash or do you relax and not catch that plane and take the next one – and in fact that is the one that crashes? In other words, one wishes to avoid one's fate, but one knows that one is headed directly towards it.
We had two workshops in Johannesburg to develop the material and to rehearse some of the scenes. The final rehearsals will be in Rome in the week before the Waiting for the Sybil opens, keeping an openness as to what may emerge, even an openness as to what the themes in the piece will be. We started with Calder, we discovered a Sibyl, and we found the questions the Sibyl needed to answer.
Hovering over this, unspoken in the opera, but certainly in our heads, was the fact that our contemporary Sibyl is the algorithm that will predict our future, our health, whether we'll get a bank loan, whether we'll live to 80, what our genetics will be. But there is a way in which we are still fighting to hold on to the possibility of a human Sibyl: the desire we have for something other than the machine, to guide us in how we see our future.
William Kentridge, 2019
Waiting for the Sibyl was originally commissioned as a companion piece for Alexander Calder's 1968 Work in Progress – the only theatrical production imagined entirely by Calder and performed on only three occasions at Teatro dell'Opera di Roma.
Beat the queues with Membership
Members enjoy priority booking, discounts on tickets and exclusive events, so you can get closer to our theatre programme.
Performers & Creative team
SIBYL
With music composed and conceived by Nhlanhla Mahlangu and Kyle Shepherd
Part 1: The Moment Has Gone
Part 2: Waiting for the Sibyl
Creative Team
William Kentridge Concept / Director
Nhlanhla Mahlangu Choral Composer / Associate Director
Kyle Shepherd Composer / Music Director
Žana Marović Editing / Compositing
Greta Goiris Costume Design
Sabine Theunissen Set Design
Urs Schönebaum Lighting Design
Gavan Eckhart Sound Engineering
Duško Marović Cinematography
Kim Gunning Video Orchestration
Created and performed by
Kyle Shepherd Piano
Nhlanhla Mahlangu Vocalist / Dancer
Xolisile Bongwana Vocalist / Dancer
Thulani Chauke Dancer
Teresa Phuti Mojela Dancer
Thandazile 'Sonia' Radebe Dancer
Ayanda Nhlangothi Vocalist
Zandile Hlatshwayo Vocalist
Siphiwe Nkabinde Vocalist
S'busiso Shozi Vocalist
Additional production credits
Boyd Design Technical Direction
Brendon Boyd Production Manager
Carly Levin Technical Director
Meghan Williams Stage Manager
Elena Gui Lighting Design Associate
Lissy Barnes-Flint Props Master
Mathilde Baillarger Costume Supervisor
Stella Olivier Still Photography
Žana Marović Video Editing and Compositing
Joanna Dudley Voice over 'Starve the Algorithm'
Chris Waldo de Wet Studio Technical Director
Emmanuelle Erhart, Carlo Di Mascolo, David Engler Costume Fabricators
Jonas Lundquist Specialist Prop Fabricator
Jacques van Staden, Jessica Jones Studio Assistants
THE OFFICE performing arts + film Executive Producer
Rachel Chanoff, Laurie Cearley, Lynn Koek, Catherine DeGennaro, Zion Jackson, Noah Bashevkin, Erica Zielinski, Olli Chanoff, Nadine Goellner, Gabrielle Davenport, Chloe Golding, Kyla Gardner, Bruna D'Avila, Scout Eisenberg
Toured in partnership with Quaternaire | Paris
Sarah Ford and Felicitas Willems
Additional credits
William Kentridge Studio, Anne McIlleron, Linda Leibowitz, Taryn Buccellato, Natalie Dembo and Joy Lowdon
Special thanks to the entire team at Teatro dell'Opera di Roma and Carlo Fuortes for proposing the collaboration.
SIBYL is co-commissioned by Teatro dell'Opera di Roma, Les Théâtres de la Ville de Luxembourg and Dramaten - Stockholm.
For the Barbican
Barbican Centre Board 
Tom Sleigh Chair
Tijs Broeke Deputy Chair 
Stephen Bediako Deputy Chair 
Board Members  
Munsur Ali, Randall Anderson, Farmida Bi, Zulum Elumogo, David Graves, Gerard Grech, Wendy Hyde, Wendy Mead, Graham Packham, Mark Page, Jens Riegelsberger, Jane Roscoe, The Rt Hon. The Lord Mayor, Alderman William Russell, Tobi Ruth Adebekun  
Clerk to the Board 
Ben Dunleavy 
Barbican Centre Trust 
Farmida Bi CBE Chair
Robert Glick OBE Chair
Trustees 
Tom Bloxham MBE 
Tony Chambers 
Tracey Harrison 
Jeff Holland 
David Kapur 
Kendall Langford  
Alasdair Nisbet  
Tom Sleigh 
Directors 
Sandeep Dwesar Interim Managing Director
Will Gompertz Artistic Director
Nina Bhagwat Director of Equity, Diversity and Inclusion                                                                      
Jonathon Poyner Director of Operations and Buildings
Natasha Harris Director of Development
Jo Daly Executive Assistant to the Managing Directors' Office
Toni Racklin Head of Theatre and Dance  
Simon Bourne Senior Production Manager  
Leanne Cosby, Jill Shelley, Angie Smith Producers  
Anna Dominian, Saxon Mudge, Mali Siloko Assistant Producers  
Kyle Bradshaw Marketing Manager 
Rebecca Moore Marketing Assistant 
Angela Dias Joint Acting Head of Communications  
Freddie Todd Fordham Acting Communications Manager for Theatre and Dance 
Lauren Brown Creative Learning Producer (Theatre, Dance, Poetry) 
Jamie Maisey, Lee Tasker Production Managers   
Steve Daly, Jane Dickerson, Nik Kennedy, Martin Morgan, Stevie Porter Technical Managers   
Lucinda Hamlin, Charlotte Oliver Stage Managers  
John Gilroy, Jamie Massey, Adam Parrott, Tom Salmon, John Seston, Chris Wilby, Lawrence Sills Technical Supervisors  
David Green PA to Head of Theatre  
Caroline Hall Production Administrator  
Andrew Pellett Production Assistant  
Kendell Foster, Burcham Johnson, Christian Lyons, Charlie Mann, Josh Massey, Matt Nelson, Heather Readdy, Neil Sowerby Technicians  
Fiona Badgery, Gary Hunt, Nicola Lake Venue Managers  
Rebecca Oliver Access and Licensing Manager  
Harriet Davis, Rob Norris, Elizabeth Wilks Centre Managers (Delivery)  
Pheona Kidd Centre Manager (Planning)  
Mo Reideman Centre Manager (Health & Safety)  
Julian Fox, aLbi Gravener Stage Door 
Join Young Barbican
Be there when it happens with discounted access to unmissable art and entertainment as well as events and creative opportunities for 14-25 year olds
Biographies
William Kentridge - Artist / Concept and Design
William Kentridge (born Johannesburg, South Africa, 1955) is internationally acclaimed for his drawings, films, theatre, and opera productions.
His practice is born out of a cross-fertilisation between mediums and genres. His work responds to the legacies of colonialism and apartheid, within the context of South Africa's socio-political landscape. His aesthetics are drawn from the medium of film's own history, from stop-motion animation to early special effects. Kentridge's drawing, specifically the dynamism of an erased and redrawn mark, is an integral part of his expanded animation and filmmaking practice, where the meanings of his films are developed during the process of their making. Kentridge's practice also incorporates his theatre training.
Kentridge's work has been seen in museums and galleries around the world since the 1990s, including Documenta in Kassel, the Museum of Modern Art in New York, the Albertina Museum in Vienna, Musée du Louvre in Paris, Whitechapel Gallery in London, Louisiana Museum in Copenhagen and the Reina Sofia Museum in Madrid.
Opera productions include: Mozart's The Magic Flute, Shostakovich's The Nose, and Alban Berg's Lulu, and have been seen at opera houses including: the Metropolitan Opera in New York, La Scala in Milan, English National Opera in London, Opera de Lyon, Amsterdam opera, and others. Summer 2017 saw the premiere of Kentridge's production of Berg's Wozzeck for the Salzburg Festival.
The 5-channel video and sound installation The Refusal of Time was made for Documenta (13) in 2012; since then it has been seen in cities around the world. More Sweetly Play the Dance, an 8-channel video projection shown first seen in Amsterdam in April 2015, and Notes Toward a Model Opera, a three-screen projection looking at the Chinese Cultural Revolution, made for an exhibition in Beijing in 2015; both have been presented in many other cities since. Kentridge's ambitious yet ephemeral public art project for Rome, Triumphs & Laments (a 500 m frieze of figure power-washed from pollution and bacterial growth on the walls of the Tiber River) opened in April 2016 with a performance of live music composed by Philip Miller and a procession of shadow figures.
Forthcoming projects include: The Head & the Load, a large production to be seen at the Park Avenue Armory in New York and the Tate Turbine Hall in London in 2018.
Kentridge is the recipient of honorary doctorates from several universities including Yale and the University of London, and in 2012 he presented the Charles Eliot Norton Lectures at Harvard University. In 2010, he received the Kyoto Prize. In 2015 he was appointed an Honorary Academician of the Royal Academy in London. In October 2017, he received the Princesa de Asturias Award for the arts.
Kyle Shepherd - Music Director / Composer
Kyle Shepherd is one of South Africa's leading pianists, composers, and film and theatre music composers of his generation. Internationally recognized for his distinctive compositional style and performances, Shepherd has released seven jazz albums to date and a number of film, TV, and theatre scores to date including: Blood and Water – season 2 (Netflix), Savage Beauty – season 1 (Netflix), Surviving Paradise as additional music composer (Netflix), Indemnity, Barakat - South Africa's official entry into the Academy Awards 2022, The Life and Times of Michael K (Handspring Puppet Company Theatre production based on the Nobel Prize-winning novel by J M Coetzee), Fiela se Kind (Silwerskerm Award for Best Score), Vlugtig, and Noem My Skollie (Call Me Thief) – South Africa's official entry to the 2017 Academy Awards, which was nominated for the 2017 South African Film & Television Award [SAFTA] for Best Achievement in Original Music Score in a Feature Film. He was awarded the 2018 South African Humanities and Social Sciences (HSS) Award: Book, Creative Collection and Digital Contribution 2018, hosted by the National Institute for Humanities and Social Sciences (NIHSS), and for Best Musical Composition for his composition 'Noem My Skollie'. Shepherd's music also features prominently in independent film-maker Nadine Cloete's documentary, Action Kommandant, based on the untold story of the young South African revolutionary freedom fighter, Ashley Kriel.
The 34-year-old virtuoso pianist has a well-established record of celebrated performances in 26 countries around the world including his home South Africa, Europe, Asia (including Japan, India, and China), Canada, and the USA. Kyle is also the co-creator of the hit Afrikaans TV series Koortjies met Jonathan Rubain, and holds a master's degree (Cum Laude) in music from Stellenbosch University.
Nhlanhla Mahlangu - Associate Director/Choral Composer/ Performer
Exceptional vocalist, choreographer, composer, theatre maker, gravity-defying dancer, and educator Nhlanhla Mahlangu is a graduate of dance teaching at Moving into Dance, Mophatong. Born in Pholapark Squatter Camp in Apartheid South Africa in the late 1970s, Mahlangu started school during the national state of emergency in the 1980s. Mahlangu witnessed first-hand the conflicts between the African National Congress, Inkatha Freedom Party, and the 'Third Force' of the 1990s. Mahlangu can only be described as a generous interdisciplinary collaborator who excels at conjuring original, complex and contemporary work rooted in traditional forms. In addition to his contemporary dance and musical ingenuity, Mahlangu is celebrated for his embodiment of Isicathamiya, a cappella-type musical form combining vocals and movement. Mahlangu uses this practice as a way to process the history of South Africa, particularly the plight of migrant workers. These performances look to build social cohesion, heal the wounds of the past, and encourage resilience in the new Democratic South Africa. Nhlanhla Mahlangu's prolific practice is one of interrogation, articulation, development, and research. He has gained exceptional ground through his pivotal collaborations with luminaries of the calibre of William Kentridge (The Head & the Load, SIBYL, Ursonate, Centre for the Less Good Idea), Robyn Orlin, Richard Cock, Gregory Vuyani Maqoma, Sylvia Glasser, Vincent Mantsoe, Jay Pather, James Ngcobo, Victor Ntoni, Hugh Masekela, as well as his choral music and music-making approaches with his Hlabelela Ensemble, and Song and Dance Works. 
Mahlangu is celebrated with the Naledi Award for Best Choreographer, Promax Africa Award 2021 for Best Title Sequence in The Estate, New York Theatre and Dance Awards (the Bessies) 2020 Best Composition and Sound Design, recognition by the Danish Arts Foundation's Committee for Performing Arts Project Funding in 2019 for choreography, casting and co-directing, Special Price Winner of the Reumert Award 2020 in Denmark, among others.
Greta Goiris - Costume Designer
Greta Goiris studied costume design at the Royal Academy of Fine Arts in Antwerp and set design at Institut del Teatre in Barcelona. Her first costumes she designed for Jaques Delcuvellerie in Brussels and Avignon, amongst which were La Grande Imprecation Devant Les Murs De La Ville (T. Dorst ), La Mere (B. Brecht), Andromaque (Racine), and Rwanda-1994.
From 2001 onward she collaborated with Johan Simons on numerous music-theatre productions, which amongst others included the Leenane Trilogy (Martin McDonagh) for ZT Hollandia; Sentimenti, Das Leben ein Traum (Calderon), Vergessene Strasse (Louis-Paul Boon) for the Ruhrtriennale; Die Perser (Aischylos) for Münchner Kammerspiele; Die Neger (Jean Genet) for Wiener Festwochen (2014); and Radetzkymarsch (Joseph Roth) for the Burgtheater (2017). Also with Simons she designed the costumes for the operas Fidelio (Beethoven) for Opera de la Bastille (2008) in Paris, Herzog Blaubarts Burg (Bela Bartok) for the Salzburger Festspiele (2008), and Alceste (Gluck) for the Ruhrtriennale (August 2016). In July 2016 Greta designed the costumes for Les Indes Galantes directed by Sidi Larbi Cherkaoui for the Bayerische Staatsoper. Greta also collaborated with Pierre Audi, Ivo Van Hove, Karin Beyer, Josse De Pauw and Peter Verhelst.
Die Zauberflöte (De Munt, 2005) would be the start of a long collaboration with William Kentridge. Operas include: The Nose (Metropolitan Opera, 2010), Lulu (DNO, Metropolitan Opera, 2015, ENO 2016), Wozzeck (Salzburger Festspiele, 2017) and installations and music theatre productions Refuse the Hour (Holland Festival/Festival d'Avignon), The Refusal of Time (Documenta Kassel), Winterreise (Wiener Festwochen), Paper Music (Firenze), More Sweetly Play the Dance (Amsterdam), and O Sentimental Machine (Istanbul Biennal).
Sabine Theunissen - Set Designer
Sabine Theunissen studied architecture in Brussels. After one year at the technical office of La Scala of Milan, she joined the Royal Theater of La Monnaie (Brussels) where she worked 17 years in the design studio. In 2003, she met William Kentridge. Their collaboration began with The Magic Flute (creation TRM 2005). Since then, she has designed sets for his opera productions, among which are The Nose (Met NYC 2010), Refuse the Hour (2012), The Refusal of Time (Documenta XIII -Kassel 2012), Winterreise (Vienna Festival, June 2014), Lulu (Met NYC, DNO, ENO 2015), Wozzeck (Salzburg Festival 2017, Met NYC, Sydney Opera). And also, for his art installations and exhibitions including Notes Toward a Model Opera (exhibition: Beijing, Seoul, 2015), No It Is (exhibition: Gropius Bau, Berlin 2015), Thick Times (exhibition: White Chapel, Louisiana, Salzburg, Manchester 2016), Smoke, Ashes, Fable (exhibition: Bruges 2017), O Sentimental Machine (exhibition: Frankfurt, Liebig Haus in 2018), and Quelle che non ricordo (exhibition: Sydney 2018).
Based in Brussels, she is simultaneously working with other directors and choreographers, including her sister Hélène Theunissen, for whom she designed sets for La Dispute, Marrakech (Brussels 2012), and A Midsummer Night's Dream (Brussels 2017). She recently designed sets for Bug and Othello staged by Aurore Fattier. She also collaborated with the choreographer Michèle Noiret for Hors-champ (2015) and Radioscopie (2016), and with the director Lilo Baur for Ariane and Barbe-Bleue (Opera de Dijon 2012). She designed other exhibitions The Body in Indian Art (Europalia Festival, Brussels, October 2013) and 1,000m² of desire (CCCB, Barcelona, September 2016). She is frequently invited to lecture in art and architecture schools, like Stockholm University, Pavillon Bosio (Monaco), La Cambre (Brussels), the Fine Art School (Tournai), and EYE filmmuseum (Amsterdam).
Urs Schönebaum - Lighting Designer
Urs Schönebaum studied photography in Munich. Worked from 1995 until 1998 with Max Keller as a part of the lighting department of Münchner Kammerspiele. After being assistant director for productions at Grand Theatre de Genève, Lincoln Center in New York, and Münchner Kammerspiele he started in 2000 to work as a lighting designer for opera, theatre, dance, art installations, and performances.
He participated in over 130 productions at major theatres including Covent Garden London; Opéra Bastille, Opera Garnier, La Comédie Française and Théâtre du Châtelet in Paris; La Monnaie Bruxelles; Opera de Lyon; Metropolitan Opera New York; Staatsoper unter den Linden, Schaubühne and Deutsches Theater in Berlin; Bayerische Staatsoper and Residenztheater in Munich; Dramaten Stockholm; Det Norske Teatret Oslo; Teatro dell'Opera Roma; Festival d'Avignon; Teatro Real Madrid; Festival d'Aix en Provence; Bolshoi Theater Moscow; Salzburger Festspiele; NCPA and Poly Theater Beijing; Sydney Opera House; Dutch National Opera, Salzburger Festspiele, Bayreuth Festival, and Wiener Festwochen.
He works with stage directors like Thomas Ostermeier, La Fura dels Baus, William Kentridge, Pierre Audi, Michael Haneke, Sidi Larbi Cherkaoui, Sasha Waltz, and was a long-time collaborator of Robert Wilson. His work also includes lighting designs for art projects with Vanessa Beecroft, Anselm Kiefer, Dan Graham, Taryn Simon, and Marina Abramović. He also designed works for installations in Karkow, Munich, Salzburg, and New York. In 2012 he directed and designed the two operas Jetzt and What Next?, and in 2014 Happy Happy, composed by Mathis Nitschke at the Opera National de Montpellier. In 2017 he created the set and lighting design for the production Bomarzo at the Teatro Real in Madrid.
Žana Marović - Video Editor and Compositor
Blending her interests in science and art with that of video editing in film and television, Sarajevo-born Žana Marović settled in Johannesburg in 1995. She gained experience by working on various television productions from documentaries to feature films, including award-winning wildlife feature films by the acclaimed National Geographic filmmakers Dereck and Beverly Joubert. In 2011 she became involved in the creative process on projects and installations by William Kentridge, including Refuse the Hour, The Refusal of Time, O Sentimental Machine, Notes Toward a Model Opera, Second Hand Reading, Lulu, Wozzeck, The Head & the Load, among others.
Duško Marović - Cinematographer
Having settled in South Africa from Serbia in the early 1990s, Belgrade-born cinematographer Duško Marović, has diversified his skills in local and international productions. His work on commercials, corporate films, documentaries, art installations, and featurettes for acclaimed HBO, BBC Sport, National Geographic, and the Discovery Channel to name a few, took him across the globe. Born in 1969 and educated in the field of telecommunication studies, Marović is known for a variety of critically impressive works including the award-winning feature documentary The War Photographers; featurettes for TV series The Passion, Generation Kill, The House of Saddam, The No. 1 Ladies Detective Agency, among others. Since 2011 he has filmed for William Kentridge's theatre productions and art installations such as The Refusal of Time, More Sweetly Play the Dance, Notes Toward a Model Opera, O Sentimental Machine, Lulu, Wozzeck, and The Head & the Load to name but a few.
Stella Olivier - Photographer
Stella Olivier is a South African-born photographer with a focus on photojournalism in the area of fine arts and theatre.
Olivier started documenting William Kentridge in 2009. Her work consists of moments behind the scenes, studio production, and stage performances. 
Productions with Kentridge include: The Refusal of Time, More Sweetly Play the Dance, Notes Toward a Model Opera, O Sentimental Machine, Lulu, Wozzeck, The Head & the Load, and SIBYL.
Gavan Eckhart - Sound Engineer/Recording
Gavan Eckhart is a sound engineer, producer and owns Soul Fire Studios in Johannesburg, South Africa. For many years, he has been working with the cream of the South African music industry. He has recorded and mixed the sound for artists such as Miriam Makeba, Ladysmith Black Mambazo, Soweto Gospel Choir, Freshly Ground, and has produced sound for William Kentridge's collaborative works with Philip Miller (including Miller's extensive film score repertoire). Gavan also tours with top South African and international bands providing great live mixes for a diverse listenership. His vast experience in theatre, television, film, and music production has recently culminated in the creative utilisation of sound technology in visual arts and music production. He is currently installing sound systems for museums and venues, producing and mixing a variety of musical and visual artists, both in the studio and on the road. He has been nominated for a SAMA for Miriam Makeba's Reflections as well as a Golden Reel Award for the soundtrack to Book of Negros.
Emmanuelle Erhart - Costume Fabricator
Emmanuelle Erhart is a costume designer and producer, and is our lead costume fabricator during our Kentridge productions.
Working in the realms of theatre, dance, and opera, Erhart works to define the visual world of each character and production, working closely with directors, lighting, and set designers throughout the process of design. 
Xolisile Bongwana - Singer/Dancer
Eastern Cape-born Xolisile Bongwana is an accomplished dancer who is also well-versed in singing, composing, directing, acting, and choreography. Bongwana has had an impressive career as an artist over the past decade and a half and his involvement in the performing arts industry has seen him work with award-winning choreographers such as Robyn Orlin, Luyanda Sidiya, and Gregory Maqoma. His impressive performance experience includes being part of the works such as Gibson Kente Music Tribute, Hugh Masekela Celebration, Centre for the Less Good Idea season 1, 2 and 5, Enyangeni, and Cion. Bongwana's composition was used for Luyanda Sidiya's Siva, Standard Bank Young Artist winner for Dance in 2015. The work was performed at the National Arts Festival in Grahamstown and China. He has also composed for Makwande, In Her Shoes, and recently Amawethu also by Luyanda Sidiya which they premiered in NAF Grahamstown, and after they went to Pretoria State Theatre. An artist of note, he was nominated in 2016 as part of the Mail and Guardian 200 Young South Africans. He has been part of William Kentridge's SIBYL. Bongwana recently created his own work titled Mnquma which has been performed at the Centre for the Less Good Idea, Pop Art Theatre, Dance Umbrella Africa, My Body My Space, and Market Theatre. Xoli has toured Kenya, Ghana, Zimbabwe, France, USA, UK, Spain, Canada, and Australia.
Thulani Chauke - Dancer
Thulani Chauke started his performing arts career at the Jabavu Anti-Crime Youth Aids Awareness. Between 2001 and 2005, Thulani has respectively performed for various projects Arco Dance theatre, Halala Afrika Theatre Society, and Taelo Dance theatre. In 2009 he joined Moving into Dance as a trainer and later that year as a company member. In 2011 he joined Vuyani Dance theatre as a company member. In 2012 he joined Forgotten Angle Theatre Collaborative as community arts engagement officer/dancer and choreographer.
Currently a freelance artist Chauke created his first solo work Black Dog whilst in a residency programme at the CND (Centre National de la Danse) Paris and at the Klap Maison Danse in France 2013, and this solo work has performed in several dance festivals since its creation.
Chauke has performed in various number of dance works and he has worked with internationally acclaimed choreographers: Gregory Maqoma, PJ Sabbagha, Fana Tshabalala,Shanel Winlock, Ivan Estegneev and Evgeny Kulagin (Russia), Iain Macdonald, QudusOnikeku (Nigeria), Themba Mbuli, Thabo Rapoo, Gustine Makgeledisa, and Andrea Severa (Argentina).
Since 2017 Thulani has been a freelance artist and has been working with William Kentridge on various projects curated by the Centre for the Less Good Idea (Season One 2017), History of the Main Complaint (2017- originally by William Kentridge reinterpreted by Thulani), The Head & the Load (2017/2018/2019 - created by William Kentridge, Season 4), Centre for the Less Good Idea (2018), and SYBIL (2019 - created by William Kentridge).
Teresa Phuti Mojela - Dancer/Sibyl
Teresa Phuti Mojela was born and raised in Ivory Park and Limpopo Province. She is a performer, choreographer, teacher, mentor, as well as aspiring director and producer. A founder and director of Phuti Pedi Productions. She started her acting and dancing career in 1999, and studied drama at Paul Rapetsoa Institute of Dramatic Arts. She was a student at Inzalo Dance Theatre, trainee at Tribhangi Dance Theatre, senior dancer at Vuyani Dance Theatre, and teacher/dancer at Moving into Dance. She facilitates the Let's Move adult dance class in partnership with Market Lab.
She established Children Saturday Dance Class and Dance Infinity Project in Limpopo Province funded by NAC; co-produced Bapa with Ntsika Ngxanga; choreographed: Bapa, Artists With No Title and Pedi produced by Centre for the Less Good Idea, and was part of Season 2 Waiting for the Sybil as Sybil by William Kentridge; That Night of Trance by Ntshieng Mokgoro, Ankobia for NAF2017 by Vice Monageng/Omphile Molusi, Tribute to Maya Angelou produced by Market Theatre, Lingering collaborative work with Sonia Radebe, co-creator of Sold by Themba Mbuli for NAF2016 and Hani: The Legacy the Standard Bank GOLD Ovation award winners NAF2017. She facilitated dance at JHB Sun City Female Correctional Service Centre and Communities, and taught movement at AFDA and Wits University physical theatre students. She is currently a movement teacher at the Market Theatre Laboratory. Phuti has worked with different choreographers, directors, and writers such as: James Ngcobo, William Kentridge, Shanell Winlock, Gregory Maqoma, Jerry Mofokeng, Napo Masheane, Phala Ookeditse Phala, Ntshieng Mokgoro,, Robyn Orlin, Jayspree Moopen, Margaret Mokoka, Thabo Rapoo,Luyanda Sidiya Mark Hawkins, Moeketsi Koena, Alfred Hinkel, Silvia "magogo" Glasser and Florent Mahoukou from Congo Brazzaville, and Javier Velazquez Cabrero from Mexico to mention only a few.
Teresa has toured Germany, India, France, Finland, Paris, Sweden, New York, Italy, and Amsterdam's Holland Festival to partake in the [email protected] Program in dance residency.
Thandazile 'Sonia' Rabede - Dancer
Sonia Radebe is an award-winning contemporary African dancer with a diploma in theory and practice of dance teaching. With over 15 years of experience in the industry, her extraordinary work and passion for collaborations and residency programs, has been seen in Africa, USA, and Europe. Her work deals with universal socio-economic issues as well as advocating for African narrative sharing of oral history in a witty yet emotionally charged way.
The performance platforms as well as institutions that have benefited from her skill, include: Dance Umbrella Africa, NAF, International, Detours Festival, Tanzhaus (Dusseldorf, Germany), ICW (Netherlands), Afrovibes, Shifting Realities, Ecole de Sable (Senegal), Wits University (Dept of Theatre and Performance), SANCTA, Oakfield College, University of Pretoria, JHB Correctional Services, MID, Jomba Festival, Hillbrow Theatre, William Kentridge's Centre for the Less Good Idea, and The Medea Project (San Francisco, US). She is also a co-director at Song and Dance Works.
Ayanda Nhlangothi - Singer/Soprano
Ayanda Nhlangothi's career blossomed at the tender age of 10 as the voice of young Simba in the Zulu Lion King movie and little sister in the movie Sarafina. At 15, she recorded with Bheki Mseleku and was the youngest jazz vocalist in his international jazz concert. In 2002, she was regarded as the 'Voice of the Nation' in Africa's first Idols competition; winning her leads internationally including off-Broadway in New York, performances with Andreas Vollenweider in Switzerland, and the first act for the 2013 AFCON Opening ceremony, singing and playing Umakhweyana.
This extremely diverse artist and musician, aka Ayanda Pyramid, is the daughter of Reginald 'Bhunu' Nhlangothi and Marilyn Thenjiwe Nokwe. Her strong sense of social consciousness was influenced by her family's rich musical history inherited from her grandparents, the late Patty and Alfred Nokwe. Guided by her aunt Tu Nokwe, she is a proud ambassador of arts, music and culture. This family legacy is seen continuing through her children Biko'sManna, a guitar duo act with a following in Japan.
When she is not performing, she is teaching youth and children at the Amajika Arts & Life Centre and hosts a radio show called 'Restoration in Progress' which is empowering victims of bullying, anxiety, and depression with music, stories, and laughter on WOMan Radio founded by Yvonne Chaka Chaka.
Zandile Hlatshwayo - Singer/Alto
Zandile aka Zandi Hlatshwayo was introduced to the music industry in 2003 when she met Themba Mkhize who gave her informal training. She then started working for him as a backing vocalist. He introduced her to people like Shaluza Max Mtambo and Lucas Senyatso, among many others. In 2005, Zandi joined a group called Amantombazane as their lead, which was produced by Sizwe Zako. In 2007 she joined Wadz Music Company, where she released her first solo house album called 'Life is a Journey'. In 2009, Zandi became a member of Soweto Spiritual Singers (SSS), which is led by Vicky Vilakazi from Joyous Celebration, and they performed at the 2010 Soccer World Cup with R Kelly. Zandi also performed with Lira, Bebe Winans, Sechaba Padi, Thabo Mdluli, Jo Nina, Uche, Patrick Duncan, Moses Molelekwa jazz band amongst others.
Siphiwe 'Sip' Nkabinde - Singer/Bass
Siphiwe Sip Nkabinde has been a Zulu traditional vocalist, recording and performing artist since the year 2000. Sip was born and bred in Bergville (Emoyeni), the KwaZulu Natal province of South Africa before moving to a larger city of Johannesburg. Sip's music work has been featured on local TV programmes: iHostela, Uzalo, The Queen, The Sing-Off, and other Mzansi Magic channels. In 2013 Sip released an album titled 'Songs from KwaZulu' under the pseudonym Nxele (which is one of his nicknames back home). Sip has recorded some traditional harmonies for an international artist Omar Puente Fiffe from Cuba as well as an Indian music producer Simaab Sen for a Bollywood film called Matru Ki Bijlee Ka Mandola where he was a singer and dancer. Anyone can listen to some of his work here: http://m.soundcloud.com/siphiwe-sip and https://itunes.apple.com/za/album/amazizi-songs-from-kwazulu/id828679890
S'busiso Shozi - Singer/Tenor
Sbusiso is a director of Show Zee Productions, a company that he owns which produces theatre and co-operate events. He is a Durban born artist who has a vast experience in performing art most notable in theatre and a bit of television. His love for music started at an early age and was fortunate enough to be discovered by Mbongeni Ngema who nurtured his talent to become a professional performer. He has performed a number of shows such as Sarafina, Drumstruck, Long Way to Go, Music in the Air, Have We Been Heard, Umshado, Cion and many more. He also played a lead role in the international documentary Operation Certain Death.
Sbusiso is a singer, actor, modern and traditional dancer, scriptwriter, song composer, and a vocal coach.