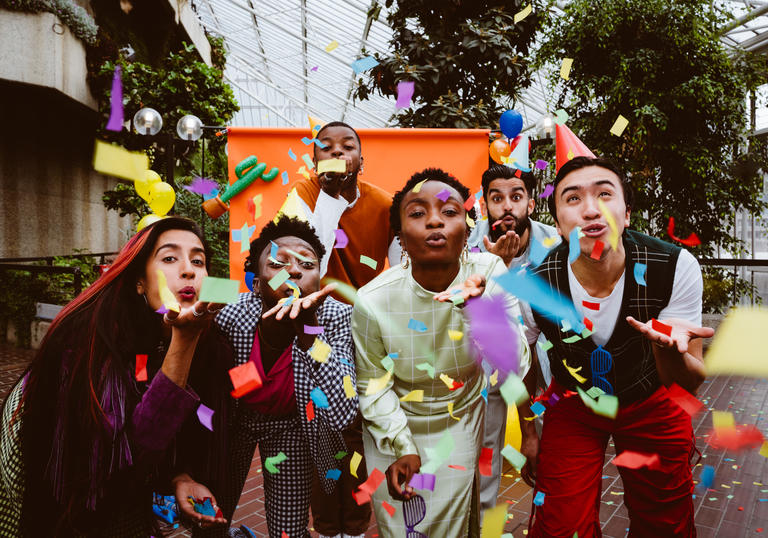 About the show
The Pappyshow host this exciting mixed-bill of performances that showcase their own work and other outstanding artists they love. Dance, laugh and celebrate as they introduce the best of dance, physical performance, live music, spoken word and a DJ set; all with collaboration, community and showcasing marginalised identities at the heart of the night. 
Join Young Barbican
Be there when it happens with discounted access to unmissable art and entertainment as well as events and creative opportunities for 14-25 year olds
About the company
Founded by Kane Husbands in 2013, The PappyShow is an ensemble theatre company of eight core friends that brings people together to move, dance, create moments of radical joy, share stories and take time just to PLAY! They work across performance disciplines platforming the marginalised identities that they believe society could do better with. 
As well as their critically acclaimed productions, such as Boys (winner of the Origins Outstanding New Work Award at VAULT Festival), the OFFIE nominated Girls, and most recently What Do You See? at Shoreditch Town Hall (part of London International Mime Festival), they also lead diverse workshops that centre physical training for everybody, all bodies that are full of heart and where you can just be you.
 
Performers and creatives
The PappyShow
Performers
Simran Hunjun
Azan Ahmed
Bianca Stephens
Yemurai Zvaraya
Saida Ahmed
Aaron Gordon
Bea Holland
Kwami Odoom
Jess Murrain
Jules Chan
André Fyffe
Lydia Barton Lovett
Jordan Johnhope
Marlene Peach
Diarra Walcott
Rosie Evans Hill
The PappyShow is created by
Marc Benga
Sam Hardie
Bea Holland
Rachel-Leah Hosker
Kane Husbands
Kwami Odoom
Kamran Vahabi
Seda Yildiz
Supported by Arts Council England
Presented by the Barbican
Barbican Theatre Department
Toni Racklin Head of Theatre and Dance 
Simon Bourne Senior Production Manager 
Leanne Cosby, Jill Shelley, Angie Smith Producers 
Anna Dominian, Bridget Thornborrow Assistant Producers 
Kyle Bradshaw Marketing Manager
Rebecca Moore Marketing Assistant
Angela Dias Senior Communications Manager
Ella Gold Communications Intern
Freddie Todd Fordham Communications Officer
Lauren Brown Creative Learning Producer (Theatre, Dance, Poetry)
Jamie Maisey, Lee Tasker Production Managers  
Tony Brand, Steve Daly, Jane Dickerson, Martin Morgan, Stevie Porter Technical Managers  
Lucinda Hamlin, Charlotte Oliver Stage Managers 
John Gilroy, Nik Kennedy, Jamie Massey, Adam Parrott, Tom Salmon, John Seston, Chris Wilby Technical Supervisors 
David Green PA to Head of Theatre 
Caroline Hall Production Administrator 
Andrew Pellett Production Assistant 
Kendell Foster, Burcham Johnson, Christian Lyons, Charlie Mann, Josh Massey, Matt Nelson, Lawrence Sills, Neil Sowerby Technicians 
Heather Readdy Systems and Maintenance Technician 
Fiona Badgery, Gary Hunt, Nicola Lake Venue Managers 
Rebecca Oliver Access and Licensing Manager 
Harriet Davis, Rob Norris, Elizabeth Wilks Centre Managers (Delivery) 
Pheona Kidd Centre Manager (Planning) 
Mo Reideman Centre Manager (Health & Safety) 
Julian Fox, aLbi Gravener Stage Door
Beat the queues with Membership
Members enjoy priority booking, discounts on tickets and exclusive events, so you can get closer to our theatre programme.
Biographies
Kane Husbands
Kane is the founder and artistic director of The PappyShow and a lecturer at Central Saint Martins, University of the Arts London. His work is all about community and bringing people together to move, share practice and play. He is a facilitator, director, performer and maker specialising in movement, dance, ensemble and physical theatre. His work and research look into diversity, inclusion and difference and finding spaces where many identities thrive. An associate of the National Youth Theatre, Squint Theatre and The North Wall (Oxford). He choreographed the Welcoming Ceremonies of the London Olympics, Paralympics, and the Glasgow Commonwealth Team. His work is site-specific, on stages, screen and in the digital space.
He has worked across theatre spaces from National Theatre, Chichester Festival Theatre, Nottingham Playhouse, Sheffield Crucible Theatre, the Old Vic, the Midlands Arts Centre (Birmingham), the SCOOP Outdoor Theatre, Rose Bruford College (London), the Royal Central School of Speech and Drama (London), University of West London, the Royal Welsh College of Music and Drama (Cardiff), the National Youth Theatre, the King Abdulaziz Centre for World Culture (Saudi Arabia), the National Theatre of Scotland and the Kiln Theatre (London) and Fran Wen, among other companies and venues.
For The PappyShow Kane has directed Boys, Boy Fly, Girls (2018), Care, Shine Black, Our House and What Do You See? and continues to lead and curate The PappyShow's works and training in collaboration with the full core team.
Simran Hunjun
Simran is a performer, singer and musician. A long standing friend of The PappyShow, she has been part of several devising processes with the company and is currently appearing in What Do You See?. She trained with the National Youth Theatre and REP Company in 2018. Her unique style and extraordinary soulful voice are a real spiritual treat. Simran also presently works as a holistic practitioner in energy healing and massage.
Azan Ahmed
Azan is an actor and poet, he is an alumnus of the Almeida Young Company.
Acting credits include: Mood (BBC), Hope Street (BBC), What's Love Got To Do With It? (Working Title) and Name, Place, Animal, Thing (Almeida Theatre).
A finalist of the 2020 Roundhouse Poetry Slam, his poetry explores diaspora and British Muslim masculinity. He is a recipient of the 2021 Barbican Creative Learning Open Lab and is on commission for Half Moon Theatre for his debut play.
Bianca Stephens
Bianca is an actor and singer whose theatre work includes: Hampstead Theatre, RSC and Soho Theatre. She is a long standing friend of The PappyShow, running workshops and appearing in Girls and What Do You See?.
Yemurai Zvaraya
Yemurai is a dancer, actor and creative working in commercial dance and the underground hip-hop scene. She has featured in physical theatre pieces such as Run it Back 2021 with Talawa theatre. You will see her at Move It 2022 performing with Beyond Dance Company.
For more: @yemuraii on instagram 
Saida Ahmed
Saida Ahmed is a black, disabled woman with cerebral palsy who lives in East London. Saida studied at Chickenshed Theatre and got herself a BA Degree in Inclusive Theatre. Saida is an actress, poet, writer and a 2020 Stage Debut Award nominee for the title character in Little Miss Burden at the Bunker Theatre.
Saida's most recent credits include: Brassic (season 2 and 3), Unprecedented ('The Unexpected Expert'), The Gift, Wildin for the Graeae Theatre Company's YouTube channel for the 'Crips Without Constraints' YouTube series (which is displayed on their channel every Tuesday). Saida has also recently appeared in an audio play on Northern Stage's YouTube called Don't Spill the Tea by Chris Sonnex and an audio play version of Little Miss Burden.
Saida has gone on to appear in many more pieces such as: Notes to The Forgotten She-Wolves at the Globe (both written by Matilda Ibinig), Soul Food by Leanna Benjamin for Burn Bright directed by Abigail Sewell, and Head Over Wheels written by Matilda Ibini at Open Sky Ahead Theatre Company.
Saida has appeared in Girls and What Do You See? for The PappyShow.
Aaron Gordon
Aaron Gordon is an actor/writer born and bred in Hackney East London. He trained with the National Youth Theatre Rep Company in 2013, which culminated in three performances in the West End. He has predominantly worked in theatre with companies such as The PappyShow (What Do You See?,London Mime Festival and Boys) and Belgian theatre company Ontroerend Goed (Every Word Was Once an Animal).
He has completed writing courses with the Royal Court and Channel 4. He has had a residency with Tamasha Theatre Company and recently has completed an attachment at the National Theatre. He is currently in development with Traverse Theatre.
Aaron wants to make theatre that is accessible for everyone and is passionate about telling stories which show the underrepresented.
Bea Holland
Bea is a theatre-maker, performer, writer and comedian. She has worked in theatres across the country including Trafalgar Studios, Unicorn Theatre, Orange Tree, National Theatre, Lowry, BAC and Almeida. Her work spans from stand-up comedy at the Edinburgh Fringe, to Greek Tragedy on The Southbank, and from puppeteering a mouse circus at Glastonbury, to writing comedy for E4.
She studied English and drama at the University of Hull and is an associate of National Youth Theatre. Bea is a core member of The PappyShow team and has appeared in Girls and What Do You See? was part of developing Boys and facilitates workshops for The PappyShow.
Kwami Odoom
Kwami is an actor and theatre-maker from North London. He trained as an actor with the National Youth Theatre REP Company and has worked internationally as both an actor and movement director. He is a founding member of The PappyShow and an associate artist of the National Youth Theatre.
For The PappyShow, Kwami has performed in Boys and Care as well as helped develop their other shows Girls and What Do You See?.
Credits as an actor include: Barber Shop Chronicles (National Theatre, international tour), Half God of Rainfall (Kiln Theatre/Birmingham REP), Hunger (Arcola) and A Christmas Carol (RSC). Credits as director: Another World (as assistant, National Theatre), Hayfever (Playground Theatre), Baked Beans (The Upsetters, Bunker Theatre). Credits as movement director include: Pity (LAMDA), Barber Shop Chronicles (as associate, US/UK tour), and Golden Age (Ben Roberts music video).
Jess Murrain
Jess Murrain is an interdisciplinary creative, working mainly in theatre, live performance, poetry and experimental film. Jess has performed poetry and spoken word at various festivals and venues around the UK including Brainchild Festival, the Bush Theatre, Camden Roundhouse and Southbank's Royal Festival Hall. Jess is also co-founder of Theatre with Legs, an experimental performance making company. Her poetry has been published in Perverse Magazine, Powders Press, Queerlings, Tentacular and Under the Radar. She won this year's Ledbury Poetry Competition and she is a member of the Southbank Centre's New Poets Collective. Her debut poetry pamphlet 'One Woman-Horse Show' is forthcoming with Bad Betty Press.
Twitter: @JessMurrain
Instagram: @jess_murrain
Jules Chan
Since graduating Drama Centre London, Jules has appeared as a guest lead on BBC's Doctors and has credits at the National Theatre, Southbank Centre and has recently written and directed and acted in his own play in Dalston. He has also co-founded Rising Waves which is a mentorship programme for British East and South East Asians supported by Arts Council England and will be soon appearing on Apple TV.
Lydia Barton Lovett
Lydia Barton Lovett is an actor-musician who graduated from Rose Bruford College in 2020. She is good at playing musical instruments, bad at rollerskating, but finds joy in both. Credits include: What Do You See? (The PappyShow), Louisa (Pleasure Dome Theatre Company), Cecily Cardew in The Importance of Being Earnest (Michael Friend Productions), Mrs Smith in Pardoned (Bohemians Company), Fairy Bowbells in Dick Whittington (Sarah Thorne Theatre Company), Frieda in Sunday in the Park with George (NYMT), and Hollie (NYT). As composer/musical director: A Midsummer Night's Dream (Changeling Theatre), and Masks and Faces (Finborough Online).
André Fyffe
André Fyffe is an actor and producer born and raised in North West London.
He began his career at Sylvia Young Theatre School. His most recent performance was in the physical theatre piece Boys which won VAULTS Festival Outstanding New Work award. Prior to this he played the lead role in Susie McKenna's adaptation of Macbeth at Edinburgh Fringe Festival which transferred to Hackney Empire. His most recent screen roles include: playing the guest lead role in BBC's Casualty, indie feature film Clued Up, playing an aspiring boxer in Left Behind, and sci-fi drama Capture which he also produced. Capture was accepted in Short Film Corner in the 70th Cannes Film Festival, Sci-Fi London Film Festival, and is now being developed into a TV mini-series. All of the many projects have helped him receive further recognition as a very skilled actor.
His warm husky voice has granted him extra recognition doing voice overs and commercials for brands such as: Volvic, Puma, Renault, Adidas and Honda Civic to name a few.
André is an enthusiastic creative and technical producer who has a successful track record of delivering results by engaging in every aspect of the production process. He is a superb communicator, with excellent leadership skills and possesses the ability to encourage his team to achieve their full potential.
His other credits include: assistant producing an in-house promo advert for BBC Radio 1xtra, and producing several short films with Fully Focused Productions, such as Drawn Out with over 3 million views, Slut and For Fleur and many others.
An Adidas campaign following Shaina West (stunt/martial artist) with BAFTA-winning Agile Film Productions is still underway and due to be released this summer.
Outside of film, Andre has produced a research and development theatre piece Wake Me Up at Waterloo at the Canal Café Theatre. In 2019 he was an assistant producer on BAFTA winner Stephen Laughton's new play 6QUJ5j' at the JW3 Theatre. André has started his own production company Elicit Pictures and produced the award-winning documentary Deleted which is now out on Apple TV, BFI iPlayer and Amazon Prime. His second documentary Barry the Beekeeper – about a Liverpool-based beekeeper's life and the extinction of bees – was commissioned and broadcasted by Together TV and then picked up by ITV and is now on ITV hub online.
Currently, Andre has been commissioned by BFI and Film 4 for his last short film My Jerome directed by Adjani Sampson.
Jordan Johnhope
Jordan is a recording artist from independent record label Nouteka and developed his dance at battles on an international level as well as live performances choreographed and performed within the dance company Moon-Sigh.
His credits include: ILTD (2018), magazine sessions by Anthea Hamilton (Serpentine gallery), 'Let's go' by Anthea Hamilton (Bloomberg SPACE/social media).
Marlene Peach
I am a neo-burlesque performer and go by the name of Marlene Peach. I have been performing as Marlene in the London cabaret scene for five years, following my advanced burlesque training at The Cheek of it! School of Burlesque. Marlene is an exaggeration of myself. She can be femme or masc, hilarious or terrifying, cutsie or disgusting but always finds a way to discover sexiness in unconventional places. Growing up partying within the queer club scene in Brighton and Soho, I have always been influenced by the camp, the tacky and the outrageous. My acts also take inspiration from popular culture and the people I meet: from art teachers, new friends in club toilets, 00s pop video divas, to my Nan (sorry Nan). Through performing as Marlene I hope to empower members of the audience to take up space and express themselves unapologetically, in addition to unashamedly thrilling their socks off.