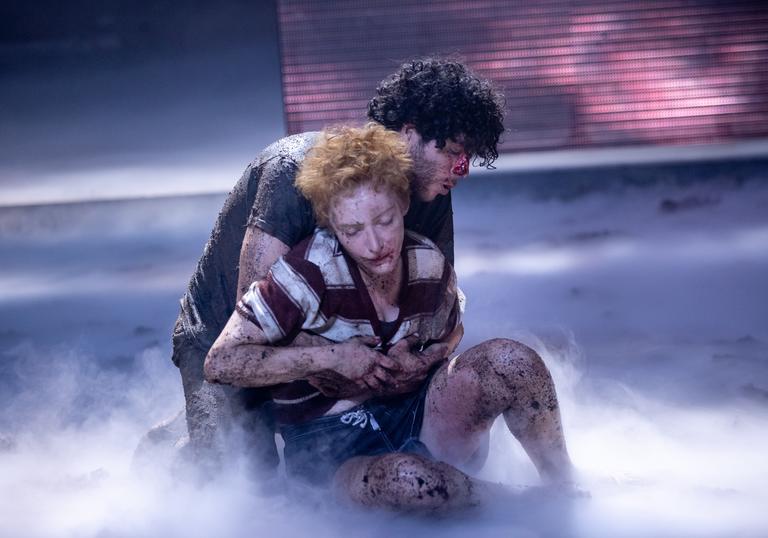 About the production
Age of Rage
after Euripides and Aeschylus
This house thrives only in anger
that leaves no time for repentance. Those who 
have been banished for their crimes 
return to commit a new one.  
The ruler becomes fugitive,
the fugitive ruler. 
Brother is afraid of brother,
father of son,
son of father. 
Children die resentfully, 
and are born with even more resentment. 
Blood is shed that floods all lands.
(Cassandra in Age of Rage)
Ivo van Hove directed Euripides' Electre/Oreste at the Comédie-Française in Paris in 2018, a diptych that zooms in on a brother and a sister who, after long exile, unite over a common plan: to avenge their father by murdering their mother and her lover. A story that, in Greek mythology, has a greater story behind it. 
Based on six tragedies by Euripides and one by Aeschylus, in Age of Rage Ivo van Hove tells the whole story of the house of Atreus, a history of anger and violence that is passed on from generation to generation like a curse. In raw scenes and bright colours, he sketches the decline of a family against the background of the Trojan War. It all starts with Tantalus, who plays a gruesome game with the gods by serving his own child as a meal, thus casting a curse on his offspring, the beginning of a senseless chain of murders and revenge.
'Why does tragedy exist? Because we are full of rage. Why are you full of rage? Because you are full of grief', writes the Canadian author and classics scholar Anne Carson. 
Many atrocities committed in Age of Rage find legitimacy in some higher mission: a war, reparation, revenge. Well into the play, violence is monopolised by those in power: kings, generals, high-ranking family members seeking revenge. By using violence, they conquer or maintain power. 
But Age of Rage also zooms in on the losers – especially the women of Troy, whose husbands and sons have died in the Trojan War. Even after the destruction of their city, the women are exposed to humiliation, retribution and deportation, until these victims, too, are transformed into new perpetrators. 
Age of Rage ends with the story of Elektra and Orestes, the children of Agamemnon who are excluded from society by their own mother after their father's murder. This story brings a change of perspective. They embody the powerless who discover violence as a language, as a way to make themselves heard in a world that does not listen. The murders planned and carried out by the brother and sister together with a small number of their followers reveal the consequences of resentment and radicalisation. A failure to be heard. The narrowing of outlook. Cultivated victimhood. Appealing to higher powers and ideals. An absence of any dissenting voice. The conviction that violence has a higher purpose and is the only way to change the world for the better.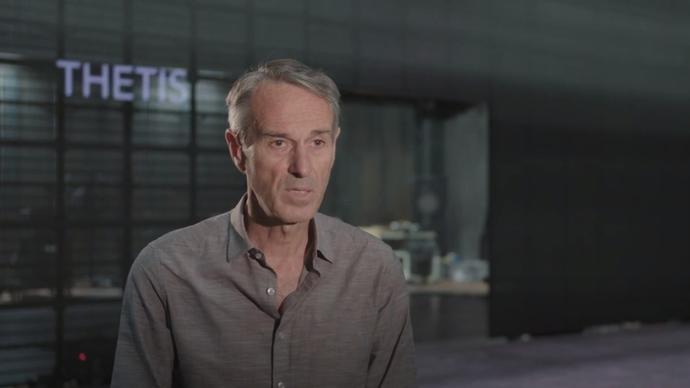 Ivo van Hove: "How did the Greeks make their theatre?"
Director Ivo van Hove talks about the history of ancient Greek tragedy and how it influenced Age of Rage.
Synopsis
Iphigenia in Aulis
After King Menelaus' wife, Helena, elopes with Paris from Troy, Agamemnon is chosen as commander-in-chief of the Greek army to retrieve Helena and restore the honour of the house of Atreus. While all the Greek troops in the port of Aulis are ready to leave for Troy, the only thing that isn't cooperating is the wind. This punishment by the goddess Artemis can only be lifted by a human sacrifice: Agamemnon's daughter Iphigenia. Agamemnon is faced with an agonising dilemma: will he choose the public interest or his own family?
Trojan Women and Hecuba
Ten years later. The war is over. Troy is in flames. The perspective changes from the victors to the losers. The Trojan men have been slaughtered, the temples of the gods destroyed and the women put into camps as prisoners of war. Among them is Hecuba, former queen of Troy, who has to watch her daughter Polyxena being sacrificed to the fallen Greek hero Achilles, her other daughters being divided up as slaves among the Greeks, and her grandson being thrown off the walls of Troy. When it transpires that her son Polydoros has been murdered for profit by a friendly king, Hecuba vows to take revenge. Only Cassandra seems delighted by her union with the Greek Agamemnon. She predicts the downfall of the house of Atreus on his return to Greece.
Agamemnon
After ten years' absence, Agamemnon once again sets foot on Greek soil. Clytemnestra asks her husband to enter the palace over the purple rugs, as if he were a god. Agamemnon is suspicious; Clytemnestra reassures him that she is still his dutiful wife. When Agamemnon asks after his son Orestes, he learns that he has been moved to another house for fear of a popular uprising. Agamemnon enters the palace, where a horrible death awaits him, together with Cassandra, who had predicted everything. At last justice is done: the sacrifice of Iphigenia is avenged and Aegisthus also gets his revenge for the horrible injustice done to his father, Thyestes.
Elektra
After Agamemnon's death, Elektra is married off to a peasant, while Clytemnestra remains with Aegisthus in the Mycenaean palace. Elektra is sitting in the farmyard in front of her house when she is visited by two strangers, who bring her news about her brother Orestes, who is still in exile. When Talthybius sees the strangers, he immediately recognises them as Orestes and Pylades. Elektra and Orestes unite and together they make a plan to avenge the murder of Agamemnon.
Orestes
After the murder of Aegisthus and his mother, Orestes is tormented by goddesses of vengeance. He lies in bed in front of Agamemnon's palace and is cared for by Elektra. While they await the verdict of the popular assembly to determine their fate, they are visited by Menelaus and Tyndareus, the father of the murdered Clytemnestra. Soon news arrives that Elektra and Orestes will be sentenced to death. Together with Pylades, Elektra and Orestes devise a final plan to take the law into their own hands once more: Helena, who started it all, must be punished. Finally, Apollo intervenes: the curse of Atreus has lasted long enough.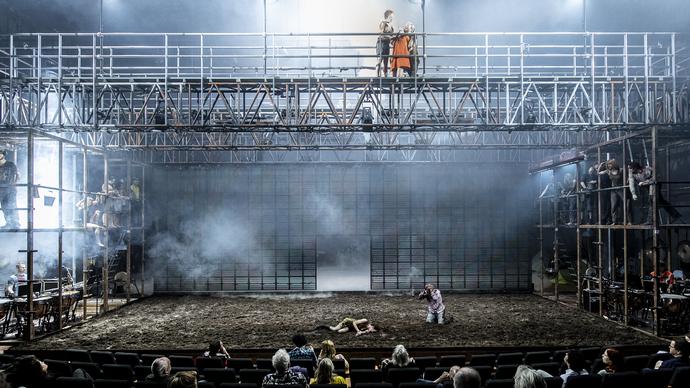 "The set is like a big stage at a rock festival"
Go behind-the-scenes with some of the creative team behind this epic production as they explain why they chose a doom metal music soundtrack and what it's like working with non-professional dancers.
The key characters
Atreus
Grandson of Tantalus, brother of Thyestes, father of Agamemnon and Menelaus, Atreus gets into a quarrel with Thyestes. Under the pretence of reconciliation he invites Thyestes to a dinner of reconciliation, at which the children of Thyestes are served as the main course. Thyestes then casts a curse on Atreus and his descendants.
Agamemnon
Son of Atreus, king of Mycenae, brother of Menelaus and commander of the Greek army during the Trojan War. When Artemis prevents the fleet from sailing to Troy through a lull in the wind, Kalchas, the seer, declares that he must sacrifice his daughter Iphigenia. Agamemnon is confronted with a difficult choice which will ultimately determine his own fate.
Talthybius
Herald and counsellor in the service of the house of Atreus. During the resolution of the Trojan War, Talthybius is the spokesman for the Greek army chief. After the murder of Agamemnon, he helps Orestes and Elektra avenge their father.
Menelaus
Husband of Helena, son of Atreus, king of Sparta, brother of Agamemnon. When the Trojan prince Paris makes off with Helena, Menelaus gathers all the Greeks to bring Helena home and restore Greek honour. This action leads to the Trojan War.
Clytemnestra
Wife of Agamemnon, daughter of Leda and Tyndareos, half-sister of Helena. After Iphigenia is sacrificed by Agamemnon for safe passage to Troy, Clytemnestra plots revenge with her lover Aegisthus, an act she must pay for with her own death.
Iphigenia
Eldest daughter of Agamemnon and Clytemnestra. In order to end the lull that prevents the Greeks from sailing from Aulis to Troy, Iphigenia, according to the seer Kalchas, must be sacrificed to the goddess Artemis. Although Iphigenia is brought to Aulis under the false pretence of marriage to Achilles, she ultimately accepts her fate and sacrifices herself for the Greek cause.
Achilles
Of divine descent, one of the commanders of the Greek army, Agamemnon uses his name to lure Iphigenia to Aulis for a marriage. During the Trojan War, the hitherto invincible Achilles is killed by Paris. After the war, when the Greeks want to leave Troy, Achilles appears at his own grave and asks for one last sacrifice: the Trojan king's daughter Polyxena.
Hecuba
Queen of Troy, wife of Priam. After the fall of Troy, Hecuba is taken to the prisoner-of-war camp with the Trojan women. Her daughters are sacrificed or taken away as slaves, her grandson is killed by the Greeks. Her son Polydoros, whom she had placed in the care of a befriended king, also awaits a terrible death. But when Polydoros' dead body is found on the beach, Hecuba takes revenge and summons this king and his children to the camp.
Cassandra
Daughter of Hecuba, priestess of Apollo, Cassandra has the gift of prophecy. After the fall of Troy, Cassandra is given to Agamemnon as a trophy of war, after which she predicts the fall of the house of Atreus. In Mycenae, she and Agamemnon are killed by Clytemnestra.
Polyxena
Youngest daughter of Hecuba and Priam, Polyxena is sacrificed on the grave of Achilles after the fall of Troy. She willingly accepts her death, preferring to die than to be taken away to Greece as a slave.
Polydoros
Son of Hecuba and Priam, who is sent to the king Polymestor with gold during the war. He survives the war, but is later killed by Polymestor and his body thrown into the sea.
Helena
Wife of Menelaus, half-sister of Clytemnestra and daughter of Tyndareus. Helena is regarded as the most beautiful woman in ancient Greece. Tyndareus makes her admirers swear an oath: he himself will choose a husband for Helena. Whoever does not respect this will have confront all of her admirers. When Paris elopes with Helena and takes her to Troy, the oath causes all Greeks to gather in Aulis.
Polymestor
King of Chersonesos, ally and friend of the Trojan royal family. To spare the life of Polydoros, Hecuba sends him to Polymestor, along with gold for the rebuilding of Troy. After Troy's destruction, he kills Polydoros. In revenge, Hecuba kills Polymestor's children and blinds him.
Tantalus
Son of Zeus and Pluto. Tests the omniscience of the gods in his hubris by serving them his son Pelops at dinner. Tantalus must pay for this deed in the underworld with eternal hunger and thirst. The curse that Tantalus has brought upon himself with this offence will rest upon all his descendants.
Aegisthus
Son of Thyestes. Together with Clytemnestra he makes a plan to avenge both Atreus' deed and the sacrifice of Iphigenia. After the murder of Agamemnon, he lives with Clytemnestra in the Mycenaean palace, until Orestes comes home and avenges his father.
Astyanax
Son of Hector and Andromache, grandson of Hecuba​ and Priam. The body of young Astyanax, the last man in the Trojan line, is thrown from the walls of Troy in fear of future revenge.
Elektra
Daughter of Agamemnon and Clytemnestra. After Agamemnon's death, Elektra is married off to a peasant and lives in the Mycenaean countryside, until her exiled brother Orestes returns to his homeland with their cousin Pylades. Together they formulate a plan to avenge the murder of Agamemnon.
Orestes
Son of Agamemnon and Clytemnestra, Orestes grows up in exile, but eventually returns with Pylades to avenge his father's murder by order of Apollo.
Pylades
The close friend and cousin of Orestes, who grows up in exile at Pylades' home. Pylades travels with Orestes to Mycenae to avenge the murder of the latter's father on Apollo's orders.
Hermione 
Daughter of Menelaus and Helena. She unwittingly ends up as part of a plan of revenge hatched by Elektra, Orestes and Pylades.
Tyndareus 
Father of Clytemnestra, king of Sparta. Comes to Mycenae to denounce Orestes, his daughter's  murderer, and plead for his stoning in the public assembly of Argos.
Apollo
Olympian god who represents the values of Greek society. He is the god of predictions, medicine and music. His most famous oracle is the oracle of Delphi. Cassandra is a priestess in Apollo's temple in Troy.
Beat the queues with Membership
Members enjoy priority booking, discounts on tickets and exclusive events, so you can get closer to our theatre programme.
Creative team
Cast
Characters, in order of appearance
Part 1
Atreus Maarten Heijmans
Agamemnon Hans Kesting
Talthybius Aus Greidanus Jr.
Menelaus Gijs Scholten van Aschat
Iphigenia Ilke Paddenburg
Clytemnestra Chris Nietvelt
Achilles Achraf Koutet
Artemis Achraf Koutet
Hecuba Janni Goslinga
Polyxena Ilke Paddenburg
Polydoros Ilke Paddenburg
Astyanax Ilke Paddenburg
Cassandra Maria Kraakman
Tantalus Gijs Scholten van Aschat
Polymestor Maarten Heijmans
Aegisthus Achraf Koutet
Chorus Birgit Boer, Bai Li Wiegmans, Emma Hanekroot, Jesse Mensah, Katharina Ludwig
Part 2
Elektra Hélène Devos
Orestes Minne Koole
Pylades Maarten Heijmans
Talthybius Aus Greidanus Jr.
Clytemnestra Chris Nietvelt
Helena Chris Nietvelt
Hermione Ilke Paddenburg
Menelaus Gijs Scholten van Aschat
Tyndareus Hans Kesting
Apollo Achraf Koutet
Chorus leader Janni Goslinga
Chorus Birgit Boer, Bai Li Wiegmans, Emma Hanekroot, Jesse Mensah, Katharina Ludwig, Maria Kraakman, llke Paddenburg
Dancers
Bai Li Wiegmans, Katharina Ludwig and Emma Hanekroot
Musicians
BL!NDMAN [drums]: Hannes Nieuwlaet, Yves Goemaere, Ward Deketelaere
Creative team
Director Ivo van Hove
Translator Gerard Koolschijn
Adaptation Koen Tachelet, Ivo van Hove
Dramaturg Koen Tachelet
Choreographer Wim Vandekeybus
Set and lighting designer Jan Versweyveld
Costume designer An D'Huys
Composer and Sound Designer Eric Sleichim
For the Barbican
Toni Racklin Head of Theatre and Dance 
Simon Bourne Senior Production Manager 
Leanne Cosby, Jill Shelley, Angie Smith Producers 
Anna Dominian, Saxon Mudge, Mali Siloko Assistant Producers 
Kyle Bradshaw Marketing Manager
Rebecca Moore Marketing Assistant
Angela Dias Joint Acting Head of Communications 
Freddie Todd Fordham Acting Communications Manager for Theatre and Dance
Lauren Brown Creative Learning Producer (Theatre, Dance, Poetry)
Jamie Maisey, Lee Tasker Production Managers  
Steve Daly, Jane Dickerson, Nik Kennedy, Martin Morgan, Stevie Porter Technical Managers  
Lucinda Hamlin, Charlotte Oliver Stage Managers 
John Gilroy, Jamie Massey, Adam Parrott, Tom Salmon, John Seston, Chris Wilby, Lawrence Sills Technical Supervisors 
David Green PA to Head of Theatre 
Caroline Hall Production Administrator 
Andrew Pellett Production Assistant 
Kendell Foster, Burcham Johnson, Christian Lyons, Charlie Mann, Josh Massey, Matt Nelson, Neil Sowerby Technicians 
Heather Readdy Systems and Maintenance Technician 
Fiona Badgery, Gary Hunt, Nicola Lake Venue Managers 
Rebecca Oliver Access and Licensing Manager 
Harriet Davis, Rob Norris, Elizabeth Wilks Centre Managers (Delivery) 
Pheona Kidd Centre Manager (Planning) 
Mo Reideman Centre Manager (Health & Safety) 
Julian Fox, aLbi Gravener Stage Door
Presented by the Barbican. Co-produced by Holland Festival; Bl!ndman; La Villette, Paris; Barbican, London. Private producers: Helga Lasschuijt and Dirk Raes, Gabriella de Rooij and Hendrik Jan ten Have, Marius de Vos and Gary Carter, Anna Wouters and Esther Kwaks. With support from Ammodo, realised with the support of the Johannes Vermeer Award.
Presentation at the Barbican is generously supported by the Performing Arts Fund NL
Join Young Barbican
Be there when it happens with discounted access to unmissable art and entertainment as well as events and creative opportunities for 14-25 year olds
Biographies
Biographies for the ITA ensemble can be found on ITA's website
Ivo van Hove
Director
Ivo van Hove has been director of Internationaal Theater Amsterdam (ITA) since 2001. Productions in the most recent season include Battles, Metamorphoses of a Woman and The Damned at ITA, and revivals of Age of Rage, A Little Life, The Things That Pass, Who Killed My Father and The Diary of the One Who Disappeared. Ivo van Hove was born in Belgium in 1958 and began his career as a theatre director in 1981 with his own productions of Germs and Rumour). He went on to be the artistic leader of AKT, Akt-Vertikaal and De Tijd. From 1990 to 2000, he was director of Het Zuidelijk Toneel and from 1998 to 2004 managed the Holland Festival where he annually presented his selection of international theatre, music, opera and dance. Since 1984, he has been one of the artistic leaders of the Dramatic Arts department of the University College Antwerp. In 2001, van Hove became director of Toneelgroep Amsterdam, which merged with Stadsschouwburg Amsterdam to become ITA.
Productions by Ivo van Hove have been performed internationally, including the Festival d'Avignon, Edinburgh International Festival, the Venice Biennale, the Holland Festival, Theater der Welt and the Wiener Festwochen. He has also directed the ensembles of La Comédie-Française, the Deutsches Schauspielhaus in Hamburg, Staatstheater in Stuttgart and New York Theatre Workshop. For Joop van den Ende, van Hove directed the musical Rent. Opera includes Lulu and the entire Ring des Nibelungen at the Vlaamse Opera; The Makropulos Affair and Iolanta at the Dutch National Opera in Amsterdam, and the world premiere of Brokeback Mountain at Teatro Real. Other directing includes A View from the Bridge at the Young Vic, West End and on Broadway; The Crucible on Broadway; Lazarus, David Bowie's musical theatre production, in New York (Musical Award for Best Director); Network (with actor Bryan Cranston) at the National Theatre in London and on Broadway (five Tony nominations); a radical remake of the musical West Side Story (with choreographer Anne Teresa de Keersmaeker) at the Broadway Theatre in New York; and La Ménagerie de verre with Isabelle Huppert at Théâtre de l'Odéon. For Dutch television, he made Home Front; and his first feature film, Amsterdam, was released in 2009.
Work with Toneelgroep Amsterdam: Angels in America, the epic productions of Roman Tragedies and Kings of War (based on Shakespeare), Opening Night, Husbands, Rocco and His Brothers, Obsession, Teorema (a co-production with Ruhrtriennale), Antonioni Project, Cries and Whispers, Scenes from a Marriage, After the Rehearsal / Persona, La Voix Humaine, Summer Trilogy, Children of the Sun, The Miser, Mourning Becomes Electra, A Long Day's Journey into Night, The Russians!, The Fountainhead, Mary Stuart, The Hidden Force, The Things That Pass and Small Souls.
He has received numerous award nominations, going on to win (among others): two Obie Awards for best directing of an off-Broadway production, the East Flanders Oeuvre Prize, the Theatre Festival Prize, the Archangel Award at the Edinburgh Festival, the Chevalier dans l'Ordre des Arts et des Lettres in France, the Prijs van de Kritiek in the Netherlands, the Prosceniumprijs, a Dutch oeuvre award (joint with Jan Versweyveld), the Amsterdam Business Oeuvre Award, two Olivier Awards, and the Amsterdam Award for the Arts for proven quality (joint with Jan Versweyveld), two Tony Awards, two Drama League Awards, two Drama Desk Awards, two Outer Critics Circle Awards and two Grands Prix de la Critique. He was awarded Commander of the Order of the Crown by King Filip of Belgium and received the Flemish Culture Prize for Overall Cultural Merit from the Flemish Minister of Culture Sven Gatz. In 2014, Ivo van Hove received an honorary doctorate for general merit from the University of Antwerp.
About ITA
Amsterdam Stadsschouwburg and Toneelgroep Amsterdam merged on 1 January 2018, and since their 18-19 season have operated under the name Internationaal Theater Amsterdam (ITA). ITA are currently working on a new organization that will act as a beacon for contemporary theatre and cater to audiences from Amsterdam and around the world, leading the way at the national and international levels. We produce a high-quality programme with 600 multi-disciplinary pluriform national and international theatre and dance performances every year, and social programmes that appeal to a wide range of audiences, bringing them new ways of understanding and seeing the world.