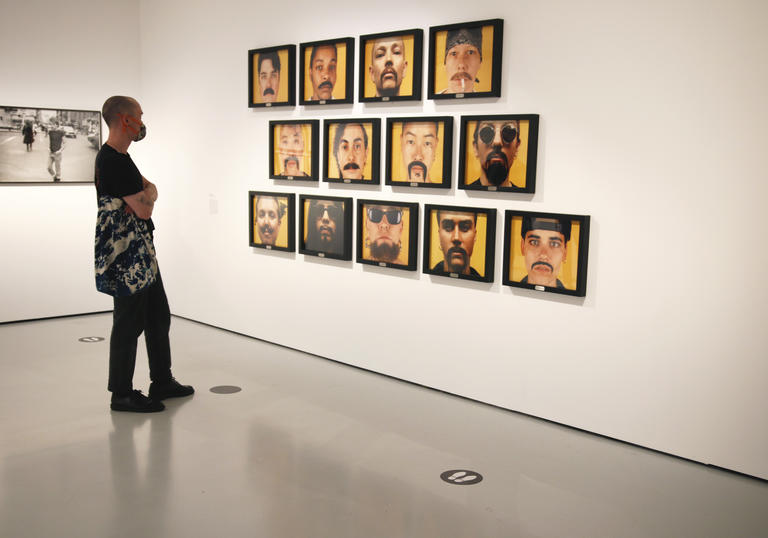 Before your visit
From 17 May (and unless guidance changes) six people or two households of any size can visit together as a group. However, you're still encouraged to keep a safe distance from people in your group who aren't in your household or support bubble.
We're admitting fewer visitors than usual so you can keep a distance from others and enjoy a relaxed, uncrowded visit. 
For any event you need to buy a ticket online in advance. You can book tickets right up until the event start time.  
Please check you've received your PDF ticket by email as you'll need to show this when you arrive.  
Please stay home if you're experiencing any symptoms of Covid-19 (these are listed on the NHS website) or if you've recently been in contact with someone who has the virus. 
If you are unable to use your tickets because you are unwell, please contact [email protected] in order to arrange a credit or swap. 
During your visit
When you get here, please check in at either our Silk Street, Lakeside, or Cinemas 2 & 3 entrances. 
All visitors must check in using the NHS Test and Trace app. If you can't use this app a host will help you check in.
If you don't have a ticket for an event, you're still welcome to visit the Barbican Kitchen and Shop, but you'll need to check in using the NHS Test and Trace app.
Other entrances to the Centre are currently closed. 
While our foyer spaces are for access only, you can meet people and socialise in the Barbican Kitchen, Cinema Cafe or Lakeside terrace. 
Our hosts will be able to help with any questions when you arrive. 
We have to collect NHS Test and Trace information for everyone coming into the Centre so all visitors, not just the ticket booker, will need to check in using the NHS Test and Trace app when they arrive.
Please download the NHS Test and Trace app to your phone in advance of your visit to save time when you're here.
If you don't have a smartphone (or can't download the app) our hosts can help by taking your details manually.
We are a Covid-secure venue and follow all government safety and hygiene measures, which means we can continue all our planned activity under the current guidelines.
Please do everything you can to help keep everyone safe by following these measures: 
Follow our directional signage round the Centre 
 
Keep a safe distance between yourself, staff and other visitors outside your group
 
Wear a face covering at all times indoors
 
Use the hand sanitisers around the building 
Everyone needs to wear a face covering as a condition of entry, although certain people are exempt.
To help with distancing, you may be asked to keep moving if you stop to wait or gather on routes between our venues. 
Please be patient with our staff who have a responsibility to keep everyone safe.
We'll have toilets, including accessible toilets, in the Barbican Kitchen on Level G and on Level 3 near the Gallery. We'll be there to direct you.   
 
Our box offices are currently closed so remember to book ahead online.
Our cloakrooms are also shut so please don't bring any large bags, luggage or long umbrellas with you (we have no storage space and these can't be taken into our venues). Prams and buggies are welcome though.
From 17 May, the Barbican Kitchen on the Lakeside and the Cinema Café will be open for refreshments and the best place to meet before or after an event. We have space for socially-distanced seating inside, but you may also want to sit out on the Lakeside terrace.  
Our main Shop on Level G is also open. 
Both only take card payments. 
If you don't have a ticket for an event, you're still welcome to visit the Barbican Kitchen and Shop, but you will need to check in using the NHS Test and Trace app. 
The Barbican Library is open and can be accessed by the Library's main entrance on Level 2, via our Silk Street or Lakeside entrances. Other entrances to the Centre are temporarily closed. Plan your visit and find information about safety and opening hours on the Library page. 
Our Cinema and Hall have been configured for social distancing with fewer seats available.
In these venues (until guidance changes) we've created specially-distanced seating clusters. Please only sit directly beside someone from your household or support bubble.
Please avoid moving seats when you arrive so we can keep a safe distance between you and other groups.
Face coverings must be worn inside our venues at all times, unless you're eating or drinking, or if you're exempt. Please replace your face covering once you have finished eating or drinking.
There are accessible routes to all venues and lifts are available for anyone who needs them. Please park in Car Park 5 where there'll be a clear route from the blue badge bays to the lifts via the Lakeside. If your blue badge has expired, please forward a new copy with your car registration number to [email protected]. 
Accessible toilets are available and we've seating for visitors who need it. 
Barbican hosts will be here to help you. 
What we're doing to keep people safe
We're following Government guidance to make sure the whole building is Covid secure. Measures include:
· Reduced numbers of visitors
· Clear signage to guide people safely around the Centre
· Removal of seating and changes to how you access toilets, lifts and stairs to ensure social distancing
· Hand sanitiser stations at all entrances
· Regular and thorough cleaning of door handles, rails, toilets and other areas
· Only using disposable cups and taking cards only in our cafe and shop
· Asking all staff and visitors to wear face coverings while in the Centre
We'll continue to review and manage any risks and to respond to any changes in Government guidance, keeping our staff trained and up-to-date as we go.