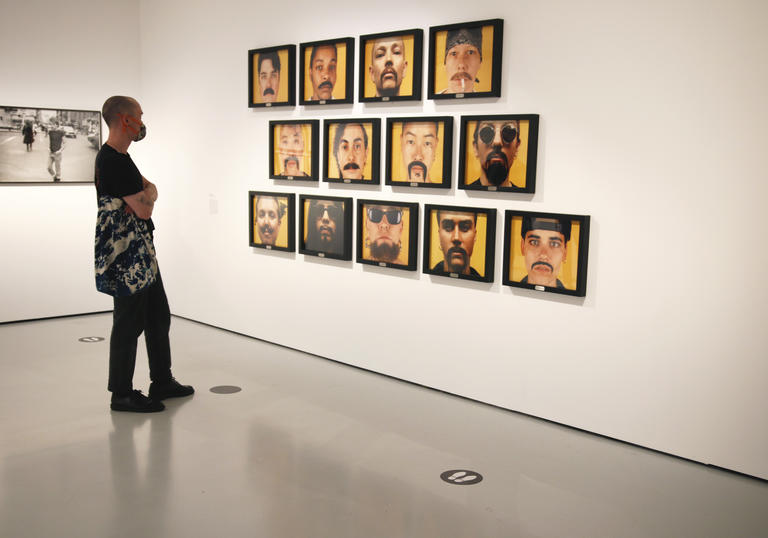 Before your visit
From 19 July, there is no restriction on group sizes when visiting the Barbican. However, we still encourage you to keep a safe distance from other groups of visitors.
Over the summer, we're admitting fewer visitors than usual to our galleries, cinemas and Conservatory so you can keep a distance from others and enjoy a relaxed, uncrowded visit. Information about our seated venues can be found below.
For any event you still need to buy a ticket online in advance. You can book tickets right up until the event start time. Please check you've received your PDF ticket by email.
Please stay home if you're experiencing any symptoms of Covid-19 (these are listed on the NHS website) or if you've recently been in contact with someone who has the virus. 
If you are unable to use your tickets because you are unwell, please contact [email protected] in order to arrange a credit or swap. 
During your visit
From 19 July, all Barbican entrances will be open. 
We encourage all visitors to check in using the NHS Test and Trace app, even though this is no longer compulsory. 
We're pleased to be able to welcome you back to our public spaces and invite you to meet people and relax in our foyer areas as well as the Barbican Kitchen, Cinema Cafe or Lakeside terrace. 
We encourage all visitors to check in using the NHS Test and Trace app, if they're able to, even though this is no longer compulsory after 19 July.
We're no longer collecting contact details of visitors ourselves for contact tracing purposes.
We encourage you to:
 
Wear a face covering at all times indoors, although certain people are exempt
 
Keep a safe distance from other visitors
 
Use our hand sanitisers and wash your hands regularly
​​​​​​​
Check in using the NHS Test and Trace app if you are able to
We'll have toilets, including accessible toilets, in the Barbican Kitchen on Level G and on Level 3 near the Gallery. We'll be there to direct you.   
 
Please remember to book ahead online as you won't be able to purchase tickets in person.
 
Our cloakrooms are currently closed so please don't bring any large bags, luggage or long umbrellas with you - we have no storage space and these can't be taken into our venues. We recommend bringing minimal possessions when you visit. You're welcome to bring prams and buggies, of course. 
All our bars, cafes and restaurants are reopening. Osteria will reopen on 20 July. The Martini Bar reopens on 23 July.
From 19 July, you'll be able to use recyclable coffee cups again in our cafes.
We'll continue taking card payments only in our Shop, bars, cafes and restaurants.
From 19 July, all Barbican Centre entrances will be open and access to the Library will be as pre–March 2020. Visitors are encouraged to check in using the NHS Test and Trace app. Test and Trace slips will continue to be available in the Library.
We're pleased to be able to welcome you back to the Library and will once again be offering a full range of services. Please note:
Visits will no longer be time-limited
 
We request customers continue to observe social distancing.
 
Although wearing a face covering is a matter of personal choice, please consider wearing a face covering in our libraries to protect staff and other customers.
 
Do not visit the Library if you are feeling unwell.
Our cinemas have been configured for social distancing with fewer seats available beyond 19 July and over the summer. We've created specially-distanced seating clusters. Please avoid moving seats when you arrive so we can keep a safe distance between you and other groups.
However, from 19 July:
Seating is not socially-distanced for Anything Goes in our Theatre.
 
Seating will no longer be socially-distanced from the start of our new music season in September in our Hall.
There are accessible routes to all venues and lifts are available for anyone who needs them. Please park in Car Park 5 where there'll be a clear route from the blue badge bays to the lifts via the Lakeside. If your blue badge has expired, please forward a new copy with your car registration number to [email protected]. 
Accessible toilets are available and we've seating for visitors who need it. 
Barbican hosts will be here to help you. 
What we're doing to keep people safe
What we're doing to keep people safe
 
We're following Government guidance to make sure the whole building is Covid secure. Measures include:
 
· Reduced numbers of visitors
 
· Clear signage to guide people safely around some areas of the Centre
 
· Hand sanitiser stations at all entrances
 
· Regular and thorough cleaning of door handles, rails, toilets and other areas
 
· Card payments only.
 
· Encouraging all visitors to wear face coverings while in the Centre, and requesting all our staff do so
· Air handling units to supply 100% fresh air and extract air directly out of the building
 
We'll continue to review and manage any risks and to respond to any changes in Government guidance, keeping our staff trained and up-to-date as we go.