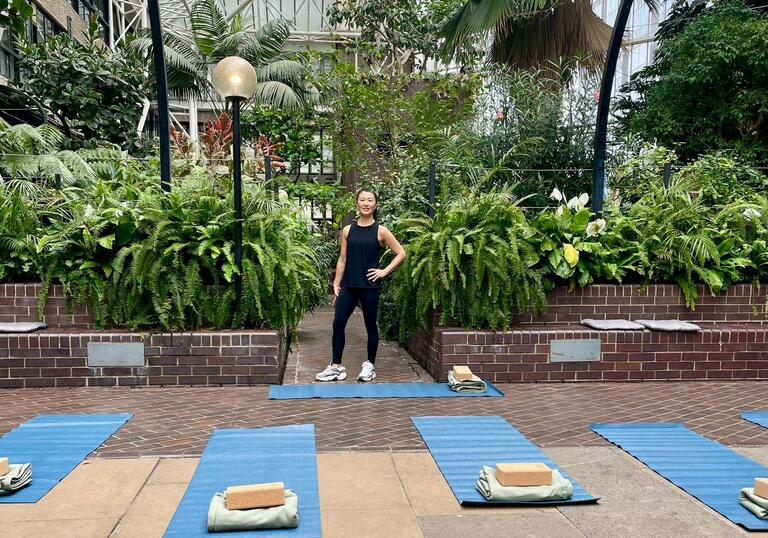 Unwind, restore balance and find confidence at a tranquil evening class amongst the calming plants.
We'll be guided by Mina Hosokawa who aspires to transform lives through the power of yoga. She's passionate about showing how versatile, inclusive and adaptable yoga can be.
Mina joins us from Down to Earth Yoga. Her teaching style integrates scientific principles, yogic philosophy and her personal self-inquiry discoveries. Expect an informative class suitable for all levels. The class will be brimming with useful tips to enrich your yoga journey.
After the session, you'll have time to chat with other Members and enjoy our hidden tropical oasis. 
Why not make a day of it? Book your free ticket to see RE/SISTERS: A Lens on Gender and Ecology before the class.
Programmed in collaboration with Down to Earth Yoga Ltd 
There are 30 spaces available and it's suitable for all experience levels. This event is open to Members and up to three guests, guests require their own ticket.
The event runs 6.30-8.30pm. The yoga class runs 6.30-7.45pm, with 45 mins to enjoy the Conservatory afterwards.
Yoga mats, blocks, straps and blankets are provided but you're welcome to bring your own or anything else that might aid your comfort.
Reviews
'The yoga instructor was just brilliant'
'Great to experience the Barbican from a different angle'
Members see more for less
Enjoy Members' Lates, open rehearsals and £6 Members' Sunday film screenings. Experience yoga in our Conservatory or get involved at a workshop