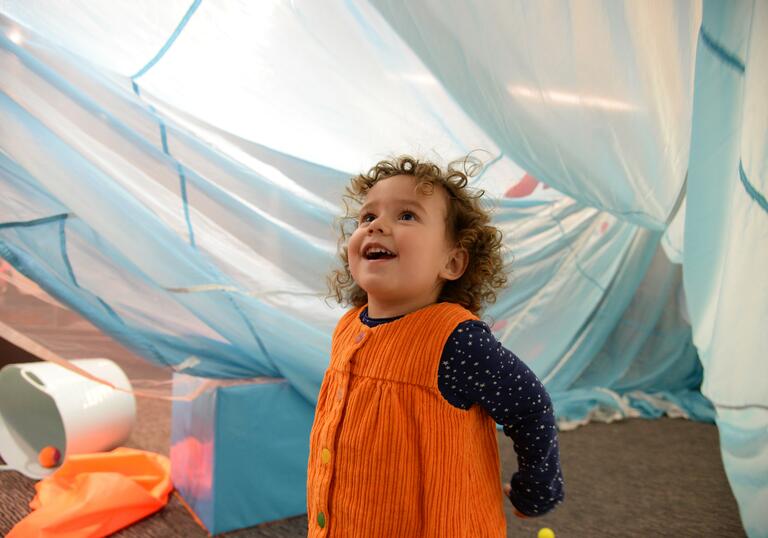 Told by an Idiot: Get Happy
A 'madcap little gem' (Time Out) of a performances for curious babies, kids and adults of all ages. Playing in the Pit Theatre from 7—19 Dec.
Opening hours
Times:
10:30am – 4:30pm
Closed from Saturday 23rd December
Rules of Play
We always advise booking in advance, however, we do keep spaces available on the day for walk-up, when Squish Space is open. Get walk-up slots at the Ticket & Information Desk. You can book onto hourly slots throughout the day, please purchase a ticket for each member of your party attending (parent/ guardian & children). Tickets are free but please consider making a donation when you book to ensure we can keep it accessible to everyone.
All spaces are subject to availability and you will be notified of any dates that are cancelled.
Tickets are released one week in advance online on Wednesdays at 10am, if open.
If you're unable to attend, please contact [email protected] to return your free tickets. We will release any tickets that are not collected 15 minutes after the booking time to the public for walk-up spaces. 
Squish Space is for under 5s and their parents/ carers.
Shoes come off and go in the shoe boxes outside the space. 
Buggies and large belongings go in the Buggy Park. Belongings are left at your own risk. 
Smaller bags, belongings or valuables stay with you inside the space. 
Parents stay with their children at all times. 
You are welcome to bottle or breastfeed inside the space. All other eating happens on the benches in the Level G foyer.
Nappy changing happens in the Barbican Kitchen Toilets. 
Big people, please be aware of little people playing and be mindful of the space around you. 
Donate today
Squish Space is free. Please help us keep our programme and learning activities accessible to everyone by making a donation today.