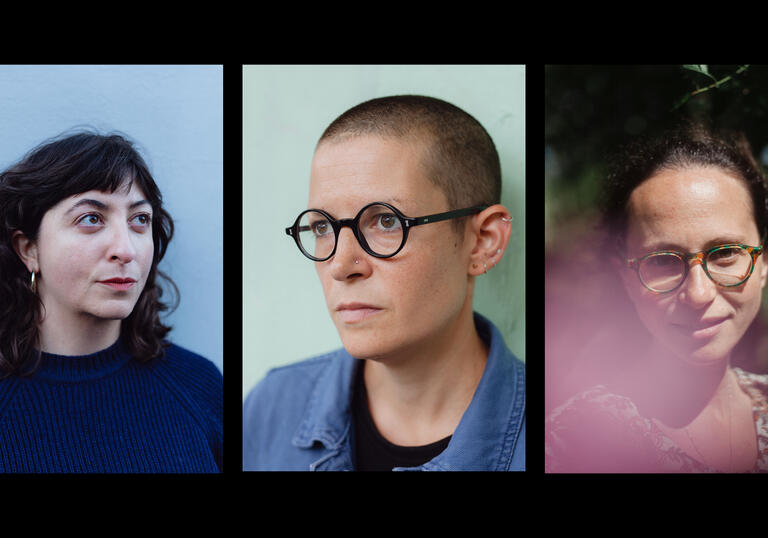 Join Jen Calleja, Jess Chandler and Lavinia Singer, as they talk about their books and the innovatively hybrid work of Prototype, the East London publishing house that is challenging boundaries.
Dedicating our Autumn series to the remarkable activities of London's truly independent publishers, we conclude with the vividly distinctive work of Prototype. Founded in 2019, it is a publisher of fiction, poetry, anthologies and interdisciplinary projects. With an emphasis on producing unique and beautiful books, Prototype is committed to creating new possibilities in publishing, championing the work of new and established voices in contemporary literature..
Founder, publisher and editor Jess Chandler is joined by Jen Calleja and Lavinia Singer, the authors of new and recent books from Prototype, to discuss the press's vision and to read from their own titles with the press. Books will be on sale and signings will be entirely possible.
Jen Calleja is a writer, translator and publisher based in Hastings. Her latest books are Vehicle: a verse novel (Prototype) and Dust Sucker (Makina Books). Her fiction and poetry have appeared in The White Review, Ambit, The London Magazine, and Best British Short Stories and she was a finalist for the Short Fiction/University of Essex Prize and the Ivan Juritz Prize. Jen has translated nearly twenty works of German-language literature and was shortlisted for the Man Booker International Prize for her translation of Marion Poschmann's The Pine Islands. She also co-runs Praspar Press, a small press for Maltese literature in English and English translation. 
Jess Chandler runs the independent publishing houses Prototype and House Sparrow Press. She was a co-founder of Test Centre, which ran from 2011 to 2018, publishing innovative works of poetry and fiction. She has worked as an editor at Reaktion Books, as the Digital Editor of Poetry London, and as a researcher and producer on factual television programmes. Jess has extensive experience editing and publishing a range of books, and specialises in poetry and hybrid, multidisciplinary works. 
Lavinia Singer is the author of the pamphlet Ornaments: A Handbook (If a Leaf Falls/Glyph Press, 2020) and co-editor of Try To Be Better (Prototype, 2019), a creative-critical engagement with the work of W. S. Graham. She works as an editor of poetry at Faber. Her debut collection of poetry, Artifice, was published by Prototype in spring 2023. 
Location
The Barbican Libraries are located on Level 2 within the Barbican. They can be accessed from the main building via stairs or lifts from Level G or via Frobisher Crescent from the highwalks.
Address
Level 2, Barbican Centre
Silk Street, London
EC2Y 8DS
Public transport
The Barbican is widely accessible by bus, tube, train and by foot or bicycle. Plan your journey and find more route information in 'Your Visit' or book your car parking space in advance.