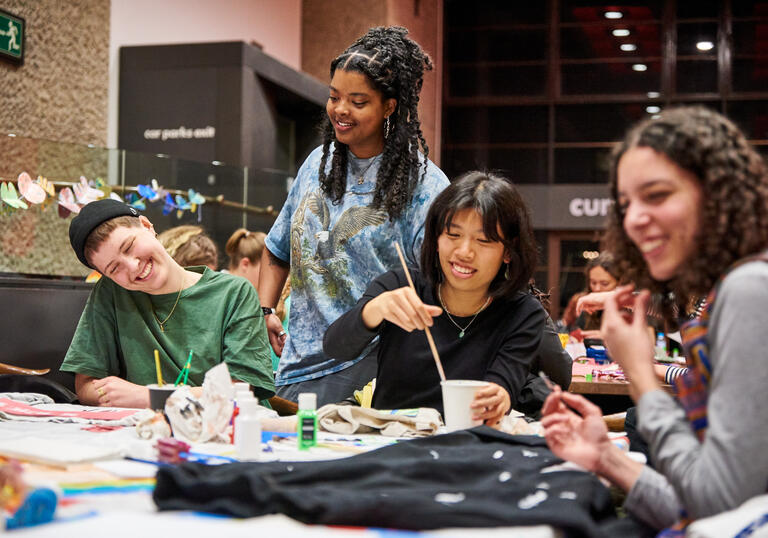 Join Young Barbican
Be there when it happens with discounted access to unmissable art and entertainment as well as events and creative opportunities for 14-25 year olds
Learn How To Make Jewellery
Omolola Jewellery is a Black owned UK business known for its gorgeous Afrocentric jewellery. Founded by 2 sisters, they pay homage to West African artistry and culture, creating pieces inspired by the glamour of home from Lagos to Lome, Accra to Abidjan, Kingston to Kano, Banjul to Bamako, Port Louis to Praia. You'll be able to catch Omolola Jewellery appearing in Buzzfeed, Telegraph, British Vogue, Cosmo UK!
Learn how to make jewellery that tells a story. You can wear it proudly or give it as a gift to someone special. It's your choice! There will also be an opportunity to learn more about West African art and culture from Omolola Jewellery. 
A Playful Introductory To Self-publishing
Join artist Johanna Tagada Hoffbeck for a playful introductory workshop to self-publishing. In two hours and through making with your hands, you will learn the basics of creating postcards and small publications in different formats, using painting, drawing, collage and book-binding techniques. Perfect gift as the year ends.
Through the infinite possibility of the pages, self-publishing is an excellent way to share one's creative practice offline. This workshop is an opportunity to meet an artist with international independent publishing experience.
For those who have existing material which they would like to bind into a booklet, please bring these along! If you do not have such materials, do not worry, you are still most welcome to join us as we will be making on the day using pencil and plant-based pigment paintings. Johanna will also answer your questions on how to publish your work.