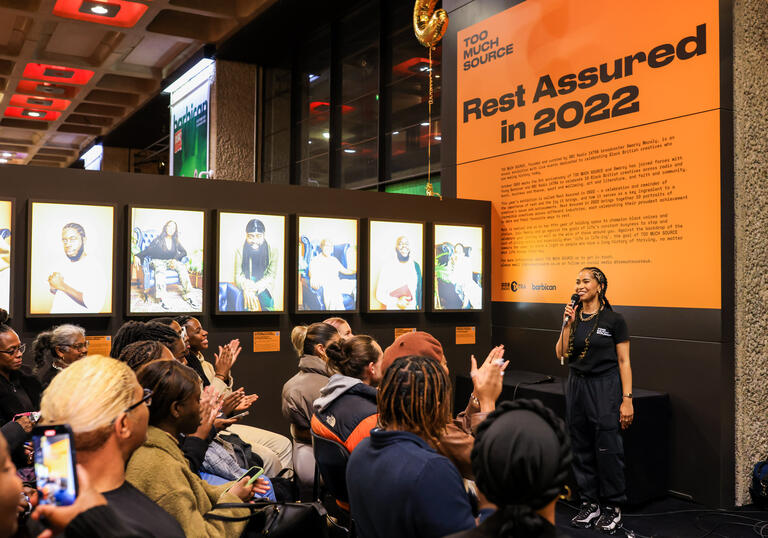 Rest Assured in 2022 celebrates...
This year we are celebrating the following 10 amazing creatives.
Yannick Christos-Wahab
Yannick Christos-Wahab
Pastor at Stockwell Baptist Church
Yannick Christos-Wahab is from Nigeria but was born and bred (mostly) in London. He is married to Kiitan and the proud girl dad of two beautiful daughters! He serves as one of the pastors at Stockwell Baptist Church and enjoys reading, sports, food, and people. His greatest joy is to be God's child.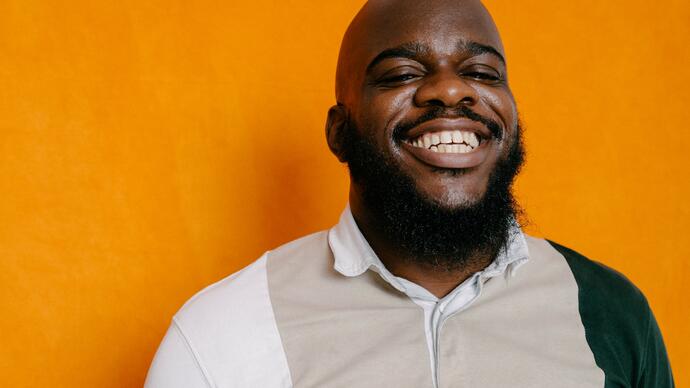 Rest Assured in 2022 celebrates Yannick Christos-Wahab
What keeps me rest assured is my faith in Jesus as it's a wonderful encouragement to me that my destiny is secured and my future is settled because of Him.

- Yannick Christos-Wahab
Courtney Conrad
Courtney Conrad
Award-winning Poet
Courtney Conrad is a Jamaican poet. She is an Eric Gregory Award winner and Bridport Prize Young Writers Award recipient. Conrad has also been shortlisted for The White Review Poet's Prize, Manchester Poetry Prize and Oxford Brookes International Poetry Prize. Her poems have appeared in Magma Poetry, Poetry Wales, The White Review, Stand Magazine, Bath Magg and Poetry Birmingham Literary Journal. Her work has been anthologised by Anamot Press, Re.creation, Peekash Press, Bad Betty Press and Flipped Eye Press. She is an alumna of The London Library Emerging Writers Programme, Malika's Poetry Kitchen, Barbican Young Poets, Obsidian Foundation, BBC Words First and Roundhouse Poetry Collective.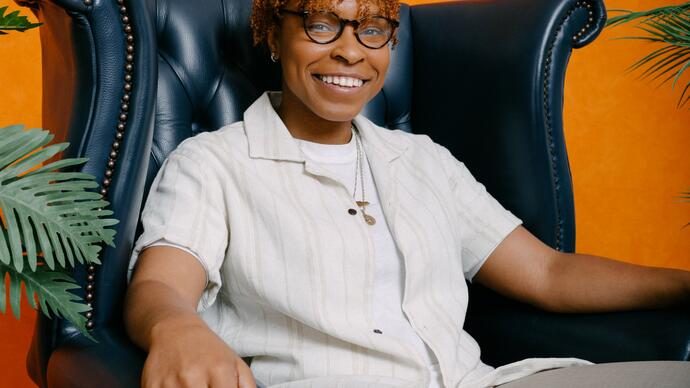 Rest Assured in 2022 celebrates Courtney Conrad
"What keeps me rest assured is that all things will work out for my good in some way or another because God's got me."

- Courtney Conrad
Gabriel Akamo
Gabriel Akamo
Nigerian-British Poet, Actor, Facilitator and Creative Producer
Gabriel is a Nigerian-British poet, actor, facilitator, and creative producer.
Drawing on his background in both theatre and Philosophy, his writing currently explores faith, relationships, and his overlapping identities.
He has been commissioned by institutions such as the Royal Academy of Arts and St. Paul's Cathedral. His festival performances include Lovebox, Bestival, and Festival Kometa in Riga, Latvia. He has also been published in a number of anthologies—including this year's Before Them, We, from flipped eye publishing—and released his debut pamphlet, 'At the Speed of Dark' in 2020. He is currently appearing in the London production of Harry Potter and the Cursed Child, marking his West End debut. He is an alumnus of Barbican Young Poets and the National Youth Theatre of Great Britain, and a former Roundhouse Resident Artist.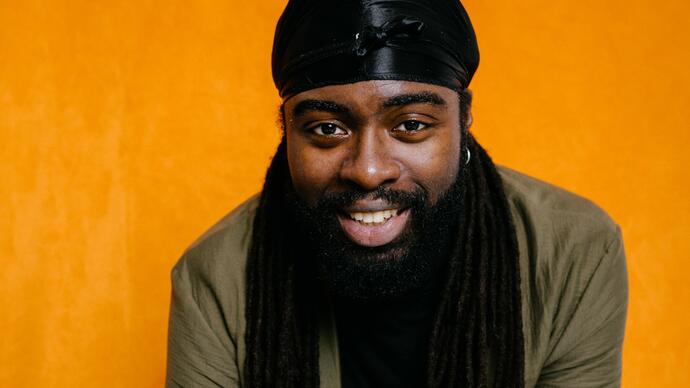 Rest Assured in 2022 celebrates Gabriel Akamo
"What keeps me rest assured is trusting that the company I work for has my back. I am the first Hagrid with dreadlocks and so, a word of encouragement:  be rest assured that role and room you're in is not by accident."

- Gabriel Akamo
Fee Mak
Fee Mak
Radio Presenter at BBC Radio 1XTRA
London based TV and Radio presenter Fee Mak currently hosts the BBC Radio 1XTRA Weekend Breakfast Show every Sunday from 7-11am.
Fee's presenting career began whilst studying at the University of Kent. Her show on Canterbury's Community Radio Station CSR 97.4FM highlighted upcoming talent many of whom have now become established artists such as Knucks and DC. Fee was then picked up by Westside Radio 89.6FM in London where she was mentored, leading to her hosting the drivetime show, The Jam. Her show featured interviews with artists such as FLO, Kaash Paige & Tayc.
During Christmas 2019, Fee was selected through BBC Radio 1's presenter search to host The Drivetime Show. She then went on to a month of presenting Early Breakfast on BBC Radio 1 alongside daytime cover shows. In 2021, Fee made her debut on BBC Radio 1XTRA where she deputised throughout the daytime schedule before landing her own Sunday Breakfast show in July 2022.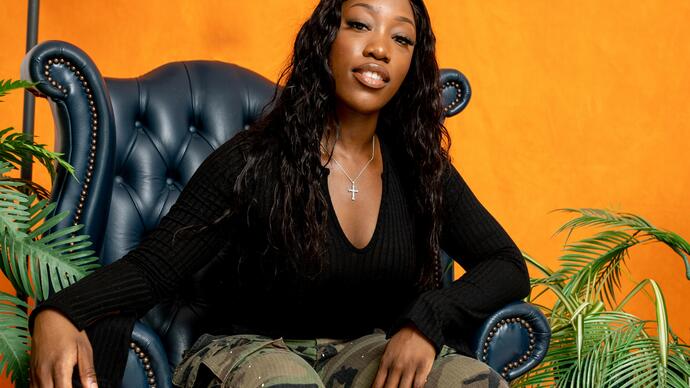 Rest Assured in 2022 celebrates Fee Mak
"What keeps me rest assured is knowing that God's plan is for me to prosper."

- Fee Mak
Jeremiah Brown
Jeremiah 'Sugar J' Brown
Poet
Jeremiah 'Sugar J' Brown is a Black British-Jamaican writer, actor, and poet based in Croydon.
He has been published in Time Out and Wasafiri. He regularly partakes in, speaks about and performs his work - sitting on numerous panels, featuring podcasts, and performing at a variety of festivals including Lovebox, Citadel and Brainchild. Jeremiah also has a weekly newsletter that releases every Wednesday called Sugar Shots. He is a Barbican Young Poet, Royal Court Writer's Group, Soho Theatres Writers Lab Alumni and former Roundhouse resident artist. He works often with The Poetry Takeaway as a 'Poet Chef' writing bespoke poetry for members of the public across the UK and Ireland. Jeremiah is an actor and playwright who has taken to the stage at the Arcola. To date, his plays have been staged at the Roundhouse and the Albany . In addition to this, Jeremiah is a facilitator, providing fun and interactive workshops that develop participants' creative thinking, writing skills, public speaking, teamwork, independent learning, and poetic understanding.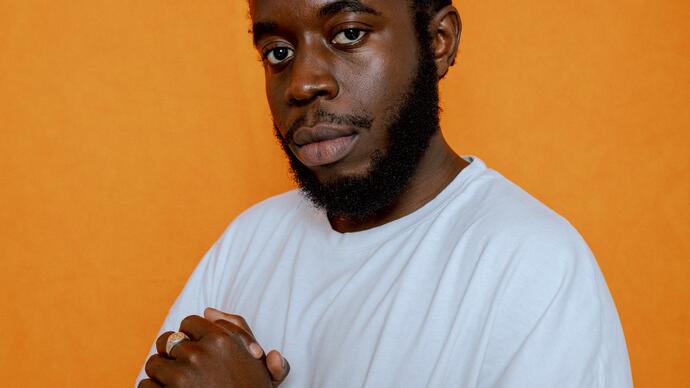 Rest Assured in 2022 celebrates Jeremiah 'Sugar J' Brown
"What keeps me rest assured is the ability to give from a full cup. I want my creativity to pour from a place of fullness and contentment always."

- Jeremiah 'Sugar J' Brown
Esme Allman
Esme Allman
Interdisciplinary Freelance Artist
Esmee Allman is an interdisciplinary freelance artist working across poetry, theatre and facilitation to navigate themes of Blackness, desire, history, and imagination. Her work has appeared on BBC Radio 3 and BBC Radio 6 as well as at renowned institutions such as the Barbican Centre, English Heritage, and the ICA. Today, she is a Resident Artist at the Roundhouse and recently wrote and performed her one woman show Delectably Red in the Studio Theatre. She has worked as part of the participation strand at notable theatre companies and institutions such as RADA, the Young Vic, Cardboard Citizens, and Clean Break.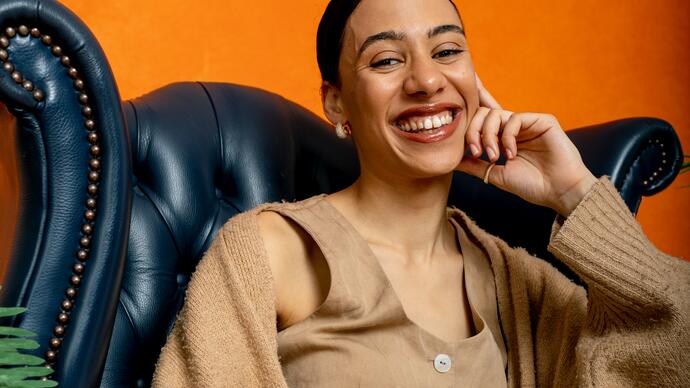 Rest Assured in 2022 celebrates Esmee Allman
"What keeps me rest assured is the knowledge that in order to show up in a kind, caring and considerate way to others, I must show up that way for myself."

- Esmee Allman
Magdalene Abraha
Magdalene Abraha FRSA is a writer, cultural curator and multi-award-winning publisher.
Magdalene started her journalism career as a music journalist and one of the youngest ever columnists for the Independent Newspaper. Magdalene has since written for The Economist, The Guardian, VICE, Vogue, and more.
Magdalene was on the 2022 Forbes 30 Under 30 list for her work in writing and publishing as well as making the BBC 1XTRA Future Figures list 2022. She was awarded the LBF Trailblazer Award for her contribution to the publishing sector and Elle Magazine named her as one of their Trailblazing Women. In 2020 she was made a fellow of the Royal Society of Arts for her work. Magdalene Abraha is also the creator and producer of the 'ground-breaking' and 'viral' book series A Quick Ting On which is the first non-fiction Black British book series of its kind. The series celebrates and chronicles Black British culture including books on Afrobeats, Grime, Black British Theatre, Black British entrepreneurship, Black hair, Plantain, Bamboo Earrings and the Black British Power Movement.
Magdalene Abraha has worked on and created award winning initiatives and dedicated her career to providing a platform for Black creatives and writers.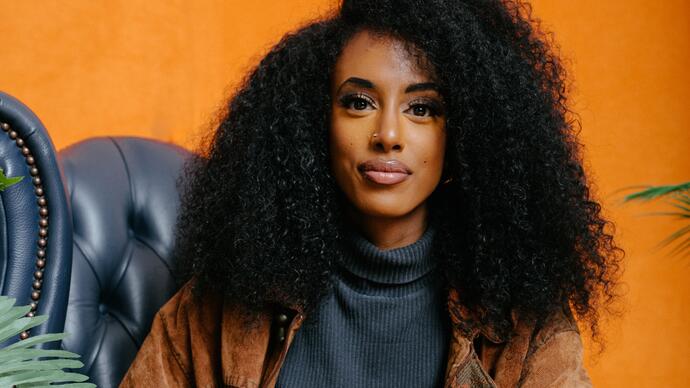 Rest Assured in 2022 celebrates Magdalene Abraha
"What keeps me rest assured is seeing my community and loved ones thrive. Being able to work with amazing creatives and give a platform to phenomenal talent."

- Magdalene Abraha
Nana Badu
Nana Badu
Founder of BADU Sports
Nana Badu is the founder of BADU Sports and BADU Community; two organisations that use the power of sport and community to change the story of young people in East London.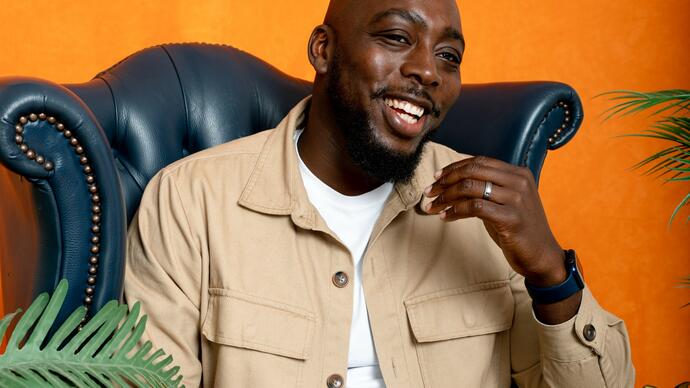 Rest Assured in 2022 celebrates Nana Badu
"What keeps me rest assured is knowing me and my team share the same purpose, vision
and love for our community."

- Nana Badu
Yemi Ajala
Yemi Ajala
Chartered Accountant and Founder of 1st Class Accounts
Born and raised in Hackney, London, Yemi Ajala is a Chartered Accountant and Founder of 1st Class Accounts.
Despite not excelling academically in his early years, Yemi went on to achieve a 1st class degree in Accounting and Finance from the University of Hertfordshire. Following on from his graduation, Yemi worked at one of the Big Four accountancy firms in the world. In 2014, he set up his own accountancy practice 1st Class Accounts focusing on personal finance. Fast forward to 2022, 1st Class Accounts is now an award-winning accountancy practice with circa 1,000 clients across 66 countries, specialising in Sports & Entertainment.
Yemi has also featured in BBC One's Homes Under the Hammer, showing his property development skills in his spare time.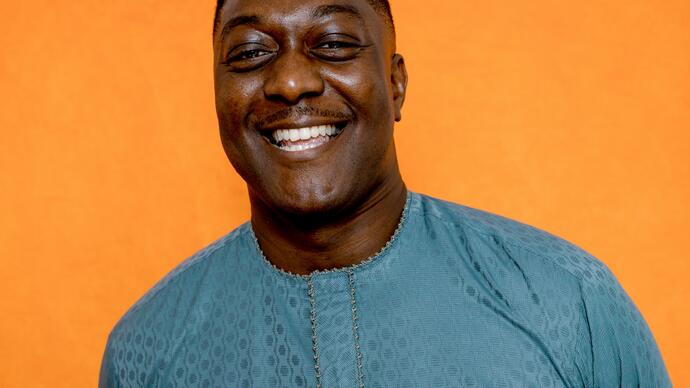 Rest Assured in 2022 celebrates Yemi Ajala
"What keeps me rest assured is seeing people win. It's a joy knowing that our clients are winning financially, resulting from wise decision-making."

- Yemi Ajala
Fikayo Adebajo
Fikayo Adebajo
Photographer and Visual Artist
Fikayo Adebajo is a 22-year-old Nigerian photographer and visual artist based in London. Her work is grounded in traditions of decoloniality, Black feminism and alternative forms of knowledge production. In particular, the Yoruba world sense is a guiding principle in her theory and practice.
Working across fine art, documentary and editorial, Adebajo is influenced by the need to create new visual languages of representation to depict the full spectrum of the Black experience. Her work presents a methodology for finding joy in seeing and being seen, moving slowly, being uncertain and sharing space. Highlights of past exhibitions include: "Re:Repair, Barbican Centre (2022)"; "Regenerate, Barbican Centre (2021)", "Where is South", Tate Modern (2019)", "New World (Dis)orders, London School of Economics (2019).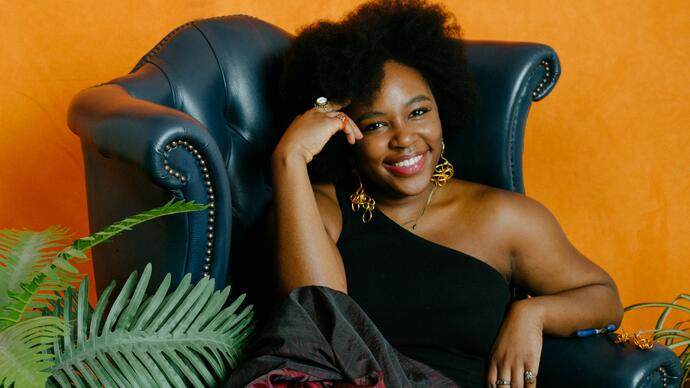 Rest Assured in 2022 celebrates Fikayo Adebajo
"What keeps me rest assured is the blessing of being surrounded by people who make me feel seen and understood - in essence, loving and being loved!"

- Fikayo Adebajo
Swarzy Macaly
Swarzy Macaly
Founder and Curator of TOO MUCH SOURCE
Swarzy Macaly is a radio presenter at BBC Radio 1XTRA. She presents the Weekend Breakfast Show every Saturday morning from 7-10am.
Swarzy was awarded Best Presenter at the UK Entertainment Awards in 2021. In 2020, she was nominated for the Duke and Duchess's list of Black History Month Next Generation Trailblazers by Lord Simon Woolley, who commended her for her charisma, passion for young people and social justice, and her work with the youth-led charity My Life My Say.
Photographer
Feruza Afewerki 
Creative Storyteller and Photographer
Feruza Afewerki is a London based creative storyteller, photographer and the founder of Gold & Ashes – a collection of photo stories at the heart of Grenfell. 
No matter the medium, Feruza's creative approach is to build connections between people and points of common ground that we all share. Feruza was commissioned to capture the joy and celebration of these Black British creatives for this year's exhibition, Too Much Source: Rest Assured in 2022.