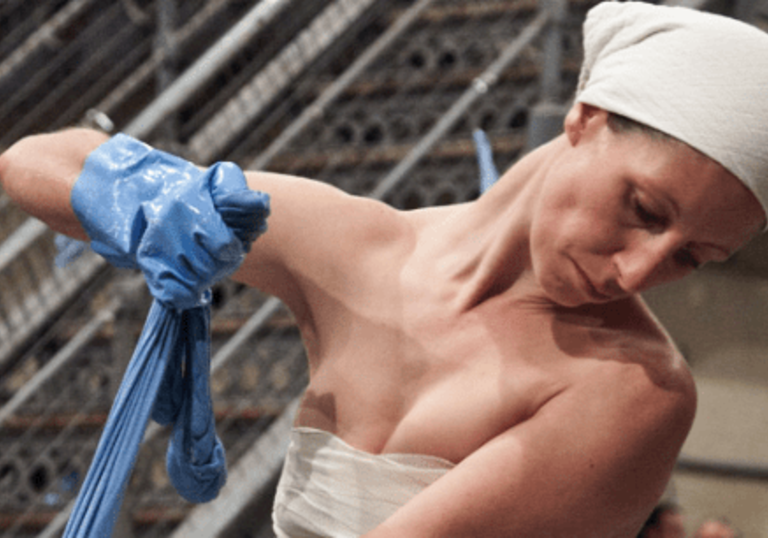 Helena Walsh, Invisible Stains at Right Here, Right Now (2010), Kilmainham Gaol Dublin (Photographer: Joseph Carr)
About Helena Walsh
Helena Walsh is an Irish live artist. She has been based in London since 2003. Helena graduated from Limerick School of Art and Design with a BA in Fine Art in 2001 and completed her Masters in Fine Art at Chelsea College of Art and Design in 2004. In 2013 she completed a practice-based PhD in the Department of Drama, Queen Mary University of London focussed on Live Art and femininity in post-conflict Ireland. Walsh has performed widely in galleries, museums, theatres and non-traditional art spaces, including public sites. Within her live art practice, Helena works with time, liveness and the materiality of the body; both within constructed installation environments and site-specific spaces.
Drawing on her lived and embodied experience through her work Helena seeks to positively violate the systems, borders and rules that construct gender. Her practice explores the relations between gender, national identity and cultural histories. From her diasporic vantage point as an Irish woman living in Britain, Helena has examined histories of colonialism and migration in relation to issues of gender and labour, alongside the radical activism of Irish feminist diaspora. Walsh is a founder member of the pro-choice feminist performance group Speaking of IMELDA (Ireland Making England the Legal Destination for Abortion). Between 2013 and 2018 she played a key role in sustaining the collective collaborations of Speaking of IMELDA, contributing to the development of the group's public performances, publications
and media campaigns. Walsh regularly presents and writes on feminist performance practice. She has published in collections focussed on live art and the performing arts in an Irish context. She is a lecturer at the University of the Arts, London.
Join Young Barbican
Be there when it happens with discounted access to unmissable art and entertainment as well as events and creative opportunities for 14-25 year olds