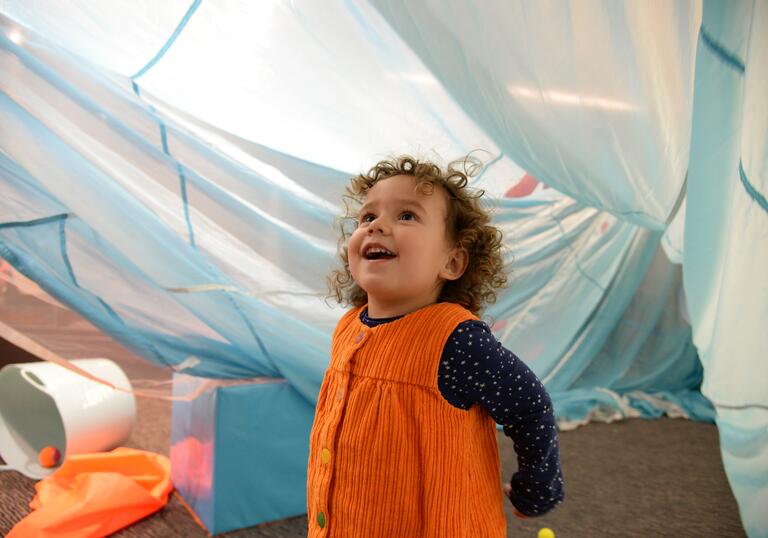 Families at the Barbican
Accessible, fun and inspiring activities for the whole family to enjoy across the Barbican
Booking information
Booking is essential and spaces are limited. You can book onto hourly slots throughout the day and a booking must be made for each family member attending (parent/ guardian & children). Tickets are free but please consider making a donation when you book to ensure we can keep it accessible to everyone.
All spaces are subject to availability and you will be notified of any dates that are cancelled.
Tickets are released one week in advance online on Wednesdays at 10am.
If you're unable to attend, please contact [email protected] to return your free tickets. We will release any tickets that are not collected 15 minutes after the booking time.
Opening hours
Dates:
Fri 3 Dec
Sat 4 Dec
Wed 8 Dec (No 10am slots)
Thu 9 Dec (Morning slots only)
Fri 10 Dec
Wed 15 Dec (No 10am slots)
Thu 16 Dec (Morning slots only)
Fri 17 Dec
Mon 20 Dec
Tue 21 Dec
Wed 22 Dec
Dates to be confirmed, please check back here for more details.
Times:
10am – 11am
11am – 12noon
12noon – 1pm
1pm – 2pm space closed
2pm – 3pm
3pm – 4pm
Donate today
Squish Space is free. Please help us keep our programme and learning activities accessible to everyone by making a donation today.