Barbican OpenFest
A weekend of inspiring art and entertainment
We welcome you to a packed weekend of everything we do best, from art exhibitions, music and dance, to open rehearsals, showcases and workshops in and around the Centre.
A Culture Mile event
Barbican OpenFest is a Culture Mile event in collaboration with The City of London Corporation, Guildhall School of Music & Drama, London Symphony Orchestra and the Museum of London. Culture Mile is a destination for culture and creativity in the heart of London's financial district, bringing the area to life with imaginative collaborations and exciting events.
Tunnel Visions: Array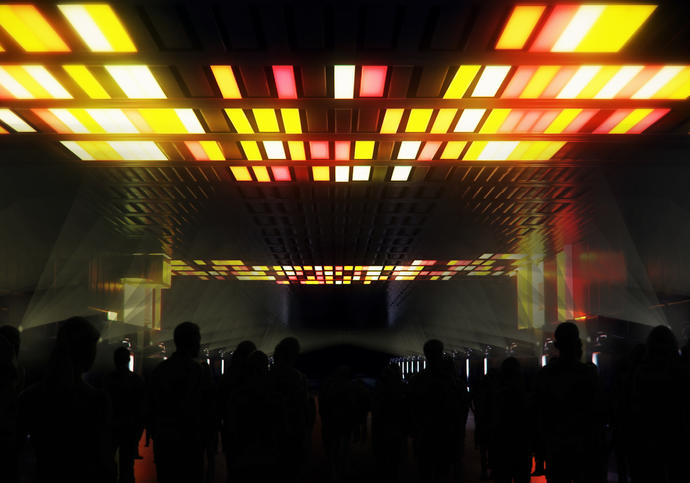 In the Beech Street tunnel
All advanced tickets for sessions to see Tunnel Visions: Array have sold out.
Some more free tickets for each session will be released for booking on the event page at 9am on the day (Saturday or Sunday).
Full info
Find out what's going on and where
Barbican OpenFest is taking over the Centre and surrounding venues, and a great place to get orientated and start your day is Level G of the Barbican Centre. From here you can find out what's going on, book activities and events and enjoy pop up performances, free exhibitions and talks.
Explore elsewhere in the Barbican Centre as well as the surrounding venues
Join Young Barbican
Be there when it happens with discounted access to unmissable art and entertainment as well as events and creative opportunities for 14-25 year olds
Cinema 2 & 3, Beech Street
Guildhall School, Milton Court and Silk Street Music Hall
Whilst the majority of Barbican OpenFest is free, some of the activities, events and shows are only available if you buy a ticket. Details of whether an event is free or not can be found on each event's webpage. Further information on free and paid events you need to book in advance can be found here.
 
Most of the activities and events at Barbican OpenFest are drop in and free however, there are some events that you either need to book for free or book and pay for. The details of these can be found on each event page, or you can explore bookable events, both free and paid, here.
 
Barbican OpenFest is taking place across Culture Mile in the City of London and various venues. Each activity will tell you where it is being held on the event page you find it but a good place to start is Level G of the Barbican. Directions to which you can find here. From here, you can find out about everything going on at Barbican OpenFest. 
Every effort is being made for Barbican OpenFest to be an accessible event for everyone, please contact 020 7382 7348 to discuss your accessibility needs.
Yes, there will be designated buggy park throughout the Barbican during the Barbican OpenFest weekend. Please keep your valuables (and your children!) with you. Cloakrooms will also be open for bags and coats.