Tunnel Visions: Array
A Culture Mile Installation
Tunnel Visions: Array is free, but you must book a ticket in advance for a specific time slot.
Some more free tickets for each session on Sunday will be released for booking on this webpage at 9am on Sunday.
Saturday day tickets are now sold out.
Tickets are limited to 4 per person.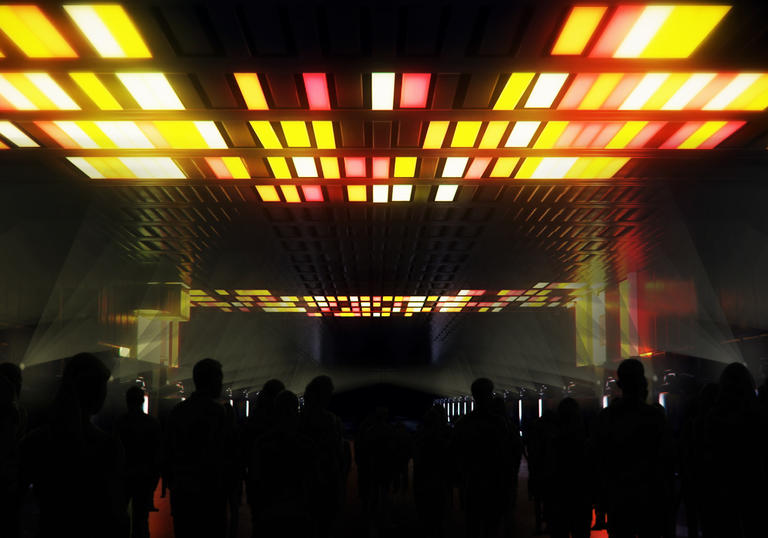 We transform one of the City of London's busiest streets into a free, spectacular light and sound installation for the weekend – one that lets you journey through music.
With the Beech Street tunnel closed to traffic and turned into a huge blank canvas, Array uses digital projections to transform the tunnel into a stunning visual realisation of a piece of music. Unfolding over the course of 30 minutes, Esa-Pekka Salonen's Karawane, recorded by the BBC Symphony Orchestra and Chorus, provides the glistening soundtrack to your journey, as vivid colours and images flicker across the walls in response to the music, constantly re-shaping the tunnel's interior around you as you move through the space.
Created by the Tony Award-winning 59 Productions, the team behind artistic commissions at Edinburgh Festival, Sydney Opera House and the London 2012 Olympics, this is the latest in a series of installations within Culture Mile that uses public spaces in unusual and exciting ways.
Created by 59 Productions. Produced by the Barbican and 59 Productions. Project partner the BBC Symphony Orchestra and Chorus. Music by Esa-Pekka Salonen
Culture Mile is a destination for culture and creativity in the heart of London's financial district. The City of London Corporation together with the Barbican, Guildhall School of Music & Drama, London Symphony Orchestra and the Museum of London, will be bringing the area to life with imaginative collaborations and exciting events.