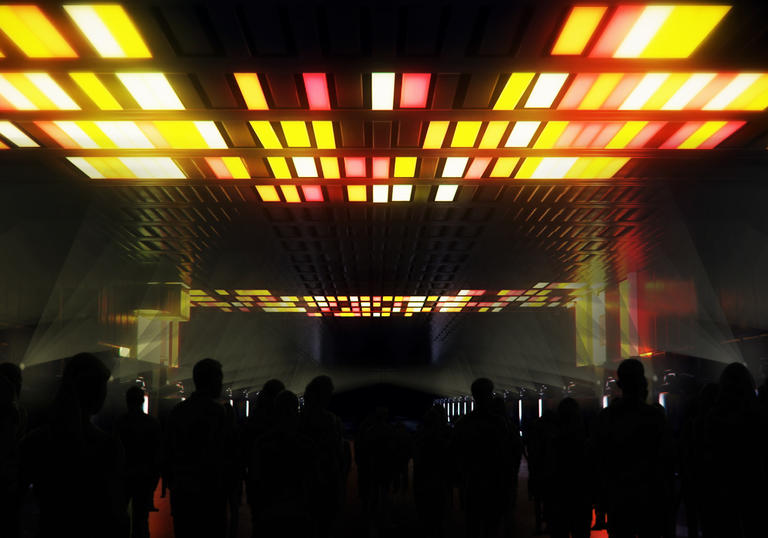 FAQs
What is Tunnel Visions: Array?
Tunnel Visions: Array is a light and sound performance lasting approximately 30 minutes.  The production contains periods of flashing lights and strobe-like effects.
At the end of the performance you will be directed to the exit points by our team of Barbican Hosts.  Routes will be signposted to Barbican Station and Moorgate Station/Barbican Centre.  Please respect the residential nature of the area and leave quietly.
Please also note that official photography and filming may take place, and that personal photography is permitted (without flash, and tripods are not allowed). 
Because of the nature of the performance, this might not be suitable for children under the ages of 6.
How do I get in?
You can enter the installation from either end of Beech Street tunnel, with an entrance across the road from the Barbican Underground station, and one from Silk Street. For more information about getting to the area, click here.
What can I bring?
No food or drink (except bottled water – no glass will be allowed into the installation) 
No bikes/scooters (the nearest cycle racks available are on Silk Street)
Only assistance dogs allowed
Bag searches will be in place at all entrances.  Please ensure you do not bring large bags to the event; any large items (over size A4) must be checked in to the free Barbican Centre Cloakroom, on level -1.
Do I need to print out my e-ticket?
When you book, you will be given the option to select e-tickets. If you select this option, you will need to print these off or ensure that you can display them on your phone or tablet – as you will be required to show these on arrival. As the lead booker, please also bring ID with you to present with your ticket(s).
If you have lost your physical or e-tickets, please contact our Box Office team who can arrange for these to be re-sent. Please note that you will not be allowed entry without a ticket.
When should I arrive?
Each performance will start on the hour, and last approximately 30 minutes. Please make sure to arrive at least 30 minutes before your slot to ensure enough time for ticket and bag-checks. 
When you arrive you will be placed in a queuing area. These will open 45 minutes before the performance. Part of these queuing areas will be outside the tunnel, so please prepare for all weather eventualities. There will also be no seating provided in these queues, so should you need extra assistance during your visit to Tunnel Visions you can speak to any Barbican staff who can facilitate.
Please be aware that we cannot guarantee latercomers entry.
Access requirements?
The Beech Street tunnel has level access, and changes in level (for example between the pavement and the roadway) will be marked and, where appropriate, ramps will be provided.
Individual in-ear monitors are available for anyone who is hearing impaired. Please contact the box office on 020 7638 8891 or email access@barbican.org.uk to reserve a set.
If you have any specific Access requirements, please see the Accessibility Information Page on the Barbican website (here) or contact our Box Office on 0845 120 7511 or email access@barbican.org.uk.