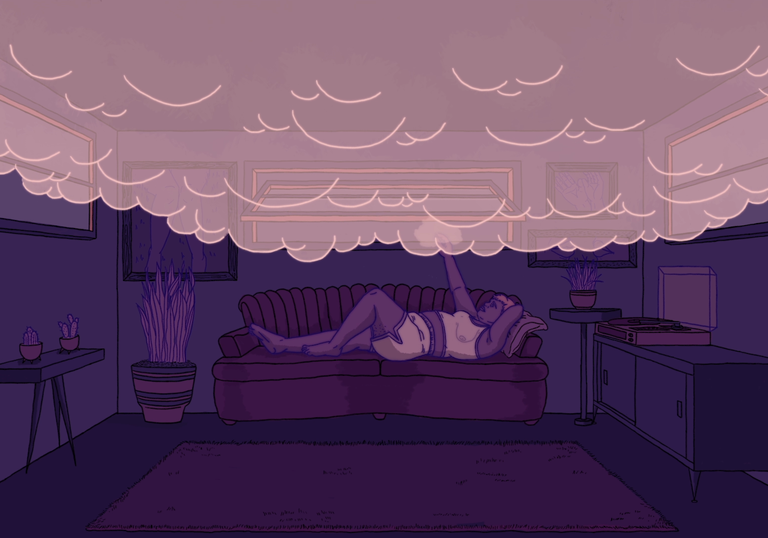 Booking fees
60p booking fee per online transaction, 70p by phone.
No fee when tickets are booked in person.
Booking fees are per transaction and not per ticket. If your booking contains several events the highest booking fee will apply. Booking fees do not currently apply to bookings for exhibitions in the Art Gallery. The booking fee may be reduced on certain events.
Simbiosis Carnal
A poetic journey through the history of desire and sexuality where the female pleasure, long ignored and repressed, takes pride of place.
Belgium 2017 Dir Rocio Alvarez 10min
Crying and Wanking
A woman chews over the end of a relationship: a film about sex, shame and spending too much time indoors.
UK 2002 Dir Alys Scott Hawkins 6min
The Hat
A young woman works as an exotic dancer in a bar. She recalls a painful incident from her childhood bringing back painful memories.
Canada 1999 Dir Michele Cournèyer 6min
how to make a ghost
The importance of remembering the things that shape us, especially painful memories we're told we should forget.
US 2018 Dir Gabriela Escovar 2min
What She Wants
A woman travelling on the underground is be-devilled with images of desire. 
UK 1994 Dir Ruth Lingford 5min
Vanilla Whip
Four people with different approaches to BDSM and visions of themselves. In this world anonymity meets self-awareness and safety confronts riding on the edge.
Poland 2016 Dir Bogna Kowalczyk 16min
Barbeque
A visceral journey about coping with post-traumatic stress disorder, exploring notions of shame and feelings of disembodiment.
UK 2017 Dir Jenny Jokela 6min
Egg
A woman is locked in her home with an egg, which she is both attracted to and scared of. She eats the egg then repents. She kills it. She lets the egg die of hunger.
France 2018 Dir Martina Scarpelli 11min
Green Men, Yellow Woman
Men might not be from Mars, but the pathetic or insincere attentions of these little green men offer nothing to this yellow woman. Even Clark Gable doesn't live up to his image.
UK 1973 Dir Thalma Goldman Cohen 4min
Tales from Pussy Willow: Coming Into the Station
An eventful train journey arises in Pussy Willow. A resident needs assistance to help his girlfriend - luckily his fellow train passengers are at hand to help.
UK 2017 Dir Kate Jessop 3min
Intimity
As she is showering, dressing, putting on her make-up, a woman bares her soul. She speaks of her fears and the process of accepting – even loving – herself.
Switzerland 2017 Dir Elodie Dermange 5min
Chromosome Sweetheart
An ex-couple in a café, a girl sucking on her girlfriend's hair, a running woman, a little girl walking along the river. In this world, there are as many forms of love as there are people.
Japan 2017 Dir Hanomi Yano 5min
Membership for film-lovers
Immerse yourself in movie magic with 20% off cinema tickets for you and a guest, Members' Sunday Screenings and exclusive members' events
About the speakers
Abigail Addison is a Producer, and is a Director of animation agency Animate Projects. She has produced many experimental moving image projects, including two slates of shorts for Channel 4's Random Acts, and Silent Signal, an ambitious touring art & science project. She also co-produced Chris Shepherd's multi award winning short, Johnno's Dead, and his latest film, Brexicuted. Abigail sits on the Boards of Underwire Festival and Animation Alliance UK. abigailaddison.com
Kate Jessop is an award winning animation filmmaker whose work spans across animated shorts, promos and artists' film and video. She has exhibited extensively internationally, being selected for numerous festivals and touring programmes, including The Best of Birds Eye View, Raindance and Tricky Women. She is the founder of Animation Girl Band and creator of comedy web series 'Tales from Pussy Willow'. katejessop.co.uk
Jenny Jokela is a Finnish-Swedish animation director with a background in fashion. Based in London since 2009, Jenny predominately animates by hand, painting with acrylics. Jenny's film are highly visceral and emotional, often exploring themes of shame and guilt within the scope of female sexuality.
 jennyjokela.com
Thalma Goldman Cohen is an award winning artist from Israel, who lives in London. She came to Britain to study art and animation, graduating from the London Film School and Central Saint Martins in animation in the 1970s. Throughout the seventies she released a series of cartoons brimming with vitality that offered unconventional and challenging perspectives on sex and gender.
Jez Stewart is a curator at the BFI National Archive, responsible for the animation collection. His research into the history of animation in Britain has produced a number of programme outcomes in 2018, in cinemas and online. He often points to such things on twitter @stewjeez.