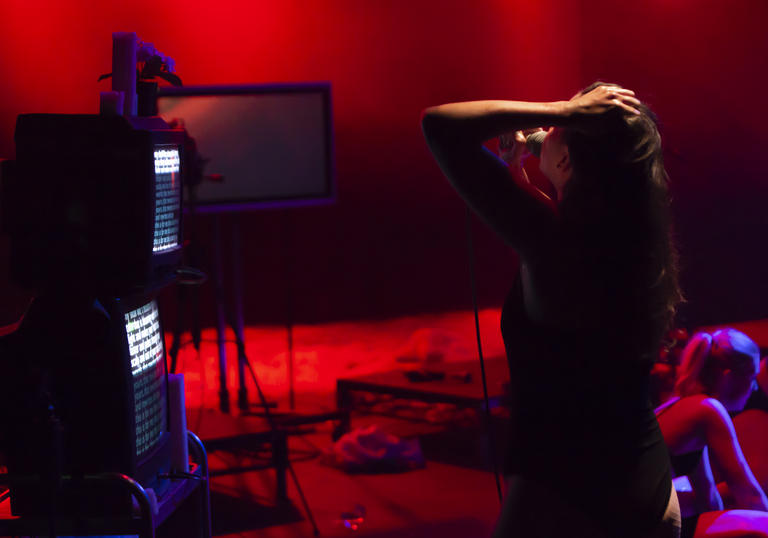 2021 Alumni
In 2021 we worked with six different artists and collectives listed below.
Nicole places investigation at the centre point of practice; within which are diverse, interdisciplinary processes that have motivated a vibrant repertoire of engagements. In 2019 Nicole was selected by the British Council to attend the UK in Japan programme of arts and cultural activities. Nicole's artistic preoccupations parallel her work in D/deaf advocacy, in 2015 the Royal Ballet awarded Nicole a benevolent bursary to begin five-years of British Sign Language (BSL) education, that will culminate in 2021 with an interpreter qualification. Nicole also holds a specialist interest in East Asian Buddhist thought and this Summer, completed an MA in Japanese Studies, from the School of African and Asian Studies, (SOAS) University of London.
Peyvand is an interdisciplinary Performer & Performance maker. She makes unpredictable, punchy theatre that seeks to activate an audience, prompting them to consider the world around them and their place within it.
Recent credits include: Hachette x Tamasha writers 2020, artsdepot Artists residency 2020, DUAL دوگانه - Vault Festival 2020 (Show of the week award), Rich Kids: A History of Shopping Malls in Tehran (Fringe First award 2019), Pirates (Reggie Yates/ Hillbilly Films currently in post-production), Starting Blocks residency Camden People's Theatre 2019, Soho Writers Lab 2019
Malik Nashad Sharpe (b. 1992, New York) is a choreographer, dancer, and movement director whose work looks at the production of ontology, affect, and subjectivity from the perspective of marginalisation. Often working with the undercurrent, underneath, subversive, and ulterior aspects of what it means to be both a human, and dehumanised, their work has often topically explored themes around sexual assault, melancholia and melancholic subjectivity, nationalism, authoritarianism, the spectacle around Black death, figuring solidarity across borders and identity markers, the protestation latent in joyousness, Tupac's depression, amongst many other topics. Creating under their prolific alias marikiscrycrycry, their performance practice has a cult following in London's underground performance scene.
Julene Robinson is multiple award nominated & winning theatre maker, multidisciplinary performance artist and scientist based in the UK. Robinson completed an undergraduate degree in Pure and Environmental Chemistry at the University of the West Indies. During Robinson's academic career she was able to harness the transformative power of art and bear reverence to the responsibility that comes with practicing it. She then completed a MA in Theatre at Rose Bruford College. Her work focuses on identity, gender, heritage, science and mythmaking. She interrogates through research and filters these digestions through the body in the medium of theatre and live arts.
We are pink suits, a Queer Feminist Punk Rock & Rage duo based in Margate, UK. Formed in 2017, pink suits make loud aggressive political punk music as well as dance, physical theatre, film and art. Our work is an exploration of sexuality, fantasy, mental health, politics, activism and is a resistance of binary gender expectations, questioning how voices and bodies can be used as a form of protest.
London based Writer and Actor Yolanda Mercy's first play was On the Edge of Me presented at Soho Theatre where she is currently on attachment (as a Soho Six). Yolanda is a published author with Oberon Books for Quarter Life Crisis. Quarter Life Crisis won the Underbelly Untapped award, toured to venues such as Underbelly and soho Theatre and was revived this year at The Bridge Theatre.
Support new commissions by artists at the Barbican
Invest in artists and help us create ground-breaking new commissions across the arts by donating to the Barbican Fund
2020 Alumni
In 2020 we worked with six different artists and collectives listed below.
Paula Varjack and Chuck Blue Lowry met working on an intergenerational women' s project for Magic Me. They discovered their practices were inverses of each other; Chuck training in performance and then film, Paula training in film and then moving into performance. Working together again on a women's participation project for Cardboard Citizens and Clean Break, they became keen to bring together their video and performance experience with their work in participation. They have both spent the same amount of their lives in London and lived in different parts of Europe. They both have British fathers and foreign mothers but identify with both cultures. This sparked an ongoing conversation between them about their relationship to being "foreign"?
Louise Orwin is an award-winning writer and performance maker. She makes research-driven theatre projects about subjects that are close to home, hard to get your head around, and need to be spoken about. Often this means making work about what it means to identify as female today, in a fast-moving, media-saturated world that prizes patriarchal, heteronormative narratives. Louise likes to make work that is provocative and brash, intimate, awkward at times, and generally filled with a heady dose of pop culture. Her work has toured all over the UK and internationally, receiving global critical acclaim. Past work includes: viral docu-theatre Pretty Ugly, which was featured national and international press all over the world: and award-winning A Girl and A Gun (Vice, Guardian, BBC). Louise received the Flying Solo Award in 2015, was a finalist for the Oxford Samuel Beckett Theatre Trust in 2018, and was part of the British Council Edinburgh Showcase in 2019.
Nouveau Riché is a multi-award-winning arts production company and an ever-expanding creative movement. Discovering, nurturing and producing unique stories from all walks of life. Nouveau Riché make culturally inclusive work that is educational and entertaining, across all art forms.
Claire Gaydon is a theatre-maker and performer creating work in the East Midlands and London. Described as 'a talent to keep an eye on' (Gareth Vile, LIST), she specialises in creating research-driven, multi-disciplinary theatre blending social experiment, live performance and multimedia. Recurring themes underlying her work are new technologies, social media and sex. Claire is one of Camden People's Theatre's 2019 Starting Blocks Artists, where she began development on her new show Piece of Me. Her current show See-Through ('Ingenious and thought-provoking' - Lyn Gardner) is touring UK theatres Autumn 2019 & Spring 2020. 
The PappyShow are a playful physical and visual ensemble theatre company. Formed in January 2013 by Kane Husbands in order to provide a space for actors and non-actors to train in physical theatre, they use exercise and training to devise and create work.  Community cohesion and working together is key to the company's ensemble ethos.  With their performing company, they are currently touring three pieces; 'BOYS', 'GIRLS' and 'CARE'. 
Rachel Mars is a multi-award-winning performance maker with a background in theatre, live art and comedy. Mars' Our Carnal Hearts won A Total Theatre Award at the British Council Showcase at the Edinburgh Fringe.  With nat tarrab as mars.tarrab she was winner of the 2017 Oxford Samuel Beckett Theatre Trust Award and presented ROLLER in the Pit Theatre. Recent commissions have included Leeds Playhouse, The Junction, Cambridge; Royal Court Tottenham; Fuel Theatre and Ovalhouse. She is a fellow at the Birkbeck Centre of Contemporary Theatre and a regular contributor to 'Pause for Thought' on BBC Radio 2.
Supported by