Press room
World premiere of new performance PRIME_TIME by award-winning company IN BED WITH MY BROTHER takes aim at web giant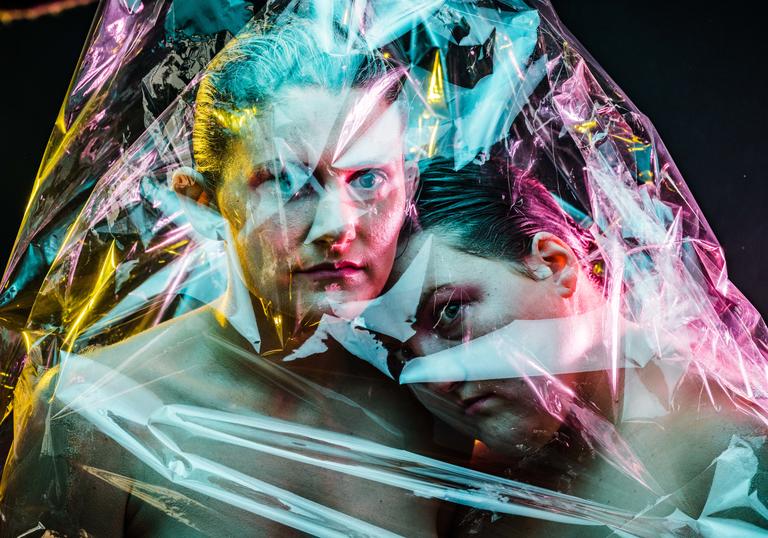 Winners of the 2020 Oxford Samuel Beckett Theatre Trust Award, IN BED WITH MY BROTHER perform the world premiere of PRIME_TIME, a Barbican co-production, in The Pit this autumn. Taking aim at Amazon's founder and massive phallic rocket owner, Jeff Bezos, PRIME_TIME is a riotous reassessment of the web giant and the power he holds over our planet and beyond. Tickets go on sale to all Barbican Members today and on general sale on Thursday 16 September 2021.
One click. Another item ordered. An estimated delivery slot pings up on a screen. It's time to take Jeff down but time is running out. PRIME_TIME prods at the human and ecological cost of giving so much power to one man. What would a post-Bezos future look like if IN BED WITH MY BROTHER could have things their way?
PRIME_TIME is inspired by cyberfeminists and ancient Amazonian warriors who went to battle with men. The show is soundtracked by the music of SOPHIE.
IN BED WITH MY BROTHER are Nora Alexander, Dora Lynn and Kat Cory. They're three mates who also make shows together. They make performance that is anarchic, high energy and political, in which anything can and does happen. They mainly like to provoke a reaction from the audience, usually bafflement. They have toured the award-winning show, WE ARE IAN, up and down the country and across the world, to festivals in Australia, Hong Kong and Prague. They won the Total Theatre Award for Innovation, Experimentation and Playing with Form for their show, TRICKY SECOND ALBUM.
The Oxford Samuel Beckett Theatre Trust Award (OSBTTA) supports the development of emerging practitioners engaged in bold, challenging and innovative performance. Since 2007, the Barbican and the OSBTTA have worked together annually to stage a new production, based on a prize-winning proposal, for The Pit or a site-specific location. Previous winners include SUPERFAN, Alan Fielden with JAMS, Mars.tarrab, Nigel Barrett and Louise Mari, Dickie Beau, Davy & Kristin McGuire and You Me Bum Bum Train.
Notes to Editors
*PRIME_TIME was originally due to be presented in 2020, but was delayed due to the pandemic.
Listings information
PRIME_TIME
IN BED WITH MY BROTHER
UK
Created by Nora Alexander, Dora Lynn and Kat Cory
Produced by IN BED WITH MY BROTHER
Assistant Producer Roxanne Carney
Production Manager Helen Mugridge
Design (Costume and Set) by Katherina Radeva
Sound Design by Ben Hudson
Video Design by IN BED WITH MY BROTHER
Lighting Design by Sorcha Stott-Strzala
Dramaturgy by Nigel Barrett and Louise Mari
Performed by Dora Lynn and Kat Cory
Wed 27 Oct–Sat 6 Nov 2021 (10 performances)
The Pit
7.45pm
£18 including booking fee; £5 Young Barbican
Approximately 1 hour 10 mins/no interval
16+ (contains strong language, descriptions of violence and full frontal nudity)
Press performance: Fri 29 Oct 2021, 7.45pm
Relaxed performance (non-adjusted performance): Wed 3 Nov 2021, 7.45pm
BSL-integrated performance: Thu 4 Nov 2021, 7.45pm
Presented and co-produced by the Barbican
Freddie Todd Fordham, Communications Officer for Theatre and Dance: 020 7382 7399 or [email protected]
Dates: Wednesday 27 October–Saturday 6 November 2021
Venue: The Pit
Press performance: Friday 29 October 2021, 7.45pm