Press room
Toyin Ojih Odutola: A Countervailing Theory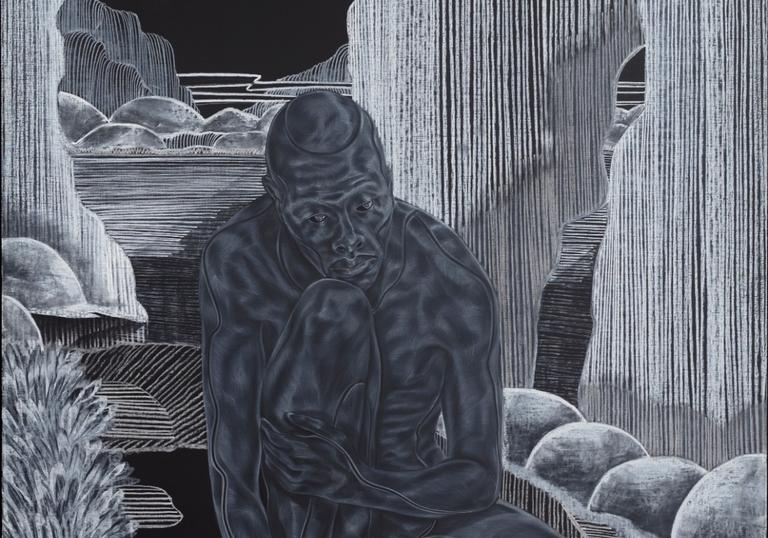 #ToyinOjihOdutola
Opening spring 2020, Barbican Art Gallery presents the first-ever UK commission by Nigerian-American artist Toyin Ojih Odutola, a site-specific installation for The Curve. An epic cycle of new work unfurls across the 90-metre long gallery, exploring an imagined ancient myth conceived by the artist. Renowned conceptual sound artist Peter Adjaye has created an immersive soundscape in response to Odutola's series, which evolves in dialogue with the narrative. Toyin Ojih Odutola: A Countervailing Theory opens in The Curve on Thursday 26 March 2020.
Working exclusively with drawing materials, including pencil, pastel, ballpoint pen and charcoal, Ojih Odutola's works often take the form of monumental portraits, which retain a remarkable intimacy despite their scale. She approaches the process of drawing as an investigative practice, through which to explore an intense engagement with mark-making and its potential for meaning. Ojih Odutola recognises that the pen is 'a writing tool first', playing with the idea that drawing can be a form of storytelling. She proposes speculative fictions through her practice, inviting the viewer to enter her vision of an uncannily familiar, yet fantastical world. Working akin to an author or poet, she often spends months creating extensive imaginary narratives, which play out through a series of works to suggest a structure of episodes or chapters. Drawing on an eclectic range of references, from ancient history to popular culture to contemporary politics, Ojih Odutola encourages the viewer to piece together the fragments of the stories that she presents.
Toyin Ojih Odutola said: 'Walking into Barbican Centre's The Curve for the first time was an enchanting experience of having a space unfold as you travel through it, not quite knowing what will come around the corner. The feeling of possibility it provides to create and exhibit a story one can meander through in real-time gifted so much promise in how to engage with an audience. The opportunity to share a new project with the Barbican in London is a huge honour of which I am most excited to partake and I cannot wait to share that feeling of enchantment with every viewer who visits. I hope in the process of experiencing A Countervailing Theory, one finds new ways of engaging with The Curve space, with eclectic forms of storytelling, and all the potentials art-making gifts us.'
Ojih Odutola's previous work has addressed the malleable nature of identity and the role of place in shaping this concept throughout history. She has explored the socio-political construct of skin colour to question what is understood by 'blackness', scrutinising this notion through the lens of aesthetic, historical, political, conceptual and emotional principles. Her works manifest a persistent attention to the texture of skin, achieving extraordinary luminous effects; the topography of the flesh conveys the nuanced histories of her subjects. Ojih Odutola's meticulously executed works subvert the grand tradition of portraiture and painting, deftly elevating the medium of drawing.
Jane Alison, Head of Visual Arts, Barbican said: 'I am delighted that we are commissioning Toyin Ojih Odutola for her first-ever UK exhibition. The Curve continues programming the most exciting contemporary artists, and Ojih Odutola's engagement with the space as a canvas for her compelling narratives, told through different modes of drawing, will undoubtedly be a revelatory experience for the viewer.'
Toyin Ojih Odutola was born in 1985 in Ile-Ife, Nigeria, and currently lives and works in New York. Ojih Odutola has exhibited at various institutions, including The Drawing Center, New York (2018—19); Whitney Museum of American Art, New York (2017—18); Brooklyn Museum, New York (2016); Contemporary Art Museum St. Louis (2015); Studio Museum Harlem, New York (2015, 2012); Aldrich Contemporary Art Museum, Ridgefield (2013); and Menil Collection, Houston, (2012). Her work is in major permanent collections, including the Museum of Modern Art, New York; Whitney Museum of American Art, New York, The Metropolitan Museum of Art, New York; Birmingham Museum of Art; Baltimore Museum of Art; New Orleans Museum of Art; Philadelphia Museum of Art; Princeton University Art Museum, New Jersey; Spencer Museum of Art; Honolulu Museum of Art; and the National Museum of African Art (Smithsonian, Washington, DC). She was featured in Manifesta in 2018, winner of the Rees Visionary Award in 2018 and shortlisted for the Pinchuk Foundation Future Generation Prize in 2019. Ojih Odutola earned her BA from the University of Alabama in Huntsville and her MFA from California College of the Arts in San Francisco.
Peter Adjaye aka AJ Kwame is a contemporary conceptual sound artist, specialising in cross-disciplinary collaborations. He is a musicologist, composer, DJ-producer, musician with a PhD in Mathematics. His unique set of skills and vast experience have enabled him to work closely with his brother, the awardwinning architect, Sir David Adjaye OBE, for over 15 years. This work has culminated in the publication of Dialogues on MusicforArchitecture Records in association with Vinyl Factory Records. Adjaye has exhibited his sound installations in venues including Tate Modern, The Design Museum, Art Institute of Chicago, Somerset House, Studio Museum Harlem, Whitechapel Gallery, Albion Gallery, The Science Museum and Nobel Institute and has given talks at MAXXI - National Museum of the 21st Century Arts, The Architecture Foundation, Design Miami, Rough Trade and Central St Martins, among others.
Supported by Jack Shainman Gallery and using public funding from Arts Council England
Toyin Ojih Odutola: A Countervailing Theory
The Curve, Barbican Centre
26 March – 26 July 2020
Media View: Wednesday 25 March 2020, 10am – 1pm
Free Admission
#ToyinOjihOdutola