Press room
Samuel Beckett's Cascando, reimagined as promenade performance along Barbican Highwalks, by Ireland's Pan Pan Theatre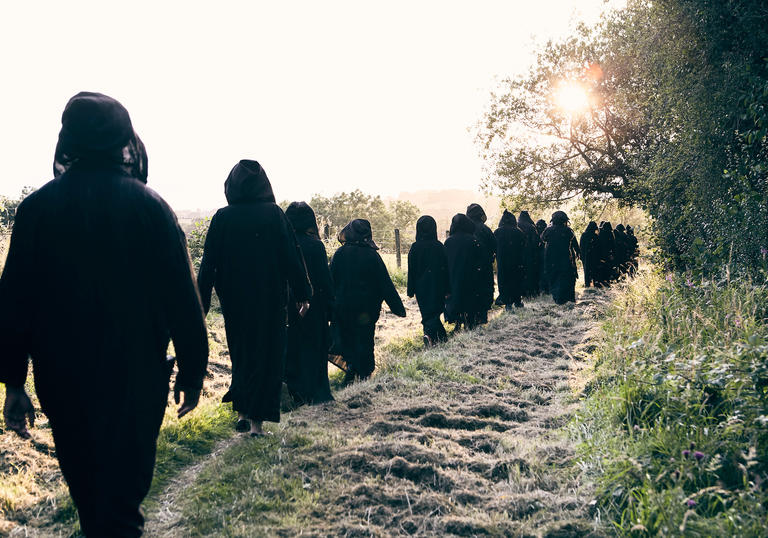 Cascando
by Samuel Beckett
Pan Pan Theatre
Samuel Beckett's radio play Cascando, which was first broadcast in 1963, is a dialogue between music and words, exploring the Irish writer's obsession with the distinction between story and memory. This summer, Pan Pan Theatre present Cascando as a promenade production along the High Walks around the Barbican Estate, taking in the ancient and modern Cityscape. Tickets for Cascando go sale to Barbican Principle and Premier Patrons today, to Barbican Members Plus on Thursday 27 May, to Barbican Members on Friday 28 May and on general sale on Monday 31 May.
The story begins in the month of May, a time of re-awakening, with the intriguing character, Opener, setting the scene. Opener's brisk introduction commands two other presences – the riveting yet broken narration of Voice, a man hopelessly trying to finish a story, and Music, a wave of crashing electronic strings in Jimmy Eadie's atmospheric sound design.
The unhurried, purposeful pace of Voice provides the tempo for the audience's progress, as they accompany the curious figures of Cascando into an uncertain future during this rhythmic, immersive and poetic group journey.
Featuring the voices of Irish actors Andrew Bennett as Voice, and Daniel Reardon as Opener, Cascando is an absorbing outdoor experience in which the audience, who are given headphones and dark cloaks to wear over their clothes so all look alike, is part of the spectacle.
Pan Pan Theatre was founded in 1993 by co-artistic directors Aedín Cosgrove and Gavin Quinn. They have created over thirty theatre and performance pieces, touring their work to festivals and venues worldwide including BAM, The Lincoln Centre, The Kennedy Centre, the Barbican, Hau Berlin, NCPA Beijing, and Sydney and Melbourne Festivals, with the support of Culture Ireland. The company have received multiple national and international awards, including the Herald Angel Award at the Edinburgh International Festival 2013. At the Barbican, they presented their hit show, All That Fall, in The Pit in 2015.
ENDS
Notes to editors
The Barbican believes in creating space for people and ideas to connect through its international arts programme, community events and learning activity. To keep its programme accessible to everyone, and to keep investing in the artists it works with, the Barbican needs to raise more than 60% of its income through ticket sales, commercial activities and fundraising every year. Donations can be made here: barbican.org.uk/join-support/support-us/for-individuals/make-a-donation
Listings information
Cascando
by Samuel Beckett
A promenade production by Pan Pan Theatre
Ireland
Directed by Gavin Quinn
Designed by Aedin Cosgrove
Sound design and music by Jimmy Eadie
Dramaturgy by Nick Johnson
Performed by Andrew Bennett and Daniel Reardon
Tue 6–Sun 11 Jul 2021 (18 performances)
6pm on Tue 6 Jul; 2pm, 4pm, 6pm on Wed 7 Jul, Thu 8 Jul; 12pm, 2pm, 4pm and 6pm on Fri 9 and Sat 10 Jul, 12pm, 2pm and 4pm on Sun 11 Jul 2021
Barbican High Walks, promenade performance starts at Theatre Upper Circle Left foyer next to the Barbican Shop on Level G
£15 plus booking fee
Age guidance: 14+
30 mins / no interval
Press performances: Wed 7 Jul 2021, 4pm and 6pm
Presented by the Barbican
Angela Dias, Senior Communications Manager for Barbican Theatre and Dance: 020 7382 7168 or [email protected]
Freddie Todd Fordham, Communications Officer for Barbican Theatre and Dance: 020 7382 7399 or [email protected]
Dates: Tuesday 6–Sunday 11 July 2021
Venue: Barbican High Walks
Press performances: Wednesday 7 July 2021, 4pm and 6pm