Press room
Joe Hisaishi and the Royal Shakespeare Company present the world premiere of Studio Ghibli's My Neighbour Totoro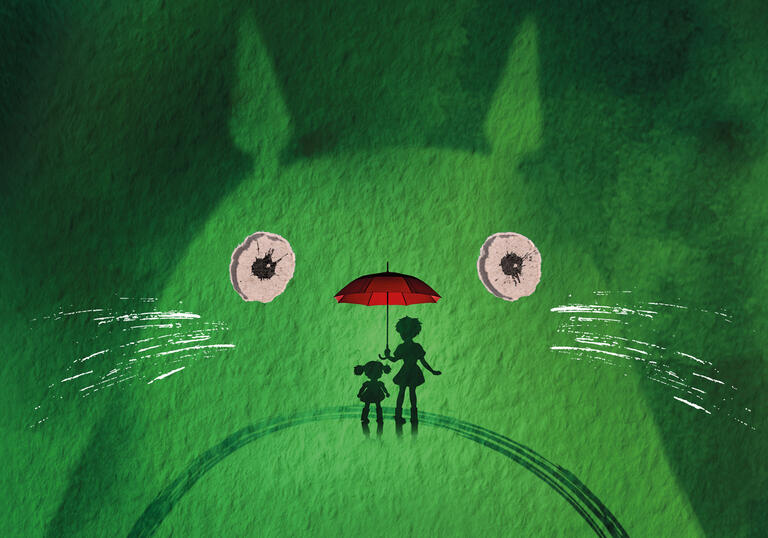 Joe Hisaishi and the Royal Shakespeare Company present the world premiere of Studio Ghibli's My Neighbour Totoro
In collaboration with Improbable and Nippon TV
Adapted for the stage by Tom Morton-Smith from Hayao Miyazaki's feature animation
The world premiere of My Neighbour Totoro, adapted for the stage from the classic Japanese feature animation, will open at London's Barbican for a strictly limited
15-week run from Saturday 8 October 2022
This UK-Japan co-production will feature globally renowned composer Joe Hisaishi's iconic score in a new orchestration by Will Stuart, performed live on stage
Directed by Phelim McDermott and written by Tom Morton-Smith, the stage adaptation will feature production design by Tom Pye, costume design by Kimie Nakano with puppetry created by Basil Twist
Download images and video here.
Today (Wednesday 27 April 2022) Executive Producer Joe Hisaishi and the Royal Shakespeare Company (RSC) announce the world premiere of the stage adaptation of Studio Ghibli's My Neighbour Totoro which will open at the Barbican for a strictly limited run this autumn in collaboration with Improbable and Nippon TV.
Joe Hisaishi, Executive Producer and Original Composer of My Neighbour Totoro, said:
In Japan, many people are passionate about theatre and musicals, but there are no original Japanese shows or musicals performed in the world. "Totoro" is a Japanese work famous throughout the world, and so this stage adaptation could have the potential to reach global audiences. That's what I thought, and I told Mr Miyazaki "I want to see such a show" and he said "yes, only if you are going to do it".
This responsibility is a huge task, but we chose to work with the Royal Shakespeare Company, a globally prestigious company, and with their support we can make it happen. I am delighted that the RSC have become our partner because I feel much in common between the quality of the RSC and Mr. Miyazaki's aesthetic. This is a ground-breaking project. Phelim McDermott is a wonderful director, and his team are enthusiastic, creative and very hardworking. They love Totoro and the sense of anticipation is high.
I was involved with the original animation film, and so I feel strongly about not harming the film. If the story is universal – as I believe it is - it will have a global reach even if it is performed by people from different cultural backgrounds speaking different languages. I was sure of this – and so we have chosen to open outside Japan.  To me this was important. It's vital to keep distance with the film but it's also important to have new encounters. That's why I put my trust in this project.  I believe it will be a great show.
Performed on the Barbican's iconic stage, My Neighbour Totoro will play a 15-week season from Saturday 8 October 2022 – Saturday 21 January 2023 with press night on Tuesday 18 October 2022. Priority booking will open from 10am on Monday 9 May 2022, with public booking opening at 10am on Thursday 19 May 2022.
The celebrated 1988 animated feature film by Hayao Miyazaki (Spirited Away) will be brought to the stage by its original composer Joe Hisaishi in a landmark new adaptation by the RSC (Matilda The Musical) written by playwright Tom Morton-Smith (Oppenheimer). The production is supported by Spanish Luxury House LOEWE, the Headline Sponsor of My Neighbour Totoro, whose connection with Studio Ghibli began in 2021 with the creation of a capsule collection inspired by the original animated film.
Toshio Suzuki, Producer for Studio Ghibli, said:
When I saw a picture of Totoro and a girl at a bus stop drawn by Hayao Miyazaki, I wanted to make a film of it. I felt I could get back the spirit of a child if Mr Miyazaki was to make the film. Set in 1955 in Japanese rural countryside, it is a story from the period when I was a boy. Once finished, the film really allowed the viewers to recapture their childhood spirit.
Then Mr Joe Hisaishi, the composer for the film, said that he wanted to turn the film, "My Neighbour Totoro", into a stage production. Mr Miyazaki was more than happy to oblige if Mr Hisaishi was to lead the project. The partner he chose to work with is the Royal Shakespeare Company, one of the world's most prestigious theatre companies. How will we meet the Totoros? I am very excited and looking forward to it.
Directed by Phelim McDermott with production design by Tom Pye, costumes by Kimie Nakano, lighting by Jessica Hung Han Yun, and movement by You-Ri Yamanaka, the production will feature puppetry created by Basil Twist and music from Joe Hisaishi's iconic score in a new orchestration by Will Stuart, performed live with sound design by Tony Gayle. Associate Director is Ailin Conant. Artwork for the stage adaptation of My Neighbour Totoro includes a hand drawn title by Toshio Suzuki, Producer for Studio Ghibli, who was involved in the planning and production of the original animated film. Casting for the production to be announced soon.
This enchanting coming-of-age story explores the magical fantasy world of childhood and the transformative power of imagination, as it follows one extraordinary summer in the lives of sisters Satsuki and Mei.
In order to be closer to their mother while she recovers from an illness in a rural convalescent hospital, their father moves the family to the countryside. As the girls explore their beautiful new surroundings, Mei encounters magical creatures and the ancient protector of the forest she calls Totoro.
Although Satsuki doesn't believe her little sister at first, they are soon both swept up in exciting adventures with their new neighbours – transported to a long-forgotten realm of spirits, sprites, and natural wonder.
Erica Whyman, RSC Acting Artistic Director, said:
It is a great honour to be working with the iconic Studio Ghibli and such a wonderfully talented and globally renowned creative team. Adapting this deeply loved magical story for the stage is the next chapter in our longstanding commitment to making spectacular and accessible productions that see the world through the eyes of children, most recently, The Magician's Elephant, Wendy & Peter Pan and of course Matilda The Musical. We know that this major new commission will attract a wide range of theatre audiences as well as loyal fans of the original film.
We are delighted to once again be working so closely with our partners at the Barbican.  Its international credentials make it the perfect home for Joe Hisaishi, Phelim McDermott, Tom Pye, Kimie Nakano, Basil Twist and their ingenious team to bring to life this miraculous tale of resilience, and in future years we look forward to bringing Shakespeare back to the Barbican stage. 
Toni Racklin, Head of Theatre and Dance at the Barbican, said:
We're thrilled to be presenting the world premiere of My Neighbour Totoro in the Barbican Theatre. It's an incredibly apt show, as in 2001 Barbican Cinema introduced the hand drawn, animated films of Studio Ghibli to the UK for the first-time, with a season including Hayao Miyazaki's My Neighbour Totoro. Over the past 21 years this film and many Studio Ghibli favourites have delighted audiences of all ages across our cinema programmes.
This ambitious cross-cultural production marks 10 successful years of collaboration between the Barbican and the RSC, and we're immensely proud to be the RSC's home away from home. Over the past decade the RSC's bold and innovative staging of classic plays by Shakespeare and his contemporaries have captivated audiences, and we're excited that in the hands of the RSC this iconic and much-loved animated feature will be transformed into a magical live event.
Notes to Editors
Studio Ghibli
Studio Ghibli was founded in 1985 by animated film directors Isao Takahata and Hayao Miyazaki and has produced twenty-four feature-length films. Most Studio Ghibli films ranked number one at the box office in Japan in the year in which they were released.  
The Studio's SPIRITED AWAY (2001), HOWL'S MOVING CASTLE (2004) and PRINCESS MONONOKE (1997) are among Japan's top 10 grossing films.  Studio Ghibli films have garnered numerous awards and critical acclaim from film critics and animation specialists around the world.  SPIRITED AWAY was awarded the Golden Bear as the Best Feature Film at the 2002 Berlin International Film Festival and won the 2002 Academy Awards for Best Animated Feature Film.  In October 2001, Studio Ghibli, in conjunction with The Tokuma Memorial Cultural Foundation for Animation, founded the Ghibli Museum, Mitaka, designed by Hayao Miyazaki. 
THE WIND RISES (2013), THE TALE OF THE PRINCESS KAGUYA (2013), WHEN MARNIE WAS THERE (2014) and THE RED TURTLE (2016) have earned the studio four consecutive nominations for the Academy Awards for Best Animated Feature Film.  The studio's latest film, EARWIG AND THE WITCH, was an official selection for the 2020 Cannes Film Festival.
 
Improbable  
Improbable are pioneering improvisers, inventive creators, imaginative collaborators, authentic conversation facilitators.
Improbable is led by Artistic Directors Phelim McDermott and Lee Simpson and occupies a vital space in the landscape of UK theatre. At the heart of their artistic practice is improvisation. Whether in performance, rehearsal or development Improbable use the practice and philosophy of improvisation in the process of creation.
Improbable have staged epic spectacles like Sticky, which was seen by over 250,000 people, theatrical classics like The Tempest at Northern Stage and the Oxford Playhouse, intimate puppetry like Animo in studios across the country, adaptations like Theatre of Blood at the National Theatre, operatic triumphs like Satyagraha and Olivier and Grammy Award winning Akhnaten at the English National Opera, London and the Metropolitan Opera, New York, female led impro project Permission Improbable which nurtures an improvisation culture grown by women and fully improvised productions like Lifegame which toured internationally and at the National Theatre. Our shows are live events encouraging conversation between us and our audience.
 
Nippon TV
Nippon TV is Japan's leading multiplatform entertainment powerhouse and ratings champion broadcaster, as well as owner of streaming giant Hulu in Japan. Over 90% of its content IP is fully owned by Nippon TV and the company has been active in bringing its content to the international market in the form of ready-made programs, formats, and through co-production partnerships.
One of the biggest successes for the nation's finest producer of all genres of programming is the Emmy Award-winning Dragons' Den/Shark Tank, a globally successful business show format that has 45 versions in more than 186 countries across all continents of the world. Additionally, their hit drama series Mother has also achieved global success as the most exported scripted format out of Asia, with its format sales to South Korea, Turkey, Ukraine, France, Thailand, China, Indonesia, and Spain.
The company is also known for its viewer engaging gameshow formats. BLOCK OUT is an action-packed game show format that has been adapted in Thailand, Indonesia, Vietnam, Spain, and Holland. The award-winning unscripted format Mute it!, and Sokkuri Sweets, have both been produced in the Netherlands. Sokkuri Sweets/Eye Candy is on The Roku Channel in the US, UK, and Canada. As evident by the company's success, Nippon TV is leveraging its coveted platform to revolutionize digital media in an ever-changing industry to solidify its presence and brand as a global media leader.
Royal Shakespeare Company (RSC)
The Royal Shakespeare Company creates world class theatre, made in Stratford-upon-Avon and shared around the world, performing plays by Shakespeare and his contemporaries, as well as commissioning an exceptionally wide range of original work from contemporary writers. Our purpose is to ensure that Shakespeare is for everyone, and we do that by unlocking the power of his plays and of live performance, throughout the UK and across the world.
We believe everybody's life is enriched by culture and creativity. We have trained generations of the very best theatre makers and we continue to nurture the talent of the future. Our transformative Learning Programmes reach over half a million young people and adults each year, and through our Placemaking and Public Programme we create projects with and for communities who have not historically engaged with our work. We are a leader in creative immersive technologies and digital development.
We have a proud record of innovation, diversity and excellence on stage and are determined to grasp the opportunity to become an even more inclusive, progressive, relevant and ambitious organisation.
We are committed to being a teaching and learning theatre – in which we create world class theatre for, with and by audiences and theatre makers of all ages. We provide training for emerging and established theatre makers and arts professionals, for teachers and for young people. We share learning formally and informally. We embed training and research across our company, work and processes.
We recognise the climate emergency and work hard to embed environmental sustainability into our operations, creative work and business practice, making a commitment to continually reduce our carbon footprint.
Keep Your RSC supports our mission to create theatre at its best, unlocking Shakespeare and transforming lives. Thousands of generous audience members, trusts and foundations and partners supported Keep Your RSC in 2020 and, alongside a £19.4 million loan from the Culture Recovery Fund, we are thrilled to be welcoming audiences back. It will take time to recover, to reopen all our theatres, and many years to repay the loan and the support and generosity of our audiences is more important than ever. Please donate at rsc.org.uk/donate
Arts Council England
Arts Council England is the national development body for arts and culture across England, working to enrich people's lives. We support a range of activities across the arts, museums and libraries – from theatre to visual art, reading to dance, music to literature, and crafts to collections. Great art and culture inspires us, brings us together and teaches us about ourselves and the world around us. In short, it makes life better. Between 2018 and 2022, we will invest £1.45 billion of public money from government and an estimated £860 million from the National Lottery to help create these experiences for as many people as possible across the country. www.artscouncil.org.uk
LOEWE
Created in Spain in 1846, LOEWE has been one of the world's major luxury houses for almost 180 years. Since 2013, under creative director Jonathan Anderson, the brand has started a new chapter focused on craft and culture; evidenced through an intellectual yet playful approach to fashion, bold and vibrant Spanish lifestyle, and unmatched expertise with leather.
In 2021 the brand collaborated with Studio Ghibli to create the LOEWE x My Neighbour Totoro capsule collection, followed by LOEWE x Spirited Away in 2022. LOEWE and Studio Ghibli share a mutual love of craft and artisanal techniques, expressed in their respective languages, as well as a deep connection to nature, the outdoor world and a sense of perpetual invention.
 
The RSC is supported using public funding by Arts Council England
The work of the RSC is supported by the Culture Recovery Fund
The RSC is generously supported by RSC America
LOEWE is the Headline Sponsor for My Neighbour Totoro
Miranda Curtis CMG – Lead Production Supporter of My Neighbour Totoro
TikTok £10 Tickets for 14-25s sponsored by TikTok
The work of the RSC Literary Department is generously supported by The Drue and H.J. Heinz II Charitable Trust
Dates: Saturday 8 October 2022 – Saturday 21 January 2023
Press night: Tuesday 18 October 2022, 7pm
Venue: Barbican Theatre