Press room
Jean Dubuffet: Brutal Beauty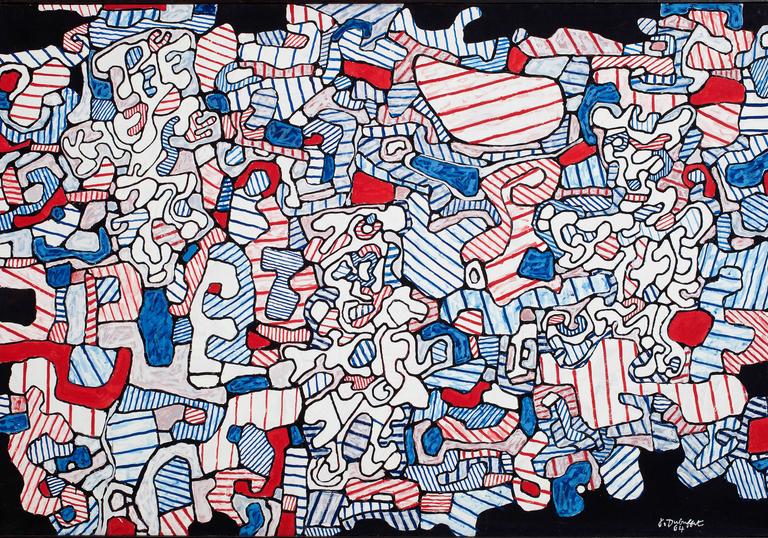 'Art should always make you laugh a little and fear a little. Anything but bore'.
Jean Dubuffet: Brutal Beauty is the first major UK exhibition of the work of French artist  Jean Dubuffet (1901–1985) in over 50 years. One of the most provocative voices in postwar modern art, Dubuffet rebelled against conventional ideas of beauty, hoping to capture the poetry of everyday life in a gritty, more authentic way. Drawn from international public and private collections, Brutal Beauty brings together more than 150 works: from early portraits, lithographs and fantastical statues to enamel paintings, butterfly assemblages and giant colourful canvases. It opens at Barbican Art Gallery on 17 May 2021.
Spanning four decades in the studio, Brutal Beauty highlights Dubuffet's endless experimentation with tools and materials, as he blended paint with shards of glass, coal dust, pebbles, slithers of string and gravel. Shown alongside his work are two dedicated rooms from Dubuffet's collection of Art Brut, acquired throughout his life – shedding light on artists such as Aloïse Corbaz, Fleury-Joseph Crépin, Gaston Duf., and Laure Pigeon, who profoundly inspired his approach to the making and understanding of art.
The exhibition is sponsored by Sotheby's with additional support from Waddington Custot and Bauwerk
Jean Dubuffet: Brutal Beauty
Barbican Art Gallery, London, UK
17 May - 22 August 2021
Media View: 17 May, 10am - 2pm.