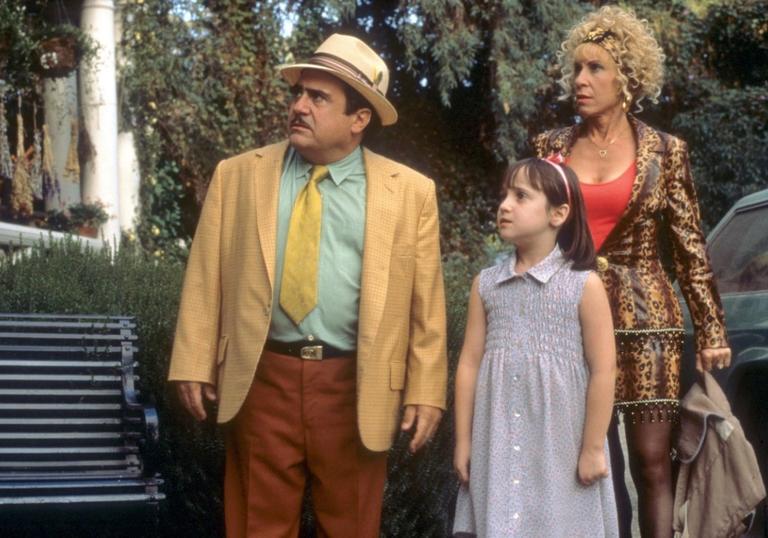 Events
Screenings + Events
Matilda (PG) + pre-film Roald Dahl quiz
US 1996 Dir Danny DeVito 94min
Sat 7 May 11am, Cinema 2
Danny DeVito's retelling of Roald Dahl's beloved book follows 6-year-old Matilda as she is ignored by her family and escapes her loneliness by reading. But when she starts school, she discovers a magical ability that will allow her to stand up to the bullies in her life – including her terrifying new headteacher The Trunchbull.
Age recommendation 5+
Coppelia (U)
Netherlands, Belgium, Germany 2021, Dirs. Steven de Beul, Ben Tesseur and Jeff Tudor 82min (no dialogue)
Sat 14 May 11am, Cinema 2
When a mysterious Doctor arrives, the occupants of the town fall under his spell and it's up to a feisty young girl, Swan, to save her sweetheart before his heart is used to spark the life of a strange robot that the Doctor has created. Starring ballet dancer Michaela DePrince as Swan and featuring Darcey Bussell as the town's mayor, this film combines ballet and animation to create a form of its own.
Age recommendation 5+
Box of Delights (U) Shorts Programme
Various Dirs. 43min
Sat 21 May 11am, Cinema 2
These eight award-winning short films from the British Animation Awards make up a cheerful collection of stories for our youngest of audience members – all from around Europe and all without dialogue. The full programme includes: A Sunny Day, Whistleless, Fouding or not Fouding, The Little Red Plane, Dodu the Cardboard Boy: The Balloon Moon, Trim Time, Calamity Island and Mobile.
Age recommendation 4+
Encanto (U) + Free Drop-in workshop
US 2021 Dirs Jared Bush, Byron Howard and Charise Castro Smith 102min
Sat 28 May, workshop: 10am, Cinema Café - film: 11am, Cinema 2
Come along before the film at 10am to get creative using Columbian inspired icons and motifs and craft yourself something spectacular in our free monthly workshop – led by Columbian artist, Ivonne Vargas. Followed by the Academy Award winning, Encanto, the story of the Madrigal family, all of whom have magical abilities except for young Mirabel. But when the family's powers start to falter, it's up to Mirabel to solve the mystery surrounding their waning wizardry before it's too late. Featuring ear worm songs from Lin Manuel Miranda and luscious Disney animation.
Age recommendation 5+. This screening is captioned
Safety Last (U) + Live Keyboard accompaniment
US 1923, Dir Fred C Newmeyer and Sam Taylor, 74min
Sat 4 June, 11am, Cinema 2
In this Harold Lloyd silent classic, young Harold heads to the big city to earn money for his marriage but when he gets there, he is soon caught up in a zany plan to climb up the side of a skyscraper. The film ends with one of the most dizzying stunts of the silent era. Come along and enjoy the film how it may have been seen originally, with a live keyboard accompaniment in the cinema.
Age recommendation 6+
Mary and the Witch's Flower (U)
Japan 2017, Dir. Hiromasa Yonebayashi 103min (Dubbed)
Sat 11 June 11am, Cinema 2
When Mary follows her neighbour Peter's cats, she finds a flower that grants her magical powers. Sent to live with her strict great-aunt, Mary's discovery in the woods of a flying broomstick takes her to Madame Bumblechook's magic school, where she becomes a brilliant witch. But when she learns that the source of her powers comes from the sinister Doctor Dee's special technologies, she realises she needs to use all her powers, magic and otherwise, to save a friend in danger.
This animated adaptation of Mary Stewart's children's book The Little Broomstick, from Studio Ghibli's Hiromasa 'Maro' Yonebayashi, is a timely film about using power responsibly and taking care of the planet – and each other.
Age recommendation 6+
The Bad Guys (U)
US 2022, Dir. Pierre Perifel 100min
Sat 18 June 11am, Cinema 2
An animal gang – The Bad Guys – led by the charming Mr Wolf, are known for their audacious thefts. But when they're caught in the act and given a chance to reform, will they learn to be the good guys, or will there always be one last heist? Based on the best-selling graphic novels by Aaron Blabey, this animated crime caper features the voices of Sam Rockwell, Akwafina, Zazie Beetz, Craig Robinson, Anthony Ramos and Richard Ayoade.
Age recommendation 6+. This screening is captioned.
Sonic the Hedgehog 2 (PG) + Drop-in workshop
US 2022, Dir Jeff Fowler, 122min
Sat 25 June, workshop: 10am, Cinema Café - film: 11am, Cinema 2
Come along at 10am for our drop-in Sonic inspired workshop and then at 11am join us for Jim Carey's dastardly return as the crazed scientist, Doctor 'Eggman' Robotnik, this time chasing the power of the Master Emerald. And he has help from his new ally Knuckles, voiced by Idris Elba.Sonic the Hedgehog and his new pal Tails must set off on an epic adventure to find the powerful emerald before it falls into the wrong hands.
Age recommendation 6+. Film screening captioned Intro and workshop live BSL interpretation.