Press room
Barbican announces its music programme for September 2023 – January 2024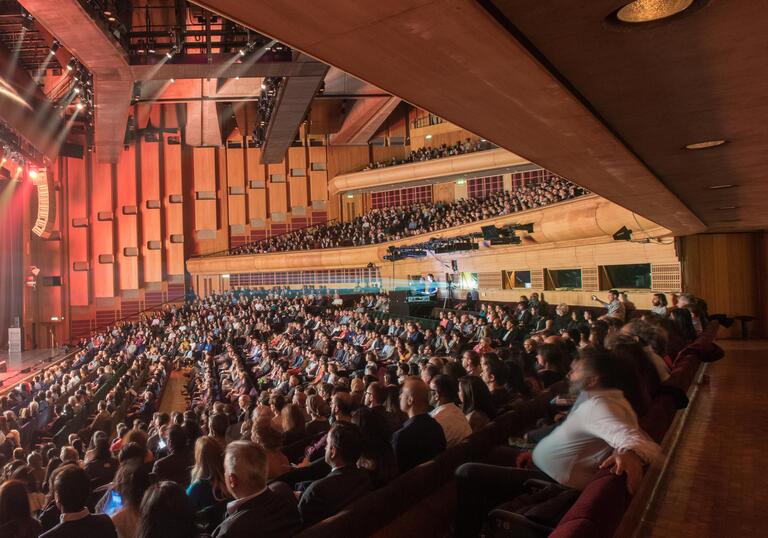 Today (22 March) the Barbican announces its autumn and winter season of energetic, adventurous, and eclectic music-making. This new season encompasses symphonic magnitude, choral splendour, sublime soloists and avant-garde collaborations in a fusion of genres, performers, and instruments. Artists from around the world will perform works celebrating music in all its forms at the Barbican - from Clara Schumann to Caroline Shaw, from classical to techno, from 1523 to 2023.
The Barbican's world-leading resident orchestra, the London Symphony Orchestra, and associate orchestras and ensembles – the BBC Symphony Orchestra (Associate Orchestra), Academy of Ancient Music and Britten Sinfonia (Associate Ensembles) and Serious (Associate Producer) – form a significant part of this season, sharing the Barbican's vision to promote joyful, unexpected, and daring artistry with programmes incorporating rising stars and legends alike.
Will Gompertz, Artistic Director says:
"The breadth and quality of the season we're announcing today represents our wholehearted commitment to music, musicians, and ensembles. Many artists and organisations have experienced great challenges over the past few years – whether through Covid-19 closures or, more recently, through devastating funding cuts across the industry. This season spotlights some of those incredible artists in a programme that celebrates historic female composers, champions magnificent orchestras and platforms enlivening new talent. Through their artistry, we explore urgent topics and invite different perspectives and, with that vital purpose at the heart of our programme, we have a very special season ahead of us."
HIGHLIGHTS:
Public booking opens on Fri 31 March, with advance priority booking for Principal and Premier Patrons from Thu 23 March, to Barbican Patrons from Mon 27 March, Barbican Members Plus from Wed 29 March, Barbican Members Thu 30 March. More detailed event listings and tickets here.
These concerts in the Barbican's music programme join events already on sale including techno icon Jeff Mills' project Tomorrow Comes The Harvest (8 Sep), composer and producer Matthew Herbert's The Horse (14 Oct), Kronos Quartet's 50th Anniversary (21 Oct), and This Is The Kit's return to the Barbican Hall (25 Nov) - with more shows in the Barbican's contemporary music programme being announced on a weekly basis.
FURTHER DETAILS ABOUT BARBICAN AUTUMN/WINTER MUSIC SEASON HIGHLIGHTS, INCLUDING BARBICAN RESIDENT ORCHESTRA AND ASSOCIATE ENSEMBLES, FOLLOW BELOW.
Barbican music programme Sep 23 – Jan 24 full details:
GUEST ORCHESTRAS AND ENSEMBLES
ANTHONY MCGILL: MILTON COURT ARTIST-IN-RESIDENCE
Celebrated clarinettist Anthony McGill embarks on his tenure as Milton Court Artist-in-Residence.  An opportunity to hear the New York Philharmonic Orchestra's principal clarinettist – the first African-American person to hold a principal role at the orchestra - demonstrate his 'lustrous sound and dynamic range' (Bachtrack) across three intimate concerts:
NEW MUSIC, NEW WAYS OF LISTENING
FESTIVALS AND CELEBRATIONS
SUBLIME SOLOISTS
Barbican Resident Orchestra and Associate Ensembles autumn 2023/winter 2024 highlights:
LONDON SYMPHONY ORCHESTRA
London Symphony Orchestra Associate Artist Barbara Hannigan opens the season with a programme that explores transfiguration, transformation and metamorphosis with works by Ligeti, Vivier, Haydn, Nono and Richard Strauss (14 & 17 Sept). Two further concerts (20 & 21 Sept) focus on Stravinsky with Pulcinella and his Symphony in Three Movements.
LSO Chief Conductor Designate Sir Antonio Pappano conducts a total of eleven Barbican concerts during 2023/24, with significant highlights including the world premiere of an LSO commission – Hannah Kendall's O flower of fire (4 & 5 Oct), two performances of Felix Mendelssohn's oratorio Elijah with soprano Masabane Cecilia Rangwanasha, mezzo-soprano Dame Sarah Connolly, tenor Allan Clayton and bass Gerald Finlay with the London Symphony Chorus (28 & 31 Jan 2024).   Sir Antonio's October programmes celebrate music for dance including Franz Liszt's Totentanz, with guest pianist Alice Sara Ott plus Strauss' Also sprach Zarathustra (4 & 5 Oct); Ravel's La valse, Fazil Say's Violin Concerto (1001 Nights in Harem) with guest violinist Patricia Kopatchinskaja, and Rachmaninoff's Symphonic Dances (8 Oct); Bartók's Divertimento for Strings, Beethoven's Symphony No 7 and two modern masterpieces: Thomas Adès' Concerto for Piano and Orchestra with guest pianist Kirill Gerstein (12 Oct).
Principal Guest Conductor Gianandrea Noseda's performances of the great Russian masterpieces have become a 'not to be missed' occasion in recent seasons, so it is with great anticipation we announce that during his first visit to London (7 & 10 Dec) he will conduct Tchaikovsky's Symphony No 6, Prokofiev's Symphony No 4, both symphonies are paired with Brahms' Piano Concertos 1 & 2  with Simon Trpčeski as soloist.  Guest conductor Susanna Mälkki conducts two further concerts featuring guest pianist Kirill Gerstein (30 Nov & 3 Dec).  They perform Rachmaninoff's Piano Concerto No 3 and Ravel's Piano Concerto No 4. These programmes are completed with the LSO's first performance of George Benjamin's 2021 Concerto for Orchestra, and Hindemith's Symphony: Mathis der Maler, with the Ravel complemented by Debussy's Three Nocturnes, and Scriabin's Symphony No 4, The Poem of Ecstasy.
The LSO welcomes back Sir Simon Rattle, Conductor Emeritus, to continue their voyage through Janáček's operas with two performances of Jenůfa, with Asmik Gregorian in the title role (11 & 14 Jan 2024). 
BBC SYMPHONY ORCHESTRA AND CHORUS
The BBC Symphony Orchestra and Chief Conductor Sakari Oramo open the new season with a programme of grand passions and epic vistas, beginning with a wild, strange vision from György Ligeti. Pianist Alexandra Dariescu joins to perform Croatian composer Dora Pejačević's Phantasie Concertante, and the evening is concluded with Mahler's epic Symphony No. 5 (6 Oct).
The season continues with Ilan Volkov conducting Stravinsky's Rite of Spring (22 Oct), and darkness meets light with Shostakovich's shattering Tenth Symphony juxtaposed by the ecstasy and optimism of music by Olivier Messiaen, and a new, BBC co-commission and UK Premiere of Milky Ways by Outi Tarkiainen, performed by cor anglais soloist Nicholas Daniel and led by David Afkham, who makes his BBC SO conducting debut (27 Oct).
Eva Ollikainen conducts a concert filled with fantastic stories and the sounds of Stravinsky, Debussy, and Boris Lyatoshinsky's Grazhyna, and violinist Ilya Gringolts performs the world premiere of Lotta Wennäkoski's Prosoidia, co-commissioned by BBC Radio 3 with a second movement inspired by Ingmar Bergman's film Cries and Whispers (3 Nov). Later in the month, an evening of beauty, truth, and deep emotions are promised as Semyon Bychkov conducts two fourth symphonies: Brahms's, and a major UK premiere and BBC co-commission by Detlev Glanert, performed by mezzo-soprano Catriona Morison and Baritone Christian Immler (24 Nov).
In December, Oramo conducts two concerts reflecting travel and fantastical voyages. The first, Beethoven's Symphony No 3, the 'Eroica', alongside Ravel's poetic Shéhérazade with mezzo-soprano Jennifer Johnston, and 19th century British composer Alice Mary Smith's Jason and the Argonauts (1 Dec). Oramo will also conduct Sibelius and Nielsen, counterpointed with the world premiere of Tebogo Monnakgotla's new violin concerto, Globe Skimmer Surfing the Somali Jet, performed by former BBC New Generation Artist Johan Dalene (8 Dec). Ryan Wigglesworth, Chief Conductor of the BBC Scottish Symphony Orchestra, conducts the London premieres of his Magnificat and his arrangement of Monteverdi's Lamento d'Arianna, alongside Sophie Bevan and the BBC Symphony Chorus (15 Dec).
Then, in January, Oramo will be joined by star violinist Vilde Frang for Stravinsky's Violin Concerto, a piece that celebrates the composer at his most witty and guarantees an explosive opening to a concert, before the magic of Sibelius's First Symphony, with its raging storms, Arctic gales and shimmering aurora borealis colours (20 Jan).
ACADEMY OF ANCIENT MUSIC
The Academy of Ancient Music (AAM) celebrates half a century of excellence in baroque and classical music this season. To launch its 50th anniversary season, AAM presents an iconic work that has been a mainstay of the orchestra's repertoire since its inception: Handel's Music for the Royal Fireworks (18 Oct). Highlights later in the season include a programme exploring Empress Maria Theresa's musical world – a landscape of familiar names alongside lesser-known female composers, such as Maria Theresa Agnesi, Marianna Martines and Maria Antonia Walpurgis (23 Nov) – and a performance of JS Bach's complete Brandenburg Concertos (25 Jan 2024). The 50th anniversary celebrations continue off stage with the release of an anniversary book by journalist and former Hogwood Fellow Richard Bratby. Due for release on 12 October 2023, the book explores AAM's rich and complex history and its role in lifting period instrument performance from the fringes of 1960s counterculture and putting baroque music into the pop charts. The 50th anniversary season also sees AAM complete a landmark recording project with scholar-pianist Robert Levin 30 years after it first began. Upon completion, this cycle will become the first-ever recording of Mozart's complete works for keyboard and orchestra on either modern or historical instruments.
BRITTEN SINFONIA
Britten Sinfonia kicks off autumn 2023 as Associate Ensemble at the Barbican with two song cycles which show the best and worst of humanity. Award-winning soprano Elizabeth Watts joins the orchestra in Gerald Finzi's Dies Natalis, exploring the joy and innocence of a baby's view of the world through Thomas Traherne's mystical texts. By contrast, Richard Blackford's new work sets powerfully moving poems by young Afghan writer Nadia Anjuman, whose courageous life was tragically cut short when she was killed by her husband in 2005. A new Britten Sinfonia commission from Ryan Latimer, 2022 Britten Sinfonia and Barbican co-commission Glade by Dobrinka Tabakova, drawing surprising inspiration from Barbican green spaces also feature. (20 Oct, Milton Court).  Britten Sinfonia joins Milton Court Artist in Residence, clarinettist Anthony McGill, who in 2014 became the first African-American principal player at the New York Philharmonic, in a concert featuring works by George Walker, Jessie Montgomery and the European premiere of Pulitzer Prize-winning composer Anthony Davis's 2011 work for clarinet and chamber orchestra, You Have the Right to Remain Silent. (29 Nov, Milton Court). In a rare twist on the perennial seasonal favourite, Britten Sinfonia performs Handel's Messiah re-imagined by Mozart. Until the 1950s, Mozart's arrangement of Messiah for a late 18th century orchestra with enhanced woodwind and brass was a commonly performed orchestration of the work (12 Dec, Hall).